With Brendon McCullum joining Ben Stokes at the head of English Test cricket, the shape of the Three Lions' new era is becoming clear.
If England's style of play reflects the personalities of their new leaders, it will be courageous, it will be proactive, and it will be simply unmissable.
Head Coach McCullum is a man who commanded respect as a captain and admiration as a statesman, and who was simply awe-inspiring as a player – as the selection of memorable moments below attests to.
England face World Test Champions New Zealand at Trent Bridge from 10-14 June. Secure day four seats here...
McCullum the leader
Brendon McCullum's era as New Zealand captain began with the skipper tasked with picking his side up from their lowest ebb, mired in acrimony and dismissed for 45 by South Africa.
It ended with their leader hitting the fastest Test hundred of all time, having led the Blackcaps to the World Cup Final and paved the way for their eventual coronation as World Test Champions.
McCullum's mantra? To embrace a childlike passion for the game that can be lost all-too-easily in professional sport.
"It sounds corny, but we talk about the little boy who fell in love with the game," he said.
"When you have that mindset you can be positive and aggressive, because you're thinking about what can go right, rather than what might go wrong."
It was an approach which paid dividends. An unbeaten run spanning six series arrived in his second year as captain, a spell of 13 Test matches without defeat in New Zealand enthralling the home faithful.
But mere numbers couldn't convey the impact made by McCullum. His was a reign of attacking intent, entertainment and a never-say-die attitude which saw the Kiwis lauded worldwide.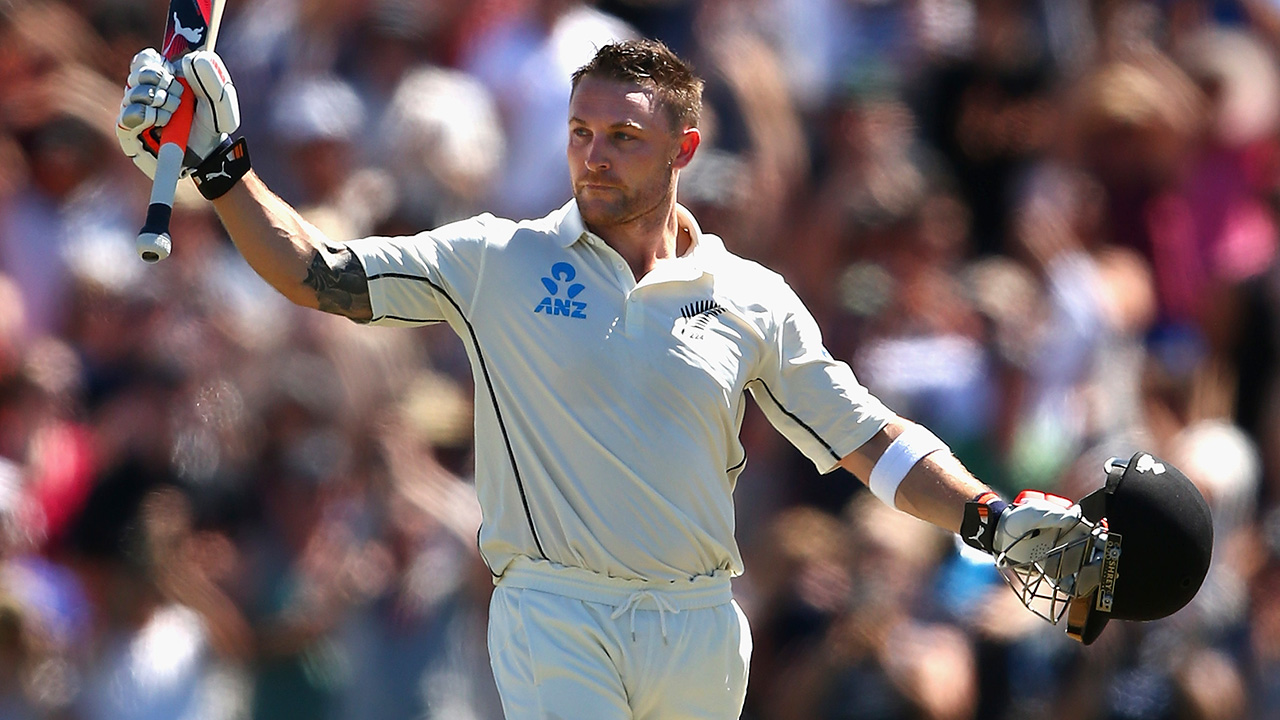 McCullum the player
From the moment he made his debut for his country in 2004, Brendon McCullum became simply indispensable.
The right-hander featured in each and every New Zealand Test between his debut and his retirement – a world-record run of 101 matches.
It was a career of countless moments to take the breath away – that 54-ball century which snatched the fastest recorded Test ton from Sir Viv Richards featuring high on the list.
But McCullum had more than one gear: his career-best 302 against India, the only triple-century in New Zealand's history, was a thirteen-hour, 559-ball vigil which helped to save the game in Wellington.
It was a score which came at the zenith of McCullum's career, as one of three scores of 200 or more made in Tests in 2014.
McCullum at Trent Bridge
McCullum only graced the Trent Bridge turf in Tests on two occasions, both ending in victory for the hosts.
His final innings of four in Nottingham was one of defiance and character, as the number three attempted to stave off an innings defeat.
McCullum reached 71 before he was castled by James Anderson, paving the way for an emphatic triumph for the hosts inside four days.
Anderson had accounted for McCullum in the first innings too, with a simply unplayable delivery that uprooted his off-stump – and is still regarded as among the finest of the right-armer's 640 Test scalps.
Now McCullum will be able to call on the ageless master of swing bowling as England head to Trent Bridge from 10-14 June, with Nottinghamshire's Stuart Broad in the frame for selection too.
We simply can't wait to watch England's next chapter unfold.
*******
England versus New Zealand at our historic home
From James Anderson ripping through Australia, to Joe Root and Jos Buttler tons, day four fireworks are frankly commonplace at our historic home.
Secure your seats for day four of England against world champions New Zealand here…