As the batsman to have the highest strike rate in the 2017 NatWest T20 Blast, it's hardly surprising that the signature of Alex Hales was much-coveted by the six teams playing in the inaugural T10 Cricket League, which gets underway in Sharjah next Thursday (14 December).
It was to be the Maratha Arabians, however, who were successful in recruiting the Notts Outlaws strokemaker for the four-day tournament that will act as an interesting experiment for cricket administrators throughout the world.
Just 10 overs per side means games are over in 90 minutes and means multiple matches can be played at the same venue, with Bengal Tigers, Kerala Kings, Pakhtoons, Punjab Legends, Team Sri Lanka the five other teams competing against Maratha.
Among Hales' team-mates will be the likes of Lendl Simmons, Kamran Akmal, Rilee Rossouw, Mohammad Amir, Kumar Sangakkara, Wayne Parnell, Roelof Van der Merwe, Hardus Vijoen, and Mohammad Sami, while Pakistan legend Wasim Akram is team's head Head Coach.
"It's new and exciting and promises to be very enjoyable."
And there are no shortage of world stars among the other sides either as Wahab Riaz, Kieron Pollard, Shakib Al Hasan, Shahid Afridi, Tamim Iqbal, Rangana Herath, Luke Ronchi, Dinesh Chandimal, Angelo Mathews and Cameron Delport have all signed up, along with Englishmen Eoin Morgan, Liam Plunkett, Liam Dawson, Chris Jordan, Adil Rashid and Tom Kohler-Cadmore.
"It's a new tournament for this year so I don't know a great deal about it as yet, but we'll obviously all find out more once it gets started," says Hales. "But it's new and exciting and promises to be very enjoyable.
"There are some great ex-players and current players as well who will be out there – it seems like there are a decent bunch who can play some exciting cricket.
"At Maratha, Virender Sehwag's is captaining us and you've got Ross Whiteley (the former Derbyshire and current Worcestershire player) in there as well.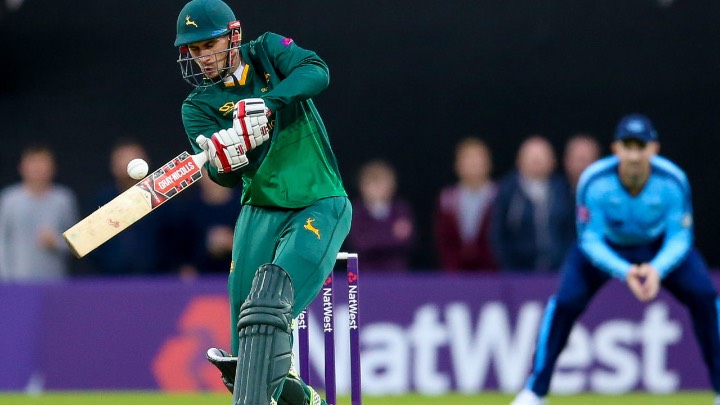 "It's really important to get some competitive cricket in from my point of view. I've had a really quite two to three months and enjoyed some time off.
"But I'm now looking forward, hopefully, to the ODIs in January, so it's nice to get some cricket under my belt before Christmas and dust off some of the cobwebs.
"For the last few weeks I've been hitting indoors with Notts and doing my gym work and it's not good fun but it will be good to get some games in now."
Hales had been due to play for the Stellenbosch Kings in South Africa's Global League alongside the likes of Lasith Malinga and Jeevan Mendis, which was scheduled to start in November.
"They had some good players signed up all round (at Stellenbosch)."
That was before Cricket South Africa announced in October that they were postponing the tournament for 12 months, leaving the right-hander and others disappointed.
Hales adds: "It was a massive blow not getting to play in the Global League. I had been looking forward to that for a long time… six weeks with Stellenbosch would have been brilliant and there would have been some good cricket.
"They had some good players signed up all round and it looked like it was going to be a very strong tournament. It's a massive shame it didn't happen but hopefully it can happen in the future."
Hales scored a Lord's one-day final record 187 not out in July to help Notts lift the Royal London One-Day Cup and later struck his first T20 century for the Outlaws against Yorkshire before they went on to win that trophy too at Edgbaston in September.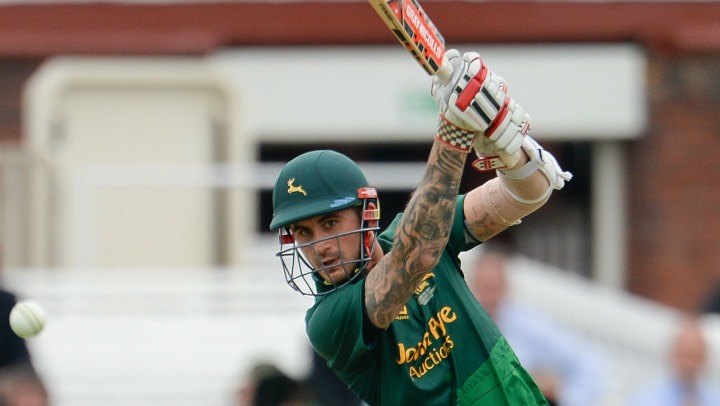 The 28-year-old hopes to carry that kind of form into the heat of the United Arab Emirates where the kind of quick starts he frequently provides will prove invaluable.
"It's basically go to be all guns blazing from ball one and a lot of fun, I think," he says. "People were not sure about T20 when it came in and that's taken off to be one of the biggest spectacles in the world.
"Who knows with T10. People are a big sceptical about it at the moment who I have spoken to, but I think it could be brilliant. It's even shorter, could attract as big crowds and I don't see why it couldn't be a success.
"It's probably perfectly suited to my batting in that 'He Who Dares Wins'. I think it will be good."
Hales is not the only one to travel this winter to get some game time. New captain Steven Mullaney has already been to Australia to play for Dandenong, while Samit Patel has played for the Rajshahi Kings in the Bangladesh Premier League.
"It's probably perfectly suited to my batting in that 'He Who Dares Wins'."
Others who have previously played overseas, however, such as Luke Fletcher, Ben Kitt and Luke Wood have chosen this year to stay at home and prepare for the 2018 in the more familiar sourroundings of Trent Bridge.
Hales says: "Everyone is different. Some people like to stay at home with their families in between the county seasons, have some time off and not play cricket and just train with the rest of the team.
"But for some of the guys, particularly the young ones, it's good to get abroad and get as much experience as possible under your belt. Playing aboard as a youngster is a great learning experience, wherever you go and play in the world. You came back a better cricket.
"Personally, I like to do a bit of both. So a bit of training here, I quite enjoy the English winters, but then also get away and travel the world and lay the game you love."
••••••••••••••••••
You can watch every ball of Nottinghamshire's scheduled home matches in 2018 - in all three formats of the game - by joining our family as a Member. Become a Member now...