James Pattinson has described Trent Bridge as a 'ground he loves' after he was confirmed as Nottinghamshire's new overseas player.
Pattinson's previous Trent Bridge experience came in the 2013 Ashes, when he was part of the Australian squad that dramatically lost the first Test of the series.
He will follow in the footsteps of his brother, Darren, who was part of the Nottinghamshire side that won the County Championship title in 2010.
"I love the ground," he said following the confirmation of his signing.
"It's a great place and when you play for Nottinghamshire, you have the opportunity to play at a Test venue.
"I loved the one game played there in 2013," he said. "It went down to the wire. I'm looking forward to a few more now.
"I know some of the guys through my brother (pictured below). He loved his time at Notts.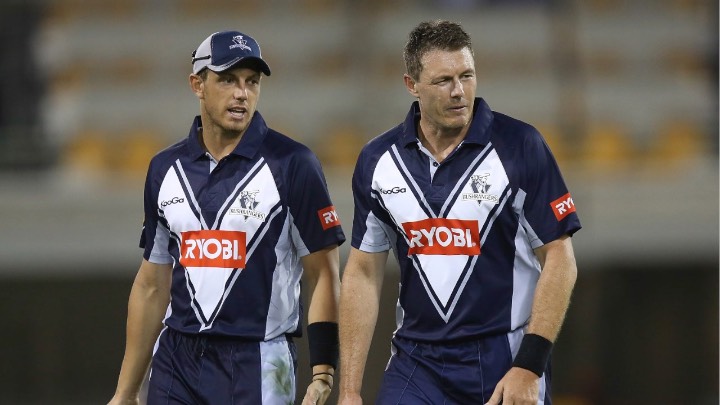 "He was part of some good cricket there and the other guys I have spoken to, the likes of Clint McKay and John Hastings, have had nothing but good things to say about the place.
"I'm following a family tradition by joining and it's fantastic. The whole experience is something I'm really looking forward to."
Pattinson, who has regularly clocked speeds of more than 90-miles-per-hour, has four Test five-wicket hauls to his name, including a debut spell of 5-27 against New Zealand at The Gabba in 2011.
A teammate of T20 signing Dan Christian and the man he is replacing, Peter Siddle, at Victoria – Pattinson also has a number of friends within the domestic ranks at Trent Bridge.
"I've played a bit of cricket with Alex Hales before and Steven Mullaney has been out in Australia too. I've also spent a bit of time with Fletch (Luke Fletcher) in the nets at the MCG doing a bit of bowling – he's a character.
"I'm following a family tradition by joining and it's fantastic. The whole experience is something I'm really looking forward to."
"They sound like they're a great bunch of guys, so it's all very exciting and I just want to get over there."
Having recently returned from injury, Pattinson is throwing himself into Victoria's quest for a third successive Sheffield Shield title.
"The reason why you start playing the game in the first place is to get out there in the middle. I've missed that competitive edge that cricket provides," he said.
"There's only so many gym sessions and running sessions that you can do.
"Now I'm back playing, I'm really enjoying the game. When it comes to April and we come to playing games, the conditions will be unfamiliar but I'll get stuck in and hopefully have a great time."
**********************
It's jolly convenient to receive latest news, ticket information and behind the scenes exploits direct to your inbox - and rest assured we'll never pass on your information to others.