A charity fundraiser hoping to break the world record for consecutive daily marathons today (Thursday) stopped by at Trent Bridge on her way to successfully completing her 61st run over the distance.
Nicola Love, originally from Australia but who now lives in Gamston, did a lap of the outfield as she took in some of the city's leading sporting venues, which also included Notts County FC, Nottingham Rugby Club, Beeston Hockey Club and the Nottingham Panthers.
She is raising money for Huntingdon's Disease Association, with her latest effort taking her past the current record of 60 marathons in a row.
Nicola was accompanied on her latest run by partner Sharif Owadally, who has completed several of the runs with her, as well as Phil and Arwin Maken.
Most of the 50-year-old's marathons have taken place in the East Midlands, but she has travelled as far north as John O'Groats in Scotland and as far south as Brighton as part of her 63 in 63 challenge, often visiting schools along the way.
"Nicola's decided to do this after reading a book where the author ran 50 marathons in 50 days," said Sharif, who has organised the schedule, the fundraising and run a handful of the marathons himself.
"She wanted to beat the world record – and then decided to add on a couple of extra days to make it a round nine weeks!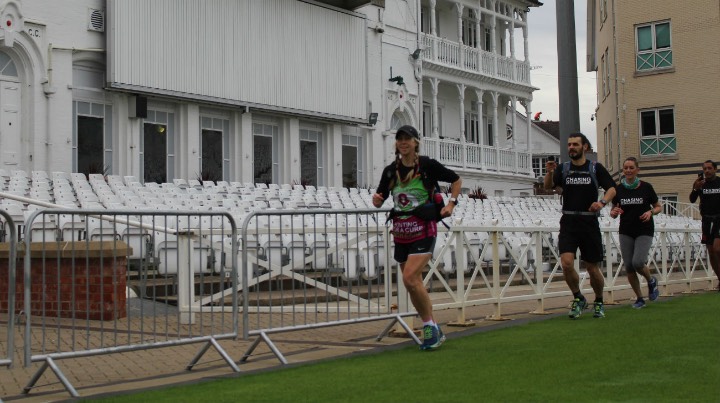 "The challenge is called Chasing Extraordinary and I'm still in awe of her for doing it. She wanted a challenge – and she's got it – but it's been such a phenomenal effort on her part.
"It's not just raising money for charity that's been rewarding, but also having the chance to pass on the message of how important it is for people to get and stay active, particularly to children."
Nicola is aiming to raise £6,300 to match the 63 marathons she is running and she will finish her mammoth journey of more than 1,600 miles on Saturday in Leicester.
She added: "I wanted to do the record-breaking run where I'm living now – and it's great to be accompanied by people who have helped me along the way around some iconic sporting venues.
"It's been fantastic fun and I've met some great people on my journey, but I'm looking forward to a rest now!"
For more details and to make a donation, go to 63in63.com, and you can follow Nicola's progress via @63in63.
••••••••••••••••••
Don't miss out on your chance to see the world's best in action at Trent Bridge's England internationals next summer. Click here now to book your seats online.