In the second of a two-part feature, our Academy Player of the Month, Liam Patterson-White, tells trentbridge.co.uk he's relishing playing with those he used to watch from the stands…
*****************
As a keen Nottinghamshire fan growing up, Liam Patterson-White still has to pinch himself with the company he is now keeping.
Brought along to Trent Bridge, he loved to watch the cricket, whether it was T20, a one-day game or the County Championship.
But now he has gone from spectator to player, the 19-year-old is trying his level best to learn from his heroes, rather than being overawed by them.
"It doesn't matter what form of cricket it was, I would always be watching matches at Notts and enjoying it," he says.
"Seeing how senior players go about their business really motivates me."
"Five years ago I'd be at a game or watching it on TV and they were my heroes, and now I'm actually with them and training with them. I am doing everything that they do.
"Seeing how senior players go about their business really motivates me. I have faced people like Fletch (Luke Fletcher) and Mull (Steven Mullaney) when batting in the nets, who will tell me when I have played a great shot or tell me when it's a bad shot and explain why," he notes.
"In general, everyone has been really helpful and talkative. They are all really close as a team and I enjoy that."
A gradual infiltration into the senior Notts set-up has, in Patterson-White's opinion helped to improve him as a player, particularly under the watchful eye of the Trent Bridge coaching team.
However, he believes there is more to come as he looks to build his impact in second XI cricket and beyond.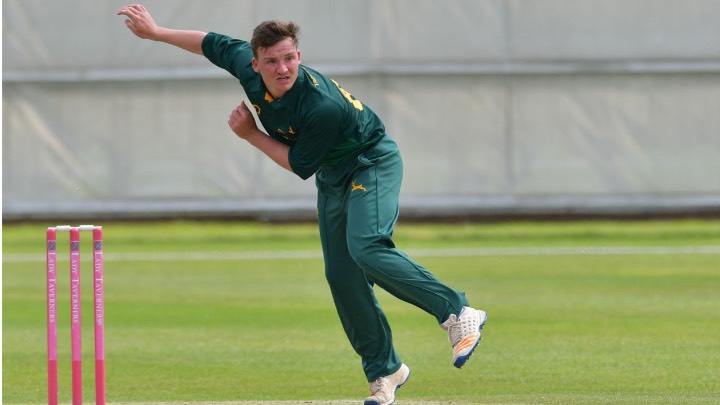 Patterson-White explains: "At the moment I am changing the way I bowl quite a lot, but I am doing it step by step. I feel like my consistency level is getting better with a smoother action and I'm also getting stronger.
"I feel like my bowling has come along massively and I'm working on other things like getting my posture right and my angles of delivery.
"I'd like to think I'm an attacking bowler and for me it doesn't depend on the situation. A team could be 30-7 or 400-7 and I would still be trying to get them out.
"It could be a senior pro playing second team cricket and I would be bowling at them the same. It doesn't really faze me… it's just a batter, a person.
"It's the same when you're batting. Some people as you move through the age groups can be scared of the ball, but I try not to let that bother me and an important mentality to have."
"I think I have advanced my batting very well and my shot selection is a lot better."
Like most young players these days, Patterson-White is keen to be multi-faceted in the game, realising that being a genuine tail-end batsman is no longer an option.
He has forged a reputation as a clean and firm striker of the ball and hopes to move himself up the batting order as he matures as a player.
"My batting is coming along nicely," says Patterson-White. "Last year I was more of a pinch hitter than anything and this winter I have worked really hard on trying to get my head in the right position and not fall over my front foot.
"Even in the last couple of months I think I have advanced very well and my shot selection is a lot better. I feel a lot stronger and more composed at the crease.
"I've learned to play the ball and not the bowler. You can get some of the lads who have played international cricket bowling at you and it can be a bit overwhelming at times, but you just have to lay the ball on merit.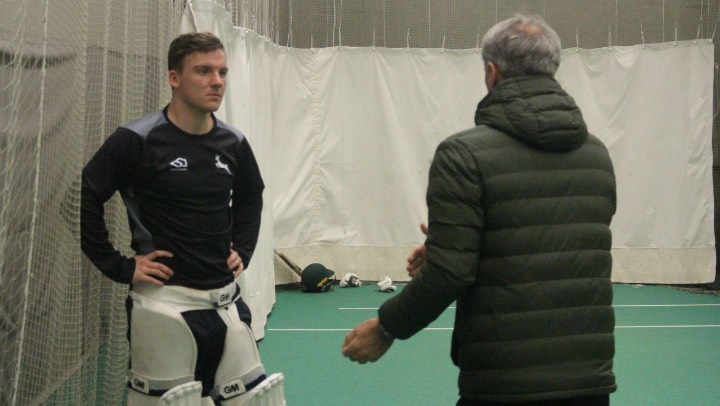 "The aim is to be an all-rounder eventually but at the minute I am a bowler who bats. If I don't succeed with the ball I can then try hard to succeed with a bat. If I can't do well in either on any day, then I want to give my all in the field and contribute in some way."
Like the vast majority of bowlers, Patterson-White has little trouble in remembering his best bowling performance.
He recalls: "My best bowling figures was for the under-17s against Staffordshire away which was on a wicket that was the same colour as the outfield. We bowled first and ended up getting 7-43 off about 11 overs, which came out of nowhere.
"It was gloomy, squelchy, but good for spinners and with a lot of turn. It ended up being one of the best games I ever played because I ended up taking four wickets in the second innings as well.
"It might not be as important as the cricket I am playing now, but at the time it was a real feat for me."
"My hero would be James Taylor with how he's come through what he has been through."
Similarly, Patterson-White is quick to identify his cricketing hero, one that is close to home and well known to Notts' Members and supporters.
"From the way things have been for him, my hero would be James Taylor with how he's come through what he has been through," he says.
"The way he applied himself after such a devastating thing was amazing. I was upset for him, especially after he had just got into the England set-up.
"He's helped me with my batting too and to take to him on a personal basis is really inspiring because he's turned a massive negative into a huge positive.
"Hopefully if I can keep my progress going then one day I can represent Nottinghamshire at senior level, just as he did."
*****************
Not booked your Test tickets already? You can watch Stuart Broad and England take on India at Trent Bridge in August by clicking here.