As a proud north-eastener, Paul Coughlin knows all about the cold wind blowing in off the North Sea, but what he encountered on England Lions' pre-Christmas tour of Australia was an altogether different breezy phenomenon.
The 25-year-old had travelled down under before – to Melbourne – but it was his first time in Western Australia, where, in Perth, he became firmly acquainted with the strong coastal air stream known locally as the Fremantle Doctor.
"Perth, and Brisbane, where we also went, were that far away from where I'd been before that they were completely different from what I was expecting, especially the weather," said Coughlin. "Perth was so windy you could barely keep on your feet."
"It was pretty tricky to bowl in because of that but, fortunately for me, I managed to get to bowl down-wind most of the time, so it wasn't so bad!
"But it was a big factor in most of the games we played and bowling in a morning when it wasn't quite so windy was that much easier.
"Playing in different conditions is definitely important to your development as a cricketer."
"Playing in different conditions is definitely important to your development as a cricketer and playing in different weather, and on different pitches, as we did over there, plays a big part in doing that."
But Coughlin's tour, which followed fairly swiftly after he signed a three-year deal with Notts at the back end of the summer, could have been over just as it was starting.
On the opening day of the first match, he suffered a hip injury against a Queensland XII that briefly threatened to end his trip prematurely.
As he limped off the Allan Border Field, his mind flashed back to the moment England bowler Simon Jones sustained a horrific knee injury at the Gabba in an Ashes Test in 2002.
Coughlin said: "My knee dug into the floor and there was a real soreness through my hips, I was a little bit nervous and thought that I might be in trouble.
"I was at mid-off and moved around to the right trying to stop a single and dived for the ball and my knee got stuck in the turf.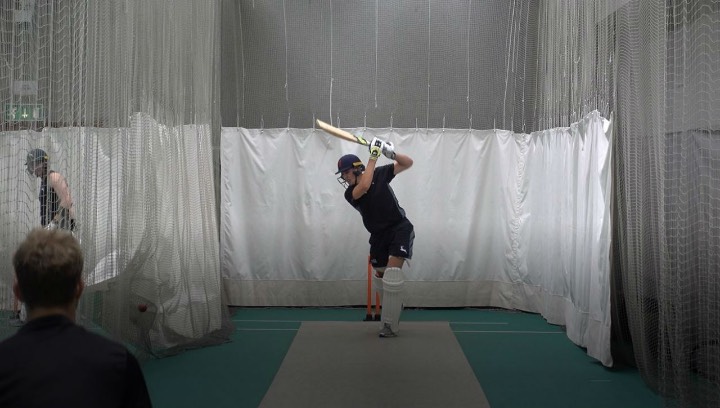 "It was a bit like the Simon Jones incident a few years ago, though not quite to the same extent, which was a lot worse. Luckily, it eased off pretty quickly after a bit of treatment and I soon got back into training with the lads."
Coughlin came back strongly from that setback in his remaining time on tour, hitting 64 from 49 balls in his comeback game, a 50-over match against a Western Australia XI, and then taking 3-33 in a 20-over victory against the same opposition.
He then dismissed former Trent Bridge batsman Adam Voges and scored 16 in a T20 win against Perth Scorchers - the first match played at the new 55,000 capacity Perth Stadium - although the hosts came back to win the three-game series 2-1.
"I was pleased with the way I batted in getting that fifty in my first match back," said Coughlin. "I had a long period of time to bat in that game and it meant I could take my time with the loss of wickets we'd had.
"The wickets were different to at home for batting, with a bit more pace in them and less sideways movement so, generally, I found them pretty good to bat on and the ball comes onto the bat nicely.
"The wickets were different to at home for batting, with a bit more pace in them and less sideways movement."
"Then I was delighted to take the three wickets in the 20-game. The economy rate was probably a little higher than I would have liked, but you have to look on the positives and the wicket column were good."
Touring with Sunderland-born Coughlin was Notts' Strength and Conditioning Coach Ross Herridge at a point when he had still to get to know the Trent Bridge playing staff.
That proved useful in giving the bowling all-rounder a taste of what he could expect, and he is now enjoying the opportunity to find out first hand what's in store after training with his new team-mates during January.
He said: "It's been enjoyable to come down to meet the lads and start getting to know them.
"It's obviously great to get these opportunities to play for the Lions, but I guess the timing of it is has not been ideal in terms of the fact that I've moved clubs and I haven't spent that much time with the Notts lads.
"But I think that will come and I think I am going to fit right in. I'm already feeling like the lads are making a big effort to make me feel part of it.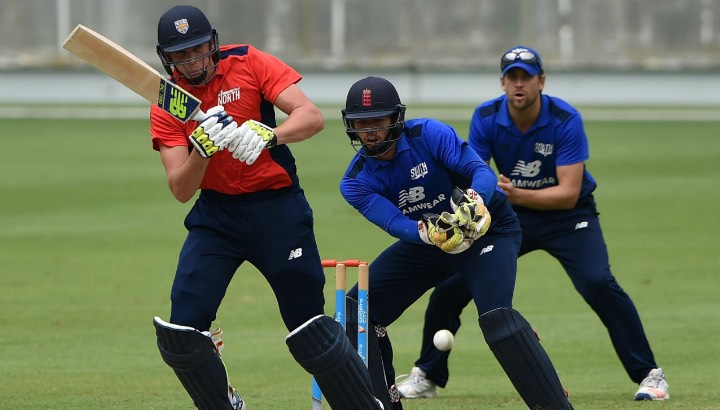 "I'm having a look round and trying to get a place near to the ground – it's a bit of a trek to go back home to the north east every day!"
Just before Coughlin flew out to Australia, Steven Mullaney was named as Notts new Club Captain, a decision the Wearsider describes as 'a great appointment'.
He's also delighted to see Dan Christian installed as T20 skipper as the Outlaws look to defend the Blast trophy they won on Finals Day at Edgbaston last summer.
"Dan's got such experience all around the world, which can only be good for us," said Coughlin.
"I'm really looking forward to competing for a place in such a strong one-day side in 50 overs and T20. Hopefully we can back up what we did last year again this year.
"It will be an opportunity to play in front of a lot of people and the competitive side of it is really good, because we know we have to be at our best to get selected."
"I'm really looking forward to competing for a place in such a strong one-day side in 50 overs and T20."
Coughlin is already looking forward with relish to the start of the new season - against Lancashire at Old Trafford in the County Championship on April 13.
First, however, he will be part of England's Lions tour of the West Indies in February and March before staying in the region for the curtain-raising North-South series, where he will play for the North in a side captained by Steven Mullaney.
"I haven't really thought about what to expect in the West Indies, but I think there will be differences from Australia in that I can't imagine that the wickets will be quite as good a standard.
"Speaking to other people, I've been told that there can sometimes be some indifferent bounce, but I will take it as it comes and I'm looking forward to getting out there for the Lions and the North-South series.
"It's always good to challenge yourself in different environments because you can get too comfortable if you play in the same environment all the time."
With a fair wind blowing, those experiences mean that by the time Notts begin their 2018 campaign, Coughlin should be firing and ready to go.
••••••••••••••••••
You can watch every ball of Nottinghamshire's scheduled home matches in 2018 - in all three formats of the game - by joining our family as a Member. Become a Member now...