Should you be visiting us for the first Royal London One-Day International between England and India on Thursday, read on to learn all the information you need to ensure maximum enjoyment from the game at Trent Bridge.
Ticket Information
Entry will only be granted to spectators holding a valid match ticket. This match has sold out and no tickets will be available on the day.
Please note that if you selected the print-at-home option at the time of purchase, you will need to bring along your printed tickets for scanning. Alternatively, ticket codes will scan on smart phones.
As this match is reserved seating, you must sit in the seat allocated on your ticket. Please use the entrance gate detailed on your ticket.
Window counters are situated on Bridgford Road, adjacent to the Hound Road turning and the Ticket Kiosk next to the Trent Bridge Inn (to the right of the pub as you look at it) should you have lost your ticket or have any other issues.
If you're unsure, please ask your nearest steward or Happy to Help volunteer, who will be delighted to assist you. You can also contact our ticket office on 0115 899 0300.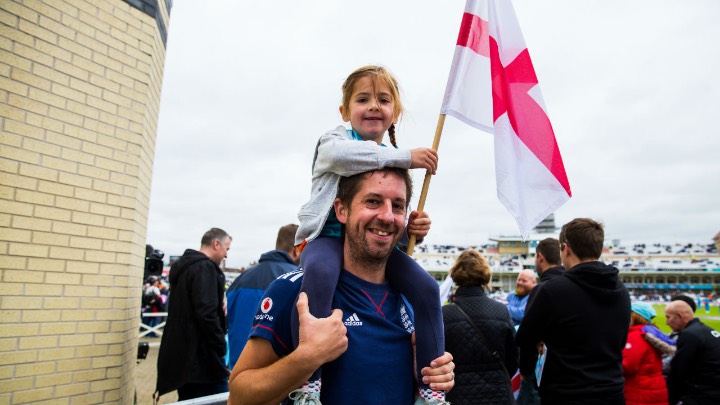 Hours of Play
Gates open at 10.30am, with the start of play scheduled for 12.30pm, and each side will bat for 50 overs (providing they are not all out).
The first innings is scheduled to take place between 12.30pm and 4pm before a 45-minute interval. The second innings is then scheduled for between 4.45pm and 8.15pm.
There is provision for an extra 30 minutes to be added on to make up for any loss in time.
Ticket collection
If you have match tickets to collect from the ground, you can do so at our Ticket Office windows, opposite the Co-op on Bridgford Road. The Ticket Kiosk next to the Trent Bridge Inn will also be open for enquiries.
Planning Your Journey
For your convenience, a full Nottingham travel guide is available for download here and you can view a map that shows approaches to the ground here.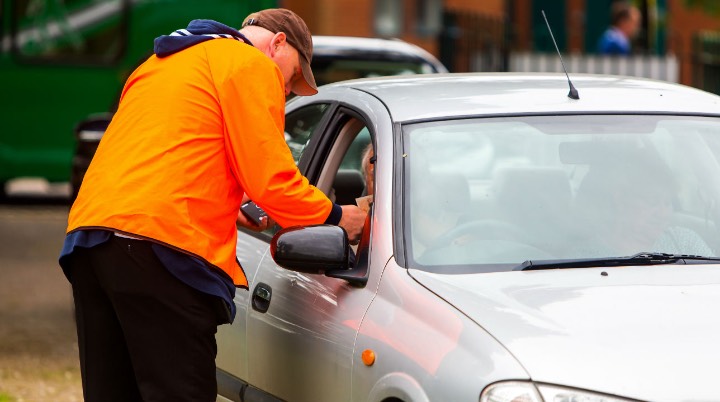 Travelling by Car
Paid-for road parking, in close proximity to the ground, can be found on the Victoria Embankment. This location has the most available space – head for the postcode NG2 2JY. Parking costs £10 for the day.
Please note that car parking passes for Bridge Field have sold out. However, there are a number of well-located, secure car parks around the city centre, which can be found on the travel guide above.
Anyone travelling by car from outside the city can take advantage of NET's seven free park & ride facilities located around Nottingham.
The most convenient tram park & ride site for the A453 can be found at Clifton South (17-minute tram travel time), stopping at Meadows Embankment, where spectators can then take a pleasant walk (around 20 minutes) along the river to Trent Bridge. Alternatively, travellers can stay on board and travel to Nottingham Station and catch the NET free shuttle bus service to Trent Bridge. For more details, visit www.thetram.net/park-and-ride.aspx
As an added incentive to take the tram, NET will be running its £2 return event ticket offer (see travelling by tram, below).
If you have a spare seat in your car, or are looking for a ride, then why not visit www.nottinghamshare.com, the free-to-use car share website, that could save you money on your transport costs.
Kindly note the Eventlink Park & Ride Service from Queens Drive no longer runs for our international matches.
Travelling By Tram
The nearest tram stop to Trent Bridge is Queens Walk, located around a 20-minute walk from the ground. Alternatively, a stop at Nottingham Train Station can be found just a 20-minute walk away. To help plan your journey, visit www.thetram.net
NET will be running its £2 return event ticket offer for all match ticket holders and Members.
To take advantage of the deal, you need to select the Event Ticket option from the ticket vending machine before boarding the tram, and make sure you have your match ticket or Membership card to hand for inspection.
Additionally, as above, you can also purchase a group ticket for £5, which is up to two adults and three children (under the age of 19).
Anyone travelling by car from outside the city can take advantage of NET's seven free park & ride facilities located around Nottingham (see travel guide link above).
Complimentary NET Tram Shuttle Bus Service
International match ticket holders who travel into Nottingham on the tram can take advantage of a new free shuttle bus service. Non-tram users attending these matches can also use this service for just £2 return.
The service, running in partnership with Skills Coaches and Nottingham Express Transit (NET), will depart from the bus stop on Arkwright Street, which is just a short walk from Nottingham Train Station's main or Queens Road exits/entrances.
Buses will then drop off near The Embankment Trent Bridge, which is just a few minutes stroll over the bridge to our ground.
Buses will leave the Arkwright Street bus stop (near Nottingham Train Station) from 10.30am and will run every 10 minutes until the match starts at 12.30pm.
The return service will resume and pick-up from the Trent Bridge Embankment bus stop at the end of the match.
Look out for our friendly Happy to Help volunteers, wearing blue, who'll point you in the right direction and refer to the map here.
Travelling By Bus
Regular bus travel is available to the ground, with bus stops situated on Bridgford Road and Radcliffe Road.
To plan your bus journey visit www.nctx.co.uk/cricket.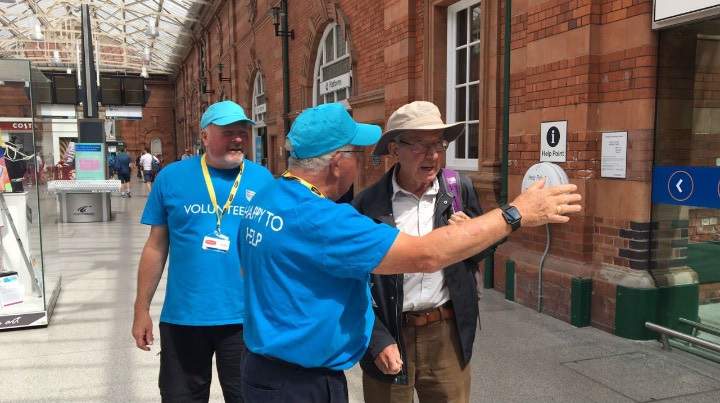 Travelling By Train
When you arrive at Nottingham Station, look out for our friendly Happy to Help volunteers, wearing blue, who will point you in the right direction for the 20-minute walk to the ground. They can also point you in the direction of public transport and taxis should you require it.
More volunteers will be in position on the approach to Trent Bridge to direct you.
Taxis
A taxi rank can be found 200 yards from the ground on Bridgford Road, adjacent to the large West Bridgford Co-op, and on Pavilion Road, near Nottingham Forest FC. Fares to and from the station will cost around £7. If you need to call for a taxi, some of our local operators include: Royal Cabs 0115 9608 608, Trent Cars 0115 950 5050 and Yellow Cars 0115 981 8181.
If you're travelling by taxi, please note that designated drop off points are on Musters Road, by the memorial garden, and on Bridgford Road (after the junction with Hound Road). Please be courteous to others by avoiding asking your driver to stop anywhere else in the vicinity of the ground, which will potentially hold up traffic and delay journey times.
Travelling By Bicycle
Supporters planning to take their bikes to Trent Bridge will benefit from cycle parking facilities in the Bridge Field Car Park on Bridgford Road. Please bring a chain to secure your bike.
Bike parking will be available from two hours before scheduled start times until an hour after close of play. Kindly note that bikes are not allowed inside the ground for this fixture.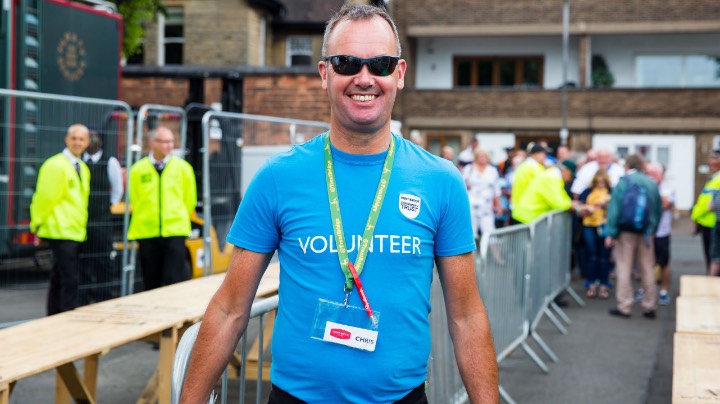 Assistance on the day
If you have any queries during your day at Trent Bridge, one of our Happy to Help volunteers, wearing blue, or stewards will be only too delighted to help. Additionally, our Above and Beyond volunteers will be available to assist disabled guests and their helpers during the match.
You can also download a map of the ground here.
Food & Drink
An array of catering options and bar facilities are on offer throughout the ground, featuring locally-sourced produce to satisfy a variety of tastes and dietary requirements. Kindly click here for more information.
Contactless debit/credit cards are accepted at all bars around the ground.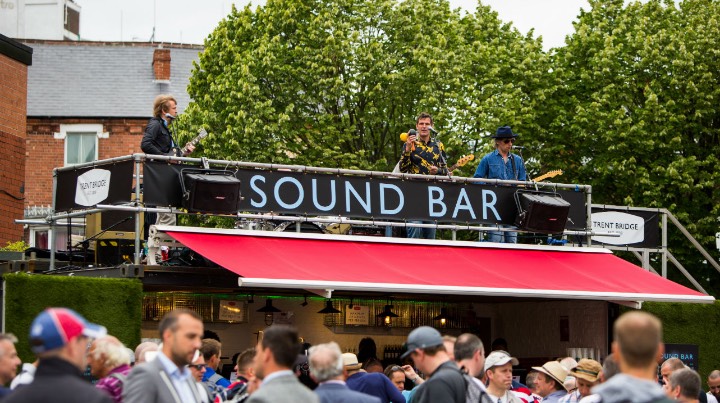 Trent Bridge Inn Courtyard
· Taste of India Street unit serving vegetarian, gluten-free and certified Halal meat
· Sylvester & Green Pork, purveyors of British Pork
· Gallops Farm handmade burgers
· Beach Fish & Chip Shop
· Ice cream van
· Hardys Wine
· The new Sound Bar, with The Beatles tribute Band, The Fab Four, playing live covers on the rooftop stage both before play and during the mid-innings interval
· Clarke's Crafty Ones – serving eight different premium draught & bottled craft beers, as well as tasty Cornish pasties
· The newly-refurbished Parr Bar, serving draught beers and craft ales, soft drinks and hot drinks.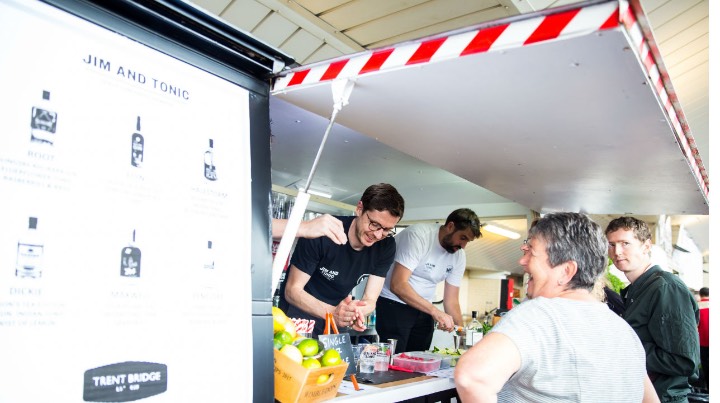 Smith Cooper Concourse
· Bars serving draught beers, Pimm's, wine & soft drinks
· Jim & Tonic gin bar
· Gallops Farm handmade burgers
· Ice cream van
· Romano's coffee.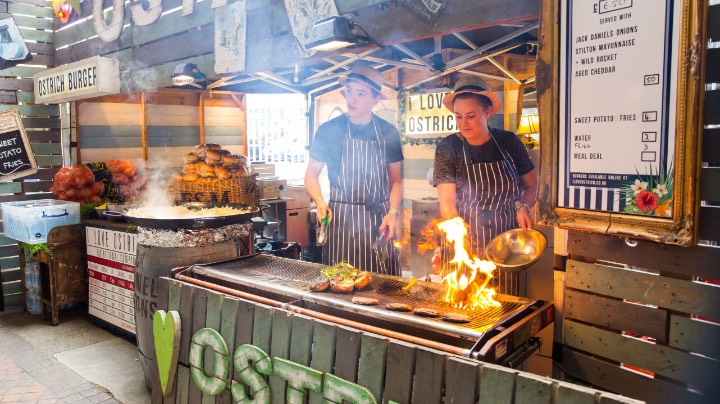 Radcliffe Road Concourse
· Bars serving draught beer, wine & soft drinks
· Prosecco Bar, also serving Pimm's and gin.
· Ice cream van
· I Love Ostrich Burgers
· Mac n Cheese (vegetarian option)
Radcliffe Road Stand
· Bars on level 3, serving bottled beers, soft drinks & hot drinks
· Bars on level 5 serving draught beer.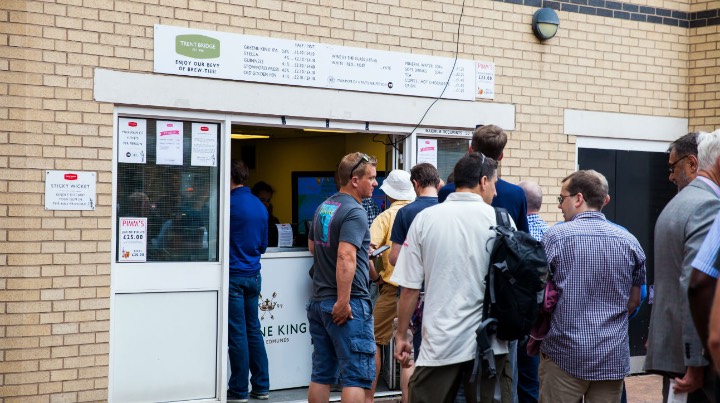 New Replay Screen (between Radcliffe Road Stand and Fox Road Stand)
· Scoreboard Bar serving draught beers, soft drinks, hot drinks & ice cream.
Fox Road Concourse
· Bar serving draught beers, Pimm's & soft drinks
· Gallops Farm handmade burgers
· Campervin, serving selection of wines
· Wham Bam Tikka, serving gluten-free, vegetarian and halal options.
Hound Road Concourse
· Hound Road Bar serving draught beers, Pimm's, soft drinks & ice cream
· Romano's coffee and cake
· Sylvester & Green Baguettes & Pork, who offer children's options. Vegetarian options include baguettes, salad boxes and chips
· Wine bar.
Squash Complex/Ticket Office
· Bar with TV (on first floor), serving draught beers, real ales, wine & hot drinks.
Dixon Gates
· Rustic Crust Pizza, serving vegetarian options.
· Greene King draught beer bar.
Breakfast snacks for a snip
So you can fill up with a tasty snack when you arrive at Trent Bridge, we are offering discounted food offers that are redeemable inside the ground before 12noon.
You can find out more and download your discount vouchers here.
Picnic hamper collection
Collection of pre-ordered picnic hampers is from behind the Hound Road Stand between 10.30am and 12.30pm.
You are, of course, welcome to bring your own food and soft drinks in plastic or cardboard containers, but please avoid cans, glassware and metal cutlery. Please be reminded that bringing alcohol into the ground is not permitted.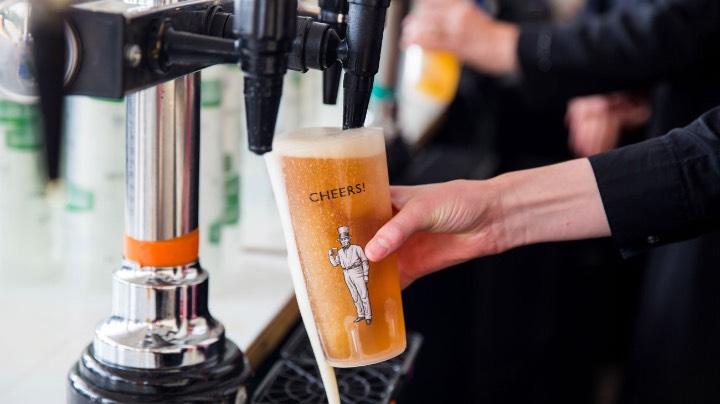 Recycling your beer cups
Beer will be served in branded, reusable cups, with spectators paying a £1 deposit. Each drink will be served in a fresh cup, with no deposit required in exchange for the existing vessel.
Supporters have two options in terms of what to do with their final cup of the day:
1. Take it home as a souvenir.
2. Return it to the bar and regain your £1 deposit.
Kindly note that beer cup returns will be accepted by over-18s only. Beer cup return points will be available outside the Parr Bar, adjacent to the Fox Road Stand and on the Radcliffe Road Concourse.
Visit our ODI partners
In the Trent Bridge Inn Courtyard, you'll find the Royal London stand.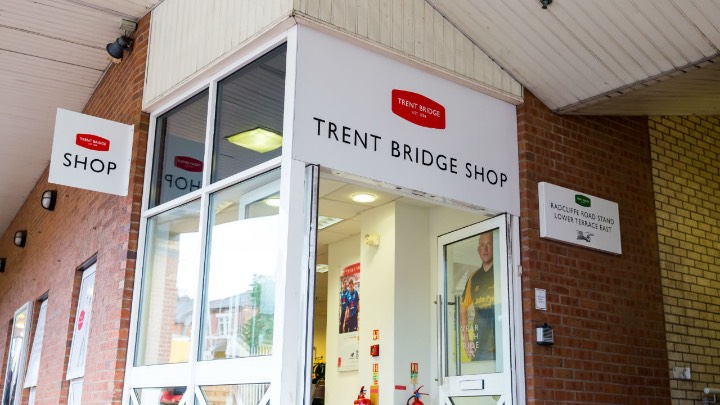 New Club Shop
Don't forget to have a look around our new Club Shop, on the Radcliffe Road concourse, which offers a range of England and Trent Bridge merchandise for purchase.
Small retail outlets
Additional Trent Bridge retail outlets will also be in position next to the Ticket Office, in the Trent Bridge Inn Courtyard and behind the Fox Road Stand.
All Stars meeting point
All Stars participants attending on the day can gather in the meeting point over in the TBI Courtyard.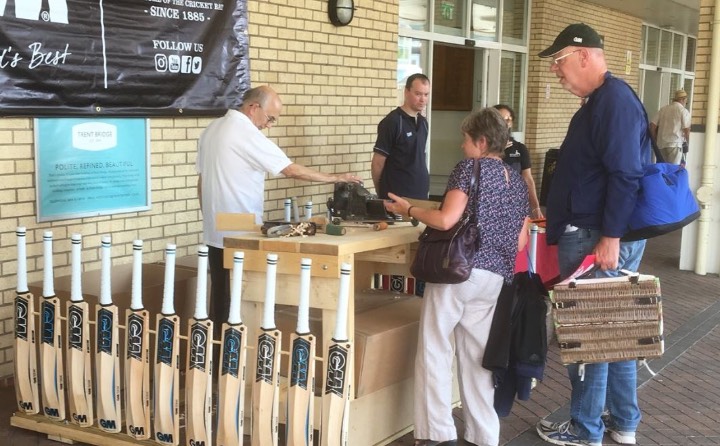 Gunn & Moore
During the match, Nottingham bat and equipment manufacturers Gunn & Moore will be holding a bat making demonstration on the Radcliffe Road concourse.
Book signings – James Taylor and Alan Wilkins
Popular former Nottinghamshire and England batsman and now BBC Radio Five Live commentator James Taylor will be signing his book Cut Short under the Smith Cooper Stand during the innings interval. Books cost £20.
Before that, former Glamorgan player turned accomplished sports broadcaster, Alan Wilkins, will be in the main Trent Bridge Shop on the Radcliffe Road concourse between 11am and 11.45am signing copies of his book Easier Said Than Done: A Life In Sport. Books cost £20.
Baby changing facilities
Change facilities are available in the Members' Pavilion accessible toilets, as well as in the squash complex ladies' toilets (access via the Ticket Office near the back entrance to the Pavilion), at the back of the Pavilion near the Hound Road Stand and the William Clarke Stand ladies' toilets. Please feel free to ask any volunteer or steward for directions.
The squash complex changing rooms can be made available upon request at the Ticket Office as further baby changing facilities accessible to men, or as a quiet feeding area.
Accessibility at Trent Bridge
Wheelchair viewing positions are available in front of the William Clarke and Smith Cooper Stands, as well as the Hound Road Upper, Radcliffe Road Lower and the top of the Smith Cooper Stand.
Please feel free to ask your nearest steward, or Above and Beyond volunteers wearing blue, if you have any questions regarding our accessible facilities around the ground, as they'll be delighted to assist you.
Multi-faith Room
If you want to get away from the hustle and bustle to pray, a multi-faith room has been set up in Squash Court Two. Please see a steward or Happy to Help volunteer if you need directions.
Junior Wrist Bands
All spectators visiting with children can take advantage of our free wrist band system. Simply collect your band from one of our gate Stewards or volunteers, or alternatively ask a member of staff on the Radcliffe Road Reception or Ticket Office.
On the reverse of your wrist band, where details are well hidden from view, simply complete the following information:
• Parent/guardian's name
• Contact phone number whilst in the ground
• Your stand and seat location
• Date.
These details will then help a steward reunite you with your child should you become separated or should he or she get lost around the ground.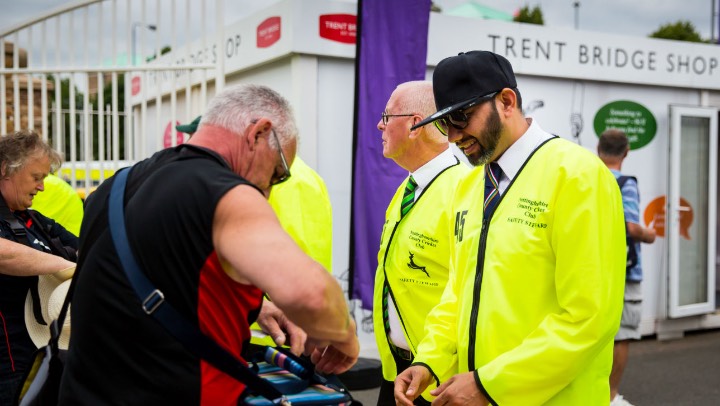 Safety and security
Our stewards will be on hand to ensure you are safe and secure throughout your day at Trent Bridge and should be your first port of call if you see anything that you may consider suspicious.
We ask that you travel light and bring only essential items. Bags are best left at home although we do allow small ones through the gates. You will be searched upon entry, so please arrive in good time.
Cameras and mobile devices
Please note that the use of any cameras, mobile devices or any electronic equipment for the recording, transmission or communication of match footage, details, statistics, images (on any platforms including but not limited to websites and social media) etc, is not permitted, other than with the proper accreditation. All ground regulations apply.
You can, however, take pictures for your own personal use, providing you do not use specialist equipment such as telephoto lenses, tripods or mono pods.
Accredited photographers will be present during the match and will be taking images for use on our printed marketing materials and digital channels. If you or anyone in your party would not like photographing, then please inform our photographer.
You can view a full list of ground regulations here.
Ticket refund policy
If play is restricted or does not take place, you will be entitled to a refund, or part-refund, of the match ticket value subject to there being: (a) 15 overs or less because of adverse weather conditions and no result is obtained - a full refund; (b) 15.1 overs to 29.5 overs because of adverse weather conditions and no result is obtained - a 50% refund.
In no other circumstances can money be refunded. Refunds will be made automatically by Nottinghamshire County Cricket Club to the original purchaser only, either by refunding his or her debit or credit card, or by sending a cheque. No action by the customer is necessary.
For refund queries, telephone 0115 899 0300 or visit http://www.ecb.co.uk/refundscheme. Please allow 30 days for your refund to be processed.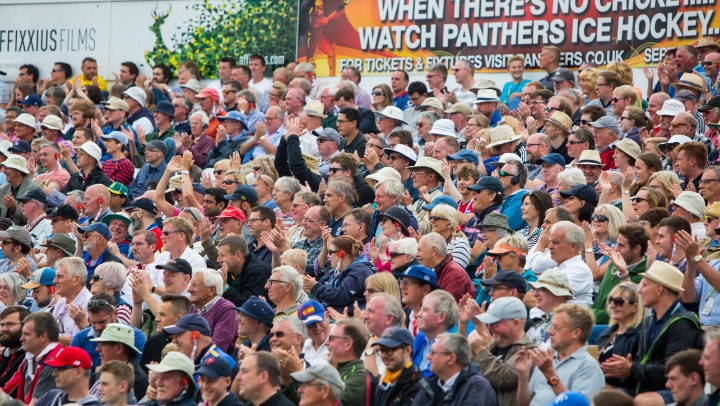 After the match
Just a few hours after the match is over, look out for your exclusive post-match email to those that purchased tickets. It includes reaction to the game, photographs and the opportunity to provide feedback on your matchday experience with us.
Please feel free to forward this communication to those that attended the fixture with you.
Special offers throughout the county
In Nottinghamshire, we love to welcome you; so much so that a selection of local businesses are ready with special offers for ticket holders.
Information on special offers is available for download here.
Looking for somewhere to stay?
Nottingham Tourist Information Centre, situated on Smithy Row in the City Centre, has an up-to-date view on the limited availability across the city. They can be contacted on 0844 477 5678 or you can go online here.
Any questions?
If there's anything we can help with in advance of your visit, please kindly feel free to call us on 0115 982 3000, email questions@nottsccc.co.uk or Tweet us via @TrentBridge.
We hope you enjoy the cricket!
*************
Notts Outlaws are next in T20 action at Trent Bridge on Tuesday 17 July against Durham Jets. Be part of it - secure your seats now...