There's not much that Ross Taylor hasn't experienced in his long and successful career, meaning he's pretty adept at assessing where teams stand in the overall scheme of things.
So when the sagacious 34-year-old New Zealander – who has 370 international appearances to his credit – tells you where the Notts Outlaws are at in terms of their bid to reach the knockout stages of the Royal London One-Day Cup, it's worth listening.
Straight after victory in a low-scoring match against the table-topping Worcestershire Rapids on Friday evening at a sun-soaked Trent Bridge, spirits in the home dressing were understandably, and rightly, high.
But Taylor knows from experience that there is plenty of mileage left in this North Group to run and insists the Outlaws can ill-afford to drop their guard with so many teams still in contention.
"It was a very important result for us against Worcestershire because if we'd have lost, we'd then have had to win our last two results and hope that other results went our way," he observes, "but the formula now is still in our hands.
"Hopefully we can take a massive amount of confidence from winning a pressure match, but we have another tough game at Durham to follow and that is just as important for us.
"If we do, and then beat Derbyshire, then we have kept it in our own hands and qualified for the knockouts. If we don't then we have to hope things go our way – and we want to avoid that situation if we can."
In Friday's game at Trent Bridge, the Outlaws' score of 202 batting first looked below par, despite the Rapids having the advantage of some cloud cover and the pitch taking some turn.
"It's definitely a frustration that I have got in quite a few times, but not gone on to get a really big score."
But a List A career-best 4-20 from Luke Fletcher, two for Samit Patel (2-33) and one wicket each from the other bowlers, Jake Ball, Steven Mullaney, Matt Carter and Chris Nash, saw Worcestershire bowled out for 164, ensuring Notts triumphed by 38 runs.
Taylor says: "We were probably a few shy with the bat, if I'm honest, but we bowled and fielded really well and were able to put pressure on.
"We knew we needed early wickets. It was one of those ones where if the opposition get to 60-1 then it's quite tough when you've only got 200.
"The last few games we have been losing wickets at crucial times and sometimes when you play against good bowling line-ups and the pitch has a little bit in it, you have to assess the conditions.
"Traditionally, this has become a very high-scoring game, but sometimes 250 or 280 is a good total. 350 normally is achievable at Trent Bridge but we got 180-odd against Warwickshire because we didn't get the partnerships going.
"If you don't get the scores with batsmen in pairs, then it's very hard to get those really high scores, so that's something we're looking to address."
Although he's only made two List A appearances following his debut against Warwickshire last weekend, Matt Carter's performances have immediately caught the eye of Taylor.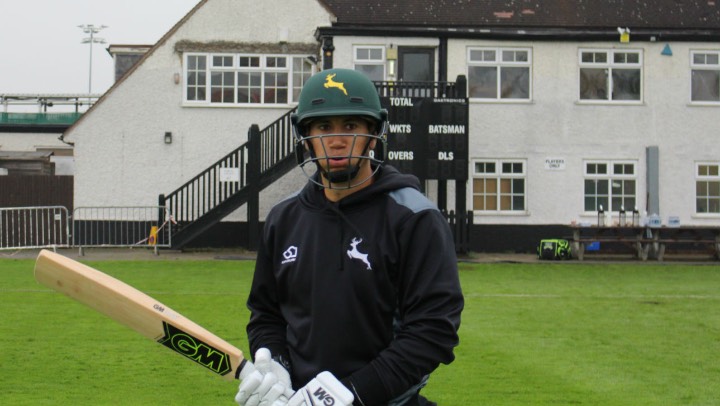 The Kiwi believes Notts – and the Academy system – has unearthed a real gem in the off-spinner from Lincolnshire, who went for just 35 off his 10 overs against the Rapids, following on from 4-40 on debut.
"I've been very much impressed with Matt, especially when you consider the intimidating boundaries he's been bowling to," notes Taylor.
"I had one of the best seats in the house at mid-wicket for much of the Worcestershire innings. The control he has and the height he bowls from – that's his friend.
"I think he is going to continue to grow as a player and he is going to be a great asset for this team."
From a personal point of view, Taylor is both pleased and, at the same time, frustrated with his contributions in the Royal London One-Day Cup.
On the one hand, he is the Outlaws' leading run scorer in the competition with 206 at 41.20 with two fifties, but on the other hand, he is disappointed that one of his five innings so far has not morphed into something significantly bigger.
Taylor says: "It's definitely a frustration that I have got in quite a few times, but not gone on to get a really big score.
"The momentum can quite often be with the side who is winning, not with the side who is at the top of the table, so we'll have to be ready and well prepared."
"A 40 or 50 every now and then is nice, but my job is to score big runs, so only getting starts is a bit frustrating.
"I feel like I've got a few decent scores in me before I leave. You can never look too far ahead in the game of cricket because it will come back to bite you, but I'm hitting the ball nicely and if I get to 40 or 50 again, then hopefully I can go on."
Durham is one of two clubs in England (the other is Sussex) that Taylor has played for previously, meaning he is looking forward to his trip to the Emirates Riverside.
The trip to the North East will also give him a chance to hook up with a familiar face and one of his fellow countryman.
"I played T20s there a few years back and I've played a couple of ODIs there since," explains Taylor. "They are led by Tom Latham, a fellow Kiwi, and it will be good to see him, but it will also be good to beat him.
"There's not many players there who I played with, I think they have either dispersed – or retired! But I've got some fond memories of it and I'm looking forward to going back there.
"They did get off to a slow start, but it's one of those competitions that even if you do, you can take late momentum into the play-offs, as we saw here last year.
"The momentum can quite often be with the side who is winning, not with the side who is at the top of the table, so we'll have to be ready and well prepared."
Notts Outlaws squad to face Durham: Chris Nash, Steven Mullaney (c), Riki Wessels, Alex Hales, Matt Milnes, Luke Fletcher, Matt Carter, Samit Patel, Tom Moores (wkt), Ross Taylor, Jake Ball, Billy Root, Jack Blatherwick.
*************
You can watch every ball of Notts' scheduled home matches in 2018 - in all three formats of the game including Vitality Blast - by joining our family as a Member. Adult prices start from £38 and you can become a Member by clicking here.