Anyone doubting the rivalry that has built around the North-South Series only had to stand outside the home dressing room at the Kensington Oval after the North finally broke their duck on Wednesday.
Nottinghamshire's Steven Mullaney, the team's captain, led the squad in a rousing rendition of the song he co-wrote with Alex Davies, another of the six Lancastrians in the squad – and the South couldn't have failed to get the message.
"We all grew up in a council house – now we want a cheque from Andrew Strauss," the North lads sung with gusto, referring to the winner-takes-all financial structure of the series, which was introduced last year by the director of England cricket as an additional tool in a new focus on white-ball cricket.
After completing a clean sweep in the inaugural series in Dubai and Abu Dhabi last March, the South had maintained their dominance in this year's opening match last Sunday – meaning the North had to win to keep the series alive.
They responded impressively to that pressure, winning by 46 runs to set up an intriguing finale later today (Friday), 1.30pm GMT start, at the 3Ws Oval.
The maiden success came as the North, batting first, piled up 335-8, with Joe Clarke making 71, Davies 42, Brett D'Oliveira 79 and Matt Critchley 64, to which the South could only respond with 289 all out, despite Nick Gubbins hitting 109 and Laurie Evans 64.
"It's a great feeling to have got the win, but now we want to win the series." Steven Mullaney
"It's a great feeling to have got the win, but now we want to win the series," said Mullaney, who chipped in with 42 runs in the North's testing total.
"There was a bit of pressure on the second game, because we had to win to keep the series alive. But we tried to take that off the lads and treat it as a one-off game. We've always backed our ability in this series, and it was great to see the lads show what they could do.
"Clarkey (Joe Clarke) and Davo (Alex Davies) both batted really well at the start, and then me and Dolly (Brett D'Oliveira) had to rebuild a bit in the middle – I think it helped that we've both been around for a bit, so we didn't panic.
"But a special word for the way Matt Critchley batted. He played some brilliant shots and really showed what he could do.
"We knew the game wasn't won at halfway, with the batting ability in the South team. Nick Gubbins played superbly again, and it was going to take something special to get him out. That was a special delivery from Richard Gleeson (a Yorker), and definitely the turning point of the match."
The North's Assistant Coach, Paul Franks, says he has enjoyed every minute of the series, but he is desperate for a win in today's decider before returning home to Trent Bridge.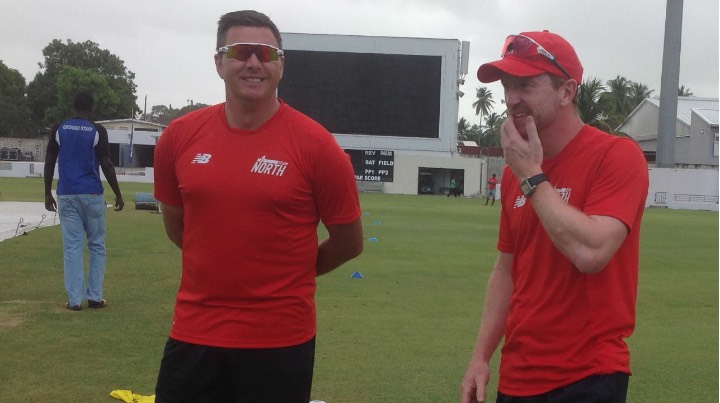 He was appointed to work alongside Paul Collingwood as a reward for the Outlaws' success in winning the Royal London One-Day Cup last summer – with one of the goals of the North-South Series being to strengthen the link between the domestic 50-over competition and England's one-day team.
The 39-year-old, who played a single ODI for England in 2000 in a Notts career spanning two decades before moving into coaching in 2015, was delighted by the way the North team fought back to square the series at the Kensington Oval on Wednesday – but insisted the job is only half done.
"A three-match series is something new for a lot of us – you don't get it in county cricket. So we're not used to the one down two to play scenario," said Franks. "That's another good development point of this series.
"I thought we responded really well in the second game. We were batting first in another high-scoring game. There was pressure in terms of putting a good score on the board, and then pressure when they were 200-2 with a guy on 100 and a guy on 60. I thought Richard Gleeson opened the game up for us really nicely and then Matthew Parkinson as a skilful leg-spin bowler did a really good job to close out the innings.
"It was a really good game of cricket. I hope tomorrow is equally as good."
Franks believes the possibility of involvement in the North-South Series could represent a major incentive to ambitious county coaches, just as it has for players such as Daniel Bell-Drummond and Sam Hain who earned their places through their positions in the MVP Rankings for the Royal London One-Day Cup developed by the Professional Cricketers' Association.
"I thought we responded really well in the second game." Paul Franks
"I was fully aware of the opportunity that was being presented to me," he added. "It's an opportunity to step up a level, and work with different players, Lions players, and national coaches.
"I'm ambitious and I make no secret of that. I'm determined to try and make the most of what's in front of me. This opportunity has been one of those situations where working with different players you learn a lot very quickly, about your style and how you are as a person. With that in mind I'm encouraged by what's gone on so far, and I'm really looking forward to the last game.
"Colly and I have known each other a long time, played against each other, and worked together when I was working for the UAE before the 2015 World Cup, when Colly was brought in as a fielding coach. That helped us when it came to working out how we'd work around this team.
"The lads have got a bit less resource per team than they're used to in the Lions environment, which isn't a bad thing – it puts a bit more responsibility on them to drive things along. One or two of those lads who have come off the back of a tough Lions trip have responded really well. Hopefully they'll go back to their counties feeling good."
Franks has also relished Steven Mullaney's appointment as a feisty North captain – and believes that Notts will benefit from that this summer.
"Mull's loving it, and he's fully deserving of it as well, as an aspiring county cricketer who keeps getting better," Franks added. "He's used to playing in pressure situations, he's done well in quarter finals, semi finals, Finals Day. I think he's handled the players very well out here, and he's certainly interacted with the coaches very well.
"County cricket captaincy will be very different from this series, but to have to make those key decisions when we were defending a total the other day – that's fantastic experience."
*************
You can watch every ball of Notts' scheduled home matches in 2018 - in all three formats of the game including Vitality Blast - by joining our family as a Member. Adult prices start from £38 and you can become a Member by clicking here.