In other parts of the world, it conjures images of illicit goings-on by underworld gangs. In the Trent Bridge dressing room, however, it simply means you're a much-valued component of a highly-skilled pace attack.
The 'Nottinghamshire Cartel' – the phrase first coined by bowling coach Andy Pick, himself a worthy exponent of swing and seam bowling – is firmly up and running in the 2018 season with 60 wickets to their name between them.
The headlines have, deservedly gone to Jake Ball, who is the leading wicket-taker in the country across both divisions with his 21 victims. The returning Stuart Broad has, understandably been the focus of the attention too, given his accolade of achieving 400 Test wickets over the winter.
But just as important in Notts' rise to top of the table in the early Specsavers County Championship Division One standings has been the slightly more unsung heroes, of which Luke Fletcher, alongside Harry Gurney and Luke Wood, is delighted to be one.
Like Gurney, who has 16 wickets to his name, the Bulwell Bomber is one of three Green and Golds in the top five leading wicket-takers in Division One, with 14, at a miserly 13.28.
That included career-best figures of 5-27 in the victory over Worcestershire at the beginning of the week when he helped to inspire a visitors' victory inside two days.
No wonder the 29-year-old seamer is back to his old effervescent self, replacing the frustrated figure left wondering what to do in the absence of playing cricket, following the season-ending head injury he sustained halfway through the 2017 season.
"I've said a few times that I've been itching to get back out there, so I'm delighted with the way things are going and the way the ball's been coming out," admits Fletcher, who has returned to the county circuit as if he has never been away.
"I'm chipping away the target I set of 50. After the first game when I'd only got one, I thought 'crikey, I should have just said 30!'"
"It was nice to get the CB (career-best), and I'm just trying to keep my preparations right, keep the form going and keep improving throughout the season – that's the challenge.
"I'm chipping away the target I set of 50. After the first game when I'd only got one, I thought 'crikey, I should have just said 30!'
"But I'm not really thinking too much about targets. I'm just thinking what I need to do on each occasion and game. 50 wickets would be a great season, but there is still a lot of cricket to be played."
As for his fellow cartel members, Fletcher is full of praise for the way they have contributed so far this season.
Bowler-friendly conditions they may have been in the opening three games, but the bowlers have certainly kept their discipline and bowled intelligently to make the most of them.
He says: "We're really pleased with where we are at as a group. We did a lot of hard work last year to get back in the division and the task was to start well and get the momentum – and to be fair to everyone, players and backroom staff, we have started well.
"Being part of Picky's cartel is brilliant – in fact the only one that's been missing from it has been Picky! He went down in the warm-ups at football at Headingley despite only touching the ball twice, so we're missing the Godfather of it all.
"The current attack I've bowled with is definitely right up there in terms of the best I've seen at Notts. Some of the bowlers we have had here down the years have been amazing such as Adams, Sidebottom, Franks, Shreck and, of course, Pattinson last year. I can't go through them all because we'd be here most of the day and I'd bore everyone.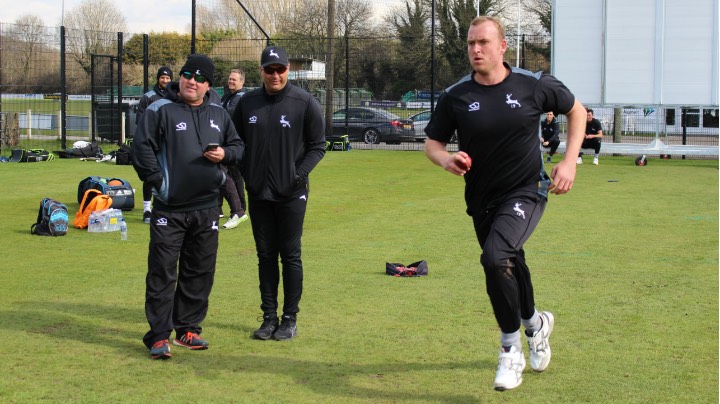 "The thing what works about it is the good variation. Jake can get it down at good pace and hots the seam, Harry Gurney gives you a left-arm option and is a bit skiddier and at you. Then there is myself who just plods away and tries to back the others up.
"We've got a balance and not had to use Samit (Patel) yet with these early-season wickets. But he's part of the cartel and so is (Steven) Mullaney, along with the lads knocking on the door from the second team, so we've still got options for when we need them.
"You try to latch onto these early season conditions and uncontested tosses and try to cash in as much as you can. That's just like the batters who in late July, August and September who will think there are plenty of runs for them then."
As much as he's enjoyed taking advantage of seaming pitches and swinging overhead conditions, Fletcher has sympathy for the batsmen in the Notts squad who, like those around the country, have found the start to the season particularly tough.
New Zealander Ross Taylor has, so far, been the only player to register a fifty, but the number 19 has every faith that will change in the coming weeks and months.
"Speaking to the batsmen, they say it's like you never really feel you are in," he explains. "And watching from the balcony, you can tell that there is always a ball with your name on it that you are probably going to get out to.
"It's hard to go out and build an innings. Sometimes batters say if they get to 20 balls they feel better about things and then if they start to hit boundaries then they feel in, but with the conditions there seems to have been plenty of balls that have accelerated the game.
"There is a bit of banter between batters and bowlers, but they are saying we should get wickets on these pitches! They'll get their time when they bat in white ball pitches later in the season and when the sun comes out.
"Hampshire are a strong side who have recruited quite well, have a good seam attack and a strong top six. They will be a big test for us here in our first game at Trent Bridge."
"Having said that, it was a pretty good effort to get to 300 at Worcestershire and Ross Taylor batted to put the pressure back on them by playing his shots, which can be the way to go this time of year."
An eagerly-awaited first home game of the season against Hampshire tomorrow will bring fresh challenges – and a familiar foe in the shape of Hashim Amla, who played an integral part in Notts' Championship triumph of 2010.
Fletcher says: "Hampshire are a strong side who have recruited quite well, have a good seam attack and a strong top six. They will be a big test for us here in our first game at Trent Bridge – that's what we all expect.
"We'll be looking to transfer our momentum from the away games into our home matches because we've had to wait a while to come back to Trent Bridge. I'm sure we'll have very good support here so we're all very much looking forward to getting going."
With Luke Wood out with an ankle, injury, Notts have added Matt Milnes and Billy Root to the team that beat Worcestershire to make up their 13-man squad.
Assistant Coach Paul Franks has confirmed that Captain Steve Mullaney (side strain) is still not ready to bowl alongside batting at the top of the order.
Nottinghamshire squad to face Hampshire: Jake Libby, Chris Nash, Steven Mullaney (c), Stuart Broad, Riki Wessels, Harry Gurney, Matt Milnes, Luke Fletcher, Samit Patel, Tom Moores (wkt), Ross Taylor, Jake Ball, Billy Root.
*************
You can watch every ball of Notts' scheduled home matches in 2018 - in all three formats of the game including Vitality Blast - by joining our family as a Member. Adult prices start from £38 and you can become a Member by clicking here.