Trent Bridge is welcoming spectators and players from across the globe once again this week, as it hosts matches in the 2019 ICC Cricket World Cup.
The fixtures are just the latest chapter in the long story of international cricket on this famous ground, which began 120 years ago this week.
Taking place two years after the first international sporting fixture at Trent Bridge (the England football team had beaten Ireland 6-0 here in February 1897), this three-day Test started on Thursday 1 June 1899 and saw England take on the touring Australians in the first of a five-match series.
Australia batted first and were 252 all out on the second morning; Clem Hill top scored with 52, while Jack Hearne and Test debutant Wilfred Rhodes both took four wickets.
England were then bowled out for 193, with CB Fry scoring 50 and Ernie Jones becoming the first name on the Trent Bridge honours board with his 5 for 88.
Hill's 80 was the highest score in the tourist's second innings, which they declared on 230 for 8.
England's second innings marked the first time in a Test match that a team had batted after their opposition had declared, and when the home team were 82 for 5 on the final day they looked set for defeat.
However an undefeated 93 from Kumar Shri Ranjitsinhji (who, before the match, had offered to stand down because of his poor recent form) took England to 155 for 7 when the match was declared a draw.
William Gunn had played on his home ground, with mixed success.
As the Nottingham Evening Post reported, "Gunn's dismissals for 14 and 3 came as grievous disappointments, but he did grand work in the field".
However, the match is more likely to be remembered as the last time that WG Grace played for and captained his country.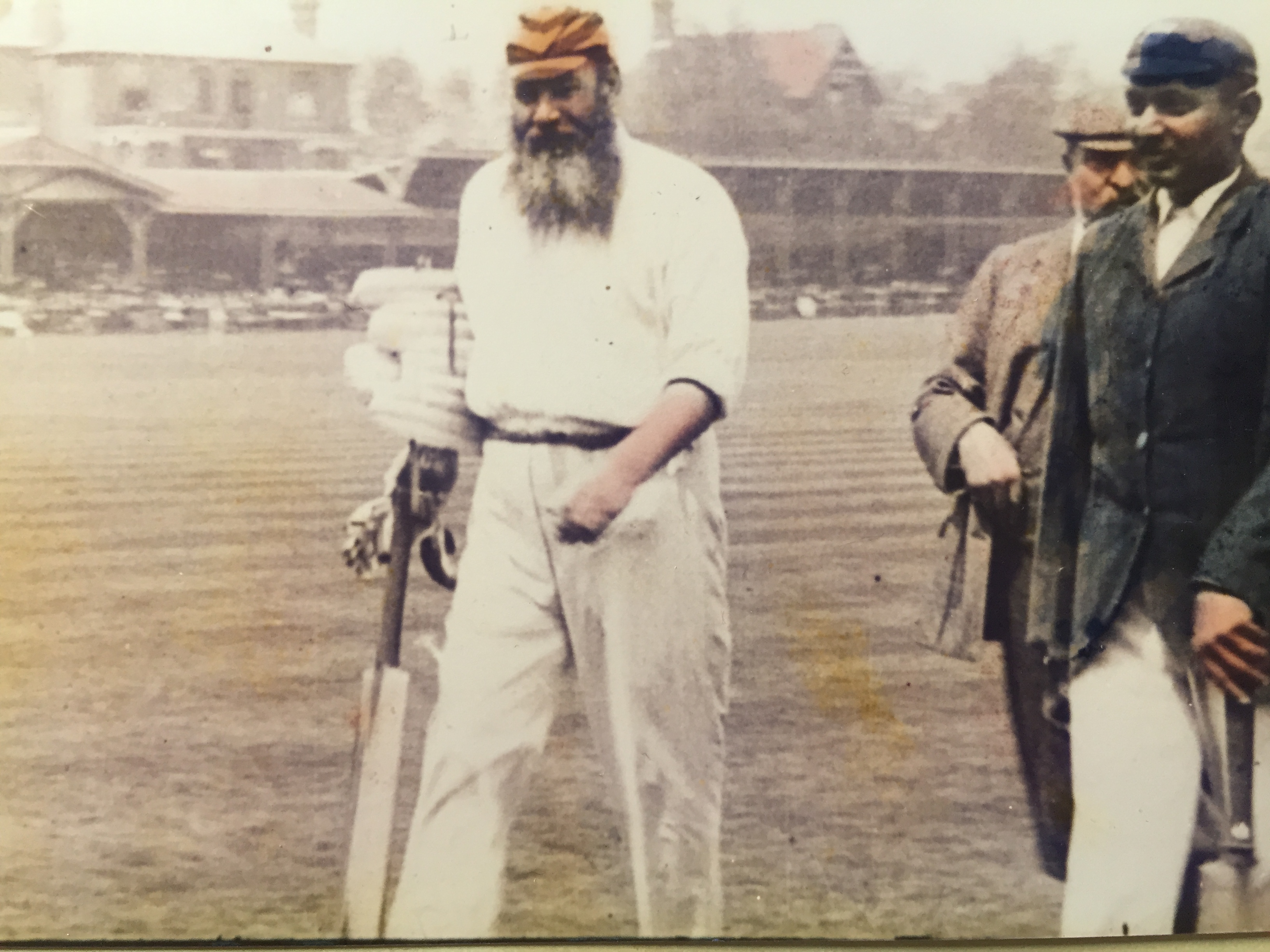 Aged almost 51 and carrying considerably more weight than in his prime, the man known as 'The Champion' managed 28 runs in the first innings and a solitary single in his second.
Commenting on Grace's first time at the wicket, the Nottingham Journal observed that "The Doctor had batted an hour and ten minutes, and had he been able to run faster his contribution, as well as the total, would have been larger."
Meanwhile the Evening Post, referring to Grace's captaincy, notes that "his command of the English team left something to be desired."
On the second day it was reported that "late in the day a section of the crowd behaved very rudely to W. G. Grace, hooting him if a ball went anywhere near him and was not fielded, and cheering him derisively when he stopped a simple hit."
However on the final day Grace's fine low catch at point brought Hill's high-scoring innings to an end and it was reported that "by this single feat [Grace] made amends for a good number of runs which he had lost by his want of activity in the earlier stages of the match."
Bowing to the inevitable, Grace resigned after the match at Trent Bridge, and although he continued playing first-class cricket he never appeared for his country again.
The match was "accompanied by three days of brilliant sunshine" and the Nottinghamshire Committee were congratulated on the staging of their first Test match.
The Evening Post described the wicket as "splendid" and commented that "Trent Bridge has never in its long history so nearly approached the level of an ideal home for cricket."
The total attendance was estimated at nearly 40,000; Notts members and their friends were admitted free, with the 24,451 non-members paying £1,211 in gate receipts.
A successful start to our status as a Test match venue ... and 62 more Test matches later, Trent Bridge continues to delight players and spectators from around the world.
*******
Join us at Trent Bridge as part of the privileged with a Nottinghamshire Membership. Packages start from £29 and you can find out more by clicking here...