Two sides with contrasting fortunes meet at Trent Bridge on Monday 3 June as the ICC World Cup 2019 continues.
England face Pakistan just a few weeks after they defeated them 4-0 in a one-day series, with one of the victories coming in Nottingham.
Since then, England have opened their tournament account with a resounding victory over South Africa at The Oval.
Pakistan, who have now lost 11 ODIs in succession, will look for an improved performance after being heavily beaten here by West Indies on Friday.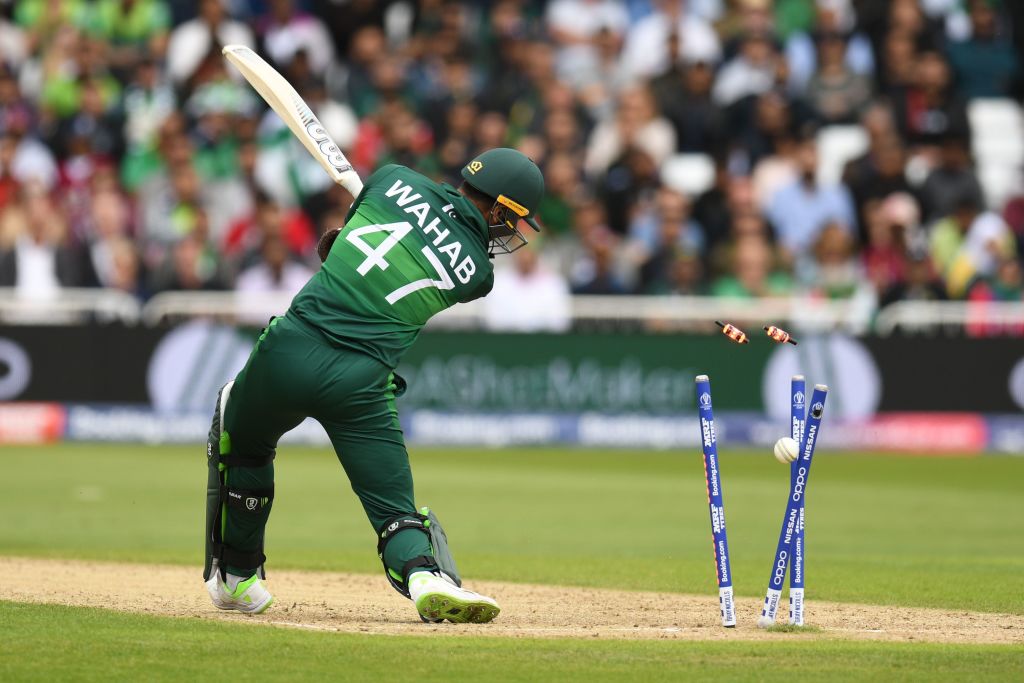 One-Day Internationals at Trent Bridge
There have been 46 previous One Day Internationals at Trent Bridge, since England and Pakistan played out the first contest 45 years ago.
On 31st August 1974 England played Pakistan in a match that was reduced to 50 overs per side after morning rain had reduced it from the original 55 overs.
England made 244-4 in that debut match, with David 'Bumble' Lloyd having the honour of scoring the first ODI century on the ground. The left-handed opener carried his bat throughout the innings to end on 116 not out.
Pakistan gave ODI debuts to Imran Khan and Zaheer Abbas but it was another of their celebrated batsmen, Majid Khan, who replied with a ton of his own as the tourists eased to a 7-wicket victory.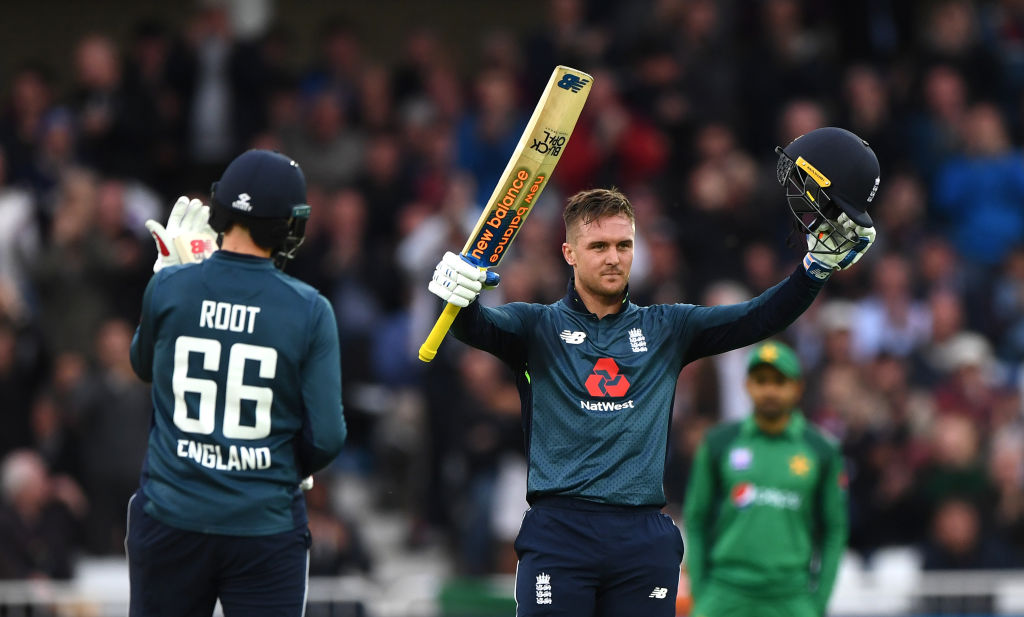 Trent Bridge Hundreds
Apart from Lloyd, the other English batsmen to score one ODI century at Trent Bridge have been Keith Fletcher, Robin Smith, Alec Stewart, Nick Knight, Andrew Strauss, Paul Collingwood, Joe Root, Jonny Bairstow, Eoin Morgan and Jason Roy.
Two other players, Allan Lamb and Alex Hales, have each scored two hundreds in Trent Bridge ODIs.
Lamb's scores were 118 v Pakistan in 1982 and 100 not out against the Aussies seven years later.
Hales made 171 three years ago against Pakistan and followed it up with 147 against Australia last year.
Roy's century, an innings of 114, came last month in England's most recent win over Pakistan at Trent Bridge.
In that same match Babar Azam registered 115, joining Majid Khan and Zaheer Abbas as the third Pakistan batsman to hit three figures in Nottingham.
Other visiting centurions have included three Australians: Trevor Chappell, who did it in a 1983 World Cup match against India, plus Ricky Ponting and Tim Paine, who both reached three figures here against England in 2009.
Last summer Rohit Sharma scored an unbeaten 137 in India's eight-wicket win over England.
Bowling Achievements
Paul Collingwood is one of four bowlers, alongside Pakistan's Waqar Younis, India's Kuldeep Yadav and Ken MacLeay of Australia, to claim six-wicket hauls in Trent Bridge One Day Internationals – with Stuart Broad joining the great Indian all-rounder Kapil Dev as the only others to get five-fers.
Broad's achievement came against South Africa in 2008 as he collected the man of the match honours with figures of 5-23 in England's 10-wicket success.
Notable Results
The venue has played host to two tied matches; in 1989 when England and Australia fought out a tied contest in a 55-over game – 226 runs apiece – and three years ago when both England and Sri Lanka each scored 286.
Perhaps the biggest shock came during a 1983 World Cup match when Zimbabwe beat Australia by 13 runs.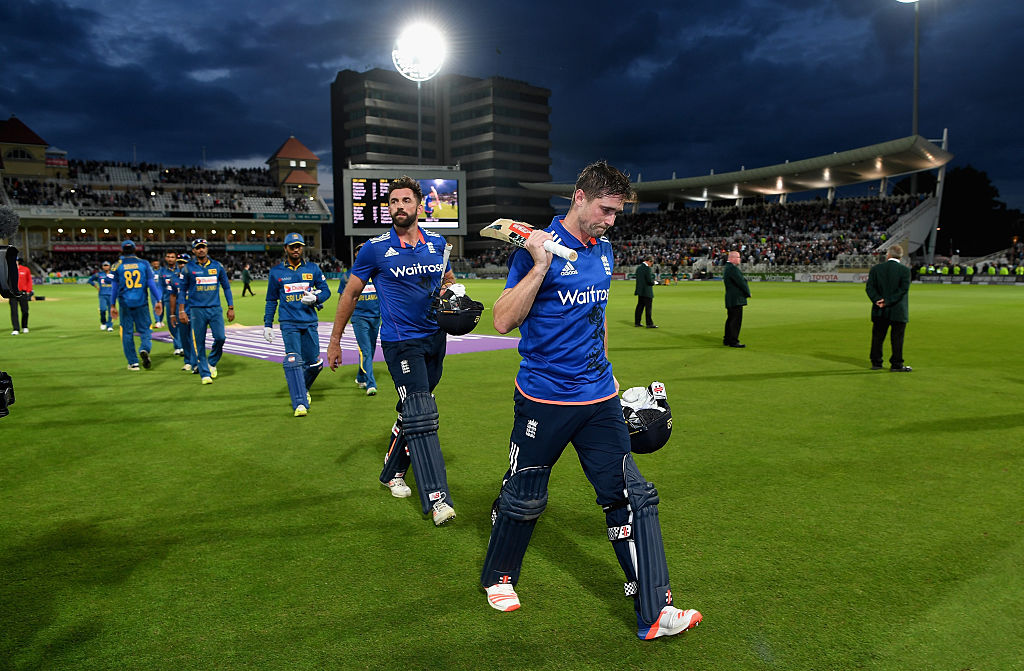 England v Pakistan
There have been 87 previous meetings, with England having won 53 and lost 31. Three other matches have been lost to the weather.
47 of those meetings have been in England, where the hosts have been successful on 30 occasions and Pakistan have emerged victorious 15 times, with two No Results.
This will be the ninth clash in Nottingham, with England leading by five wins to three.
Pakistan at Trent Bridge
Apart from the above matches against England, Pakistan have been involved in six other matches in Nottingham, five of them in previous ICC World Cup competitions.
In 1975 they defeated Sri Lanka.
In 1979 they beat Australia
In 1983 they beat New Zealand
In 1999 they lost to South Africa
In 2019 they lost to West Indies
Additionally, in a 2001 tri-series which also involved England, Pakistan defeated Australia.
World Cup matches at Trent Bridge
This will be the 13th ICC World Cup match at Trent Bridge and the sixth involving Pakistan.
England will be playing only their third World Cup match in Nottingham, having defeated New Zealand in the inaugural event in 1975 and Zimbabwe 20 years ago.
*******
A Notts Outlaws squad brimming with international talent will commence their T20 Vitality Blast campaign against Worcestershire Rapids at Trent Bridge on Thursday 18 July, with advance tickets priced at £10 for adults and £5 for under 16s. Secure your seats here…