With Pakistan returning to Trent Bridge to face England in Test match cricket next year, trentbridge.co.uk looks back at a standout performance the last time the two sides met for a red-ball clash at the ground.
Register your interest in tickets for international cricket in 2020 here...
When it comes to memorable bowling performances at Trent Bridge, one spell immediately springs to mind.
Stuart Broad's eight-wicket demolition of Australia in 2015 dominates the discourse in recent history, but over the course of a career, his senior bowling partner has the more impressive statistics.
Jimmy Anderson has taken a staggering 64 Test wickets in his happy hunting ground at West Bridgford, with his performance the last time Pakistan visited Trent Bridge for a Test standing head and shoulders above the rest.
The England team of 2010 were months away from scaling one of cricket's greatest peaks: an Ashes victory in Australia. But they certainly weren't to know it at the time.
A drawn series against South Africa and the middling form of Alistair Cook in the home side's top order were enough to place a dint in any pre-series optimism.
And Pakistan's pace duo of Mohammad Amir and Mohammad Asif were stealing the limelight from the likes of Anderson and Broad after a strong series against Australia.
Amir in particular enjoyed success in the Trent Bridge contest, but as he took his leave from the field on day four, Anderson had decisively wrestled back the attention.
Anderson's match began in earnest on day two, somewhat inauspiciously.
Dismissed for a golden duck on his 28th Birthday, the right-hander only had to wait four overs to start exacting his revenge.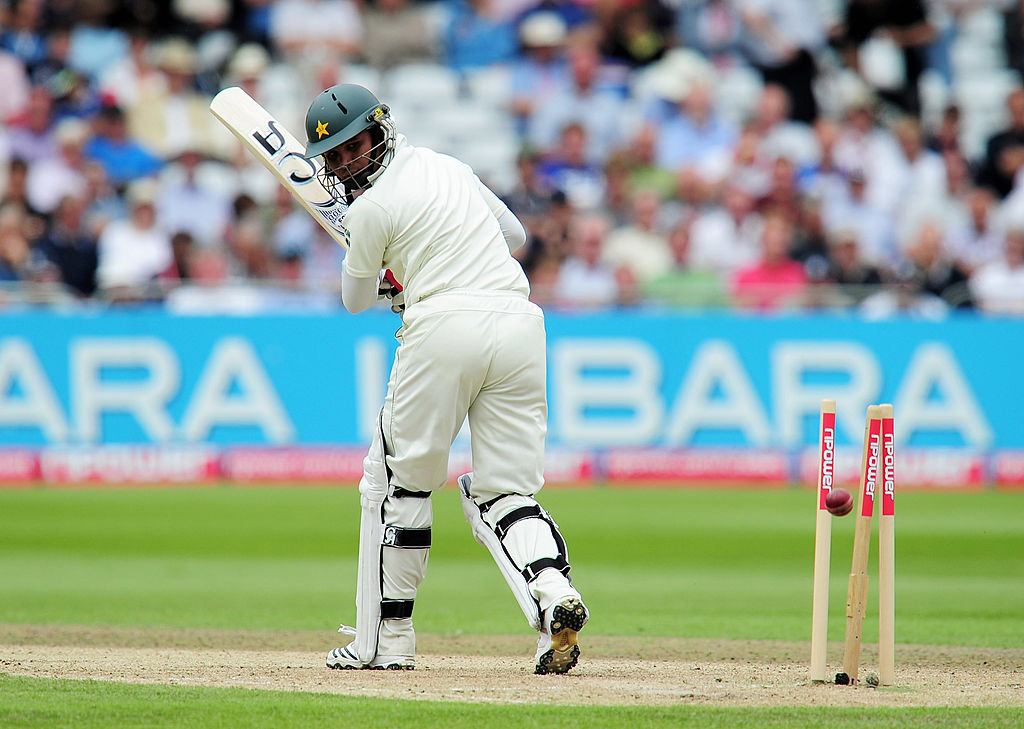 The three wickets he took in his opening spell were of the kind that have become his trademark in his career's second act.
Pitched-up, inviting the drive, swinging away – he was simply too good for Salman Butt, Imran Farhat and Azhar Ali.
And after a frustrating 50-run stand, Anderson returned to accelerate the tourists' demise, offering catching practice to the slips and removing Shoaib Malik and Mohammad Amir.
Pakistan were all out for 182, still in arrears by 172 – and after a typically unselfish Matt Prior century propelled the hosts to 262-9 declared, Anderson again assumed centre-stage.
Devilish inswingers saw off Umar Amin, Imran Farhat and Umar Akmal.
Full, hooping outswingers accounted for Shoaib Malik and Umar Gul.
And it was only fitting that Anderson would have the final word, inducing the edge from Mohammad Asif to finish with 11/71.
At the time, Anderson was still known for his inconsistency, his wild-haired, erratic early days casting a shadow over his career.
But this Test-best performance on the Trent Bridge proved he was capable of so much more, and sowed the seeds for a remarkable long-lasting period as one of the finest bowlers in world cricket.
*******
Test Match cricket returns to the charming setting of Trent Bridge next year when England host Pakistan from Thursday 20 August. Register your interest in tickets here...