Stuart Broad has revealed how character and communication were key in England's historic second Test victory over South Africa in Cape Town.
Ben Stokes took the plaudits for taking the final three wickets to secure a victory which leaves the series poised at 1-1 heading into Thursday's encounter in Port Elizabeth, but the Nottinghamshire seamer was quick to credit the entire XI for their part in the win.
"It is probably the hardest I have ever had to work to get those final ten wickets," said Broad.
"The principles that we stuck to in this Test match, the patience and the character we showed – we had times where we went hours without taking a wicket and then we got five wickets in the last hour of the Test match to win. That was a great thing for this team.
"It's old school Test cricket. It shows the old characteristics still belong in Test cricket.
"You can bowl 10 overs for 20 with no wickets and it doesn't repay you then, but it repays you in three hours.
"I think it's probably one of the most rewarding Test matches I've been involved in for the old school principles of Test cricket rewarding the players."
Stokes' on-field exploits included 119 runs in the game and a record five outfield catches in South Africa's first innings – but Broad felt the all-rounder's mentality was equally crucial in securing his side's triumph.
"Stokesy does un-English things very well – he's exceptional at sharing thoughts and opinions," he said.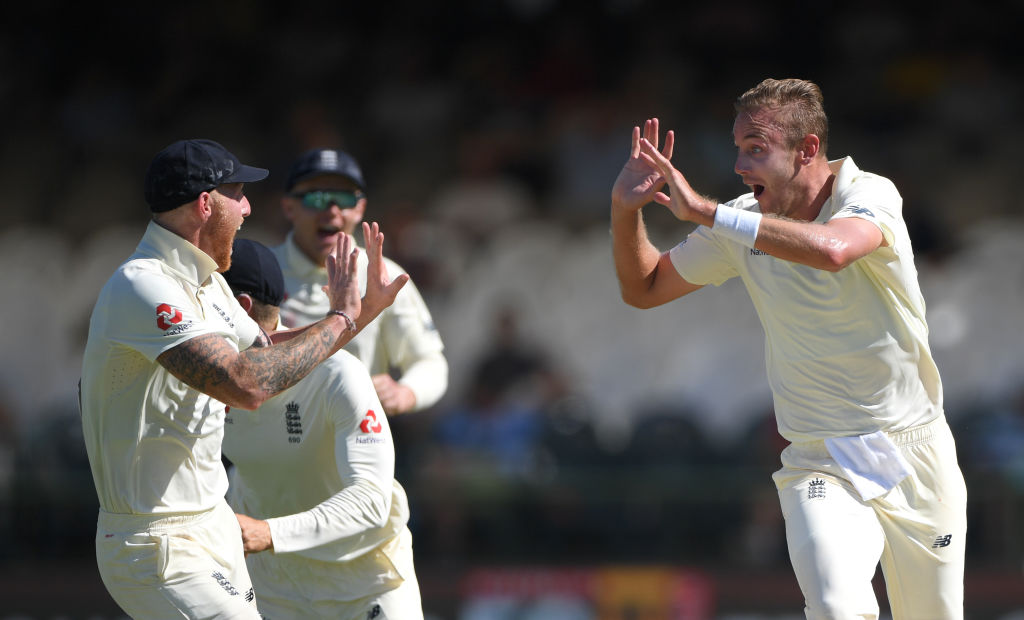 "We got a wicket and in the huddle afterwards, I said 'Boys, I think we can up our standards out here, bowlers can hit the lengths harder, fielders can stop the ones – they're on top of us with their energy'.
"Stokesy went 'I don't agree with you, I think we've been good.' Which is great. You don't want yes men, do you?
"And we had a bit of back and forth like that. I really liked that.
"A couple of minutes later he walked over and gave me a big fist pump and he even texted me that night saying something like 'Sorry, mate, for that disagreement'.
"There's no need to say sorry. That's sport. That's what it's about. It's part of why communication is so strong in this group. The great thing about that was it was just two blokes trying to get England in a better place."
"Stokesy does un-English things very well – he's exceptional at sharing thoughts and opinions,"

Stuart Broad
Communication had also played a part in the dismissal of South Africa's skipper in the hosts' first innings.
Faf du Plessis was removed by James Anderson for 1 – a wicket Broad attributes to a pre-match plan cooked up by the England arsenal.
"On Saturday, we were thinking about how to get in Faf du Plessis's bubble; all the little things that seem like a bit of nonsense but actually create something," he said.
"I was throwing made-up stats at Faf. It's probably absolute rubbish but I had heard that at Cape Town, 80 per cent of the wickets were from batsmen nicking balls to wicketkeeper, slips or gully.
"So I was making sure Faf could hear me going: 'Eighty per cent nicks here, boys.' I was basically telling him to leave the ball – 'You've got to leave it, Faf, cos if you play at it, you'll nick it'.
"And then he played a straight bat nick, didn't he, when Jimmy got him out?!
"I know it sounds a bit childish, but your aim is to just try to have some sort of mental jump on your opposition. Any sort of doubt you can get."
*******
Test cricket returns to Trent Bridge in August 2020, with Pakistan taking on England from 20-24 August. Secure your seats here...