With a pair of Lord's final victories and a maiden T20 Blast title, the past ten years have been amongst the most successful Notts have ever enjoyed in limited-overs cricket.
Over the festive period, trentbridge.co.uk asked you to vote for your white-ball team of the decade - and the results are in. Read more about the chosen XI below, or view the Nottinghamshire red-ball team of the decade here.
To secure your seat for an explosive summer of white-ball cricket, purchase an Outlaws Season Ticket here.
Alternatively, for access to all scheduled Notts home matches and a range of exclusive benefits, secure your Nottinghamshire membership for 2020 here.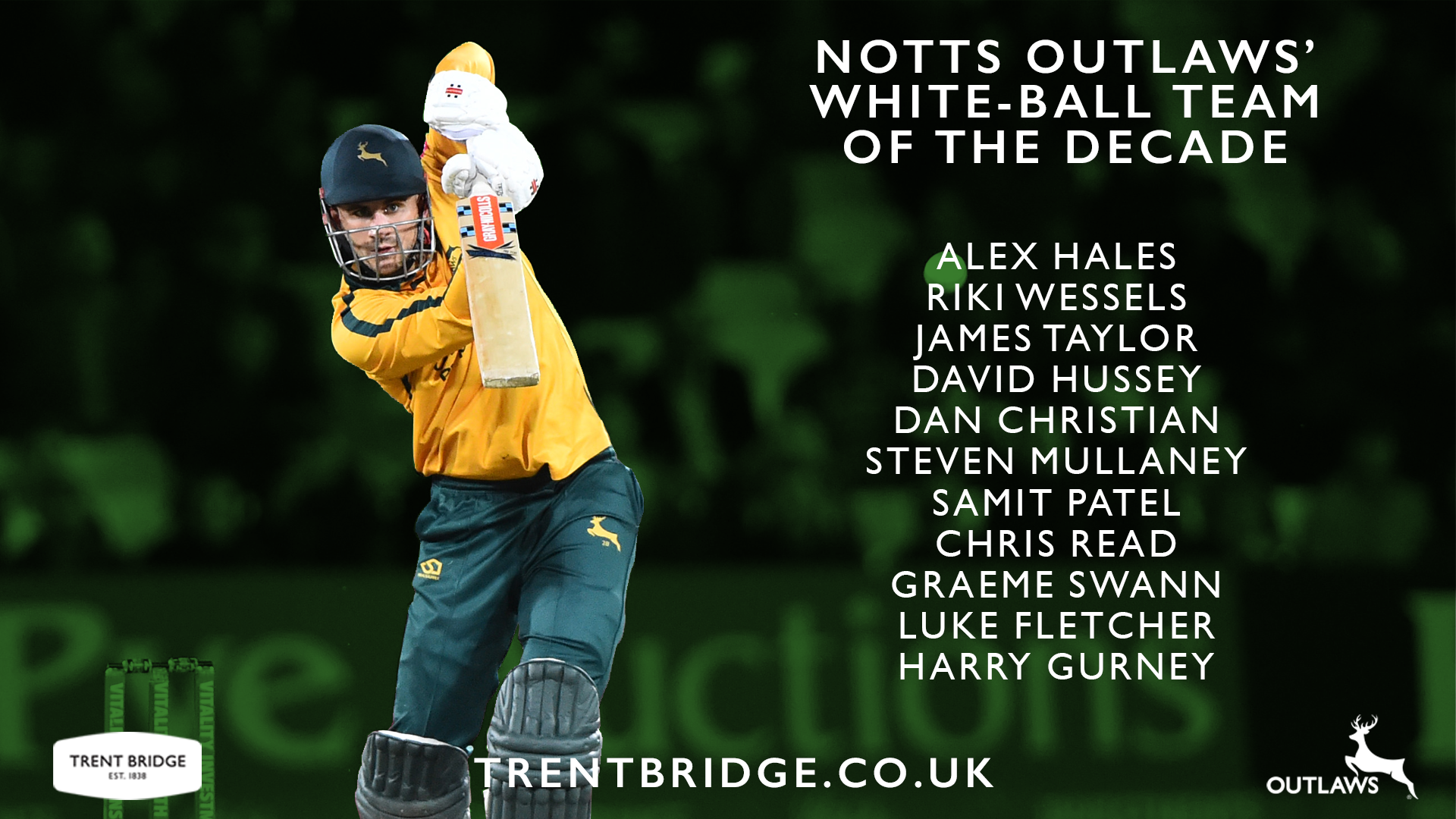 Alex Hales – chosen by 99% of voters
Statistics for the decade: 72 List A matches, 2830 runs at 42.23 with 8 hundreds and 15 fifties.
109 T20s, 3252 runs at 31.57 with one hundred and 27 fifties.
Also named in the Notts red-ball team of the decade.
The most popular selection in the white-ball team of the decade, Hales is the Outlaws' most prolific batsman in T20 cricket and has hit more half-centuries in the format than any other man in green and gold. But it is one List A innings at the height of summer in 2017 which he will forever be remembered for.
An unbeaten 187 in the Royal London One-Day Cup final broke the record for the highest score ever seen in a Lord's showpiece, and hauled Notts to their second limited-overs trophy of the decade.
Riki Wessels – chosen by 69% of voters
79 List A matches, 2368 runs at 33.82 with 3 hundreds and 14 fifties.
100 T20s, 2827 runs at 31.76 with one hundred and 16 fifties.
Hales' destructive partnership with Wessels was instrumental in Notts setting some of the most commanding white-ball totals in their history.
The pair dovetailed impeccably at the top of the order - notably in scoring 106 runs in the six-over powerplay against Durham Jets in 2017.
James Taylor – chosen by 65% of voters
37 List A matches, 1815 runs at 72.60 with six hundreds and 10 fifties
42 T20s, 848 runs at 33.92 with two fifties.
Also named in the Notts red-ball team of the decade.
Taylor was a reassuring presence at the crease during his spell with Nottinghamshire, but was also capable of playing a match-defining innings.
The 50-over captain's career-best one-day score came in green and gold, with his unbeaten 146 helping Notts to a commanding win over Derbyshire in 2014.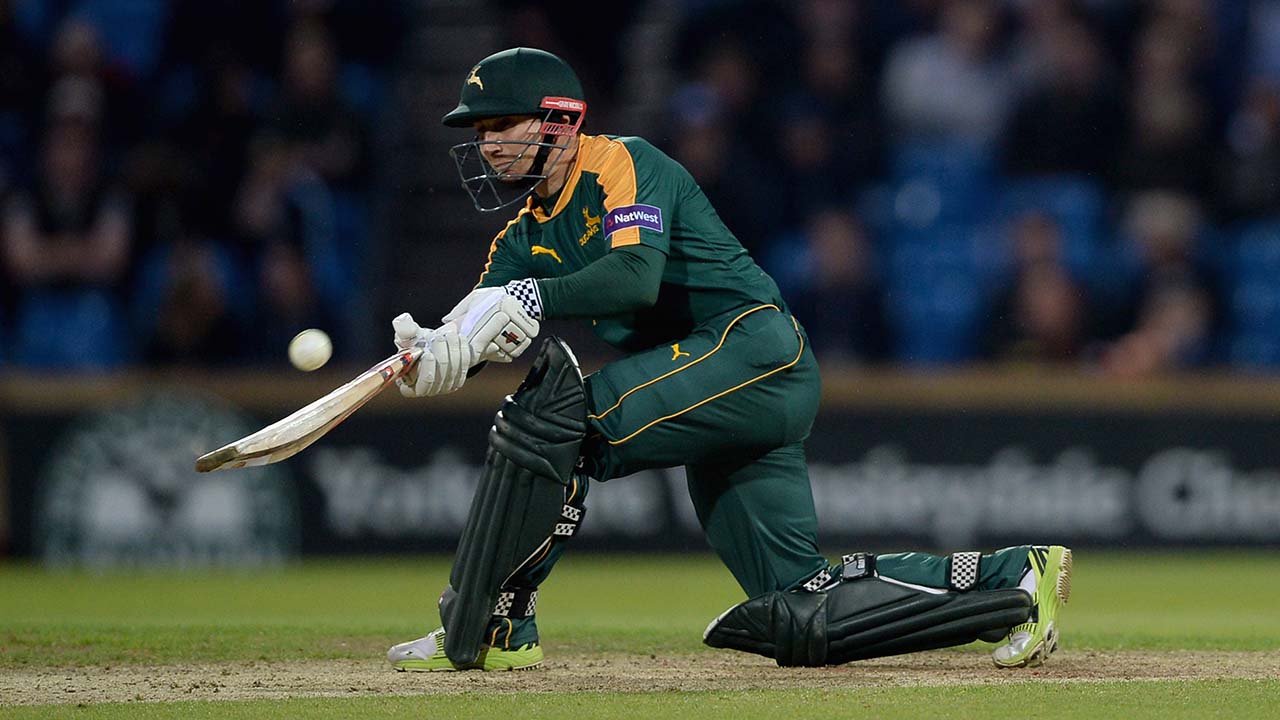 David Hussey – chosen by 64% of voters
16 List A matches, 526 runs at 47.81 with four fifties.
40 T20s, 1,246 runs at 41.50 with 10 fifties.
Also named in the Notts red-ball team of the decade.
In his final few seasons at Trent Bridge, Hussey remained a key performer for the Outlaws in white-ball cricket.
And the Australian bowed out in style, with a crucial 99-run stand alongside Chris Read helping to secure the 2013 YB40 title in Hussey's Nottinghamshire swansong.
Dan Christian – chosen by 66% of voters
15 List A matches, 579 runs at 52.63 with seven fifties; 15 wickets at 23.46 with one five-wicket haul.
63 T20s, 1,346 runs at 36.37 with one hundred and five fifties; 35 wickets at 31.71.
Initially brought to Trent Bridge as a late replacement for a Caribbean-bound Darren Sammy, Christian has become integral in a successful half-decade for the Outlaws.
The Aboriginal's shrewd, inspirational captaincy led Notts to the T20 Blast title in 2017, while his blistering 113 against Northamptonshire the following year remains one of the fastest centuries ever scored in the format.
Steven Mullaney – chosen by 57% of voters
101 List A matches, 2,216 runs at 36.93 with two hundreds and 15 fifties; 82 wickets at 36.41.
123 T20s, 1,145 runs at 17.34 with two fifties; 91 wickets at 29.81.
Also named in Notts' red-ball team of the decade.
As One-Day skipper since Chris Read's 2017 retirement, Mullaney has been the fulcrum of the Outlaws 50-over setup - and he played a crucial role in each of Notts' most recent triumphant campaigns in the format.
Three wickets in the 2013 YB40 semi-final helped to restrict Somerset to a comfortably chaseable total at Trent Bridge, before the all-rounder's work with ball in hand was crucial once again in the 2017 Lord's final, checking Surrey's progress towards a challenging target.
That Notts were in the final at all was largely down to the right-hander, after his rapid-fire 111 allowed the green and golds to chase a record 370 against Essex.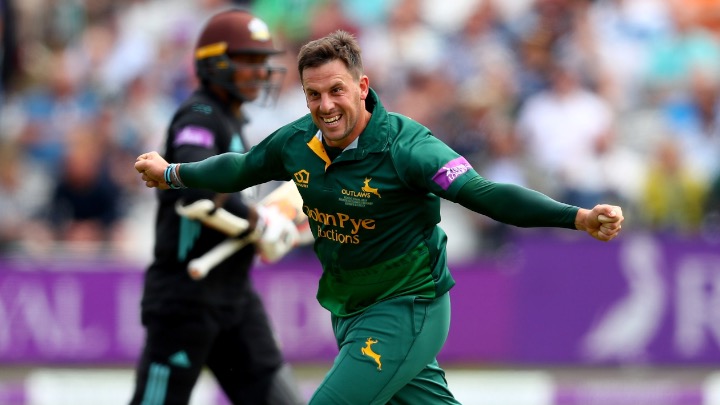 Samit Patel – chosen by 88% of voters
102 List A matches, 3352 runs at 40.38 with 7 hundreds and 17 fifties; 105 wickets at 36.86.
130 T20s, 2658 runs at 28.27 with 18 fifties; 117 wickets at 27.76
Also named in Notts' red-ball team of the decade.
As man-of-the-match in the 2013 YB40 final and the 2017 T20 Blast finale, Patel's place in the Outlaws pantheon is assured.
The all-rounder's performances in the white-ball double-winning season were sufficient to see him crowned the PCA's player of the year - the first Nottinghamshire player to receive the accolade since 1987.
And last season's unbeaten 136 in a must-win Royal London One-Day Cup clash at Northamptonshire showed that the right-hander was still the man to call upon when his side's backs were against the wall.
Chris Read – chosen by 85% of voters
81 List A matches, 1,412 runs at 36.20 with ten fifties; 70 catches, 15 stumpings.
73 T20s, 642 runs at 20.06; 29 catches, 15 stumpings.
Also named in Notts' red-ball team of the decade.
Read skippered the Outlaws to both of their one-day triumphs in the decade, with his composure and assuredness at the crease vital as he and Alex Hales rebuilt the Notts innings in the 2017 final.
And it is no surprise to see that the Devonian's glovework has been unsurpassable, with Read having taken more List A and T20 catches than any other Outlaw.
Graeme Swann – chosen by 56% of voters
3 List A matches, one wicket at 75.00, 29 runs.
1 T20, two wickets at 12.00, 11 runs at 11.00
Also named in Notts' red-ball team of the decade.
Swann was only able to make the occasional white-ball appearance for Notts during the decade, but was part of the XI which triumphed over Glamorgan in the 2013 YB40 final.
Instead, the twirler spent much of his time compiling an enviable international record, including 104 wickets in 79 ODIs and 51 scalps in 39 T20Is.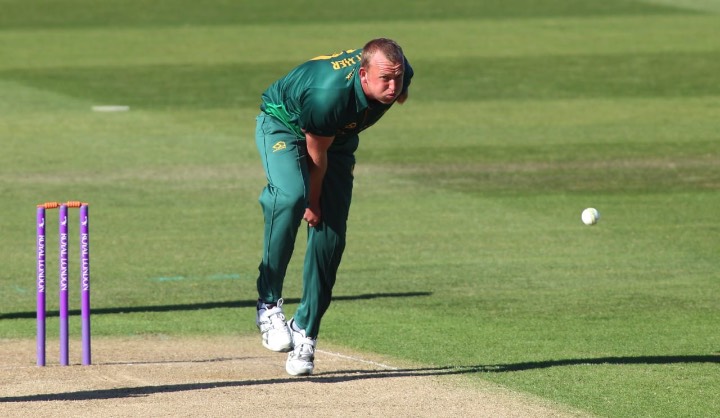 Luke Fletcher – chosen by 50% of voters
61 List A matches, 68 wickets at 36.10 with one five-wicket haul; 435 runs at 21.75 with one fifty.
56 T20s, 63 wickets at 24.06; 102 runs at 7.85.
Fletcher has been one of his county's most consistent performers over the past decade, showcasing an uncanny ability to deliver yorkers when required, and occasionally being able to open his shoulders with the bat in one-day cricket.
The 2019 season was one of the Bulwell-born seamer's finest, taking 17 wickets at 21.64 in the Royal London One-Day Cup to be named Nottinghamshire's player of the season in the format, whilst also taking six wickets in his four T20 appearances at an average of 13.66.
Harry Gurney – chosen by 69% of voters
58 List A matches, 79 wickets at 32.24 with two five-wicket hauls; 25 runs at 8.33.
94 T20s, 115 wickets at 23.20 with one five-wicket haul; 19 runs at 3.80.
Gurney's time at Trent Bridge has seen him transform himself into one of the world's leading exponents of death bowling, in demand in T20 leagues around the world.
The left-armer has secured seven white-ball titles worldwide whilst also earning 12 England limited-overs caps during the 2010s, and is the Outlaws' most prolific T20 seamer.
*******
Nottinghamshire Membership for the 2020 season is on sale, with those who join for next season bestowed access to all scheduled Notts home matches, international tickets in Members' areas and a range of exclusive benefits.