This season, Nottinghamshire will join the rest of England's First-Class counties in competing for a trophy named in honour of one of England's most-feared fast bowlers.
As summer turns to autumn, the winners of a five-day final will lay their hands on the Bob Willis Trophy in tribute to the former England fast bowler, who passed away in December.
"As a player there was no better person to turn to in a crisis – and as a man there was no-one more capable to make you smile and realise the beauty in life," said Sir Ian Botham, who proposed that the competition should be named after Willis.
"He was an ardent advocate for the longest form of the game and, at a time when all of his great virtues have been needed by us all, I can think of no better person to name this tournament after."
The winning county will receive a new trophy, featuring a cuboid design of Willis in his iconic bowling action, as painted by his wife Lauren.
"Anything that keeps Bob's memory alive is as beautiful as the man I married. This would mean so much to him," she said.
"I am truly humbled and honoured that one of my paintings of Bob, in that wonderful bowling action of his and which so many cricket fans immediately recognise, will be featured on the trophy when it is presented to the winning county at the end of the summer."
Willis' name has become inextricably linked with his heroics at Headingley – alongside Botham – in 1981. However, his achievements at Trent Bridge also stand the test of time.
1977 Ashes: Second innings five-fer moves England within touching distance of the urn
It is a match which has become best remembered for Geoffrey Boycott's return from exile, his infamous run-out of home favourite Derek Randall, and a Test debut for Sir Ian Botham.
But Willis' exploits in the third Test of the 1977 Ashes were crucial in England's successful attempt to regain the urn.
The right-armer took one wicket as Australia were dismissed for 243 in their first innings, before England – with Boycott and Alan Knott to the fore – racked up 364 in reply.
Willis removed Ian Davis on day two, but his opening partner Rick McCosker remained resolute.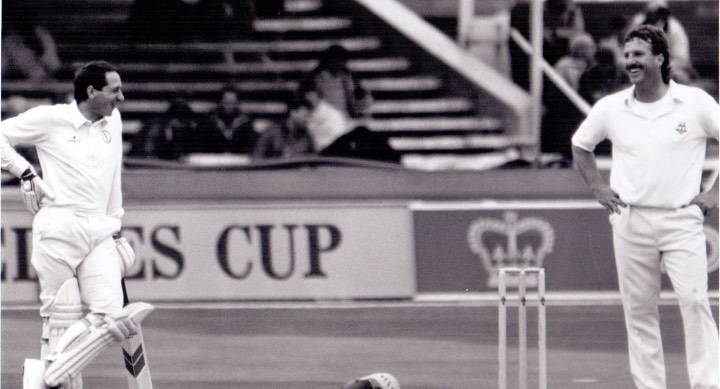 Randall and Botham would both feature as Willis took 5-88 in the 1977 Trent Bridge Ashes Test.
It would be Willis, however, who would bring McCosker's 307-ball vigil to an end for 107 on day three, triggerinmg a collapse of sorts from the visitors.
Australia lost six wickets for 69 runs, with Willis removing Rod Marsh, Max Walker and Jeff Thomson.
It was one of three five-wicket hauls he would scoop in the series, finishing as top wicket-taker with 27 scalps.
And Willis would go on to play a role in another Ashes icon's career some 38 years later, delivering a pep talk to Alastair Cook's England two nights before Stuart Broad's 8-15 helped to skittle Australia in 2015 .
1969: Top order skittled for maiden five-wicket haul
After spending time with the Surrey Young Cricketers and in the county's second XI, Willis made his First-Class debut against Scotland at The Oval.
Miserly figures of 3-13 were enough to secure the 20-year-old his bow in the Championship – and his maiden five-fer would soon follow.
After taking five wickets in the match againt Yorkshire at Scarborough, Willis arrived at Trent Bridge to face the Nottinghamshire of Sobers, Bolus and Hassan.
In reply to Surrey's first-innings total of 304, Notts were three down before they reached 20 – and all three went to Willis.
Openers Bolus and Mike Harris both edged behind, before Hassan found the hands of Graham Roope.
"It was kippers and champagne for breakfast next morning – I don't think the dressing-room attendants at Trent Bridge had ever seen anything quite like it."

Bob Willis
Willis would also remove Deryck Murray and Mike Taylor to complete his first five-fer – at one point having returned figures of 4-11 before Sobers' (104) resistance took its toll on his economy rate.
Three years later, now with Warwickshire, Willis made more memories in Nottingham.
However, having not made the starting XI, it was off-field antics which would make their mark for the newly-crowned County Champion this time.
"We clinched the title before the last match against Nottinghamshire at Trent Bridge and celebrated long into the night," he recalled in 2019.
"Then it was kippers and champagne for breakfast next morning – I don't think the dressing-room attendants at Trent Bridge had ever seen anything quite like it!"
Willis at Trent Bridge
11 First-Class matches, 41 wickets at 22.56
inc 5 Tests, 21 wickets at 22.90