England captain Joe Root and former skipper Nasser Hussain have hailed Stuart Broad after his six wickets helped England to level the #raisethebat series against the West Indies.
Broad breathed fresh life into a stagnant contest on day four, with his three-wicket burst hastening the visitors' collapse from 242-4 to 287 all out.
The Nottinghamshire seamer added three further scalps on the final day, taking his career tally past 1,100 and reducing his opponents to 37-4.
"If you talk the talk, you had better make sure you then go and walk the walk, and that's exactly what Stuart Broad has done on his return to the England side," wrote Hussain in the Daily Mail.
"Once England needed someone to stand up and do something, as they did after tea on day four, those legs started pumping, the aggression came out and Broad did what he has done so often in his 138 Tests.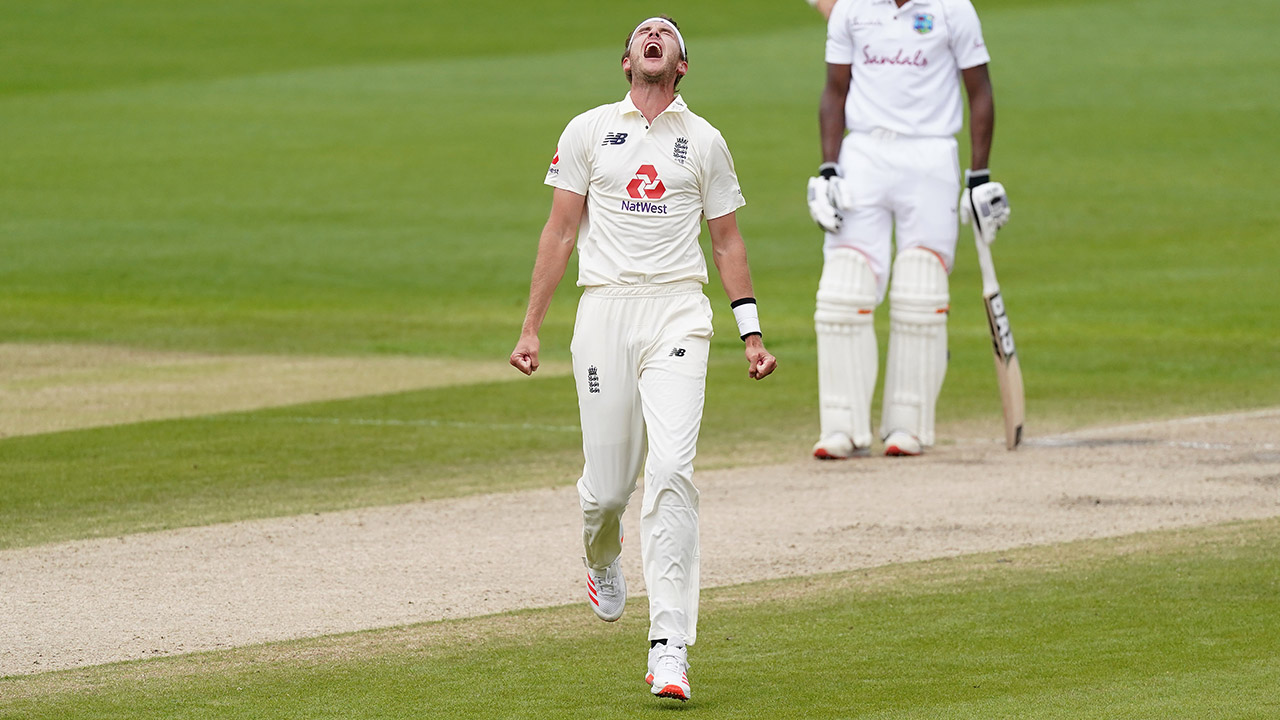 "It was felt before this series that players like Broad and Ben Stokes, who thrive off the crowd and atmosphere, might struggle to raise themselves behind closed doors.
"But even in an empty stadium, they still have the knack of making special things happen.
"Broad's burst with the second new ball on Sunday turned the match around."
Broad has been the most potent bowler in Test cricket over the past 12 months, taking 54 wickets at 22.90 – and Hussain feels changes made to his action in the last few summers are continuing to bear fruit.
"A feature of Broad's bowling in recent years is that he has gone fuller and fuller in length," he said.
"He is half a metre fuller in his regular length than he was around 2014 and 2015 — and 43 of his 93 wickets since the start of 2018 have been lbw or bowled, which is a great indicator of the success of pitching the ball up.
"Broad's burst with the second new ball on Sunday turned the match around."

Nasser Hussain
"Broad was back on those same lengths on Monday morning, bowling straight and with good pace to take another three wickets with the new ball in West Indies' second innings.
"It was just what England needed from him again."
Root, meanwhile, admitted that the 34-year-old's successful return to the side didn't come as a surprise.
"You always expect that from Stuart. Generally when he says something he goes out there and tries to back it up," he said.
"He put in a brilliant performance, especially late on in the first innings and then today.
"He's led the attack brilliantly this week and as we've always said, we feel like he's got a lot of cricket ahead of him."
*******
International cricket returns to Trent Bridge in 2021, England welcoming India for an all-star Test tussle and a mercurial Pakistan side for a blockbuster IT20. Register your interest here...