Much is made of the patience required to succeed in cricket, but club cricketers have endured a wait longer than most.
Their weekly opportunity for a release from the daily grind, or to keep climbing the sporting ladder, has been denied in the opening months of the season.
Finally, that vigil came to an end on 11 July – and a number of Notts cricketers will be joining them at recreational grounds countywide this summer.
Luke Fletcher will return to Papplewick and Linby CC, the club where his cricketing journey began.
We are pleased to announce that we have signed Notts legend @fletcherluke to play for our 1st X1 when he's not on duty for Notts CCC.

Luke started his cricket with Papplewick as a junior and progressed to our senior side before turning professional. Welcome home Lukepic.twitter.com/Pn3ZHN2Cd0

— Papplewick&Linby CC (@PapplewickCC) July 13, 2020
Liam Patterson-White, meanwhile, is set to enjoy his first season as part of the setup at Kimberley Institute CC, having previously spent summers with Notts & Arnold Amateur and Farnsfield CC.
"Coming through the club ranks was great for me," he recalled.
"Everyone got treated the same, whatever their age, and I was always trying to impress the older generations.
"I remember going down for my first session when I was about nine years old, and my dad said 'just go in the nets and have a bowl at the first team.'
"That got me going, and as things progressed people started to notice me a little bit more and understand that I was a threat.
"I would only have been about 13 or 14 by then, so there was a bit of pressure with that, but it was a pressure I really enjoyed."
Now 21, Patterson-White is aware his reputation will precede him as he steps into the Kimberley dressing room.
No longer an unknown quantity, he arrives with First-Class fifties and five-fers to his name – and a greater understanding of how recreational action can aid his development.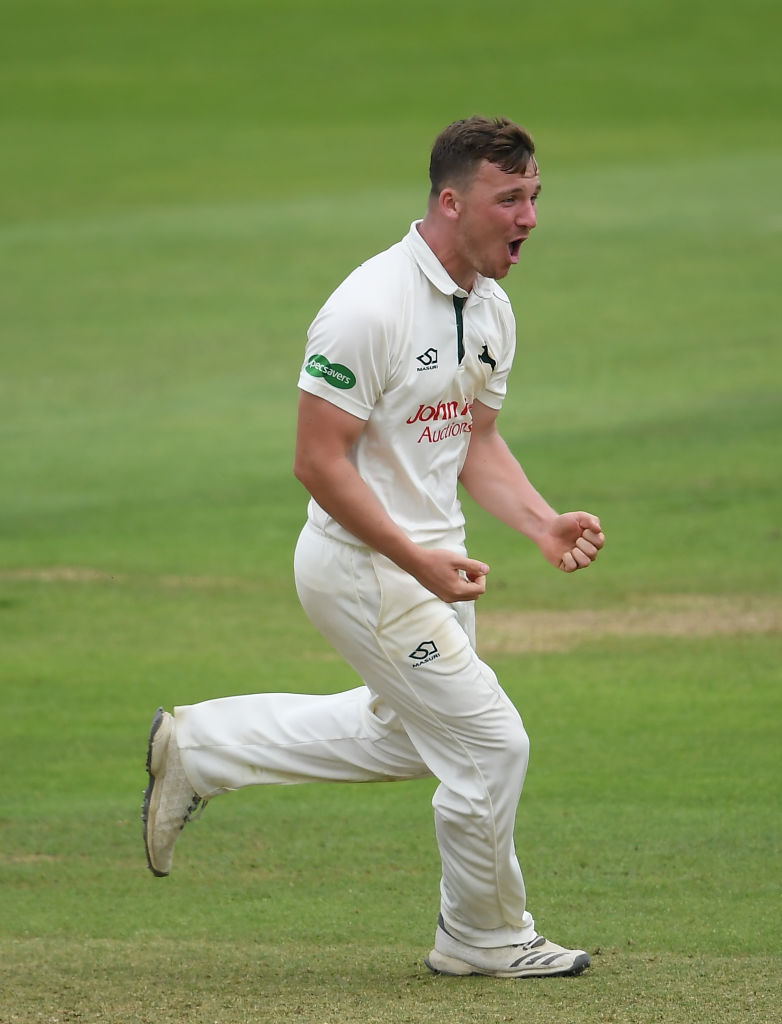 "Being a pro definitely changes my perspective a bit," he confirmed.
"I know the workloads I can put my body through, and how much I should make myself available for club cricket, but because I'm young I'm keen to play as much as possible.
"It's really important for me to keep playing, and keep performing to high standards."
Patterson-White has been suitably impressed with what he has seen of his new club side, the reigning Nottinghamshire Premier League champions.
"They all seem to be enjoying their cricket, but there's a genuine sense of professionalism about the group, which is something that I really enjoy," he said.
"Because I'm young I'm keen to play as much as possible, and keep performing to high standards"
"Obviously I want to have a bit of fun playing club cricket, but I want to be treated as a professional. You want to have net sessions where if you're out, you're out.
"For a club side, Kimberley take a serious approach, which is brilliant for me.
"The groundsmen down there have worked non-stop to get things ready, and all the lads have worked super hard on their game.
"There's a great community feel at the club, and hopefully we can have a good season."