Former Nottinghamshire fast bowler Peter Hacker has been recalling some stand-out moments from a playing career that pitted him against some of the best in the game, as cricket gets ready to resume again shortly.
Hacker played 61 first-class matches for the Green and Golds between 1974 and 1981, taking 126 wickets, despite being a late starter to the sport.
"I played football until I was 18," he said. "But then I began playing cricket for Plessey and myself and another lad were recommended to Notts coach Frank Woodhead.
"Frank came to watch us play at Sandiacre. The other lad came down the hill, I had to run across the humps, but he asked us both to come and have a couple of games for the Club and Ground XI."
It was a tough introduction for the young left-armer but in a far from conventional way.
"We went up to Bramall Lane to play against Yorkshire's second team and it was my turn to have a bat," Hacker said.
"The only bat I'd got had been presented to me for my performances in the evening league and was covered in the signatures of all the Nottinghamshire and Yorkshire first-team players.
"When I got out to the middle, wicketkeeper David Bairstow and Don Wilson, who was at slip, noticed this straight away. Bairstow took the bat from me and was looking for his own autograph.
"When I got home I sandpapered them all off!
"I must have done alright because I was then asked to play for the second team against Lancashire at the John Player Ground," he recalled.
"Jack Simmons, their spinner, asked Frank if I was on the staff and if they could approach me about signing for them. Frank steered them off, saying that Notts were going to offer me a deal.
"They gave me a two-year contract and the following summer, 1974, I made my first-team debut.
"The only bat I'd got had been presented to me for my performances in the evening league and was covered in the signatures of all the Nottinghamshire and Yorkshire first-team players."
"I'd gone to the Worthington Simpson Ground in Newark to play for the seconds but was pulled out after the first day against Northants and told to go to Trent Bridge to play against the Pakistan tourists.
"It was a rain-affected wicket with ridges on it and had been left uncovered, so it went up and down. They won the toss and put us in. Sarfraz Nawaz and Imran Khan enjoyed themselves over the first hour of the match and I found myself walking out to the middle of Trent Bridge for the first time with the score on 28 for eight.
"Pretty soon it was 32 for nine as I sliced the ball firmly to fifth slip. Harry Latchman and Bill Taylor put on a few for the last wicket to get us up to 51, with Sarfraz taking eight for 27."
It had been a daunting introduction to life in the first team but an exciting experience to play against a touring side that were packed full of star names.
That was something that Hacker would get used to over the next few seasons.
In 1975, just before the inaugural Cricket World Cup, he featured as Notts hosted the West Indies in a warm-up match for the main tournament.
Hacker picked up the wickets of Roy Fredericks and Collis King on his way to figures of two for 64 but it could have been even better, against the side that were about to become world champions.
"I had Alvin Kallicharran dropped by Bill Taylor, a top edge at fine leg, but then he smashed me around," he said.
"I did catch Viv Richards off Phil Wilkinson though, hit hard to me at mid-on."
Hacker's best season with the county was in 1980 when he picked up 52 first-class wickets (more than either Clive Rice or Richard Hadlee recorded that year) and also returned the best one-day figures posted at that time by a Notts bowler.
That same year he also played in one of the county's most remarkable victories, a win by an innings over the Australian tourists.
"I'd played in Perth the previous winter and got to know a few of the Australian players quite well; Dennis Lillee, Rod Marsh and Bruce Laird, in particular," he said.
"Lillee took me to his place a couple of times and to the Subiaco club.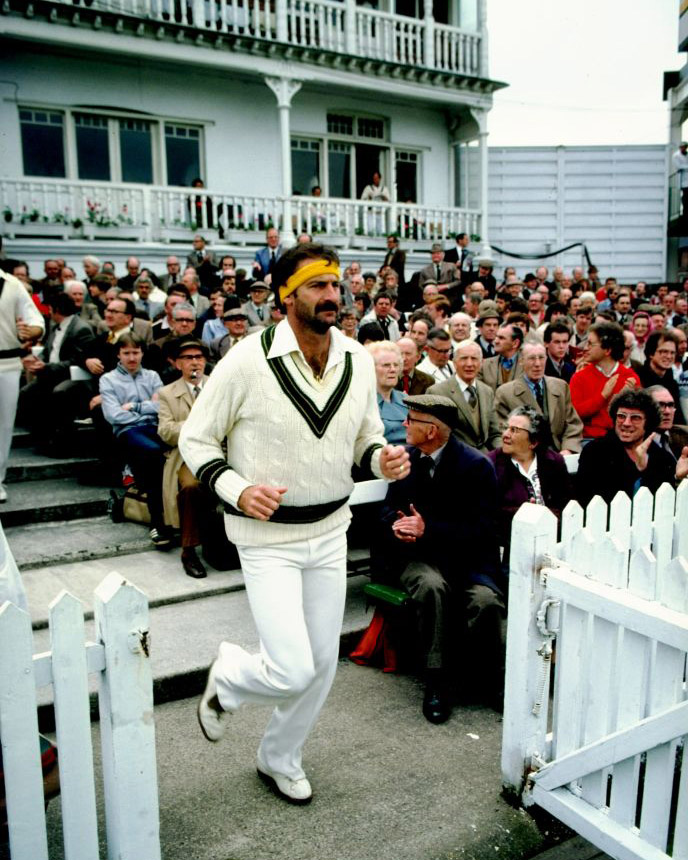 "However, when they came to Trent Bridge Lillee completely blanked me in the nets. Rod Marsh said, 'Don't worry, he always does that'.
"When I went out to bat I was on strike against Lillee but Marsh tipped me off, 'Duck first ball because he'll bounce you'.
"He did and then came down the track and said, 'Morning Des (that's what I was known as)'."
Despite that fixture taking place just before the Centenary Test against England at Lord's, the Australians only used four bowlers and they were all worked extremely hard as Notts piled on the runs.
"Lillee, Jeff Thomson and Lennie Pascoe all went for more than 100 runs and Ashley Mallett was smashed around by John Birch," Hacker said.
Notts had a first-innings lead of 258 and then rolled over their illustrious opponents cheaply for a second time, with Hacker starting the collapse with the early wickets of Graeme Wood and skipper Kim Hughes.
"It's one of Australia's heaviest defeats against any county side and a commemorative plate was struck to mark the occasion," he said.
That same summer the paceman returned figures of six for 16 in a one-day win over Essex at Chelmsford.
"I always set a 5-4 off-side field but Ricey (skipper Clive Rice) insisted on me going with a 6-3 field that day as there was a short boundary on the off-side and I was swinging it back in to the right-handers," he said.
Having been one of the leading performers in 1980, Hacker's role was suddenly reduced the following year.
"I'd had that good year but then lost a bit of form in 1981 and Kevin Saxelby came into the side and did well," he said.
"I played enough matches to get a championship medal but it felt like a bit of a damp squib."
Now aged 67, the former Nottinghamshire quick still has an important role behind the scenes at Trent Bridge.
"I've been on the committee for 14 or 15 years," he said.
"It's nice to be able to put something back. I used to come and watch the games here and one of the guys suggested I stand for committee. Fortunately, I got on and it's not something I've ever regretted.
"It's not a paid role, of course, but I enjoy it very much, particularly when we host visiting committee members and get the chance to show them round, sometimes people who are visiting Trent Bridge for the first time.
"The committee physically met for the last time in early March but have been having regular Zoom meetings ever since and like everyone else, we're all really looking forward to being able to watch cricket again shortly."​