Former South African international Dave Callaghan has reflected on his brief – but history-making – stint with Nottinghamshire in an interview with Dave Bracegirdle.
More than 30 years after spending a summer with Nottinghamshire, former South African international Dave Callaghan has recalled how he put his name in the county's record books despite a lack of first team opportunities.
On 27 July 1988, the all-rounder became only the fifth player to take a first-class wicket for Notts with his very first delivery.
Callaghan, who resides in Port Elizabeth, had nearly been lost to cricket, before getting an opportunity to come to Trent Bridge thanks to a name very familiar with Nottinghamshire supporters.
"I had spent the 1984 season with Sussex 2nd XI and wanted to come back to England to play but had to do my military service first," he reflected.
"During this period, I was playing both rugby and cricket for Eastern Province. Money was certainly an issue for a young sportsman.
"Cricket was a professional sport, but I was only earning R150 a day, whereas at rugby, an amateur sport, we were given R400 cash in a brown envelope after the game. It was a no-brainer and made me consider a career in rugby."
He added: "Kepler Wessels, my captain at Eastern Province, talked to Clive Rice on my behalf, to see if there was a chance I could perhaps follow him at Notts.
"Clive had been my boyhood hero and he and Richard Hadlee had just completed their county careers.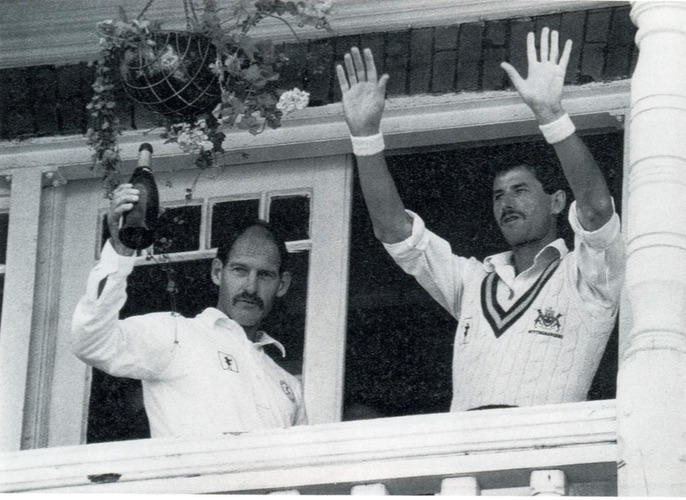 "During the 1987 season we had a couple of good tussles on the field and after a Benson and Hedges game in Port Elizabeth, Kepler and Clive called me aside and mentioned Clive had contacted Ken Taylor (Notts' Cricket Manager).
"Ken couldn't guarantee anything," he added. "Because Richard had suggested Chris Cairns as his replacement as well."
The regulations permitting the use of overseas players had been tightened and Notts had engaged West Indian all-rounder Franklyn Stephenson as their one permitted option for 1988.
Nevertheless, both Cairns and Callaghan were given the opportunity of coming to Nottingham to broaden their experience in the second team.
The South African jumped at the chance but that presented additional problems.
"After quickly agreeing to come over to the club, we didn't have enough time to arrange my permit," he recalled.
"So, I flew across without one and decided to say I'd just come to England for a holiday, giving the club enough time to arrange my work visa.
"On the flight to Heathrow I was accompanied by two other cricketers, Darryl Cullinan and Louis Vorster, who were on their way to play for Worcestershire for the season.
"To help get me through customs, it was suggested I don't bring any cricket clothing in case my bags were searched," he said.
"Whilst an officer was searching through my stuff, he found a letter from my grandmother wishing me good luck at Nottinghamshire.
"I informed the officer that the club had applied for my visa and mentioned that an England cricketer, Eddie Hemmings, was at Heathrow to collect me.
"England had just returned from a successful Ashes series and the officer was a cricket fanatic," he added.
"Eddie was called to verify my story and the officer was over the moon to meet him. He stamped my passport and let me continue.
"When I left the airport, both Darryl and Louis were still in customs. A few days later, I was told they both had been sent back on the next flight!"
************
A former South African international, Dave Callaghan took 126 wickets during a long and successful first-class career that spanned between 1984 and 2002.
Only one of those wickets was taken whilst wearing Nottinghamshire's colours, but it did earn him a place in the county's record books.
Callaghan arrived at Trent Bridge in the spring of 1988 and met his new housemates for the first time.
"The house we lived in was rented to the club by a Russian," he recalled. "But Franklyn Stephenson, a West Indian, an Englishman, Duncan Martindale, a New Zealander, Chris Cairns, and myself, a South African, all lived there.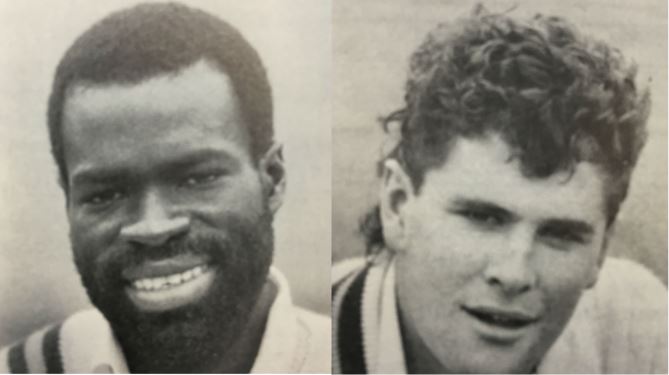 "All these nationalities made for an interesting six months, but we made some very good memories and friendships during our time together.
"There are too many stories to share about my housemates, but what stands out for me is our regular visits to the West Indian nightclubs.
"After match days, Frankie would return home, make and eat supper and then crash out for two or three hours.
"He would wake up and take us down to a West Indian club for a few hours. I was always very nervous in those days. It was during apartheid times and South Africans were not really welcome, so I spent the evenings trying to talk either like an Aussie or a New Zealander, which was very poor at the best of times, but it became tougher with the more beer I drank. The "ya" always kept slipping out!"
On the park, Callaghan was playing in the north of the county for Blyth Cricket Club at weekends. His midweek appearances for Notts 2nd XI brought a glut of runs.
Amongst a succession of high scores were two that stood out significantly.
"I scored two hundreds on the same day against Lancashire at Old Trafford and that performance became a stepping stone for me to spend the next ten years playing in the Lancashire Leagues," he said.
"Dexter Fitton's father was there, watching his son play for Lancashire and he invited me to 'sub-pro' for his club, Rochdale, that weekend.
"Their Australian batsman, Mike Velletta, had to return home after the death of his father-in-law. That led to a run of five years with the club."
Franklyn Stephenson, meanwhile, continued to take wickets and score runs at an astonishing rate for Notts and there was never any question of him being left out.
"We couldn't get Frankie off the park," Callaghan recalled. "He was on target for the double (1,000 runs and 100 wickets) and he rarely got injured."
"But, when he did miss one match, Ken Taylor signed Chris (Cairns) to play as the second overseas.
"I was very disappointed at the time, but I realised Chris was going to be a long-term prospect for the club."
A relaxing of the regulations for tour matches meant that Callaghan's chance did eventually come to make his Nottinghamshire first-class debut.
It came against that summer's West Indian side in a three-day match at Trent Bridge.
"It was a great privilege to play for the county in this game," he reflected.
"At the time, South Africa were in isolation, of course, and I thought this would be my only opportunity to play against the great West Indies side, with players like, Desmond Haynes, Gordon Greenidge, Viv Richards, Malcolm Marshall, Gus Logie, Patrick Patterson, Roger Harper, etc.
"They batted first and captain Tim Robinson brought me on to bowl the final over before lunch. Keith Arthurton was on strike."
Only four bowlers in history had taken a wicket with their first ball for Notts to that point (Steve Sylvester joined the list in 1994) and no-one had done it since Freddie Stocks in 1946.
Right-arm, brisk medium-pace, Callaghan couldn't have made a better introduction.
"I enjoyed bowling to left-handers and I delivered an in-swinger to bowl Keith through the gate. It was the perfect delivery first ball," he said.
"I worked really hard during the rest of the game to make an impression, knowing that if I did well it might lead to more opportunities going forward."
Sadly, further opportunities didn't materialise at Trent Bridge and that became Callaghan's one and only appearance for Nottinghamshire.
His next meeting with the West Indies would be as a full South African international.
************
Dave Callaghan is one of only six Nottinghamshire players to take a wicket with his first ball for the county. The South African's time at the club was limited to just one season, with the regulations only allowing for one overseas professional.
Callaghan played against the West Indies in a tour match, but there were no further opportunities to play county cricket across his lengthy and successful career.
"There was a combination of reasons for that," he recalled.
"I certainly wanted to play more county cricket, but the standard of the overseas professional during this time was extremely high. There was less international cricket than today, so a county season was in high demand for most cricketers."
After his one summer at Trent Bridge, Callaghan followed the well-trodden path into the recreational leagues.
"After playing three concessive summers for Rochdale in the Central Lancashire League, I was diagnosed with cancer in September 1991.
"But, just over a year after my last session of chemo, I was selected to play for the Proteas for the first time."
The first of Callaghan's 29 One-Day International appearances came against India at Newlands. He was at the crease alongside Hansie Cronje to help South Africa to victory.
During the next three years, Callaghan became a vital cog in the national team, offering useful top-order runs and a consistent supply of wickets.
Both disciplines matched up perfectly in a game at Centurion in 1994 when he opened the batting and scored an unbeaten 169 against New Zealand.
The man-of-the-match award was already destined to be his, but he chipped in with figures of 3-32 and threw down the stumps to run out Martin Crowe to rubber-stamp his claim.
Towards the back end of his career, the one-time Nottinghamshire player had an unexpected opportunity to play against his old county.
Guesting for Suffolk in 2001, the Minor County were drawn against Notts in the Cheltenham and Gloucester Trophy.
A large crowd turned up to Mildenhall to see if the minnows could pull off an upset.
Much depended on the South African making a contribution, but Richard Logan dismissed the danger-man for 11 as Notts swept to a nine-wicket victory.
"I was really disappointed with my own performance during that Nottinghamshire game," said Callaghan.
"But it was wonderful to catch up with Clive Rice, who was coaching Notts at the time, and Kevin Pietersen, who I had got to know during his earlier days while playing for Natal.
"A year earlier I had a discussion with him outside the changing rooms when Eastern Province were playing Natal in Durban.
"He told me he was very unhappy with the setup in Natal, especially as he was batting at number ten and bowling off-spin.
"During the Suffolk game it gave me an opportunity to catch-up with KP and I remember him being confident that he would play for England after his qualification period, and he was so right!"
Now aged 55, the former Proteas all-rounder still plays as much cricket as he can, representing Old Grey in his local premier league and coaching at Nelson Mandela University, where his son Sean plays.
Prior to the global COVID-19 pandemic, Callaghan had been named as captain of his country for the Over 50s World Cup, which had been scheduled to take place in Cape Town in March.
Away from the game, he recently celebrated his 10th anniversary with Capitec Bank, where he works as a Sales Business Manager.
It remains clear, he has never forgotten his summer at Trent Bridge.