For Nottinghamshire's well-travelled all-rounder Samit Patel, a delayed start to the 2020 season is preventing the opportunity of cashing in, on home soil, on a rich vein of overseas form.
Patel spent the close season playing in the UAE, Australia and Pakistan before returning home to complete pre-season with Nottinghamshire.
"It's obviously a real shame we're not getting the chance to play right now," he said.
"But obviously, health comes first. I'm optimistic we will get some cricket this summer, but who knows when it will happen?
"I was desperate to start the season and play in all forms of the game. I'm feeling fit, strong and ready to go."
The all-rounder has had a busy few months, which began in Abu Dhabi where he appeared for the Qalandars in the T10 League before Christmas – followed by a welcome invitation from even further afield.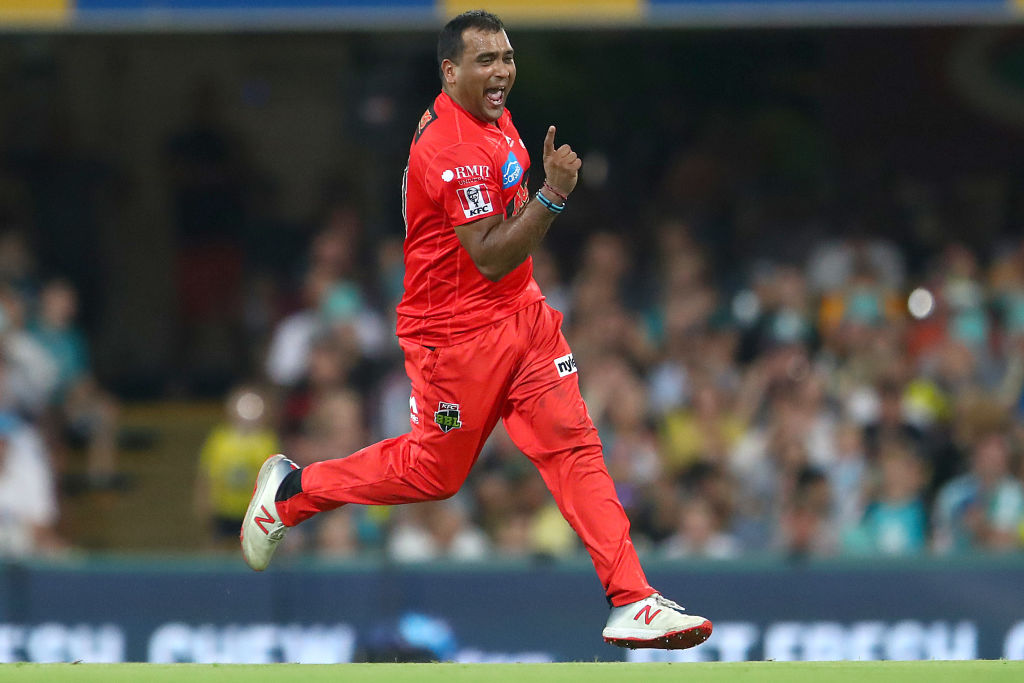 "Out of the blue I got a message from Harry Gurney wondering if I was free to go to Australia to join the Melbourne Renegades," he said.
"He had picked up a hamstring tear and would be out of action for a while, meaning they had a vacancy for an overseas player."
Gurney and Renegades' skipper Dan Christian are both Nottinghamshire team-mates of Patel and were happy to sing the praises of the all-rounder as someone who could do a job for the struggling Melbourne side.
"I didn't need too long to think about it," confessed the former England international.
"They said it was a long way to go for perhaps just a few matches, but I knew it was great exposure for me. I'd never played in the Big Bash League before and I absolutely loved it.
"In the end I played in eight matches, collected some great memories and visited some great places.
"I've been to most of the big grounds in Australia, but I hadn't played at The Gabba before.
"Ricky Ponting was working for television there and came on to the outfield to chat beforehand. He told me which end to bowl from, as it would suit spin.
"DC (Christian) then put me on at the other end but it still spun nicely, I really enjoyed playing there."
"On turning wickets you are expected to do well with the ball but scoring runs when you are under pressure is always very satisfying."

Samit Patel
Patel acquitted himself well in the Renegades' red before moving on to his next assignment, with the Qalandars in the Pakistan Super League.
His form continued, delivering some outstanding performances, particularly in the two matches against Quetta Gladiators.
The 35-year-old scored 71 from only 40 balls and then took the astonishing figures of four for five against the same opposition in their next meeting, a spell which included a triple-wicket maiden.
"In the first match against Quetta, me and Ben Dunk put on 155," he recalled. "It all kicked on from there."
"Getting the opportunity to score some big runs with the bat was a big thing for me because that always gives you confidence ahead of your bowling," he said.
"On turning wickets, you are expected to do well with the ball, but scoring runs when you are under pressure is always very satisfying."
Qalandars' hot streak had seen them through to a semi-final berth before the global pandemic brought a halt to proceedings.
"It happened in stages," explained Patel. "The English boys that were based in Islamabad were advised to go home but those of us in Lahore said we'd stay on as they weren't experiencing any real issues with coronavirus at the time.
"At first the PCB wanted to try and finish the tournament and said it would go ahead behind closed doors.
"We'd been playing in front of 30,000 people, so to play in an empty stadium felt pretty weird. I'm someone that loves to play off the crowd and the energy that they bring to the cricket.
"Then things changed quickly. Chris Lynn went back to Australia because he feared he might not get back otherwise and then it all escalated and they called the tournament off. It was the right thing to do and made complete sense.
"Health issues are far more important and perhaps one day, if it's safe to do so, we will be able to go back and finish the tournament."