Zak Chappell has put the rediscovery of his bowling rhythm firmly down to the tutelage of Kevin Shine.
The 24-year-old, who took 15 wickets in four matches in Notts' 2020 Bob Willis Trophy campaign, was named Emerging Pro of the Season in the club's end-of-season awards.
But the paceman feels it was his efforts in the close season which were most crucial in his upturn in fortunes.
"Last year I struggled a bit for confidence, and when I got into the first team I didn't quite find my rhythm, but then a winter with Shiney helped me massively," said Chappell.
"We knew each other well from when he led the ECB's pace programme, so we already had that good relationship.
"In fact, I was leading wicket-taker when I was on a Lions tour with him – and now he's at Trent Bridge, I've ended up the leading wicket-taker here!"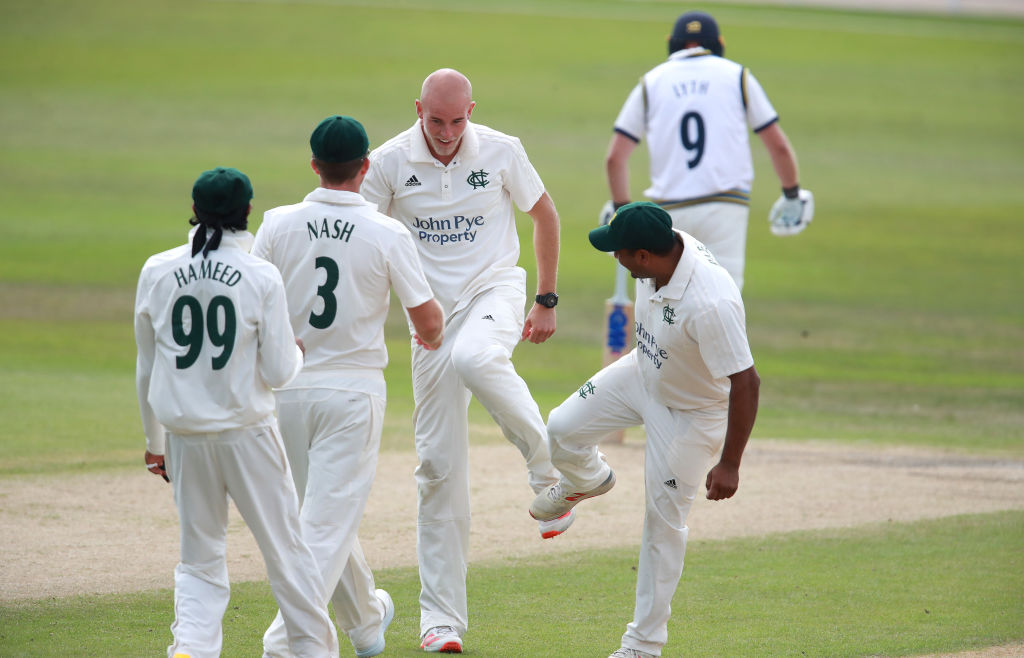 Chappell feels that Shine's experiences outside the county game give him a unique perspective in a day-to-day coaching environment.
"A lot of bowling coaches might only work with about 20 bowlers in their career, but Shiney saw hundreds come through during his time at the ECB.
"To see that many people, and that many different bowling actions, can only have helped.
"Alongside that, he's a very good man-manager. He works out what makes you tick very quickly, and knows how to get you pumped up.
"That combination of having a very good knowledge of bowling and managing people well is why he gets the most out of people he coaches."
Chappell's first wicket of the campaign came in his first spell of the season, opening the bowling alongside Jake Ball.
"I like to be challenged, and I saw that as an opportunity to stamp my place on the team."

Zak Chappell on leading Notts' red-ball attack
Ball would miss Notts' subsequent First-Class fixtures through injury, but his new-ball partner felt ready to assume a more senior role.
"I like to be challenged, and I saw that as an opportunity to stamp my authority on the team," he said.
"I knew I had to step up once Jake was ruled out, but I already had that confidence from my wickets in the first game, so it worked out well for me."
Two months have passed since Chappell sent down his last red-ball delivery in anger, and those competitive fires are burning once more.
To enjoy another fruitful winter, the quick is eager to go head-to-head in the nets as soon as possible.
"I've got a few weeks of technical work planned in the winter, but I want to be bowling at batters as soon as possible," he said.
"I want have the opportunity to express my skills in that more competitive environment, with a batsman down at the other end.
"I've put a good plan together with Shiney and Mooresy about what we're going to achieve over the winter, so I can't wait to get going."
*******
It's our great pleasure to declare that membership of Nottinghamshire County Cricket Club for 2021 is well-and-truly on sale now, with top ticketing priority for our splendid international summer going to those who join our club.