Harry Gurney is impatient to add to his tally of global titles after signing a new one-year deal with Notts.
The left-armer will chalk up a decade in green and gold next summer, having won three trophies during his time with the Outlaws.
With eight titles to his name worldwide, that winning feeling is one which Gurney has become addicted to.
"Once you get to this stage of your career, you just want to win trophies," he said.
"Sometimes in the first part of your career you're more focused on your game, and making sure you do as well as you can to stay in the side.
"But as you get older, all you want to do is win trophies, because you know they're the best days of your life."
"Once you get to this stage of your career, you just want to win trophies"

Harry Gurney
Gurney missed the entirety of the 2020 Vitality Blast campaign through injury, but was pleased to see that the Outlaws' tradition of impeccable death bowling remained intact.
Jake Ball and Dan Christian often shared responsibilities at the death, and combined once more in the Vitality Blast final.
Supported by Imad Wasim and Samit Patel, the duo prevented Surrey from finding the boundary during the final 4.5 overs of the 16-over-per-side showpiece.
"They were brilliant, but that was never in doubt," said Gurney.
"We've always been well stocked in all departments when it comes to T20 cricket, including seam bowling. While I was disappointed to miss out, it was good to see them do well without me.
"I'd rather have been out there with them – and part of the celebrations afterwards – but that's life, and I was over the moon to see them get over the line.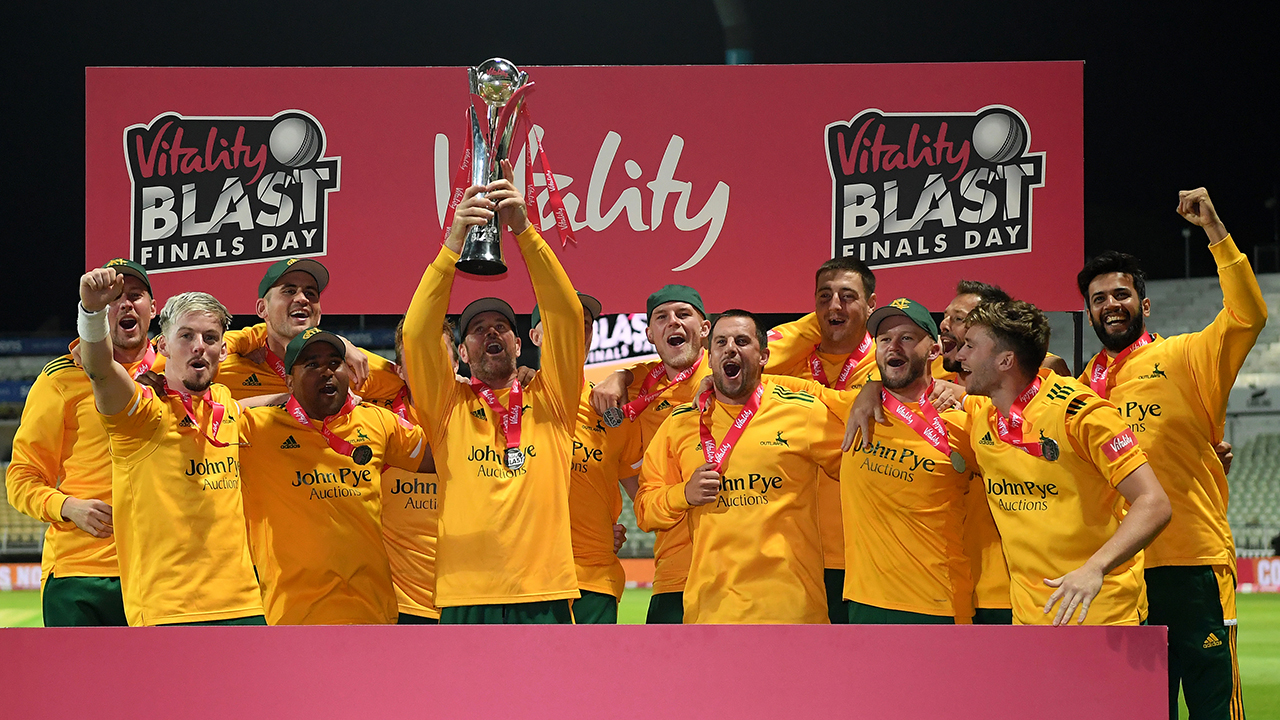 "It's only made me hungrier to come back and hopefully win it with them in 2021."
The likes of Gurney and Ball have become serial trophy-winners with Notts over the last decade, bringing a level of experience which the left-armer feels is invaluable.
However, Gurney contends that an injection of youth – with 24-year-olds Joe Clarke, Matthew Carter and Tom Moores playing crucial roles in this year's victorious campaign – is also crucial for a side to be successful.
"At those crunch moments, having experience just helps you to think more clearly," he said.
"Once you've been playing for a while, you see those key moments coming and are able to deal with the pressure better.
"But it's also good to have a bit of youth, and the kind of healthy carelessness that brings.
"For lads like Carts – or for Tom in 2017 – to win a trophy so early in their careers is amazing for them. It can free you up, in a sense, for future years."
*******
It's our great pleasure to declare that membership of Nottinghamshire County Cricket Club for 2021 is well-and-truly on sale now, with top ticketing priority for our splendid international summer going to those who join our club.