Matthew Carter is hoping it will be his turn to be a match-winner as the Outlaws head to their fourth Vitality Blast Finals Day in five seasons.
Carter has been named in an unchanged 14-man squad for the T20 showpiece, with Notts facing Lancashire Lightning in the second semi-final.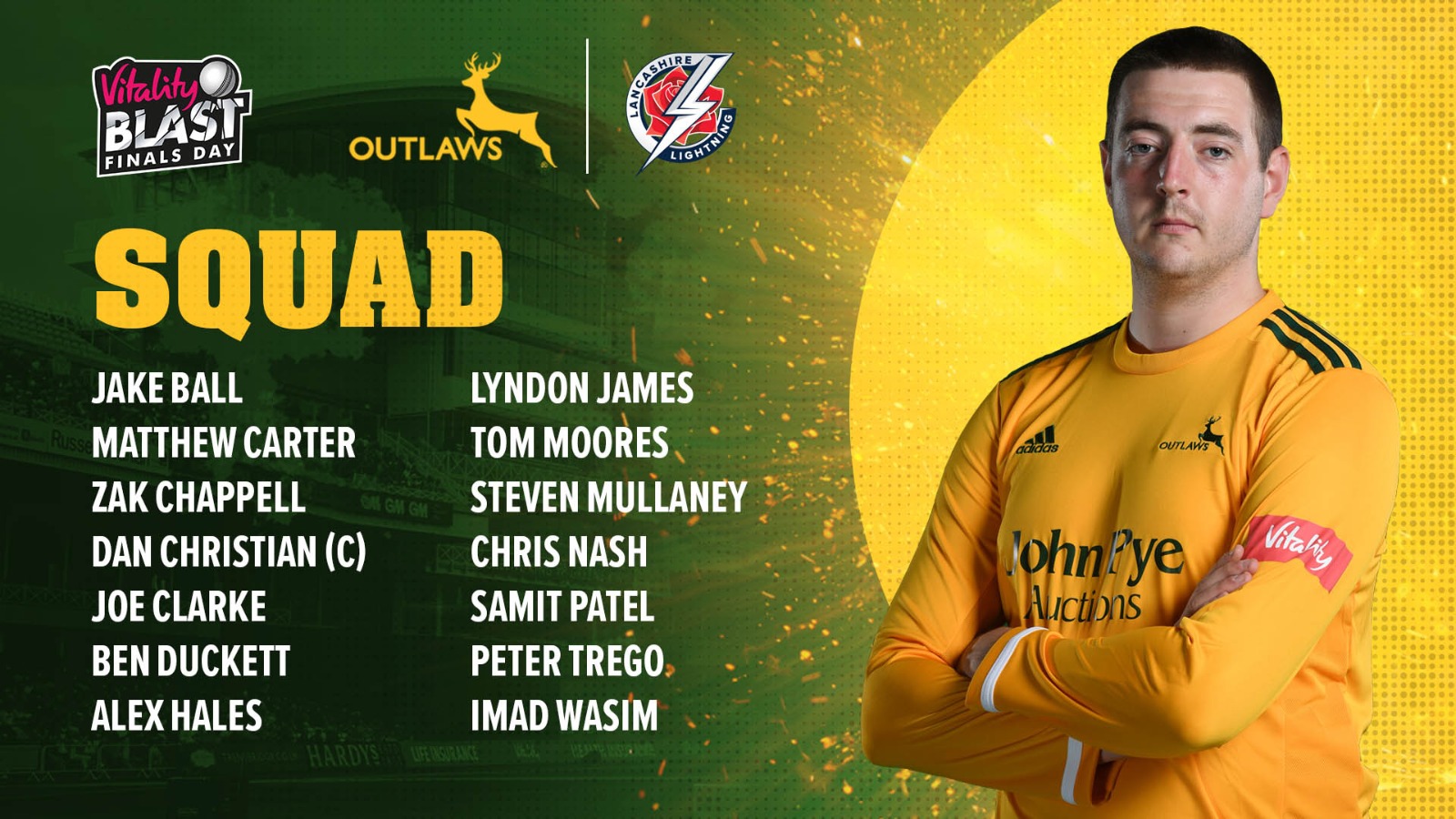 The right-armer has been part of a three-pronged spin attack for much of the tournament, and was keen to praise the efforts of his fellow twirlers – and the rest of the Notts bowling unit.
"You just have to look at the lads we've got in the dressing room – every single one of them could win a game for us," he said.
"Yesterday, it was written in the stars that Samit would do it with the bat, but when you look at the bowling, everyone's playing well.
"Samit picks up a couple of wickets in most games, Mull's bowling has been ridiculous, Imad's kept it incredibly tight, Bally's bowling unbelievably well, and DC's chipping in with good overs.
"I've been picking up one or two wickets as well. It's brilliant just to be in the team and know that I'm doing my bit – and hopefully over the weekend I can get my chance to be a match-winner."
Carter was padded up in the home dugout as Wasim and Patel saw the Outlaws to the most dramatic of quarter-final victories.
The 24-year-old may have cut a nervous figure, but he insists he was confident in his ability to see Notts over the line, if required.
"I got a message off someone on social media saying I looked like I was absolutely kakking my pants in the dugout!" he joked.
"Mull said to me 'we might need four to win from one ball here', and I said 'that's alright, I'll just try and hit it for six'. I felt confident, it just obviously didn't look like that on the cameras!"
Carter has been an all-format mainstay this summer, appearing in three of Notts' five First-Class games and seven of their nine Vitality Blast fixtures.
The off-spinner enjoyed a fruitful campaign with the red ball – and feels he has rediscovered his white-ball rhythm after a concerted period of short-form cricket.
"I've been working hard in the nets with Boats (Ant Botha, Assistant Coach) and Shiney (Kevin Shine, Assistant Coach) to find my white-ball pace again," he said.
"I've been trying to get back to that slightly quicker pace – around the late 50s – and, from looking at the speed gun last night, I was consistently at that pace for the first time this season.
"I'll be able to take a lot from that into this weekend."