The Vitality Blast. The countback consulting, reserve day requiring, debutant heroing, live stream for witnessing, 2020, Vitality Blast.
Matthew Freeman, who followed the Outlaws throughout, recounts the story of the victorious Green and Golds.
Durham v Notts, 29 August 2020. Notts won by six wickets.
Spectacular fielding, miserly bowling and an imperious chase completed with room to spare – the Outlaws' 2020 blueprint for Blast success was in evidence from the outset.
Durham accumulated runs breezily enough in chilly Bank Holiday conditions, but theirs was an innings destined to be remembered for a quite remarkable catch; a full-length swallow dive from Chris Nash to snaffle the dangerous Alex Lees.
Nash was to get the Outlaws' chase off to a fine start, but this was undisputedly Joe Clarke's day.
Seven fours sent the Durham field scattering, while eight sixes saw staff nervously scanning the car park to see if their vehicles had survived the onslaught.
With the final blow of the innings, Clarke heaved Liam Trevaskis high and wide to become Notts' fourth T20 centurion, and ensure the campaign got off to the perfect start.
Notts v Yorkshire, 31 August 2020. Notts won by six wickets.
A baking Bank Holiday Monday, a blockbuster clash and a host of internationals on show – if only crowds were permitted this summer, this encounter would have had all the hallmarks of a Trent Bridge T20 classic.
In the event, the half-million eyeballs trained on the Outlaws' live stream were treated to a T20 masterclass from an England international – but it wasn't Test skipper and Tyke Joe Root who took centre stage.
True, Root did make a fluent 65 before becoming the third of Luke Fletcher's five victims (a career-best performance for the Bulwell Bomber), but it was an inventive, impudent innings from Ben Duckett that claimed the plaudits.
Well-supported by a Chris Nash half-century and some late-innings impetus from Dan Christian and Tom Moores, Duckett saw the Outlaws to victory with an unbeaten 86.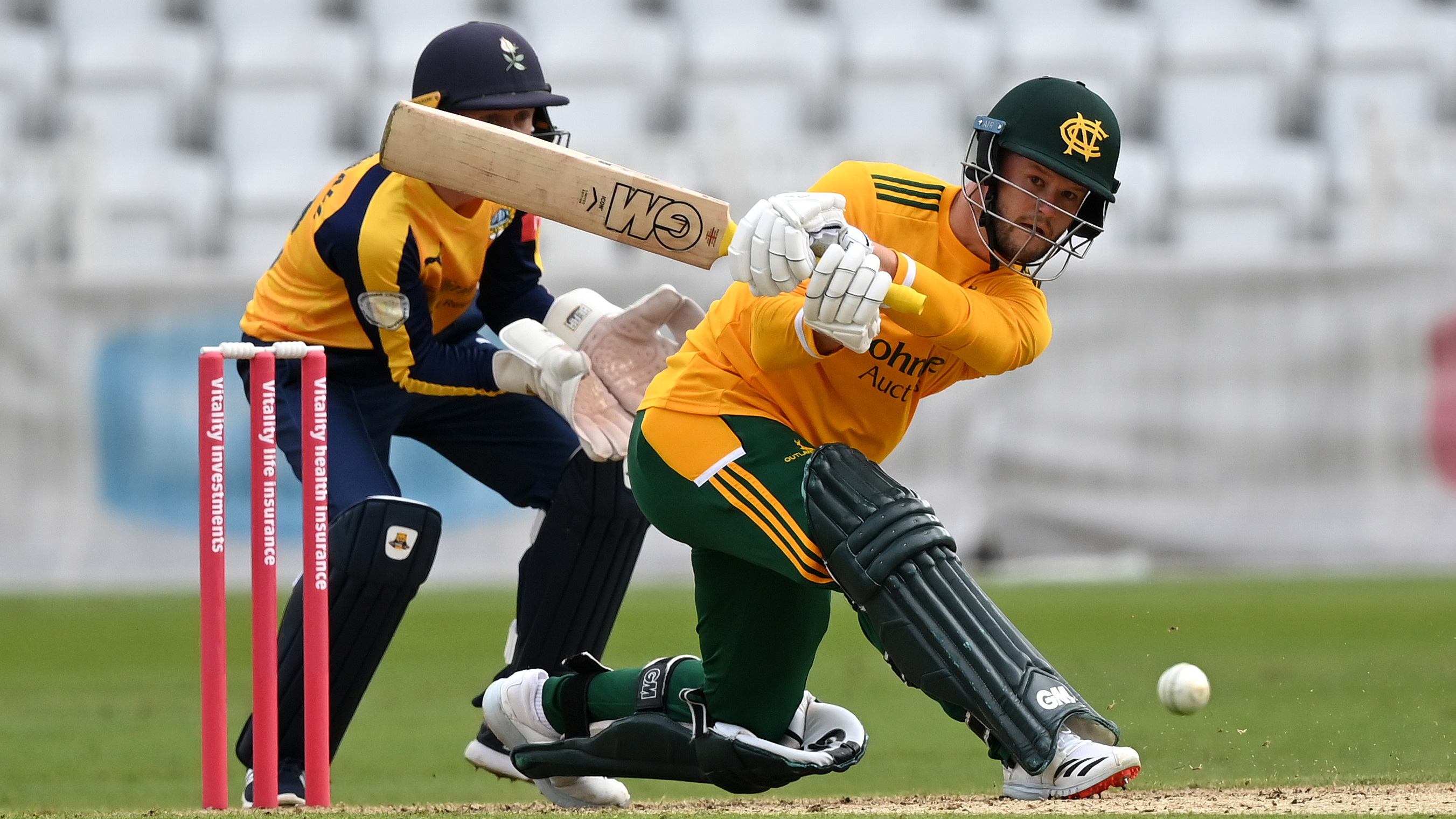 Notts v Leicestershire, 4 September 2020. Notts won by five wickets.
Bowling at Trent Bridge is often described as one of the toughest jobs in domestic T20 cricket. It seems nobody thought to tell the Outlaws' attack.
After losing the toss, Dan Christian, Jake Ball and Imad Wasim kept the Foxes firmly tethered, none going at more than six an over as Leicestershire limped to 123-8.
It was enough to suggest that this was a difficult pitch to score on, but Alex Hales soon gave that notion short shrift.
Hales swung from the hip, hitting 44 from just 16 balls to reduce the chase to a mere formality inside the opening six overs. Captain Christian was on hand to apply the finishing touches.
Notts v Lancashire, 11 September 2020. Notts won by six wickets.
Another tight bowling performance, another chase completed with ample breathing space – but, at one stage, this clash between the North Group's form sides looked altogether more complicated.
Lancashire got off to a flier, 60 runs coming from their six-over Powerplay, before Outlaws' stalwarts Mullaney and Patel stemmed the flow of boundaries.
Lightning recorded a credible 167 from their 20 overs, but that simply cleared the stage for a Joe Clarke exhibition.
Scoring at more than two-runs-per-ball, Clarke was, frankly, too good for a strong Lightning attack, ultimately departing for 77 off 36 balls.
Again, the Outlaws were able to leave their engine room of Mullaney and Patel firmly in the shed. Again, Notts had breezed to victory before the death overs had even begun.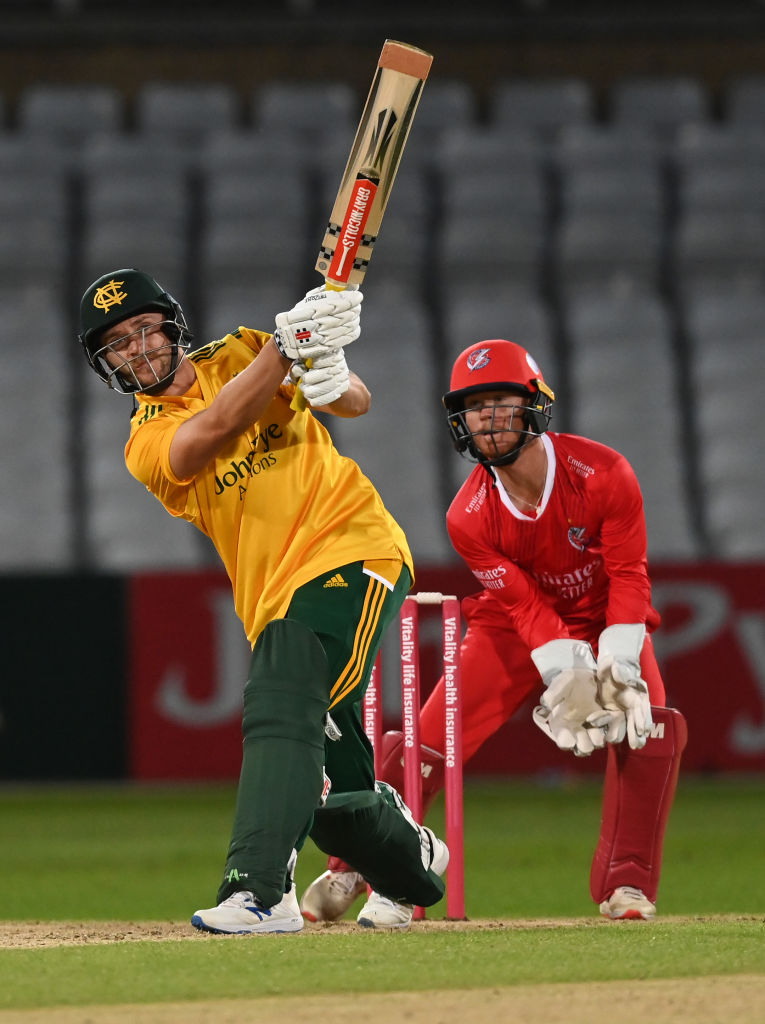 Notts v Derbyshire, 13 September 2020. Notts won by 13 runs.
After four consecutive successful chases, Dan Christian decided to pursue a different way to win, with his Outlaws side batting first.
The sight of Alex Hales and Joe Clarke putting the opposition to the sword, however, was one to which Notts fans have become accustomed.
Hales hit 49 and Clarke 57 as the Green and Golds finished two shy of 200.
Derbyshire's chase began in disarray, with Luis Reece departing first ball, but Wayne Madsen and Matt Critchley mounted something of a fightback.
In a side shorn of two proven death bowlers in Fletcher and Harry Gurney, it would have been easy for nerves to abound – but Jake Ball shouldered the responsibility with comforting aplomb.
Both Derbyshire dangermen fell to the Welbeck Wizard, and an accomplished final over from Dan Christian ensured the local bragging rights would stay at the East end of the A52.
Notts v Derbyshire, 17 September 2020. Notts won by eight wickets.
Three days later, it was Derbyshire who were invited to bat first, choosing Madsen as their best hope of combatting a triple-spin attack.
After just one ball of the match, Madsen was plotting a course back to the Pavilion, comprehensively undone by Imad Wasim.
This was an encounter without any of the tension of the previous Sunday, with Patel and Ball helping to ensure the Falcons chalked up an under-par total.
The floodlights barely had time to take effect before the Outlaws had completed the job, another wristy performance from Duckett ensuring victory with nigh-on six overs of the contest remaining.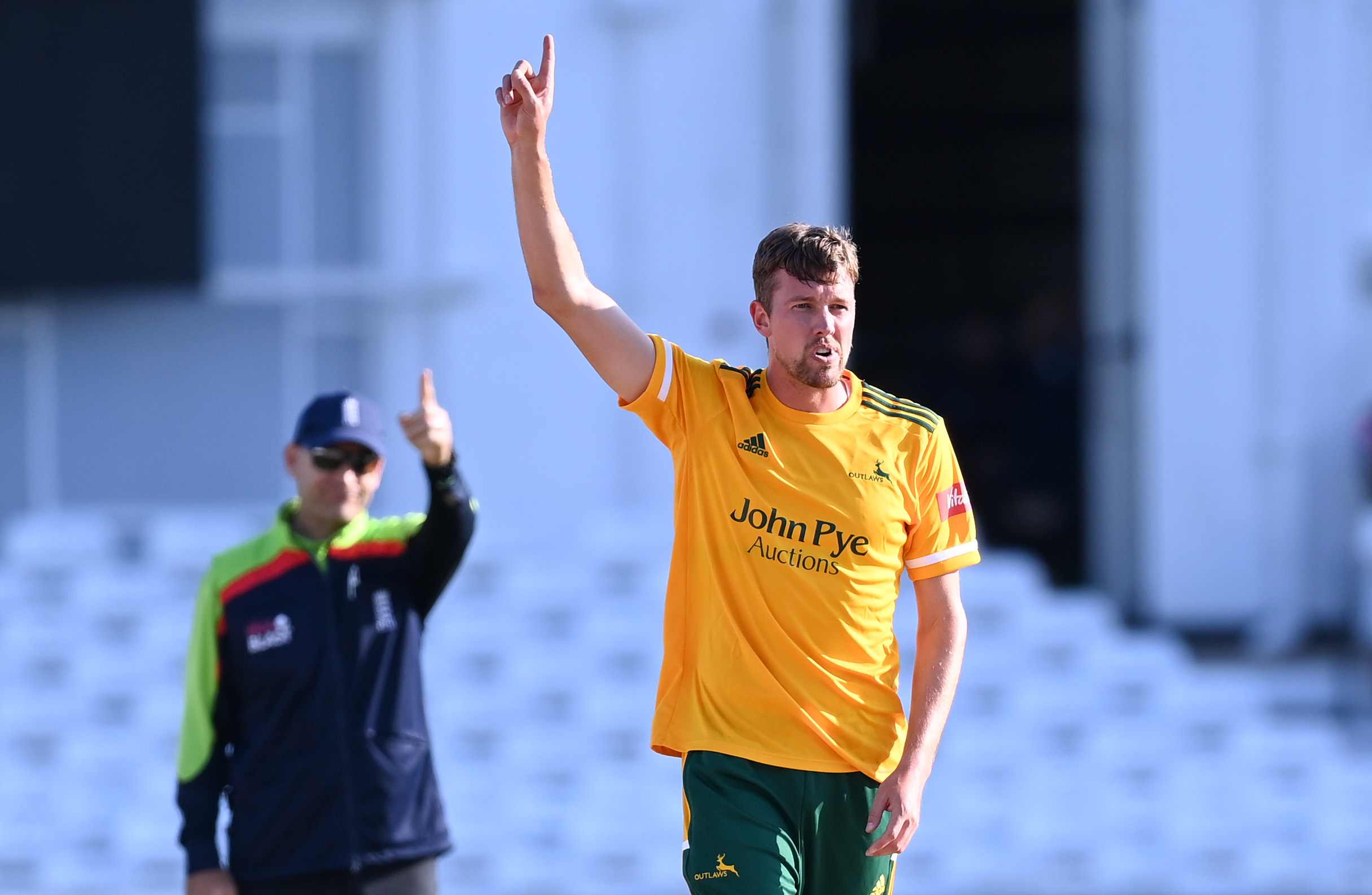 Leicestershire v Notts, 18 September 2020. Leicestershire won by four wickets.
Of course, no journey to a trophy triumph is without its setbacks.
24 hours after blowing Derbyshire away, the Outlaws were in Leicester to do the same.
Ben Duckett was innovative once more in making 53, while Tom Moores' two sixes – one an inch-perfect reverse-sweep, the other an outrageous short-armed jab – will live long in the memory.
Moores made 51, the Outlaws 162-7, but in Colin Ackermann the Foxes had a skipper determined to lead by example.
Ackermann paced the chase impeccably, with the hosts securing victory from the penultimate ball.
Notts v Durham, 20 September 2020. Notts won by 18 runs.
From the moment he first donned the green and gold, Imad Wasim has proven a wily practitioner with the ball – but it was with the bat where he first made an impact on this game.
Clarke, Duckett and Moores had all made starts, but it was left to the Pakistan international to show his all-round class, in tricky batting conditions, with a pivotal unbeaten 26.
Defending 150, Wasim was in the game once more with two wickets and two run-outs as Durham pressed self-destruct.
Jake Ball, with 2-7, and Samit Patel, with a wicket and a gravity-defying catch off Dan Christian, joined Wasim in tuning up for the quarter-finals, the visitors skittled 18 short of their target.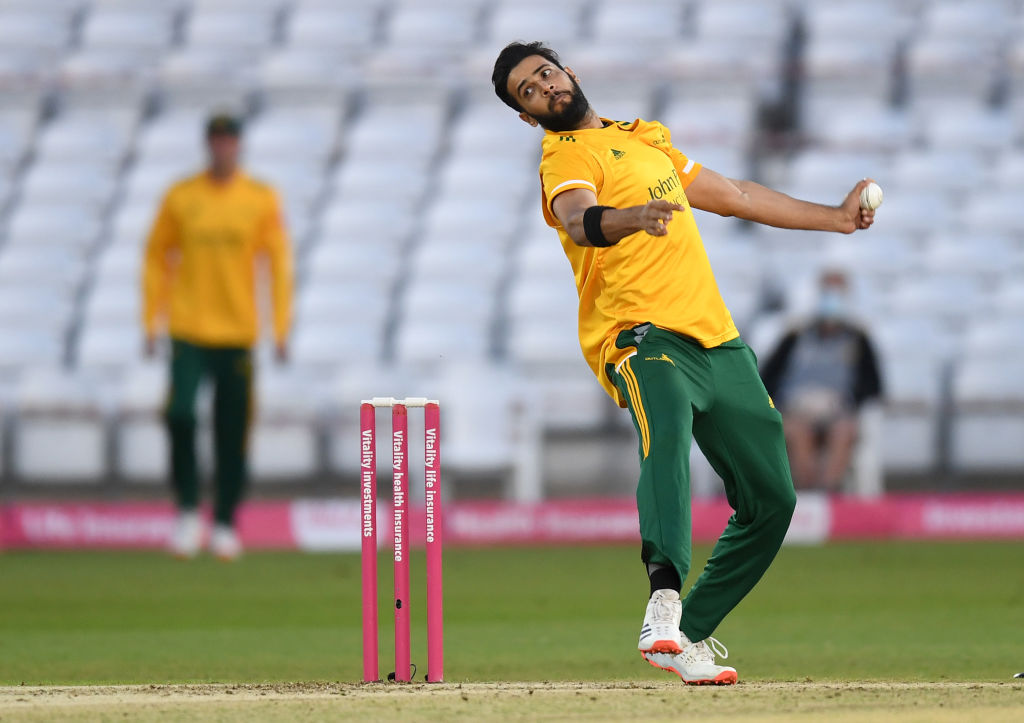 Notts v Leicestershire, 1 October 2020. Notts won on countback.
Leicestershire were the only side to inflict defeat upon Notts in the 2020 edition of the Blast – and a reprise was very nearly on the cards in the knockout stages.
Chasing 140 for a fourth Finals Day in five, the Outlaws were reeling at 99-6 when Samit Patel strode to the crease.
And if the last decade has proven anything, it's that there is no better man to turn to when chasing a seemingly lost cause.
Patel found the boundary from the last ball of the penultimate over, the greasy outfield seeing the ball slip through Arron Lilley.
That left Notts needing 13 from the final over – a task made infinitely easier by a towering third-ball six from the Outlaws' natural-born thriller.
Three were required from the final ball to win outright. Two were needed for a place at Finals Day.
Imad Wasim found Dieter Klein at midwicket. Klein's eyes lit up as he looked to restrict Notts to just a single. But the ball slid through his grasp.
Wasim and Patel scampered two, the Outlaws progressed on countback courtesy of scoring more in the powerplay, and the title tilt remained on course.
Lancashire v Notts, 4 October 2020. Notts won by five wickets.
Big-hitting can often hog the headlines in white-ball cricket. And, with some justification, it was Dan Christian's exploits with the bat that took the plaudits in this semi-final.
A chase which was threatening to slide away from the Outlaws was tilted firmly in their favour when the skipper took a liking to Liam Livingstone's leg spin.
If there were spectators in the Hollies Stand, they would have been the busiest fielders of the evening, as four successive blows rained down on the untouched white seats.
Christian, however, was indebted to his bowling attack for suffocating Lancashire's innings.
Not a single boundary came in the last four overs of Lightning's 11-over knock, as the Red Rose side set an inadequate target of 94.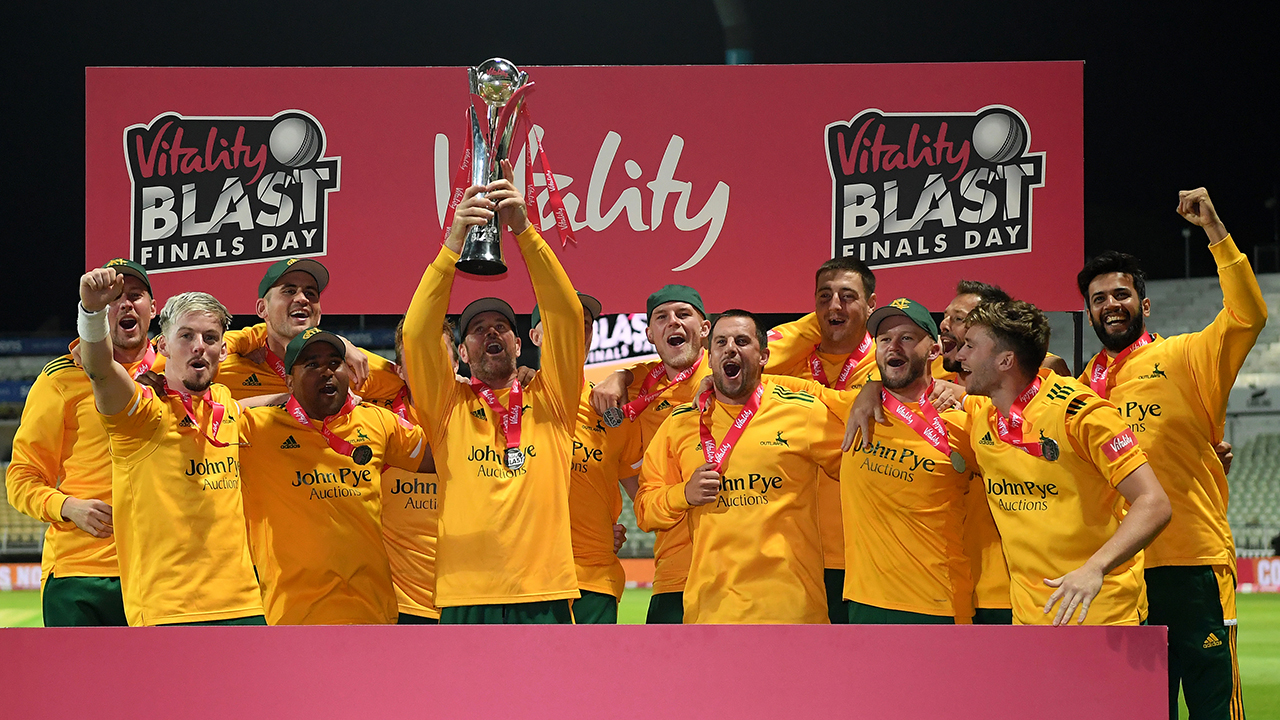 Notts v Surrey, 4 October 2020. Notts won by six wickets.
If ever a game showed the Outlaws' toughness in the face of adversity, it was this one.
Two-thirds of the way through the Surrey innings, with Jason Roy punishing Notts for missed chances early in his innings, a tough chase was on the cards.
Step forward Ball with the crucial wicket of Roy, before another four boundaryless overs closed proceedings as Surrey ran out of steam.
But when Hales, then Clarke, then Patel, fell cheaply in the reply, the pause button was firmly pressed on the celebrations.
Ben Duckett, however, had one more defining contribution in him.
Duckett was as deliberate as debutant Peter Trego was destructive, the duo dovetailing to wrest back control of the game.
Duckett, with his captain watching on from the non-striker's end, finished the job with almost three overs to go, to inscribe his and his teammates' names into the history books.
*******
Notts Outlaws, the 2020 Vitality Blast champions, wear adidas.
See the full range of playing kit, training wear and apparel in the Trent Bridge Shop.