With six wins from six completed fixtures, and a resounding victory over Derbyshire Falcons recorded last time out, Notts Outlaws have named an unchanged squad for Friday's fixture against Leicester.
Luke Fletcher remains on the side-lines through injury. Zak Chappell and Peter Trego have been named in addition to the XI that won with 5.5 overs to spare against Derbyshire.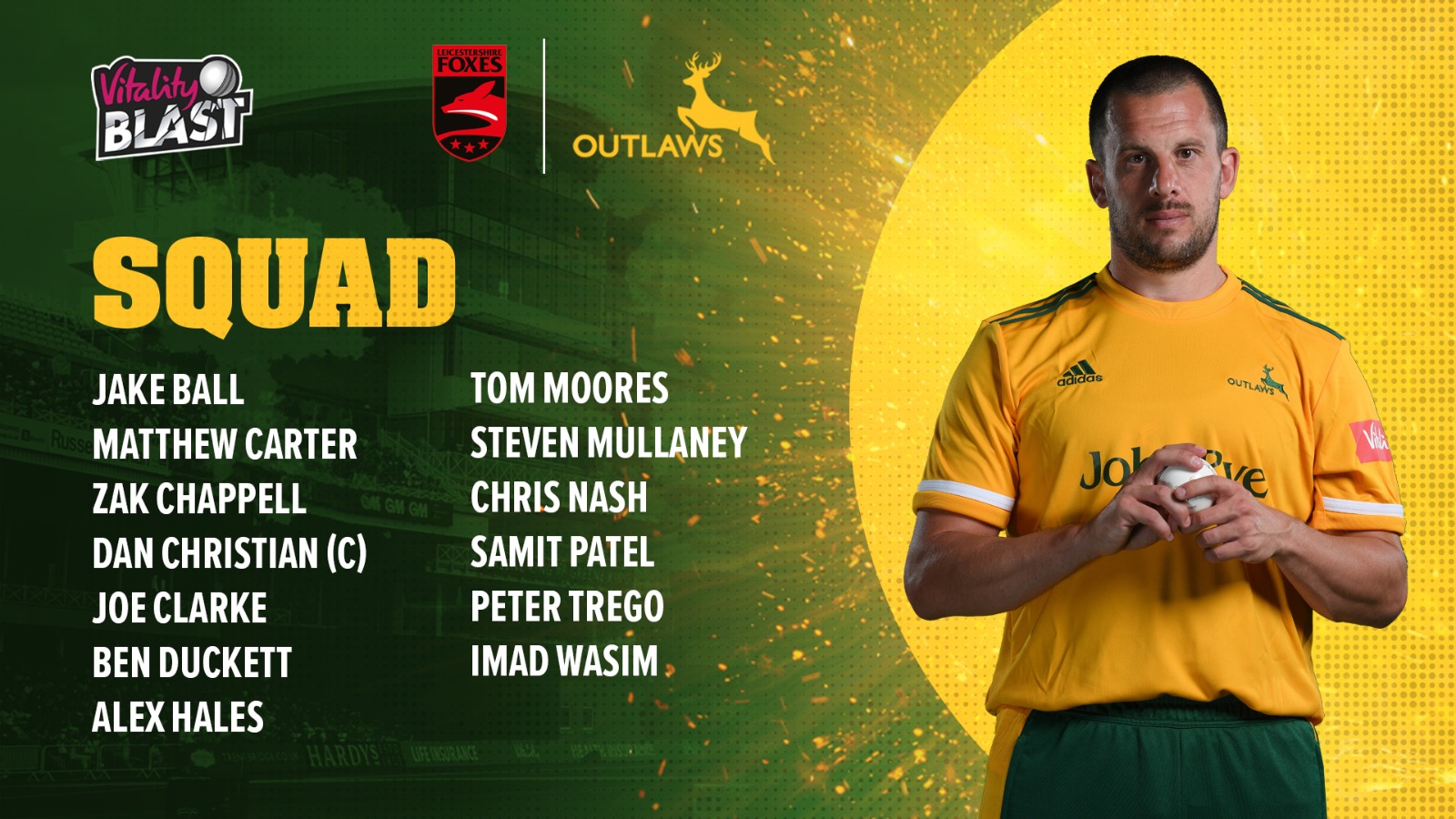 Club Captain Steven Mullaney has, meanwhile, slotted into the rank and file under the leadership of Dan Christian for the duration of the Vitality Blast.
His opportunities to contribute significantly with the bat have been restricted by the dominance of the Outlaws' upper order, but the 33-year-old has shone with the ball, securing a miserly economy rate across the half-dozen fixtures to date.
"I've been happy with my bowling," he said. "I felt like I started well at Durham, and if you're under nine an over at Trent Bridge, you have to take that as a good sign.
"If we're bowling second, if I can go at less than that, then I feel I'm doing my bit for the team.
"I feel in a decent place, my variations are going nicely. Hopefully that continues through the tournament."
Among a twinkling Outlaws' top-order, Joe Clarke has been the biggest show off of all, helping himself to a century and two fifties.
Mullaney has been watching in awe of the England Lions international.
"Joe's been incredible. We've been very lucky at Trent Bridge to see some of the best strikers of the ball, the likes of Alex Hales and Riki Wessels, over the last few years.
"But to watch the way Joe's gone about it this year – I know he wasn't happy with the way he played in last year's tournament, so he's really had the bit between his teeth to go out and prove how good he is.
"To get off to that start at Durham (with a hundred) was amazing, but the consistency of his performances is what's special – the averages and the strike rate are remarkable. He's put all the hard work in, he's getting the rewards, and long may that continue."
With six of the Outlaws' ten Vitality Blast group stage matches taking place at Trent Bridge this summer, and with two of three away fixtures having to date fallen foul of the weather, Friday's foray to Grace Road will, unusually, be only the Outlaws' second away contest of the campaign to date.
Mullaney, however, is unfazed by the need to perform in the absence of home comforts.
"We'll go out there with the same game plan, but we're prepared to adapt and adjust if the conditions demand it," he said.
"I feel we've got all bases covered, it's just about delivering."