Being a cricket follower takes up a fair bit of time; even a T20 demands three hours of your evening.
So how have our members, supporters and volunteers been filling the hours this summer that would have been spent at Trent Bridge?
That's one of the questions the club's heritage team have been asking as they put together a 'Covid and Cricket' time capsule to capture this most extraordinary of seasons for the benefit of future historians and archivists.
And the answers are as many and various as the people.
An unlikely beneficiary of lockdown has been Chris Walker's allotment, which has "never looked better". He admits it is normally a mess as he spends so much time watching cricket, but now he is there every day: "the only good thing about lockdown", he adds.
David Allcock is one of many to have developed new-found IT skills. He stays in touch with family and friends over WhatsApp, Zoom (for his School Governor meetings) and, 'old school', over the phone.
'Zoom', like 'social distancing' and 'shielding', was largely unknown to many back in March. Now, however, it is high on a lot of people's lists as they try to keep up with family, friends and events.
Those re-runs of past great games – cricket and football – that filled the gaps left by the disappearance of live sport were welcomed by many, though no-one thought them as satisfying as the real thing.
Those unable to volunteer at Trent Bridge or their local club have often lent time and support to their communities.
Clare and Glyn Hughes have been supporting neighbours that have been shielding – doing shopping and running errands – and feel that, in the main, the public has understood and responded to the rules on social distancing and safety.
Another supporter has re-discovered a love of jigsaws; lots of people are doing more walking, decorating, gardening – even knitting.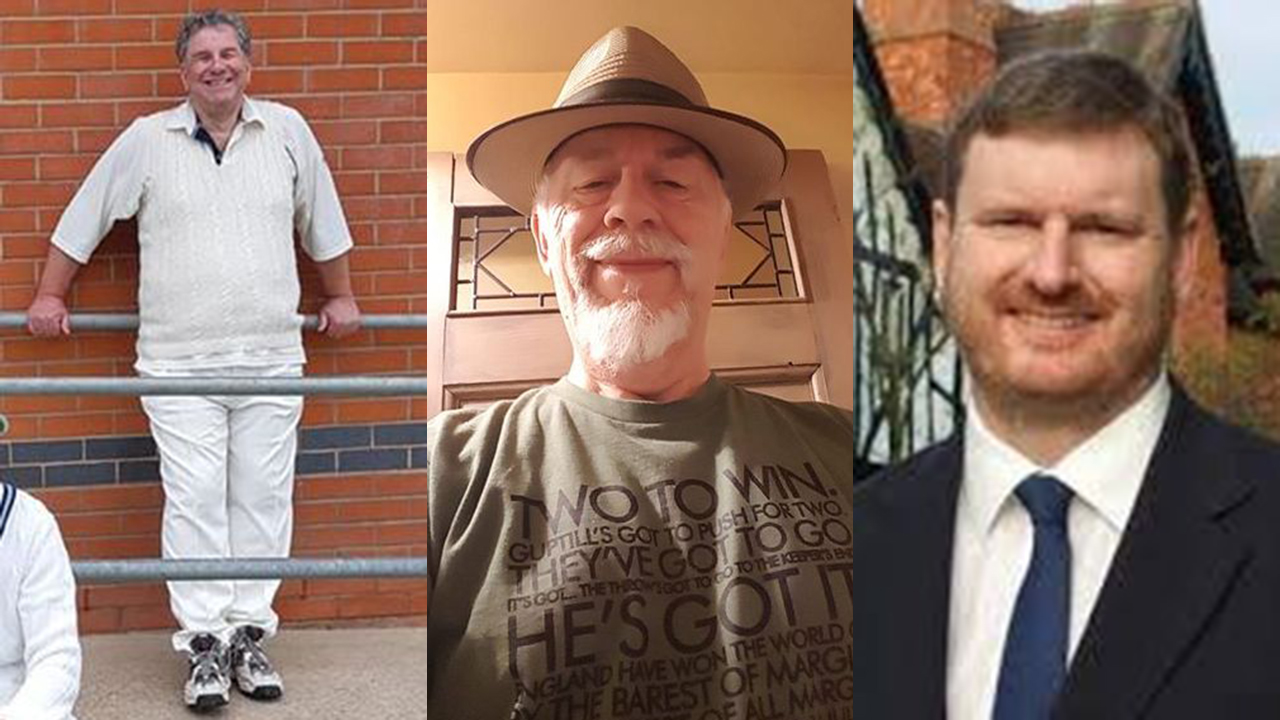 Left-right: Martyn Shaw, Peter Smith and Neville Stankley
Home schooling has been a challenge for parents and pupils alike, as Neville Stankley pointed out.
Even as an experienced tutor, Neville found it strange: "At times, our house was like a Victorian schoolroom – kids of all ages all trying to work (or, just as often, not work) on different subjects, to different timetables, all in one space!"
David Beaumont has caught up on his cricket reading and is also part of what has been the biggest project of lockdown for a group of volunteers.
Since March, a team has been researching, writing and uploading to the history pages of the club website, profiles of players and season reviews for the long and illustrious history of Trent Bridge and Nottinghamshire County Cricket Club.
"To be honest, it is the one thing to come out of this that we can say is a real positive", said Martyn Shaw, a member of the team.
"When I was asked to get involved, I jumped at the chance. If I'd been asked in a normal summer, perhaps I wouldn't have been so keen and I certainly would not have had the time to do as much researching and writing as I have done.
"It has been fascinating and very rewarding."
Mike Goulder, who edits the Notts Cricket Annual, has found the project compensates for having very little cricket to write about this year.
"I've been able to fill my time researching player profiles and scripting the heritage pages. In particular, I've found the Victorian players fascinating," he said.
Peter Smith acted as editor for the project. "Thanks to Mike, Martyn and others, there is now a profile for every player that has played at least one First-Class game for Nottinghamshire, or the predecessor Nottingham club, and for all the 'white-ball warriors' that have played List-A or T20s for Notts," he said.
"Mind you, that doesn't mean it's a finished job. Even as we were celebrating the last of the entries, the Bob Willis Trophy started up and straight away we had three new profiles to write for the players that made their Notts debuts!
"The team have also been adding season reviews, going back as far as the 1850s. In those days the county often played just one game per season, so at least we're getting more cricket in 2020 than they did."
If you'd like to share your experiences of life under lockdown and a summer without cricket, drop our heritage team a line at heritage@nottsccc.co.uk.
*******
Peruse the A-Z of Nottinghamshire cricketers past and present here…