Sammy King made history in two ways at Sophia Gardens.
He became the first player to enter the field of play as a concussion substitute in the Welsh capital, following the retirement of Lyndon James, and he became the latest player to don the Green and Gold of Nottinghamshire for a first team debut.
That his Academy team mate and longtime friend Fateh Singh was waiting to greet him in the middle, as the U18 skipped down the stairs and strolled to the crease, made the moment all the more special.
"I was out on the field running water, and I had a helmet bag for Lyndon, I came back up the stairs and Mooresy said 'you might be in with a shout of playing here'," King laughed, reflecting on a whirlwind start to his List A career.
King had watched on while James passed his first concussion test having been struck by a Joe Cooke bouncer.
An over later, physio Phil Tranter was called back onto the pitch by umpire Ian Gould for a second inspection, and the all-rounder left the field.
"It happened in a flash and I was suddenly out in the middle facing, but it didn't affect me too much."

Sam King on his debut
Thankfully the 22-year-old was in good spirits following the incident, but it cued King up for an unexpected first-team berth following the loss of four more wickets.
"There were loads of emotions in the changing rooms while Lyndon was getting checked," he conceded.
"Then eventually I got the nod to put my pads on, came out, sat down for about 20 seconds then I was straight out to bat. It was a strange way to make my debut.
"It happened in a flash and I was suddenly out in the middle facing, but it didn't affect me too much."
With the score 47 for seven, King's introduction came during a testing period. He touched gloves with Singh, making only his second appearance, and the pair got to work.
It took the right-hander two deliveries to get off the mark, clipping Michael Hogan to the leg side before sitting on his bat at the non-striker's end while Singh flayed consecutive boundaries.
"I am best when I play my natural game, so I tried to do that," Singh said.
"If there were pockets I could pick then I would try and do so; I just waited for the right balls to hit.
"We've only really played with each other for the last two or three years. Last year we batted together quite a lot, but this might have been the first time we have batted together this year, other than an over at Derbyshire."
For the pair, the sight of each other in the middle whilst plying their trade in List A cricket made for a strange but comforting feeling.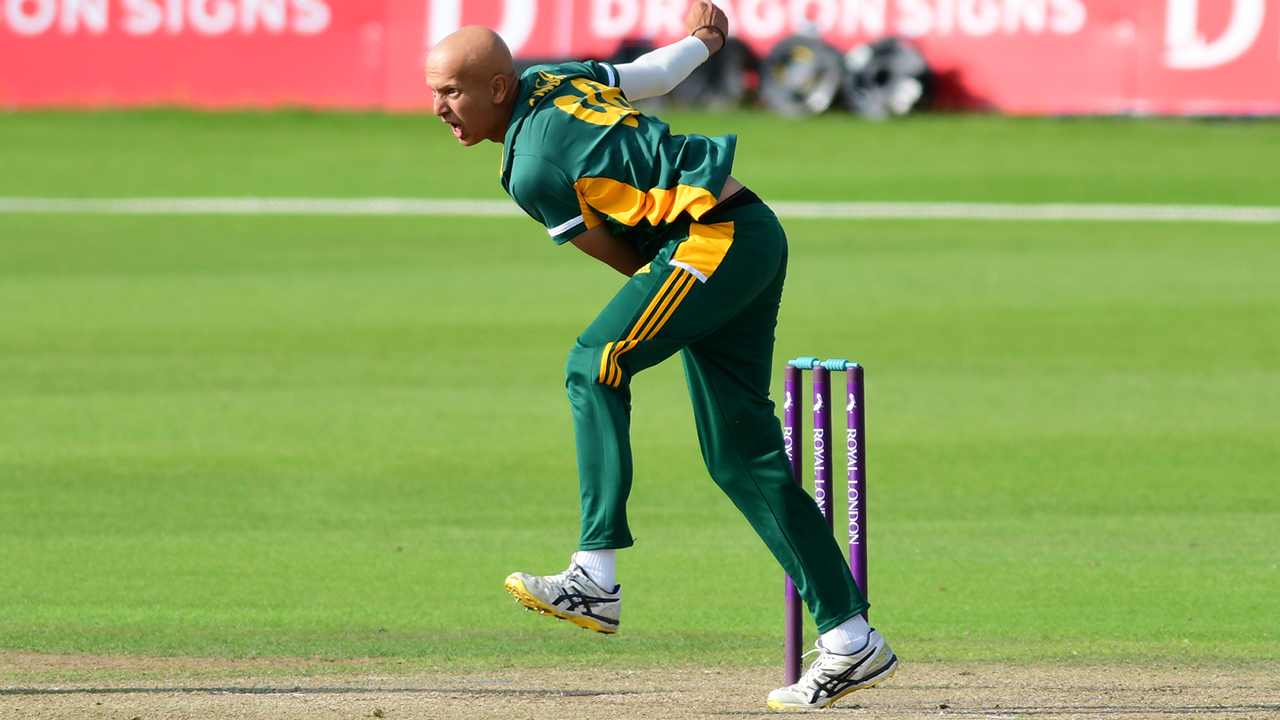 Fateh Singh bowls during Glamorgan's run-chase
"It was a bit weird being out there together because we are from the Academy – U18s players out there surrounded by first-team players," King said.
"It was quite surreal for me, but it felt really comfortable walking out to bat with Fateh there. We know how we bat, and we already know each other's game.
"I think we have always got each other's backs on and off the field."
Singh agreed: "It is almost reassuring seeing each other at the other end. It isn't too alien to us.
"We have both come into the squad and gelled nicely. We have formed a relationship with every player, and we get on really well. We are comfortable in the environment, and it helps that we've come from the Academy to first-team level."
"It is almost reassuring seeing each other at the other end."

Fateh Singh
The duo's ascent to first-team action is yet another example of Notts' successful Academy structure, from which James, Liam Patterson-White and Joey Evison have graduated in recent years.
"Credit has to go to Matt Wood [Elite Pathway Manager] and his coaching team for that," Peter Moores remarked at the close of play.
"We have tried to get a system where we have nurtured our own. Naturally, we have to bring players in sometimes, because we lost a lot three or four years ago, but we are seeing our own coming through now and that is great."
For both Singh – believed to be the first Sikh to represent Notts' first-team – and King, the opportunity to be in the Royal London Cup squad is one to be relished, with development and progression very much on the agenda.
"We have got coaches who make us feel great in practice and give us confidence," King says.
"We'll see what happens in this tournament. If we can qualify that will be great, but I know I have got a lot of work that I would like to do with my game and with my coaches, and they know that.
"I'll try to keep improving and see where it takes me."
*******
The timeless tradition of county cricket's Royal London Cup Final arrives at Trent Bridge on Thursday 19 August. Adult tickets from £20, all under 16s £1.