Since Trent Bridge was established in 1838, many of the world's most famous cricketers have walked through its gates to go about their work.
And while Peter Wynne-Thomas – who sadly died on 15 July at the age of 86 – was, by his own admission, a "rubbish" cricketer, his status and reputation entitles him to be remembered with every bit as much affection as the cricketing greats.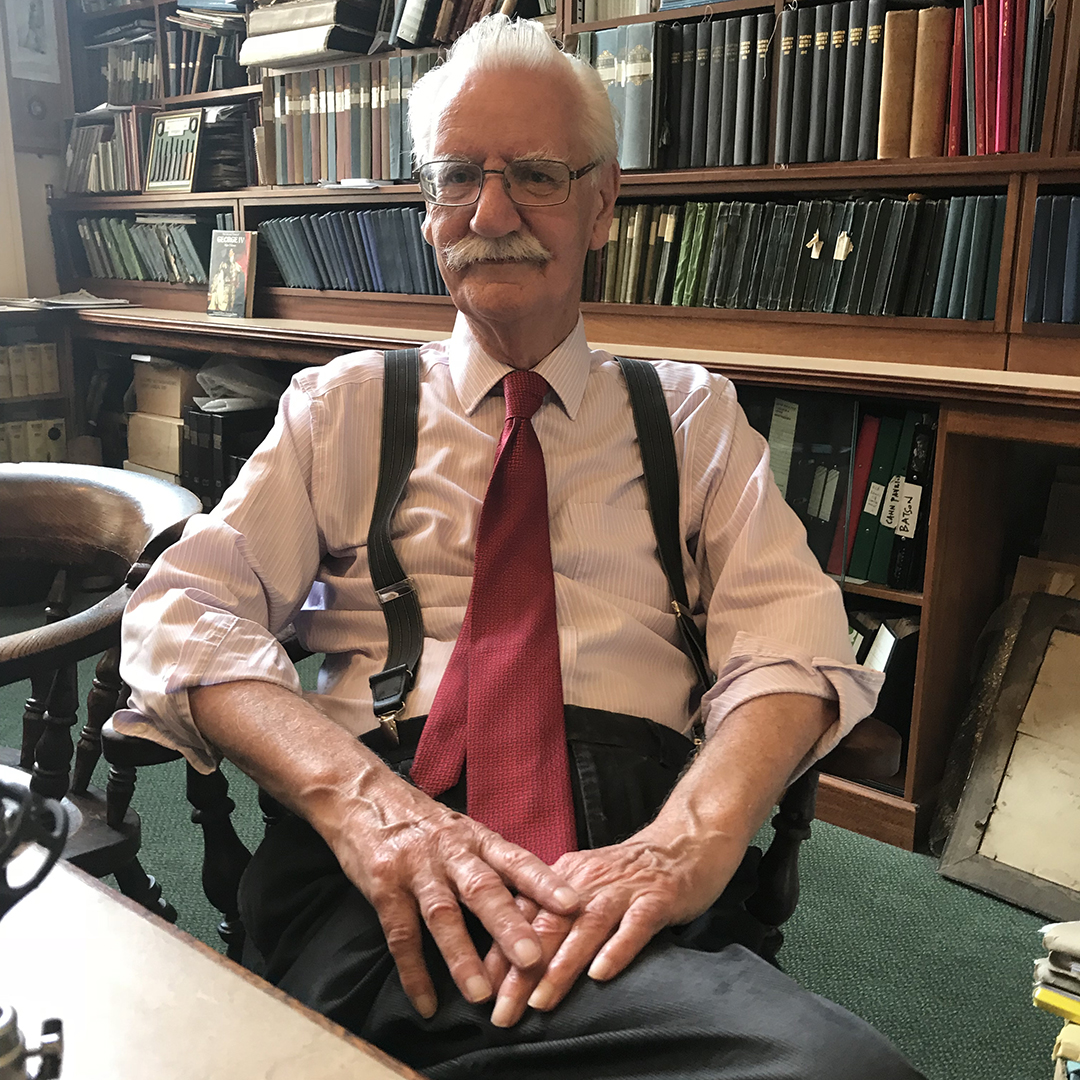 Born in Manchester on 30 July 1934 into a family that had no interest in the game, Peter's first experience of leather on willow came when he was sent to boarding school near Oswestry during World War Two.
As an eight-year-old wicketkeeper, his first memory of the sport was standing too close to the stumps and being hit in the mouth by the batsman's back swing.
At the age of nine he was moved to "a pretty grim, brutal school" in Sussex before completing his schooldays at Lancing College on the Sussex Downs.
In 1941 his father was posted to Chilwell and the family bought a house in Attenborough, where Peter's lifelong love affair with Nottinghamshire cricket was to begin.
However, his first First-Class match was at Derby in July 1948, watching Don Bradman bat for Australia against the home county.
Peter attended his first match at Trent Bridge the following August when New Zealand were playing Notts.
This was the only match he ever watched with his father, but it also provided Peter with his first glimpse of the man who became his favourite Notts player: Joe Hardstaff Junior.
Despite coaching from Hardstaff and Bill Voce, it was soon evident that Peter was not going to make a top-class cricketer.
Describing himself as "a bowler off the wrong foot" and "disgustingly keen, but useless", Peter was destined to make his name off the pitch rather than on the field of play.
In 1949 he began a lifetime's collection of newspaper cuttings about Notts and Trent Bridge, initially saved for him by his mother while he was away at school and later studying in London.
Peter became a Life Member at Trent Bridge in the 1950s and followed in his father's footsteps by becoming an architect, beginning his studies in 1952.
He began to compile the records of Nottinghamshire cricketers, gleaning information from newspapers, from Somerset House and on weekend visits to Nottingham.
He lodged at a YMCA, occasionally playing for their cricket team before buying a house in Bow, East London.
By 1955 – despite having no formal training as a writer and asking his mother to proof-read his work – Peter was being paid as a freelance writer by the Nottingham Guardian newspaper.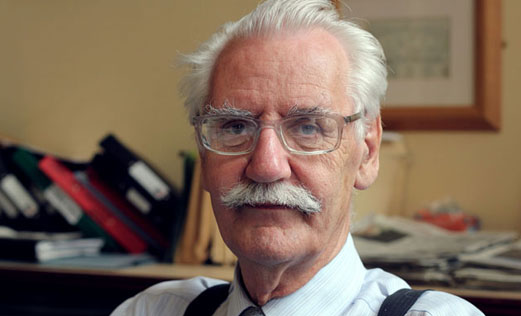 Completing his studies in 1957, he remained in London and worked for two architectural practices, before working with a friend who could only pay Peter a part-time salary – but this arrangement did leave the afternoons free for unpaid cricket research.
When Cricket Quarterly magazine was launched in 1963, Peter became the Circulation Manager, before returning to Nottinghamshire in 1971.
"I retired from architecture in broad terms in 1971," he said later, "the year everything changed to centimetres."
Buying a semi-derelict seven-bedroom farmhouse near Retford with a friend and making a modest income from selling eggs, chickens and produce, Peter found time to play cricket twice a week and have a weekly practice session at the nearby Bothamsall Cricket Club, where he was also called upon to umpire and score the matches.
It was during that same year that the result of his painstaking research was published as Nottinghamshire Cricketers 1821-1914 and won the Cricket Society 'Book of the Year' award.
The book was self-published, but only after the Nottinghamshire County Cricket Club Chairman Dick Milnes – who arranged for the printing at Boots, where he worked – had sought the advice of John Arlott about Peter's abilities as a researcher and the saleability of the book.
In 1973 Peter became a founder member of the Association of Cricket Statisticians and Historians (the 'ACS'); he served as Treasurer for the first year before beginning a 32-year stint as Secretary, and by 2012 he had only missed one AGM.
In 1974 he was asked by Nottinghamshire to write the county's Yearbook, a task which Peter was to undertake for many years; more recently, he contributed an entertaining and informative article to each issue of Covered magazine for Notts members.
Although he handed over editorial responsibility for the Yearbook in 2015, he remained a key contributor, and the book – now produced by the Nottingham Cricket Lovers' Society – continues to be enjoyed by enthusiasts both locally and further afield.
In 1977, Mr ERB Allcock of Mansfield left several thousand cricket books to the club, and Peter was invited to organise and oversee this collection.
He spent the winter cataloguing the books while shopfitters from Boots – once again facilitated by Dick Milnes – built the bookcases, and in May 1979 the Trent Bridge Library was opened.
Volunteering to become the Librarian, by the early 1980s Peter decided to shorten the journey to what had become his regular workplace by moving to West Bridgford, within walking distance of the ground.
Now containing over 15,000 books and other ephemera – making it the second-largest dedicated cricket library in the country, after Lord's – Peter's home-from-home outgrew its original location and was moved into a former squash court in 2002, designed to plans that Peter himself had drawn up and officially opened by Lord Kenneth Clarke.
Peter continued to research and write his books whilst working in the library, where he also provided advice for visiting researchers and informative entertainment for regular school and tour groups.
In September 2015, his workplace was renamed 'The Wynne-Thomas Library' in recognition of his outstanding contributions to Trent Bridge and the world of cricket.
Affectionately known by many of his colleagues and contacts as 'Whizz', Peter served as a member of Nottinghamshire's General Committee from 1987 to 2006, and he was elected as the club's President from 2016 to 2018.
As President he attended the lunch in the Committee Room on each matchday, regularly surprising visitors with his knowledge of their club's history during his welcoming speeches.
Further recognition followed in the 2019 New Year Honours list, when – at the age of 84 – Peter received the British Empire Medal for his services to cricket and to the community of Nottinghamshire.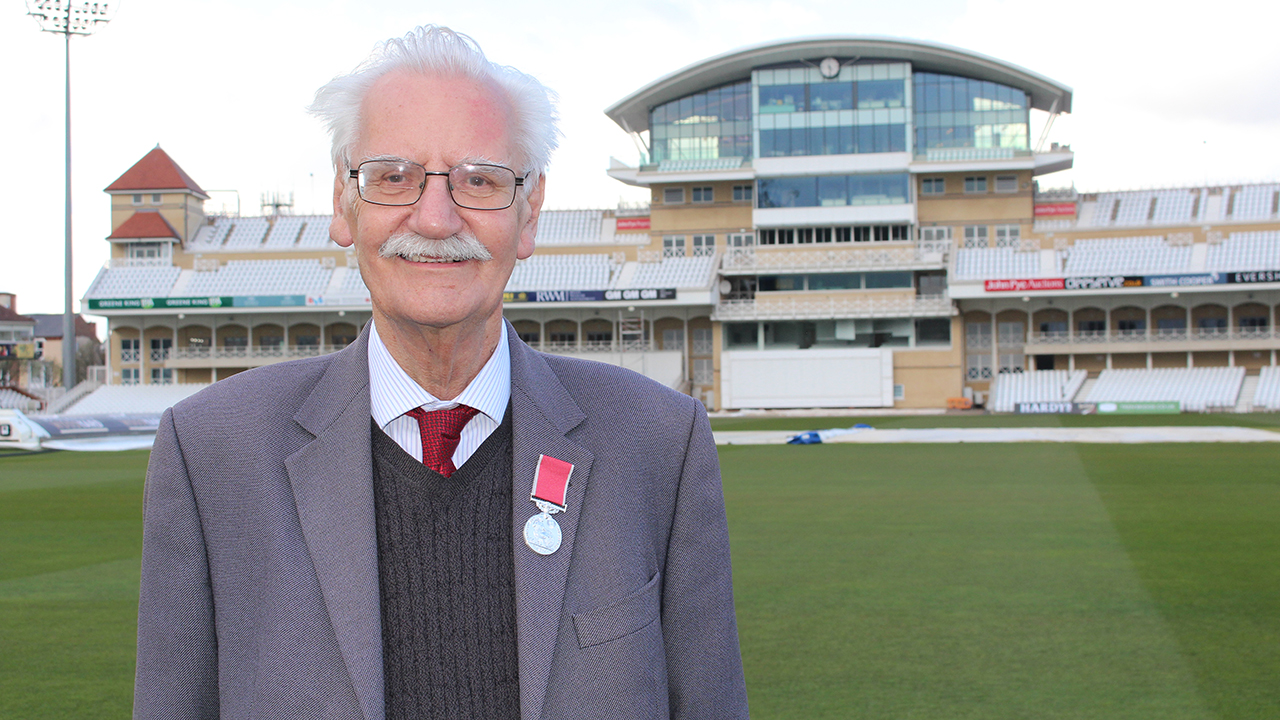 His research projects included checking all Notts' First-Class scorecards from 1821 onwards – a painstaking task that took him five years – and creating a card-based index system of articles and photographs in The Cricketer. This took 25 years to compile and became a valuable reference source for staff working on the magazine.
Meanwhile he researched and wrote books of national and local interest, including The Hamlyn A-Z of Cricket Records, The Complete History of Cricket Tours at Home and Abroad and biographies of Ivo Bligh, William Clarke, Harold Larwood, Arthur Shrewsbury, Bomber Wells, Basher Hassan and Derek Randall.
Amongst Peter's many titles, he considered it his greatest honour to be asked by Her Majesty's Stationery Office to write an official history of cricket, published in 1997 as The History of Cricket: From the Weald to the World.
Despite his undoubted talent as an author, he was not averse to taking advice. When his daughter pointed out that a volume about all 436 grounds of Nottinghamshire would be "the most boring book in the world", he followed her suggestion and wrote an endearing story of how he had discovered these grounds (many no longer used for cricket), accompanied by his loving wife Edith and fuelled by ploughman's lunches.
A diligently-researched biography of a genuinely colourful character – Arthur Carr: The Rise and Fall of Nottinghamshire's Bodyline Captain – was published in 2017; this proved to be the final of – in Peter's own words, and estimation – "50 or 60 books" that he wrote or co-authored.
The Nottingham Cricket Lovers' Society was founded in 1972 by former county player 'Bomber' Wells, and Peter became a member once he moved to West Bridgford.
Invited to become the society's President in 1987, Peter agreed to switch roles with the Chairman in 1990 and held this post until his passing.
He spoke at numerous society meetings, often as an emergency 'stand in' when the booked speaker pulled out.
His talks were usually delivered without notes, and were often about the book that he was researching and writing at the time.
Peter was also in regular demand as a speaker at cricket societies across the country, and he organised annual reunions for former Nottinghamshire players, inviting famous and less-remembered cricketers to spend an informal day at Trent Bridge during a 1st XI fixture.
In 1993, Peter shared the ACS Statistician of the Year award with Philip Bailey and Philip Thorn for their 1,144-page epic Who's Who of Cricketers, before being named the 2012 Statistician and Historian of the Year in his own right for Cricket's Historians; at the time the most financially-successful book produced by the ACS.
At this time, Peter was described by the ACS as having been at "the forefront of the game's researchers for some four decades", and that "for many people, and for many years, Peter was the public face of the ACS".
Deeply involved in many ACS publications, he contributed a number of volumes himself, as well as typesetting many early booklets.
Peter also managed the Sport in Print bookshop (across the road from Trent Bridge) from 1987 until 2006, persuading ten other ACS members to buy a share in the freehold of the shop which also served as the Association's office.
Alongside his own writing, Peter himself and his library have been the subject of numerous media articles over the years.
Descriptions of him abound: "an avuncular, amiable figure", "an institution within an institution"; "one of the very few cricket researchers who has been able to support themselves and their family by doing nothing else"; and "the force without whom most of Nottinghamshire's cricketing deeds would go undocumented."
And as Jonathan Rice, the respected cricket historian and Chairman of the County Cricket Heritage Forum, admitted: "There's no one else in county cricket quite like Peter, and no one has a library like his."
Modest and self-deprecating, and with a dry – sometimes obscure – sense of humour, Peter entertained many an audience.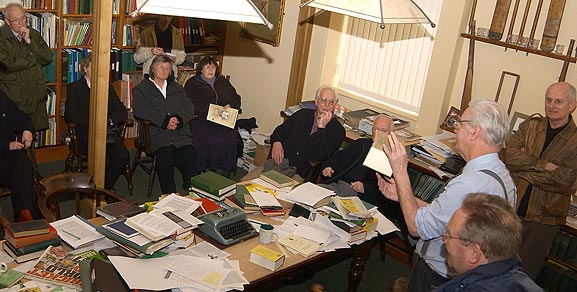 Young children visiting the library as part of their day-long 'Trent Bridge Classroom' would be given an entertaining and gruesome history of cricket, during which Peter would tell them about any famous cricketers who had been born in their town or village.
Groups of cricket enthusiasts would be treated to an impressive display of cricket knowledge, interspersed with requests for audience participation and gentle, good natured admonishments – such as "what are we going to do with you?!" – when they were unable to answer questions posed by Peter.
And general interest audiences would be intrigued by his mildly-eccentric style; for instance, after a highly-complimentary introduction at Bromley House Library in Nottingham, Peter's first words were "I'm trying to think of what to say!"
A roomful of laugher and over an hour later, the organiser had to draw him to a halt with the audience clearly wanting more.
Peter had an anecdote or three for every occasion, and a conversation that started in one place would normally – via a series of tangents – conclude sometime later on a completely different topic, not necessarily related to cricket.
And being familiar with the accusation (from people yet to be converted to his sport) that "cricket is like watching paint dry", Peter would compare it with watching the tide – before pointing out that most people were happy to do that while they were at the seaside.
Peter was a man of surprising contradictions: he wrote many life histories and tributes, but would never attend a funeral; and irrespective of the cricketing drama that was unfolding on the pitch, he would usually be found working in the library on matchdays.
Although he liked to bring a sense of order and accuracy to cricket's vast array of statistics, the initial appearance of his library was one of amiable and eccentric chaos.
As cricket writer Scott Oliver wryly observed: "… the key to accessing the information it contains is in some ways mysterious to all except the eponymous librarian."
Change did not come easy to Peter. Many a visitor to his library would marvel at the battered manual typewriter on which he had hammered out many of his books, articles and statistical tables.
He never sent an email or had a mobile phone; he only made occasional (and laborious) use of the PC on his desk; and he distrusted any information available online.
At a time when working attire became more casual, Peter retained his immaculate appearance: always seen in a collar and tie, with his suit trousers supported by a pair of braces.
Generous with his time and knowledge, when a group of volunteers wanted to establish a heritage programme, he became an invaluable source of information, guidance and advice.
Many people researching cricket or the history of their own families have, meanwhile, been grateful for Peter's help, even if their questions were not necessarily related to Nottinghamshire; his knowledge – and the range of books held in the library – attracted enquiries from across Britain and around the world.
Peter's help was duly acknowledged by authors such as former Prime Minister John Major – who regularly sought out Peter on his visits to Trent Bridge – and by Duncan Hamilton, three-time winner of the prestigious 'William Hill Sports Book of the Year' award who in 2020 dedicated One Long and Beautiful Summer: A Short Elegy For Red-Ball Cricket to Peter.
'Unique', 'amazing', 'legendary' and 'irreplaceable' are words that are perhaps used all too frequently in a sporting context.
Although not a sportsman, Peter was all of those things and more. At Trent Bridge, and across the world of cricket, he will never be forgotten – and will be sorely missed.
Tribute written by Nottinghamshire County Cricket Club Heritage Officer, Steve LeMottee.