From Ashes history-makers to white-ball record-breakers, the Trent Bridge turf has witnessed countless moments of cricketing history over the years.
With tickets for the international summer of 2021 on general sale now, trentbridge.co.uk casts a glance back at a handful of memorable moments.
Secure your spot for our splendid international summer below.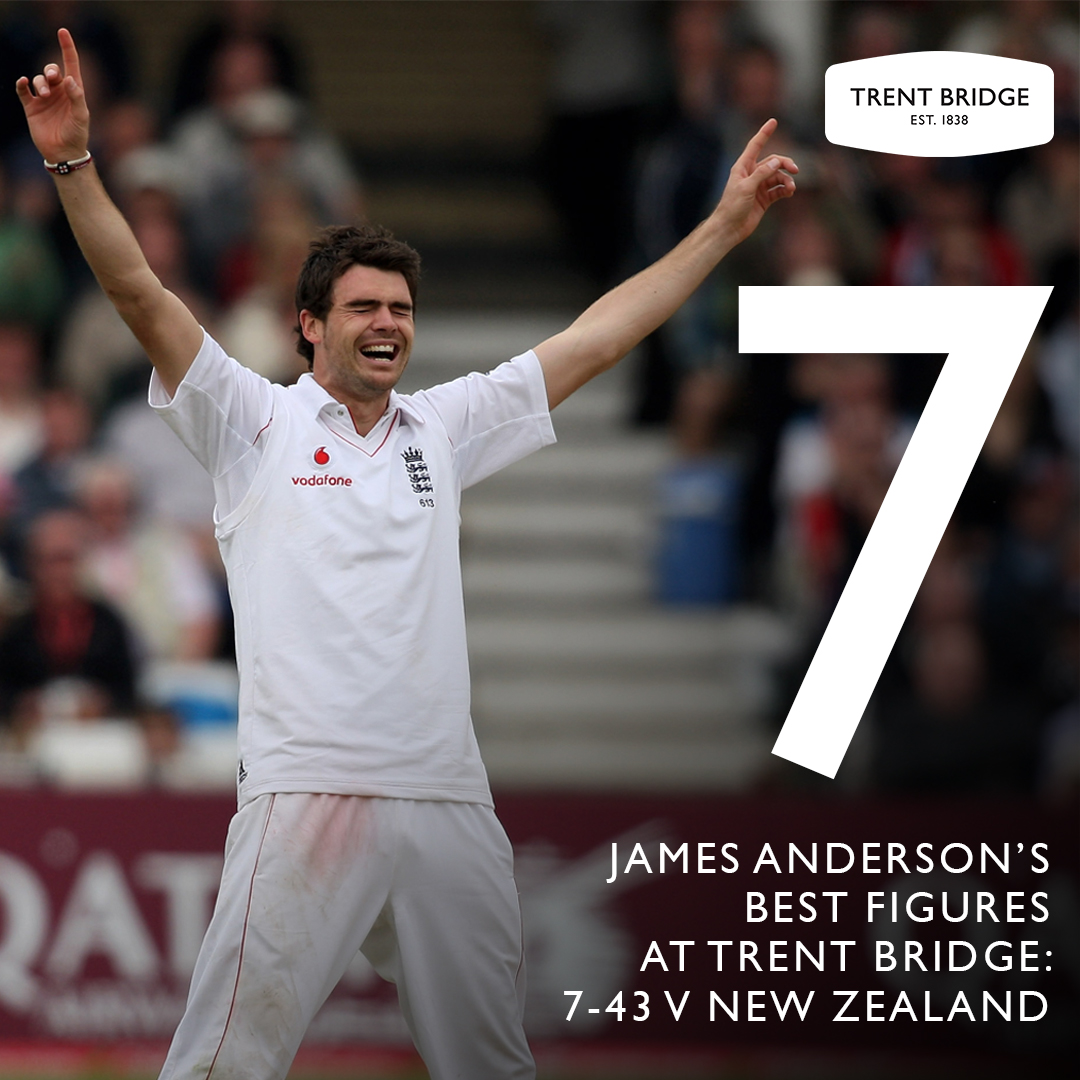 With over 600 Test scalps to his name, the sight of Jimmy Anderson decimating a batting line-up has become a familiar one across the globe.
You'd be hard pressed, however, to find a ground better suited to his mastery of swing bowling than Trent Bridge.
Seven of Anderson's 64 Test wickets in Nottingham came in one thrilling innings against New Zealand in 2008.
Brendon McCullum and Ross Taylor were just two of the big names who Anderson was simply too good for, as he sowed the seeds for an innings victory and a 2-0 series triumph.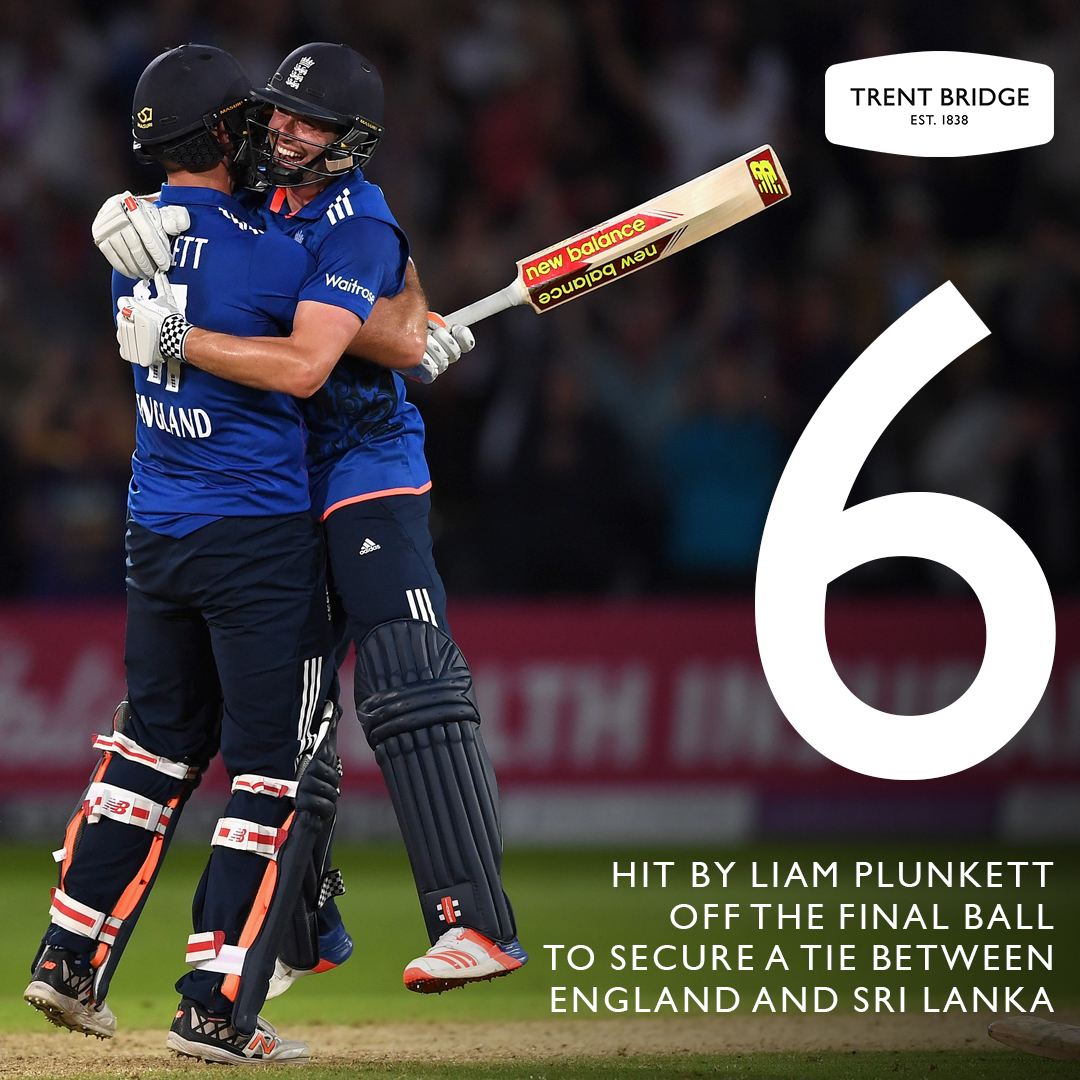 England's ODI side may have swept all before them in recent years, but even as Eoin Morgan's men set a ferocious new pace around the globe, few moments have had the sheer drama of the closing seconds of England v Sri Lanka in 2016.
After Jos Buttler and Chris Woakes staged something of a recovery, it was left to Liam Plunkett, the side's number 10, to face the final ball of the game with the home side six runs adrift.
Plunkett, however, was impervious to the pressure.
Nuwan Pradeep's yorker missed its mark by a fraction, Plunkett unleashed the most sweetly-timed drive of his career, and Trent Bridge thrilled to the sight of the white ball arcing across the sky and into the Pavilion to secure the most unexpected of ties.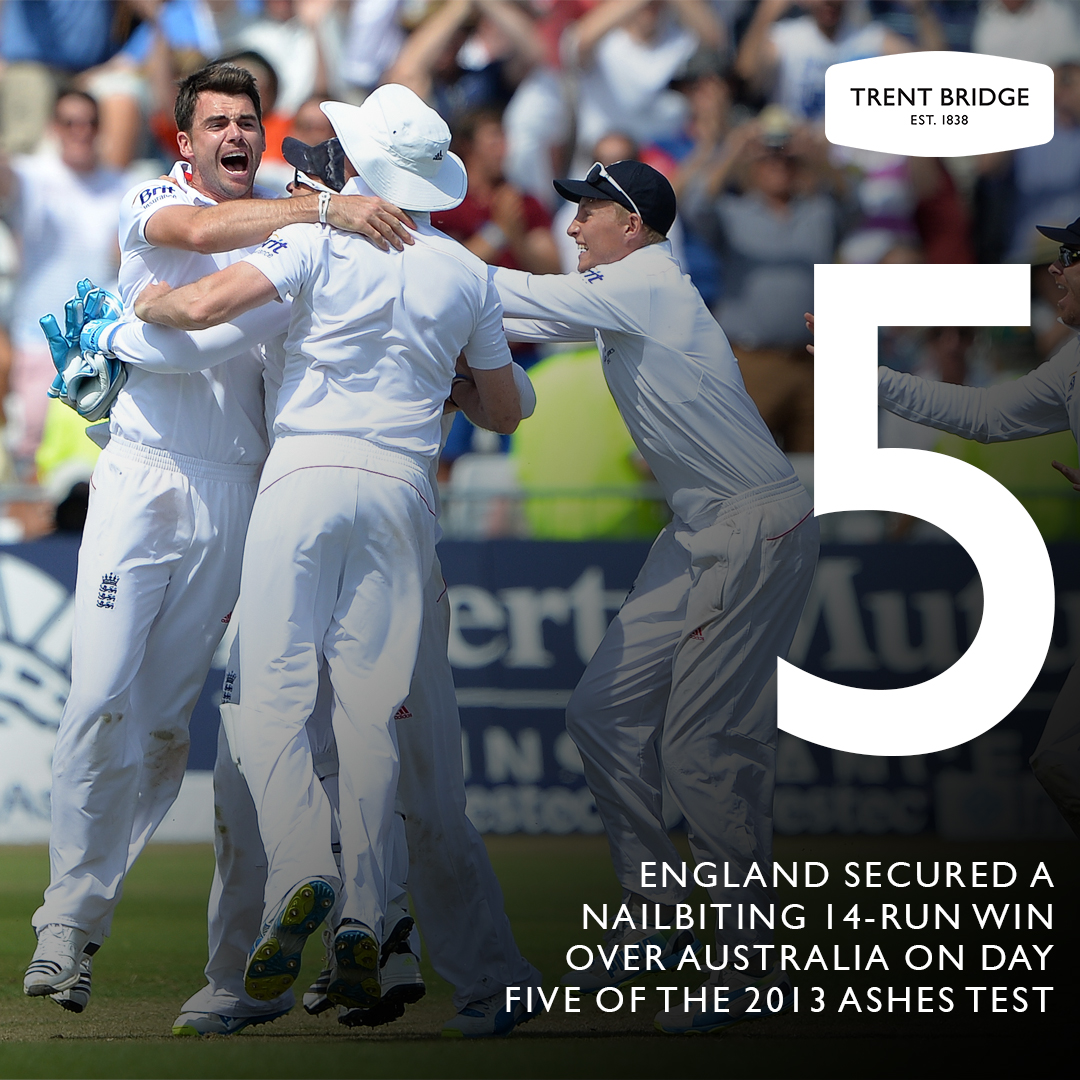 From a defiant innings from Australian debutant Ashton Agar to the most sublime of centuries from Ian Bell, the first four days of Trent Bridge's 2013 Ashes Test enjoyed its fair share of memorable moments.
And the contest entered its final hours with the result very much in doubt.
With Australia chasing 311 to win, a half-century stand for the last wicket between Brad Haddin and James Pattinson was giving the visitors real hope of conjuring up the kind of escape the eluded them at Edgbaston eight years previously.
More than a few butterflies were making themselves felt in the stomachs of the Trent Bridge faithful as the afternoon session began – but while England have James Anderson, they always have hope.
With just 14 runs required, Anderson induced the finest of edges from Brad Haddin, and triggered pandemonium all around.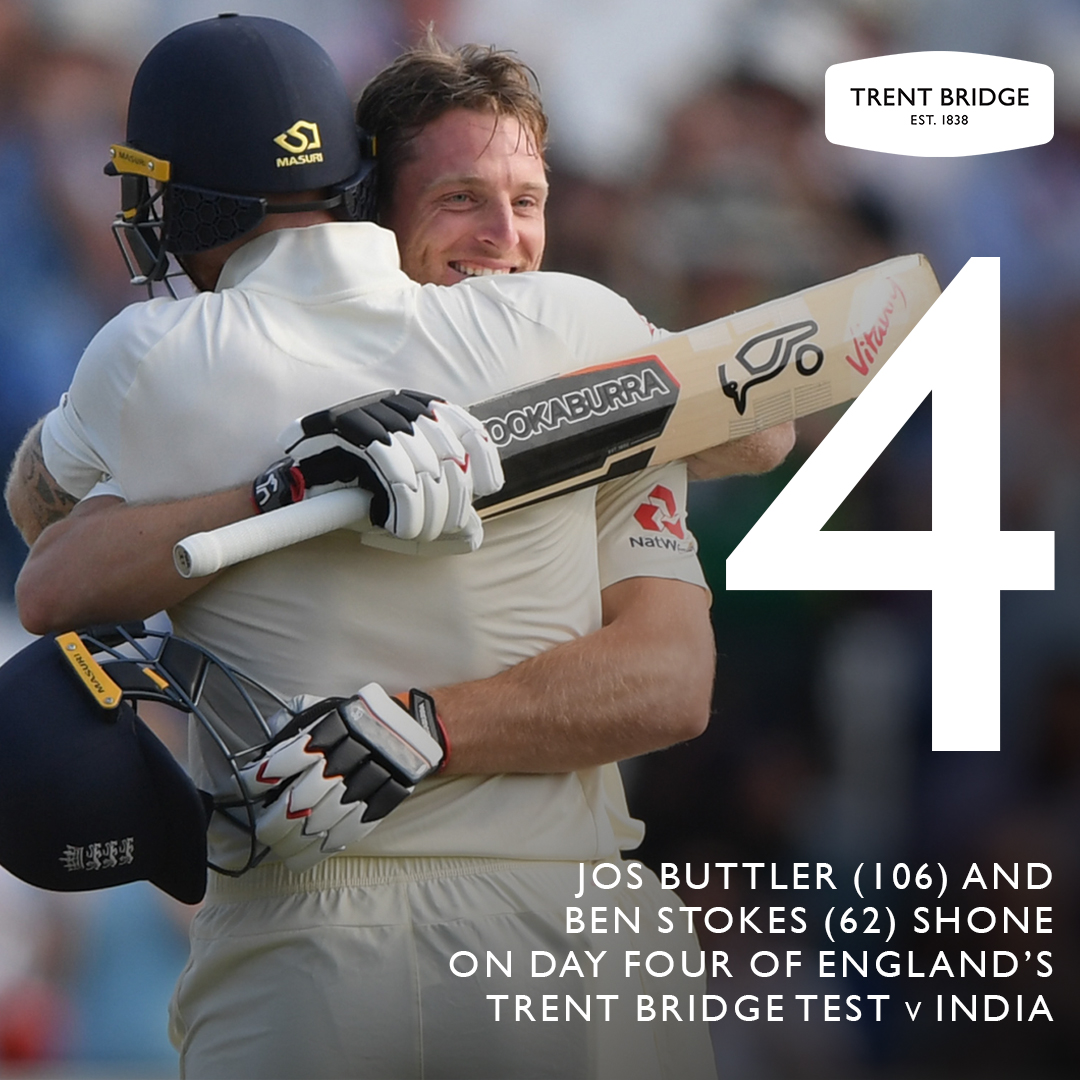 After their Cricket World Cup final heroics, the partnership between Ben Stokes and Jos Buttler became synonymous counter-attacking cricket of the very highest order.
Some 11 months previously, however, the duo combined to dovetail in an altogether more classical fashion. In doing so, they slammed the brakes on India's victory charge.
In making 62, Stokes was resolute in his application and defiance. Buttler, meanwhile, showed his red-ball pedigree with a combination of judicious leaves and flowing drives on his way to a maiden Test century, and a watershed moment in the game's most prestigious format.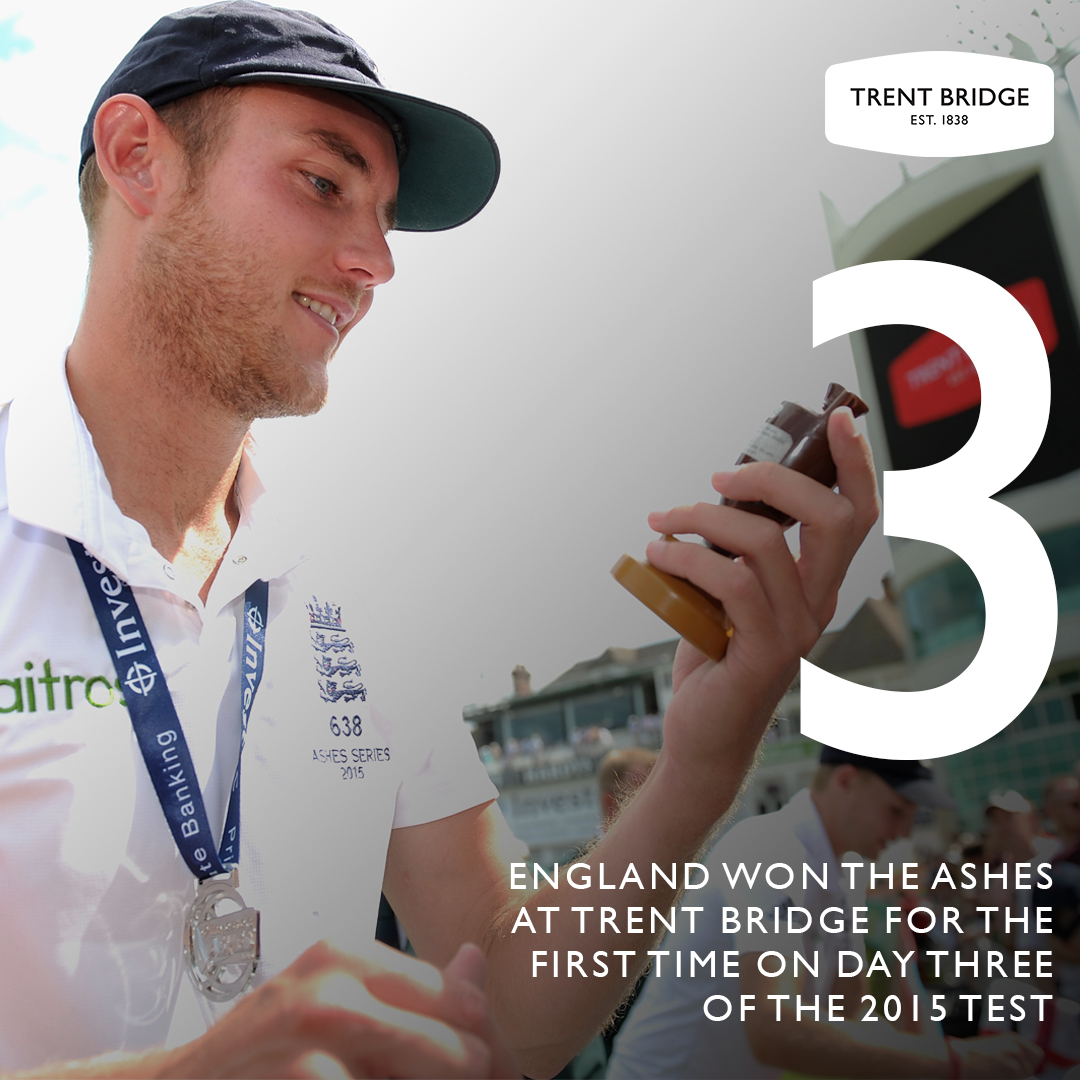 Many a series triumph has been sealed at Trent Bridge in its illustrious history – but, before 2015, cricket's most fiercely-contested rivalry had never been decisively settled on the hallowed turf.
Stuart Broad's astonishing eight-wicket burst on day one of the fourth Test of that summer, however, made Ashes victory a formality. And, in truth, the Australian batsmen were forced to battle hard to take the contest into a third day.
Ultimately, it took no more than 11 overs of that third morning for the rout to be completed, with Mark Wood's castling of Nathan Lyon adding an emphatic final flourish.
And so Trent Bridge was left to bask in the glow of Ashes success – and all the laps of honour, celebratory flypasts and Australian retirements that would bring.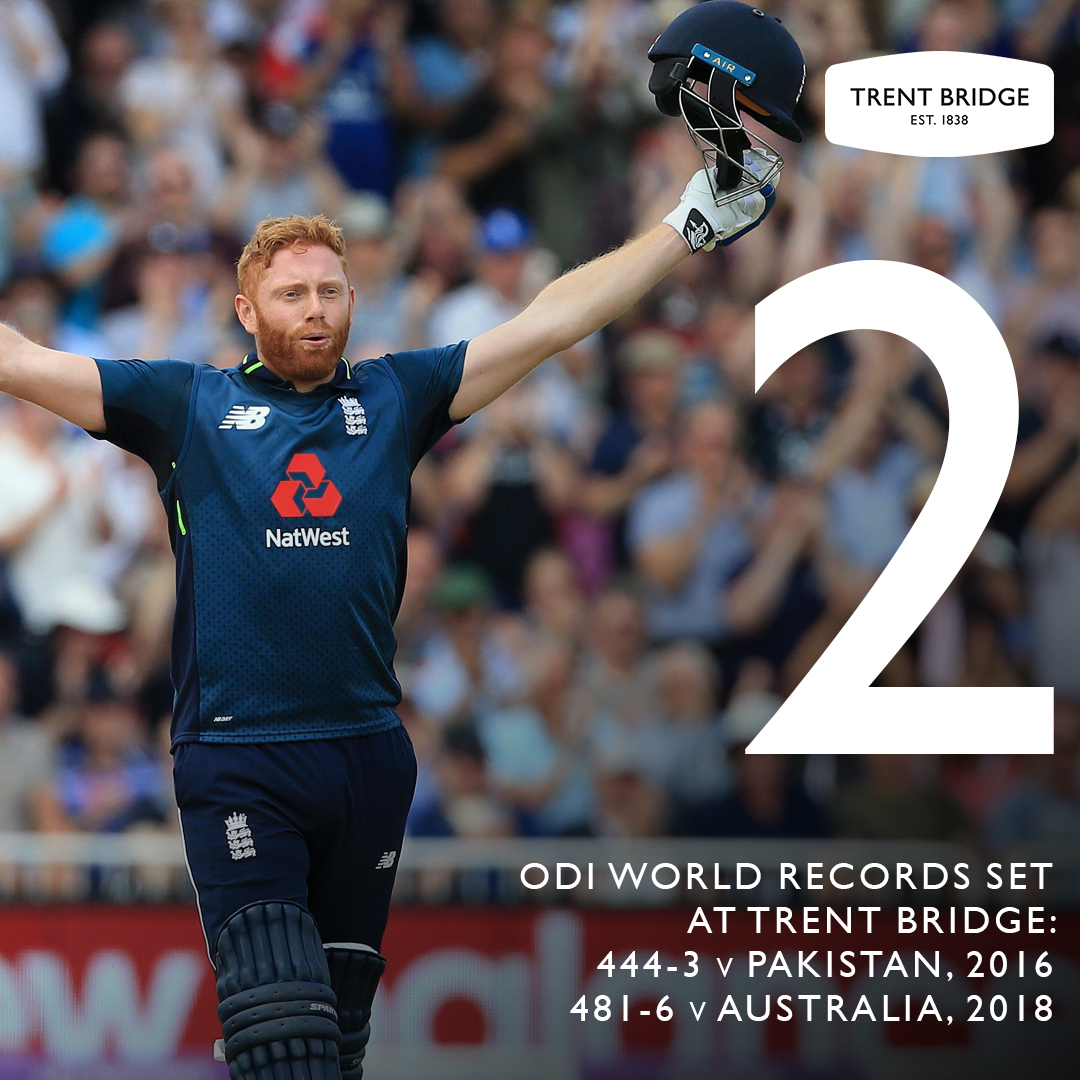 Over the last few summers, as England have conquered all before them in the 50-over game, it has been Trent Bridge which has witnessed Eoin Morgan's side at their most swashbuckling.
England's reputation for white-ball brilliance was consolidated at Trent Bridge in 2016, with Alex Hales' 171 (itself an England record at the time) taking the three lions to a world record 444-3 against Pakistan.
Then, two years later, England did it again. And how.
This time, it was Australia who were powerless in the face of sheer brutality – with Hales (147), Jonny Bairstow (139), Jason Roy (82) and Eoin Morgan (67, from just 30 deliveries) coming to the fore.
Whereas in 2016 England had inched past the previous ODI landmark, this time they marmalised the record, finishing on an unassailable 481-6.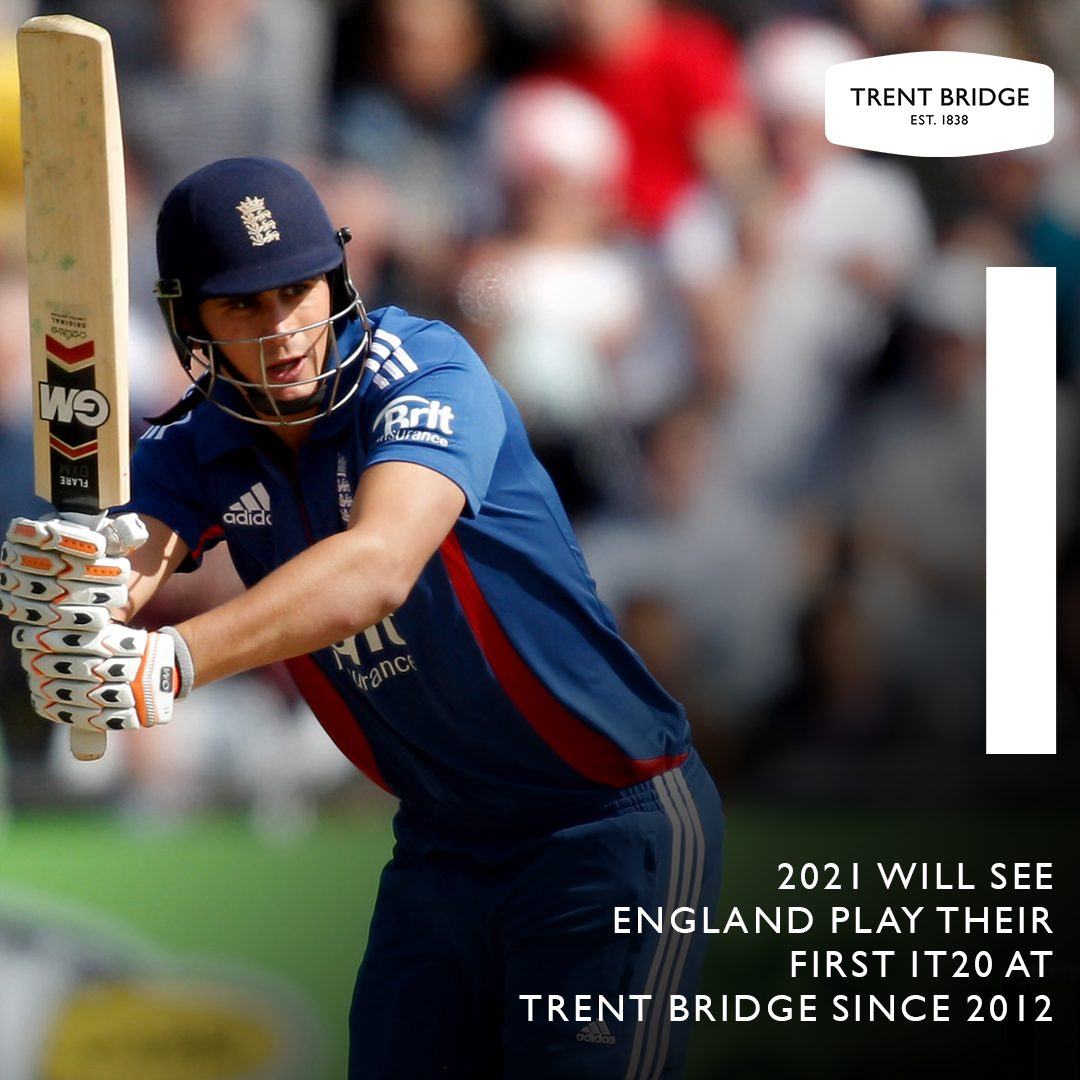 The international game's shortest form has come a long way since Trent Bridge last hosted an IT20 in 2012 – but many things remain the same.
The West Indies remain formidable white-ball foes – as they did in making 172-4, despite the early loss of Chris Gayle, eight years ago.
Alex Hales is still one of the global game's most-feared T20 hitters – and, in making a then-record 99 on his home ground, the Outlaws opener gave a clear indication of his talents.
And the 20-over format retains its capacity for drama, with an exemplary final over from Marlon Samuels threatening to derail England's victory charge before Eoin Morgan secured the spoils with just two balls remaining.
*******
Tickets for England's return to Trent Bridge this year are on sale now. Secure your spot below.