An internet search of Fateh Singh Landa pulls up three prominent results.
The first is a YouTube video entitled 'Young Sikh Boy Playing Cricket, Nottingham'. Closer investigation reveals a seven-year-old left-handed Singh clad in protective equipment driving throwdowns from his brother through the off-side of an indoor sports hall.
The second is his Play Cricket record for Nottinghamshire's County Age Groups, through which his potential as a left-arm spinning all-rounder becomes apparent.
The third is a press release from the International Cricket Council, revealing 13-year-old Sigh as a Champions Trophy prize draw ticket winner for his exploits in the game in the face of adversity, following a difficult few years in which his mum became disabled and he developed alopecia.
The results are an apt summary of how Singh, now aged 17 and a mainstay of the Nottinghamshire Academy, has been shaped into the prospect he is today; a family love of cricket creating early links with the sport, seven years of county experience moulding him as a player, and success in the face of challenging personal circumstances maturing him as a person.
It all started with an autograph bat, ideally sized for two-year-old Singh. His brothers, aged 10 and 11 at the time, would bowl at their youngest sibling only to be met by resolute defence.
The family ties extended throughout his formative years: his cousin played Second XI cricket whilst his father founded Young Lions, a Nottingham-based club side for whom Singh made his adult debut aged 12.
His formal introduction to cricket, however, came some years prior.
"At the age of six, I started playing softball cricket. I did that for one year, then in the winter I started having hardball nets a couple of times a week Club with Andrew Jackman, a coach who has since played a big part in my development," Singh says.
"I played my first U11s pairs game with Cavaliers and Carrington when I was seven, and two years later I got into the U11 County side as a seaming all-rounder.
"I remember my first century for Nottinghamshire was against Staffordshire when I was 11. I got dropped four times, but you need a bit of luck!
"Leading up to that game I hadn't done very well, I must have scored ten runs across four games. It helped my confidence a lot, to prove that I could do it at that level, even though I was young."
In the same side on that day were Qundeel Haider and Ben Martindale, teammates who have since become close friends, a product of childhoods spent together representing their county.
Now performing for the U18 side, Singh admits it is strange playing high-level sport alongside two people he knew as fresh faced 10-year-olds.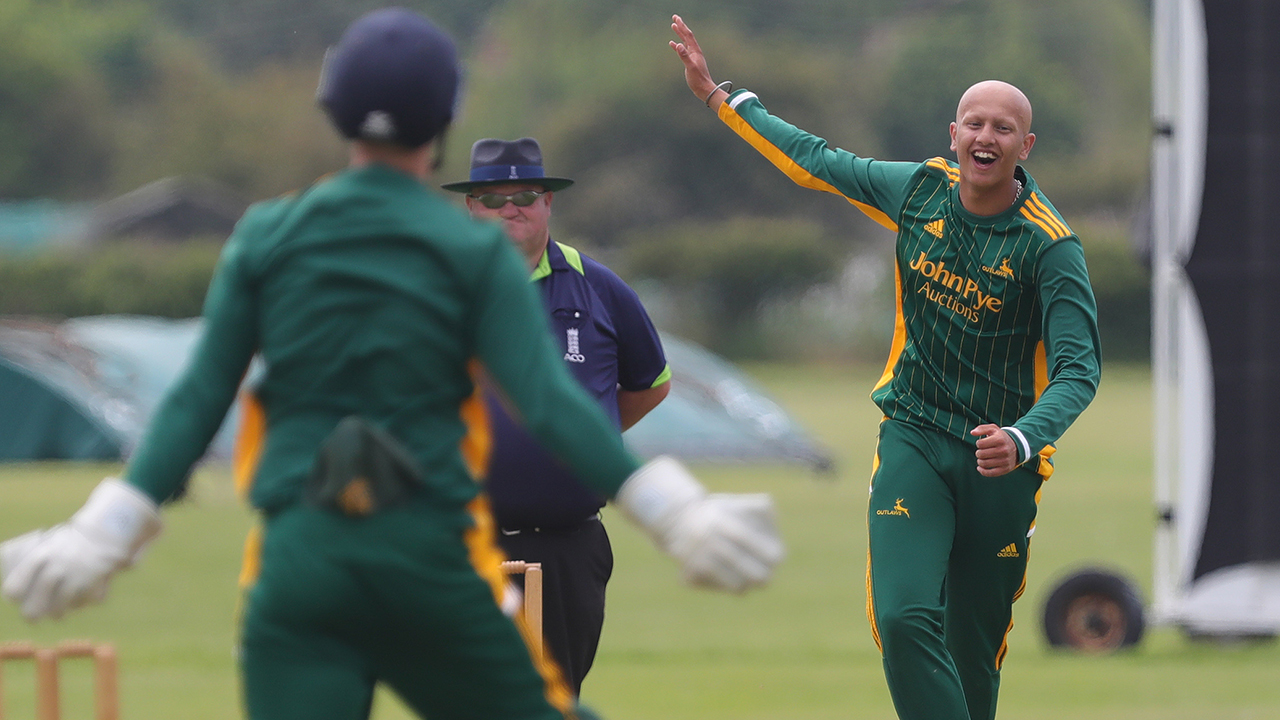 "It's a funny one, I feel like I have known them my whole life," he says.
"Both Ben and Qundeel started with me in that first year and it's surreal that we are still in the system together.
"From that initial age group team, some players have gone off to other counties, some are playing club cricket and some have stopped completely. I wouldn't have thought it would just be us left!"
However, his continued presence in the Nottinghamshire system is a marker of his ability. This season, Singh has taken 28 wickets for the U18s at 11.57. His return has seen him rewarded with Second XI opportunites, and a taste of elite cricket.
"Professional cricket feels in touching distance for me, and I don't just want to stop there," he says.
"My end goal is to take my cricket as far as I can. I have the belief that I can make it, now that I have experience in the Second XI.
"In the past, there have been issues around my fitness, and how it could prevent me from going further, but I have worked hard to get myself into better physical shape to meet the fitness standards. Now I feel like there is nothing that can stop me."
By his own admission, Singh has come a long way from the 10-year-old child who, in year six, developed Alopecia.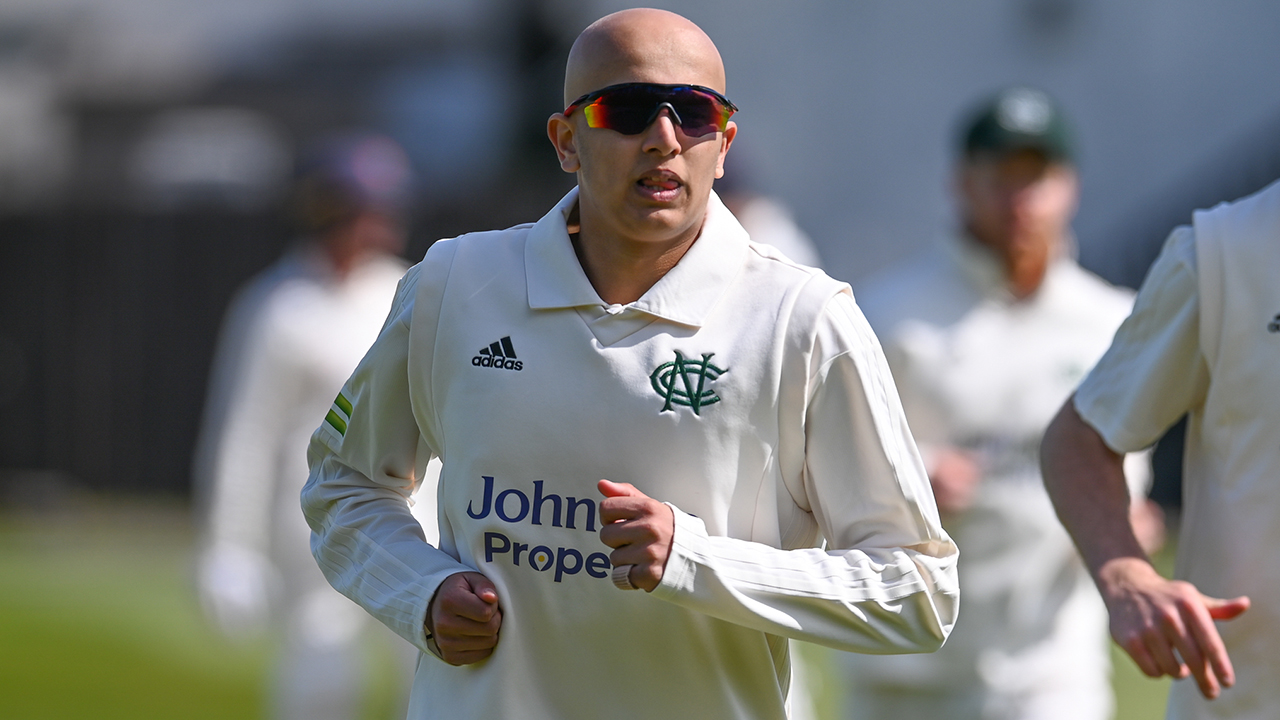 He credits cricket with giving him the confidence to thrive off the pitch, and admits that his youthfulness was an aid, too.
"I was young, and didn't really understand what was going on," he admits.
"I wouldn't say developing alopecia was particularly traumatic, because it didn't affect me to the point where it stopped me doing anything.
"I accepted what was happening sooner rather than later, which allowed me to move on. As soon as I realised, it was just the acceptance of 'this is me, there is nothing I can do to change it', and that was the mentality – a tunnel vision.
"Playing at Carrington now, we have an array of players with experience in the game, and there are so many skills and secrets I have learned."

Fateh Singh
"Cricket also gave me confidence. My statistics will show I have always been a key player in the teams I have played for, and when I was playing, particularly for Nottinghamshire, I felt as if I had responsibility. I like that pressure, and it has helped me become the person I am now."
Singh's experiences at Trent College have been equally crucial for developing him as a person and player, with increased independence and a sense of freedom helping him to flourish.
"Both on and off the pitch, I have developed massively during my time at Trent College," Singh says.
"I live in the city centre, and the school is in Long Eaton, so from year seven I have always had to catch the bus on my own. It was a big change from going to school around the corner, but it allowed me to become more independent.
"Playing at school gives you that freedom – it is still a cricket match played to the best of my ability, but there is not as much riding on it. I can express myself and try to dominate, which I feel I have done.
"With that freedom I have felt in a good position to succeed. I wouldn't say that County Age Group cricket is hugely pressurized, but as an aspiring professional, I put the pressure on myself to perform."
His cricket also took a turn for the better outside of school when, aged 13, he gained valuable exposure to Notts Premier League players, the likes of which he now mixes with regularly at Carrington.
"When I was in year nine, I was training with Kimberley in the winter, and I was bowling at their first teamers – Notts Premier League players," he recalls.
"Competing at that level was so different. It changed how I bowled, I became a faster spinner.
"Playing at Carrington now, we have an array of players with experience in the game, and there are so many skills and secrets I have learned from there. In different situations in games, whatever they might be, I can apply the things that I have learned there.
"I am in an environment where I feel comfortable approaching players for advice, and most will come to me to offer it. I feel at ease there."
Despite this contentment, Singh's hunger for improvement remains striking.
He credits spending time with Notts Academy graduate and left-arm spinner Liam Patterson-White as invaluable for his development, and is grateful for the various opportunities gifted to him by his coaches through his teenage years; a roster which includes the likes of Scott Boswell and Jenny Gunn at Trent College, and Matt Wood at Nottinghamshire.
With one year left in the Academy programme, his philosophy moving forwards is a simple one.
"Now it is about performances," he says, "I have got to keep showing my potential, and giving that extra 10%."
And whether the answer lies within or outside of cricket, with an ambitious attitude and an resilient approach to setbacks, Singh is well placed to succeed.