We can't wait to welcome our members and supporters as Nottinghamshire host Derbyshire in the LV= Insurance County Championship from 4-7 July.
Kindly note that all seats must be reserved in advance for this fixture (including members' seats, at no extra charge), with no tickets available on the gate.
Should you be attending, this matchday guide will tell you all you need to know.
Meanwhile, our enhanced live stream service Trent Bridge Live will continue to be available for those who wish to follow from afar, featuring multi-camera coverage, action replays, BBC commentary and insight from the Notts dressing room. You will be able to access this via trentbridge.co.uk/live, and you can also find regular live updates on Twitter and Instagram.
For those who are joining us at our historic home this week, read on for information on:
You may also find the below groud map, which is available to download here, useful.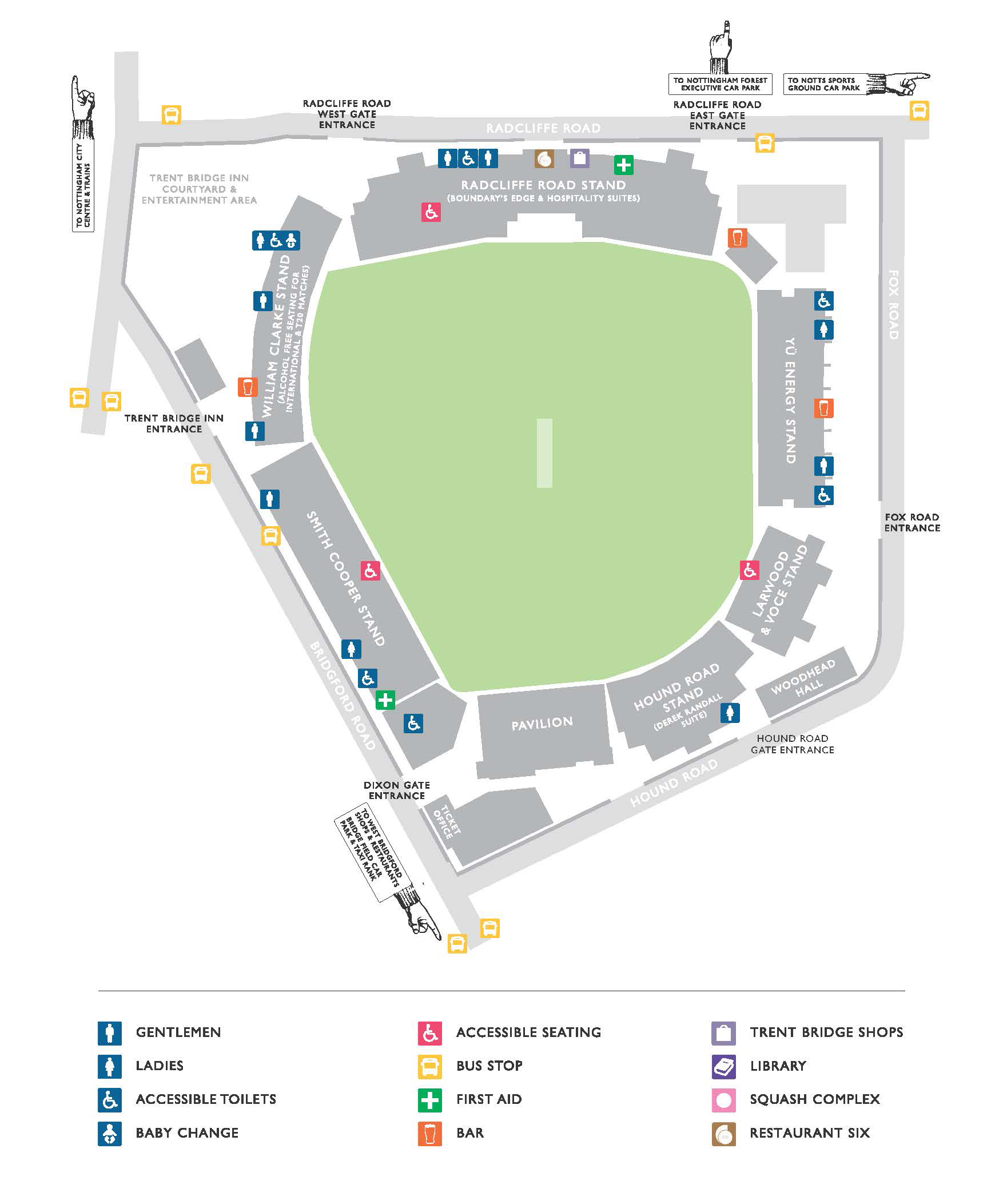 Summary of differences
In comparison to your previous visits to our historic home, a great deal will have changed. Some of the most profound differences are captured in short form below, but please do read on and check out both the FAQs and our code of conduct so you're aware of the full details.
Entry and departure via a nominated gate
Allocated seating within household or support bubbles
The requirement for social distancing throughout
Limited refreshments together with an invitation to bring your own
Restricted capacity within toilet facilities
The Pavilion and all of its seating restricted to use by players, support staff and match officials only
More barriers, additional signage and restricted movement around the ground
Ticket Office, library and Radcliffe Road reception closed
Visiting safely and comfortably
A spectator code of conduct can be found here, supplementing our usual ground regulations due to the unique nature of the current situation.
Subject to exemptions, face coverings will be compulsory for adults whilst moving around the venue. They will not be required whilst you are in your seat.
We would also advise bringing clothing for all eventualities, as wet weather cover may not be as readily available as on a regular matchday.
In order for us to comply with government guidance for the safe return of spectators, your allocated seat must be the only seat you use throughout the day's play.
When you do need to move around the ground, please follow signage, maintain a safe distance and wear your face covering.
Hours of Play
Gates open at 10am, with the toss set to take place at approximately 10.30am on day one.
Each day's play is scheduled to start at 11am, before a 40-minute lunch interval at 1pm.
Following the afternoon session, tea will be taken at 3.40, or when 32 overs remain (whichever is later). The close, meanwhile, is scheduled for 6pm or at the completion of 96 overs (whichever is later).
A maximum of 30 minutes time lost from play on days one, two and three shall be made up on that respective day. Up to 30 minutes of lost time can be carried forward to subsequent days (except day four), but no more than 30 minutes in total can be added to a day's play.
In the case of a longer day, times will be announced each day.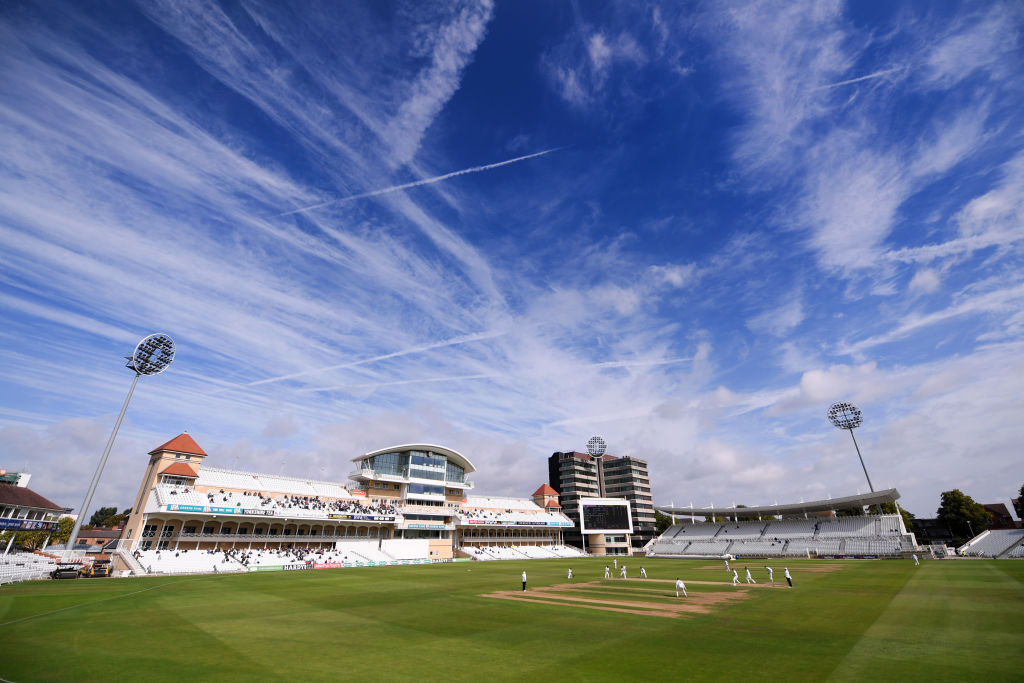 Where to find us
Trent Bridge Cricket Ground is situated in West Bridgford, in very close proximity to both Nottingham Forest and Notts County Football Clubs. Our postcode is NG2 6AG.
As you approach, you can't miss the circular floodlights.
We are a couple of miles from Nottingham City Centre, a mile or so from the train station, and our city is blessed with one of the best public transport networks in the UK.
We have gates through which to enter the ground situated on Bridgford Road, Radcliffe Road, Hound Road and Fox Road. Your ticket will indicate which gate you should use.
You'll need your match ticket (and membership card if applicable) at the ready to gain entry.
Travel Information
A52 Roadworks
Highways England have now begun a programme of major roadworks on the A52 to the East of Trent Bridge, at the Bingham Road (Harlequin) junction. While the road will remain open, lane closures and temporary traffic lights will be in place, and Highways England are advising drivers to use the A46 and A606 as a diversion (for vehicles shorter than 4.4m).
Car parking
Parking can be found in the Nottingham Forest Car Park, priced at £5. Access for this can be gained off Lady Bay Bridge (NG2 3HF). Kindly note that all parking in this facility must be reserved in advance via tickets.trentbridge.co.uk or by calling the ticket office on 0115 899 0300. It will not be possible to pay for a spot on the day.
Bicycle Parking
Unfortunately, in order to maximise space for the flow of people with social distancing intact, there will be no bicycle parking available on the ground.
Bicycle parking will be available at the Nottingham Forest Car Park (as above), but must also be booked in advance via tickets.trentbridge.co.uk, or by calling 0115 8990300. This will be free of charge.
Travelling by bus
Regular bus travel is available to the ground, with bus stops situated on Bridgford Road and Radcliffe Road.
To plan your bus journey visit https://www.nctx.co.uk/.
Travelling by Train
The nearest railway station is Nottingham Station, less than a mile from the ground. Up-to-date information on the train services passing through the station can be found on the National Rail Enquiries website.
Regular bus services run between the station and the ground.
Travelling by tram
The Queens Walk and Meadows Embankment tram stops are located around a 20-minute walk from the ground, with the route from the Meadows Embankment stop proceeding along a pleasant stretch of the River Trent. Alternatively, a stop at Nottingham Railway Station can be found just a 20-minute walk away.
Anyone travelling from outside the city to use the tram can also take advantage of NET's free park and ride facilities.
To help plan your journey, visit www.thetram.net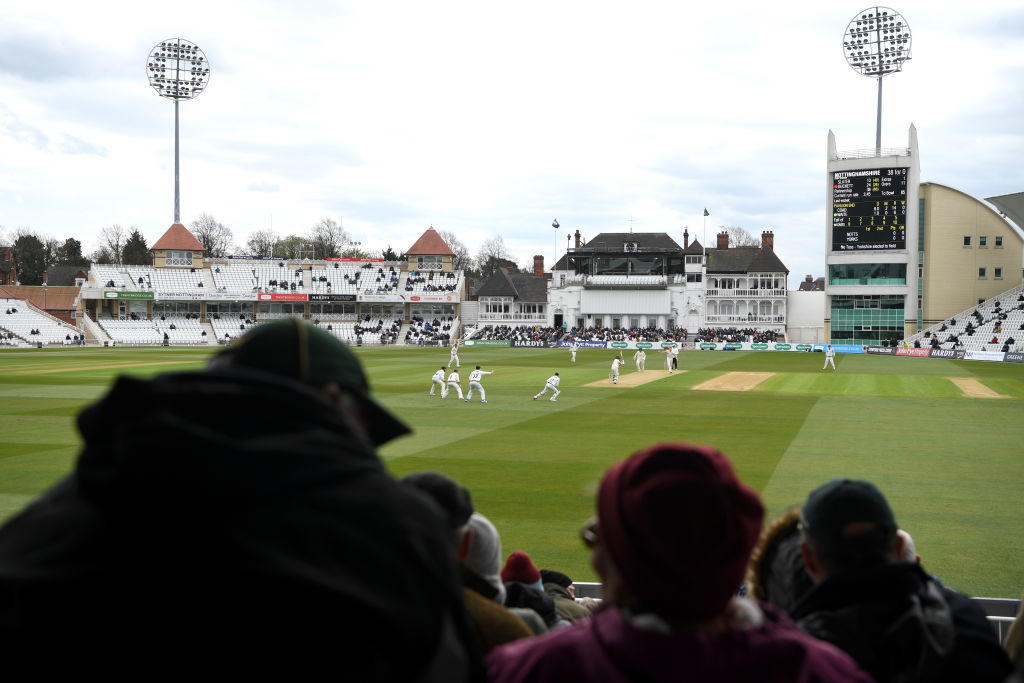 Exhibition: Stuart Broad at 500
One year ago this month, Nottinghamshire's Stuart Broad became the seventh bowler – and only the fourth fast bowler – to take 500 wickets in Test matches.
An exhibition organised by the Trent Bridge heritage team under the Smith Cooper Stand will celebrate this historic achievement throughout Notts' four-day game against Derbyshire.
The exhibition takes a look at Stuart's storied international career, from a debut in Sri Lanka to 8/15 and beyond.
Visitors are welcome before the end of the tea interval on each day of the game, while a free competition will give you the opportunity to win a copy of this year's Wisden, signed by Stuart.
Food & Drink
By way of reducing concourse traffic, catering will be limited to fewer locations than usual, namely the Parr Bar in the Trent Bridge Inn Courtyard, the Scoreboard Bar between the Radcliffe Road and Yu Energy Stands, the Fox Road Bar to the rear of the Yu Energy Stand, and the Hound Road Bar under the Derek Randall Suite.
Tea, coffee, soft drinks, confectionery and a limited bar list will be available, all via cashless payments only. The Parr Bar and Scoreboard Bar, meanwhile, will also be serving hot pies and sandwiches.
All other outlets, including the Cricketers' Suite on the first floor of the Radcliffe Road building, will be closed.
Members and non-members will be permitted to bring their own food and drinks, including up to 1 litre of wine or beer. Kindly note, however, that glass will not be permitted.
Public Wi-Fi
Public Wi-Fi is available throughout Trent Bridge, which you are very welcome to use at your leisure.
Simply connect to The Cloud from the available list of wireless networks and follow the sign-in or login instructions.
Should you experience any technical difficulties, if you are able to access the internet via other means (such as 4G), helpful guides are available at www.sky.com/wifi or you can email wifiuser@sky.co.uk
Alternatively, the phone number to call is 0844 824 5000.
Our friendly staff will, of course, endeavour to assist you should you struggle with the process of connecting your device to the Wi-Fi.
However, we're sorry to say that we're not able to assist with technical issues. This can only be done via the process with Sky above.
Trent Bridge Shop
For souvenirs, replica shirts, bats, balls and training wear, our Club Shop is located at the rear of the Radcliffe Road stand, near to the reception entrance on the ground floor.
The Club Shop will be open throughout the fixture, albeit with limits applied to the numbers that can enter at any one time.
Neither the Ticket Office, Radcliffe Road reception or library will be open throughout the duration of this game. If you have any questions on the day, please seek out your nearest steward.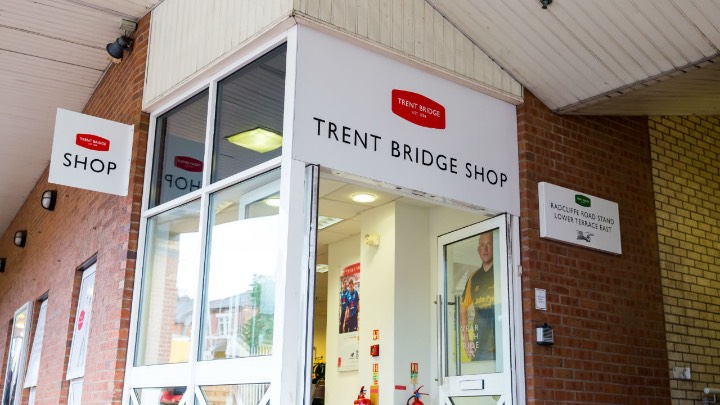 Scorecards
Sadly, printed scorecards will not be available for this fixture. However, both of our electronic scoreboards will be in operation, you will have access to free Wi-Fi via _The Cloud and will be able to follow the live scorecard via trentbridge.co.uk/live.
A blank scorecard is available here, while will make a completed scorecard available via downloadable PDF online in the days that follow the match.
Toilet Facilities
Toilet facilities will be open and signposted, albeit not in red zone areas such as the Hound Road concourse, in the Larwood and Voce public house and the Pavilion.
Stewards will be on hand to guide you in relation to your nearest facility.
Baby Changing Facilities
Changing facilities are available in the William Clarke Stand ladies' toilets, the Hound Road ladies' toilets and the first-floor toilets on the East Wing of the Radcliffe Road Centre. Please feel free to ask any steward for directions.
The squash complex changing rooms can be made available upon request from a steward as further baby changing facilities accessible to men, or as a quiet feeding area.
Smoking Policy
Designated smoking areas are assigned in various concourse areas, but smoking (including e- cigarettes) is only permitted in these areas, so please refrain from smoking in your seat.
Weather Forecast
View the latest weather forecast here…
We would advise bringing clothing for all eventualities, as wet weather cover may not be as readily available as on a regular matchday.