Ben Duckett has his sights firmly set on jealously protecting the Outlaws' recent unbeaten run, as the Green and Golds prepare for two fixtures in the space of two days against Derbyshire Falcons and Lancashire Lightning.
Peter Moores has added seamer Zak Chappell and all-rounder Joey Evison to the squad for the Vitality Blast games.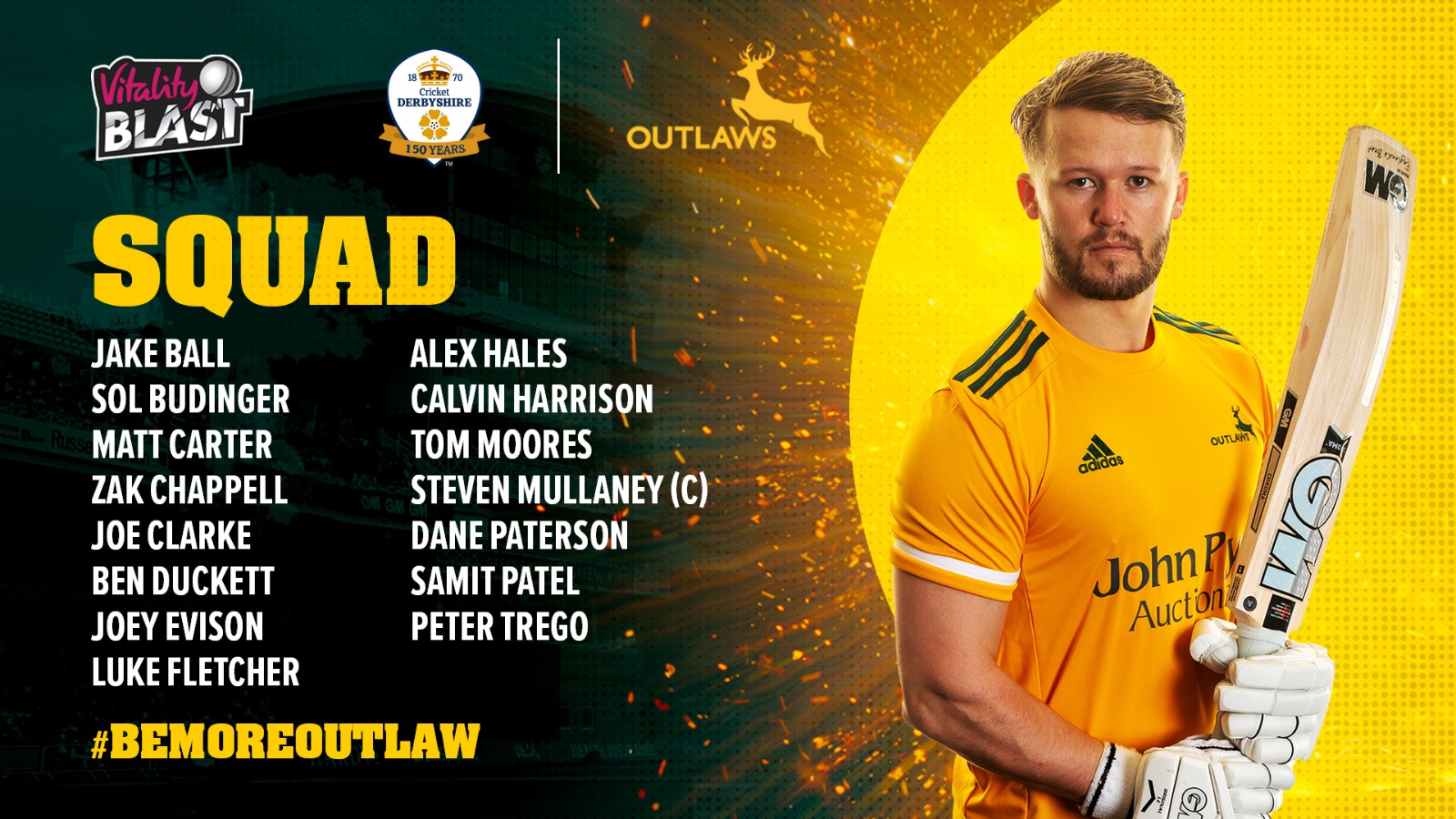 "As a team, we have spoken a lot in the past about building momentum at the right time, and that time is now," Duckett said, reflecting on the five-game unbeaten run.
"We haven't really been at our best consistently, but we are picking up points and are in a good position near the top of the table.
"Our aim is to continue our run over the next few days and get that positivity going through to the back end of the campaign, with the goal of getting a home quarter final."
Duckett has scored 182 in five innings, including two half centuries, during the tournament so far – averaging 36.4.
Batting beneath an ultra-aggressive top-order, he has at times found himself at the crease during the powerplay overs.
Against Derbyshire and Durham in particular, having entered the fray at 9-2 and 20-2 respectively, the number four played a leading role in turning perilous positions into match winning totals.
"I would like us to get us off to a good start every game, but I relish the challenge if we are in a tough position and there are a few early wickets," he said.
"I don't really see it as pressure. It is something I enjoy and I have done it a lot over the last few years. That's why I am in the team. It's my job to get us into a good position.
"I have a couple of scores under my belt this season, but am just missing that match winning knock."
Having made the move to Trent Bridge from Northamptonshire in the Autumn of 2018, Duckett has joined a dressing room that's well versed in performing under the pressure of knockout cricket.
The Outlaws have qualified from the group stages in each of the past five seasons, progressing to Finals Day on four occasions and taking the trophy twice.
Duckett believes that experience, together with the Outlaws' extensive knock-out exposure, can give the Green and Golds the edge as the group stages reach a crescendo.
"Knock out experience will help as we get towards those games where the pressure is on," says the left-hander.
"I think we saw an example of that in the quarter final against Leicestershire last year where we were up against a side who hadn't been in that situation as often.
"Here, from one to 11, we have experience and you know someone will put their hand up."
With the Outlaws heading into their Blast weekender one point behind group leaders Yorkshire yet only two points clear of fifth place Lancashire, Duckett has deemed the forthcoming contests as crucial in the context of the competition.
The Outlaws haven't lost to Derbyshire in the Blast since 2015, albeit the top-order batsmen maintains that complacency is not an option.
One day later, the Green and Golds will be out to respond to a thrilling tie at Old Trafford last time the Outlaws and Lightning met.
"It is a huge chance for us to get four points," he said. "If we beat Derbyshire and Lancashire, we will be in and around the top of the table," he said.
"We've got a good record against Derbyshire, but that means they are going to come even harder. We know how much they want to beat us, so that will be difficult, but we take confidence from having beaten them here so recently.
"The Lancashire tie was disappointing, but it's another massive game this time. They will be pushing for a top four spot, and if we can take three points out of four against them, that will put us in a great position."
*******
When it comes to following the Outlaws from afar, our live stream has got you covered.
Visit Trent Bridge Live...