Once in a generation or so, English men's cricket produces a classical batsmanship gem.
You know the type – diminutive in stature, positive in temperament, classical in technique and cheeky by chat.
Before, there was Ian Bell. Then there is Joe Root.
And with the coming of age of Ollie Pope on this day at Trent Bridge, it appears that the sorcerer not only has an apprentice – he has a here-and-now partner in crime too.
As the pair racked up two of the most fluent and exhilarating centuries that a Trent Bridge Test has ever seen, the crowd responded with adulation, and no shortage of joy.
The former captain, returning to the scene of his masterful ton against India one year prior, took off in typically sprightly fashion despite the rigours of the reversing ball.
The Trent Rocket rode his luck a little by twice edging the moving ball through slip. That aside, however, his game was in fine fettle from the outset – a statement punch through the off-side rounding off a session that the host nation ended 195-2.
After entertaining the jubilant masses during the evening of day two, Ollie Pope embarked upon a period of reconnaissance, before coming alive after the break with a flurry of fluent flourishes to the fence.
A cute late cut off Matt Henry took the Surrey man to within two of a ton, before the moment of glory arrived via a nudge to the off-side and a rapidly sprinted two.
Root found yet another gear when tearing down the track to embrace his elated teammate – an indicator of how highly he rates the Surrey top-order man.
Pope's first Test ton on home soil had arrived in 160 balls. Upon celebrating with an uppercut six off Henry, Pope was bestowed the exclusive privilege of a terrace chant – his name chorused to the tune of Baby Give it Up by KC and the Sunshine Band.
Almost as though he had hit pause out of respect for Pope, Root stepped on the gas soon afterwards – scorching a pair of drives through the covers to reach 50 in 56 balls.
After that, they each attacked in tandem.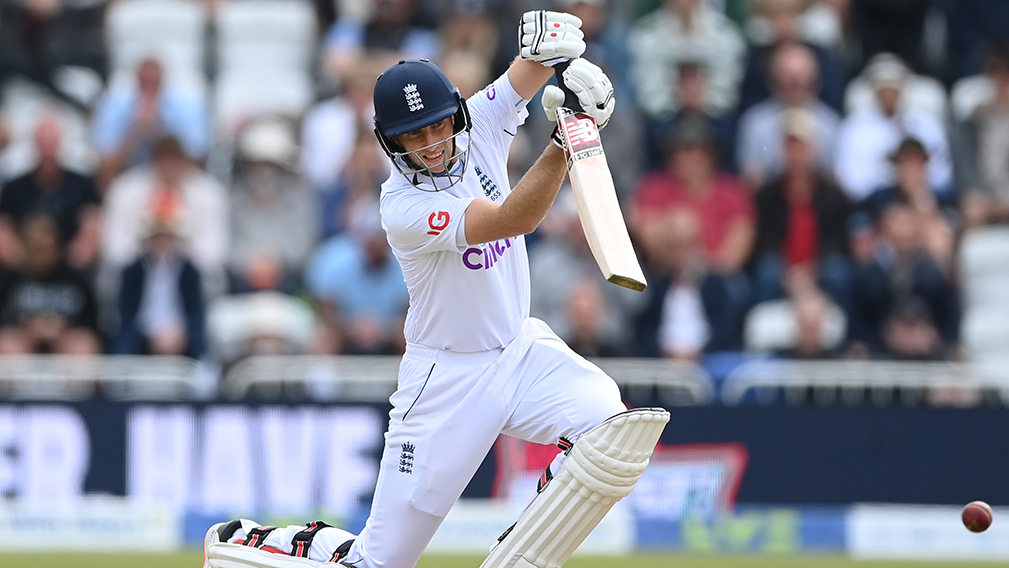 With a true surface, a fast outfield and at a venue at which he loves to bat, Root fairly raced towards three figures – ultimately reaching the landmark in 116 balls, the fastest of his 27 tons.
His celebration 12 months prior had been a release of tension – an outpouring of emotion following a testing period as captain and an innings of patience and graft.
This time, his response was in-keeping with the carnival feel – full of joy, exuberance and delight.
Shortly after Tea, one happy hook too many, immediately following a five-minute break for a new pad, saw Pope depart for 145.
Jonny Bairstow certainly doesn't take a backwards step, whatever the format he finds himself playing. However, on this fine day, Trent Boult proved too much of a match for the Yorkshire batter, cutting him in half with the new ball to see him depart for eight.
Out with one batter of fearsome repute, in with another, this time in the form of captain Ben Stokes.
Six fours and two maximums later, one of which landed just short of the press box window, he had once again changed the complexion of the quickly-evolving encounter, one that had also seen Kyle Jamieson leave the field through injury.
Alas, he ultimately brought about his downfall, caught on the boundary for a 33-ball 46.
Throughout all of this, Root had been going about his business in his inimitably merry way.
The Blackcaps tried everything to remove Root, including two reviews that could be placed in the hopeful category, the latter providing hilarity in the press box as DRS showed the considerable bounce still in the Trent Bridge surface.
There was still time for a further drop, a staple of the first few days of this Test, Ben Foakes given a life on 9 as deep square leg couldn't hold onto a top edge off the unfortunate Tim Southee.
'Shoes off if you love Joe Root' reverberated around the ground late in the day, as a trio of boundaries off Southee took him to his fourth score of 150+ since the start of 2021.
In the midst of the middle-order mayhem, it would be easy to forget the earlier gallantry of Alex Lees – the England opener who played with purpose in a Test best of 67 that softened up the opposition nicely.
The Durham left-hander will, as yet, need to come to the party again.
When 553 plays 473/5 (and counting), normality dictates that a draw is eternally likely.
With both sides having rattled along at fours, however, it's remarkable to state that all three results remain possible.
******
England versus New Zealand at our historic home
From James Anderson ripping through Australia, to Joe Root and Jos Buttler tons, day four fireworks are frankly commonplace at our historic home.
Secure your seats for day four of England against world champions New Zealand here…