Calvin Harrison believes winning the mental battle with the opposition will be key to extending Notts' all-format winning run, ahead of the visit of Birmingham Bears to Trent Bridge on Friday 17 June.
Harrison is part of a 14-man squad for the fixture, which commences at 6.30pm. Secure your seats here...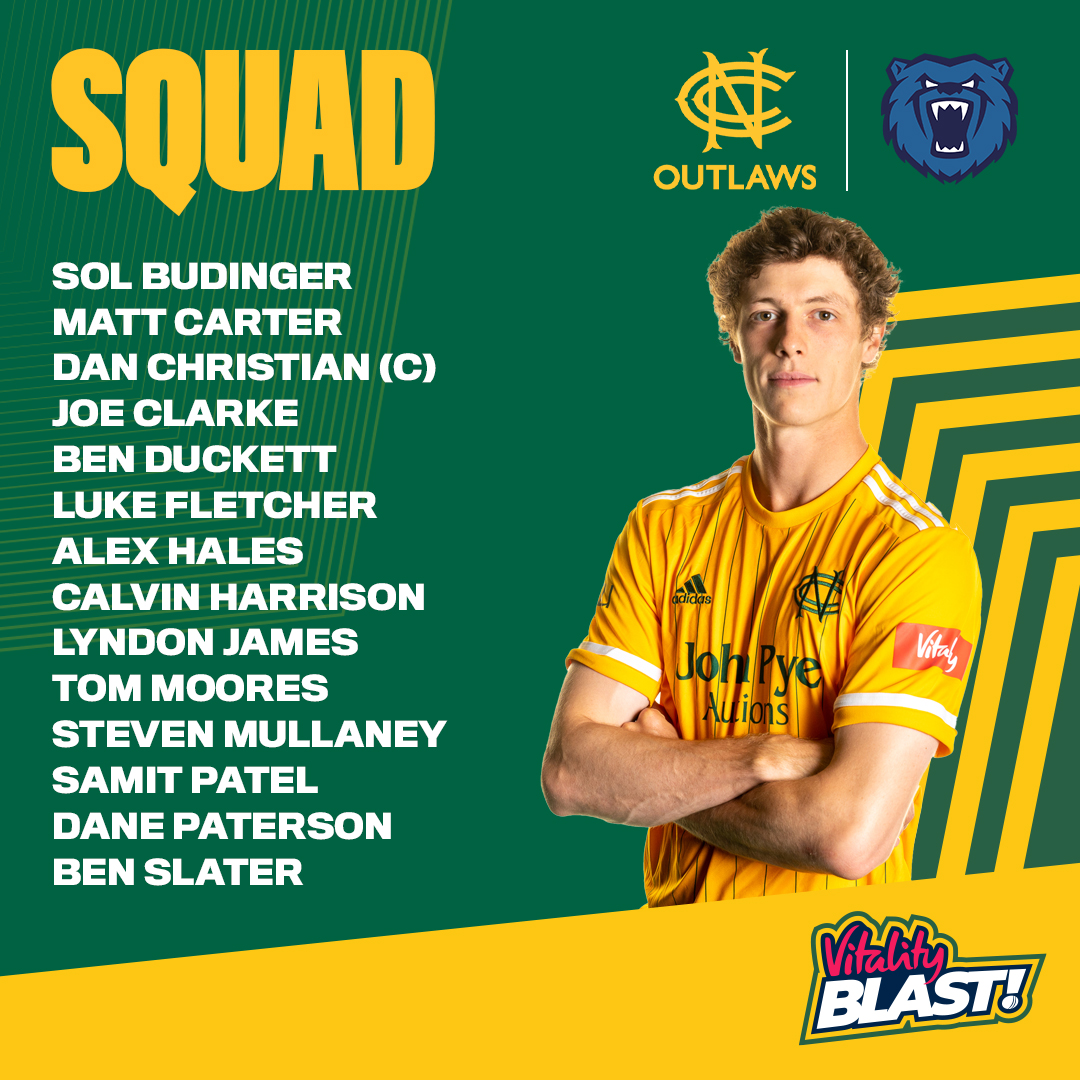 The leg-spinner's economy rate in his Notts T20 career to date remains a standout statistic, with Harrison's efforts costing a little over seven runs each during his time in Outlaws gold.
It is a record he attributes to an ability to shrug off the pressure that comes with bowling in the Vitality Blast.
"In T20 cricket, you know you'll be hit for boundaries – and that is especially true at Trent Bridge," he said.
"Guys are coming after you all the time, so what matters is how you bounce back.
"You never want to go for back-to-back boundaries, so the ball after you've gone to the ropes is a really important one. You're after that dot ball, that wicket or even a single; anything to put the pressure back on."
As much as a display of physical skills, T20 cricket is a cat-and-mouse affair: a game of poker played out on green fields rather than the baize of a casino.
It is an element of the sport that Harrison relishes.
"You know that the batters are fired up to come at you, so you have to try and play on their emotions," he said.
"If they hit you for a boundary, they're going to want to start coming after you more, but you can use that to your advantage to take a wickets.
"A couple of boundaries for a wicket is generally worth it."
The Outlaws return to Trent Bridge having taken two wins from two during their residency in Leicester, beating the Foxes' T20 outfit by five wickets before wrapping up an innings victory in the County Championship.
It is a run which has provided a little momentum for the group to harness.
"To put in a proper team performance at Leicester in the T20 can only do us good in the long run," said Harrison.
"Winning becomes a habit, so it's important for us to continue that and keep on building momentum.
"We've got lads in good form playing some really good cricket, and the guys involved in the red-ball win can carry some momentum over too.
"If we can keep the wins coming over the next week, we'll be well placed."
Friday's encounter with the Bears comes shortly after a rain-affected defeat for the Outlaws at Edgbaston.
But, with heartening performances delivered across the board in the second city, and with a bumper crowd expected at Trent Bridge this week, Harrison believes the omens are good.
"We had a decent game that day, but those rain-affected games can sometimes go either way," he said.
"We had a lot of good cameos with bat and ball, and we take a lot of confidence from that as we prepare to face Birmingham on our own turf, where we've done so well in the past.
"And there's nothing like playing in front of a big crowd, especially at Trent Bridge. The support we get in Nottingham really is extra special."
*******
Be More Outlaw: The 2022 Vitality Blast at Trent Bridge
Friday 17 June, Notts Outlaws vs Birmingham Bears: Secure your seats…
Tuesday 21 June, Notts Outlaws vs Leicestershire Foxes: Secure your seats…
Thursday 23 June, Notts Outlaws vs Derbyshire Falcons: Secure your seats…
Friday 1 July, Notts Outlaws vs Durham: Secure your seats…