Tammy Beaumont's second half-century of the season and Piepa Cleary's three-for underpinned Lightning's first-ever Charlotte Edwards Cup victory.
England international Beaumont replicated here 59 from last week with a classy innings after Australian fast bowler Cleary had restricted Thunder to 152 – despite Georgie Boyce and Emma Lamb's 130-run opening stand.
Lightning had lost all six of their fixtures in the competition last year and had already gone down to Southern Vipers and Diamonds this term – but secured a five-wicket victory at the eighth time of asking.
Lamb and Boyce had put on 95 in the victory over Diamonds on Wednesday and were at it again with a largely low-risk accumulation having chosen to bat first.
A rapid outfield paired with a short-sided boundary saw the Milligan Road side of the Uptonsteel County Ground peppered as 40 runs came off the power-play.
The duo kept pace with each other, scoring their half-centuries within three minutes of each other with the same exact 44-ball and five boundary stats.
Just as a score north of 160 looked probable, Lightning fought back to stifle the visitors with four wickets coming in 10 balls. Lamb scooped to cover and Boyce was well-caught at long-on for 56 and 71 respectively to end the second-highest stand in Charlotte Edwards Cup history.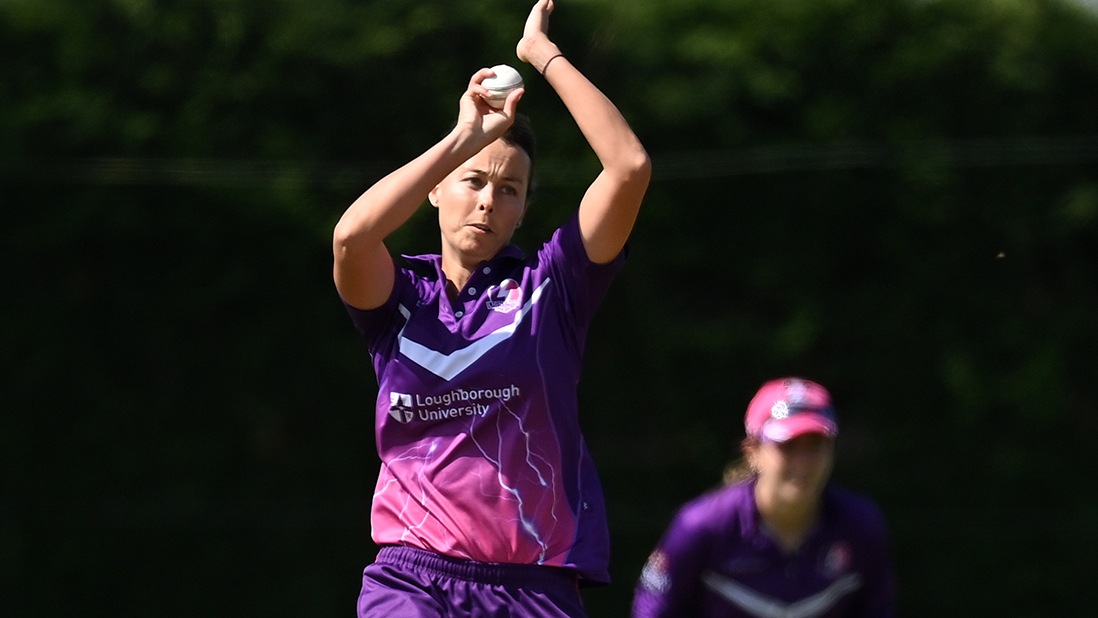 Cleary's (3-34) luck returned to have Ellie Threlkeld caught behind and Danielle Collins stumped with back-to-back balls before Shachi Pai was run out in the final over.
The ever-effervescent Alex Hartley made the early breakthrough of Marie Kelly, lbw while sweeping, but Ella Claridge and Beaumont copied the blueprint of Boyce and Lamb from earlier in the day.
Beaumont needs no introductions, with intelligent manoeuvrability mixed with power, while Claridge – schooled at Buckinghamshire and Leighton Buzzard Town CC – showed off brutal muscle to hit four boundaries in the V.
She was undone by Phoebe Graham's slower ball to end a 61-run stand with her greatly experienced partner – who moved to a 34-ball fifty with a glorious cover drive.
Beaumont, who had been dropped on 20, dragged a cross-bat shot to mid-on and Sarah Bryce was stumped. Kathryn Bryce took her side to the brink of victory with 29 before Bethan Ellis' back-to-back boundaries guided them to the win with seven balls to spare.
"I have only just joined Lightning this year but it is awesome. There was a really good feeling between us the whole game and that was a really good chase from the girls. We're stoked to get our first win," said Piepa Cleary.
"We had a good powerplay then they looked like they could get out of control but we pulled it back well.
"T20 can be like that. You can bowl really well and not take any wickets and then sometimes when you don't bowl well you take it. I am just happy to take those wickets at the backend, it is always nice.
"I'm learning as much as I'm hopefully giving back to the girls. The conditions are really different over here and it is a really nice group.
"Tammy came out and hit the ball just beautifully, then everyone kept it going to make sure we got it done with an over to spare.
"When you've been losing you don't have time to dwell, but now we have one off our backs we can hopefully keep it going."
Watch The Lightning In Action At Trent Bridge
The Lightning host the Southern Vipers on Sunday 29 May, with a host of international stars on show. Secure your seats here...