Notts Outlaws seamer Harry Gurney believes that his side's fate is in their own hands as they head into a pivotal week of the Vitality Blast.
The Outlaws face three of their remaining four games in the competition this week, starting with a trip to Edgbaston tomorrow (9 August) to take on Birmingham Bears.
Returning to Trent Bridge the following day (10 August), they then face the Yorkshire Vikings before rounding off the week by travelling to New Road to take on current league leaders Worcestershire Rapids on Sunday (12 August).
Despite the hectic schedule, Gurney is still optimistic about the Outlaws chances of qualification.
"We arrived at training this morning, looked at the league table and the North division's still wide open, so we still believe that it's in our hands," he said.
"If we win all four games, there's still a very good chance that we'll go through and if we win three out of four then we've got a reasonable chance as well.
"We go to Edgbaston tomorrow and that's the main focus really.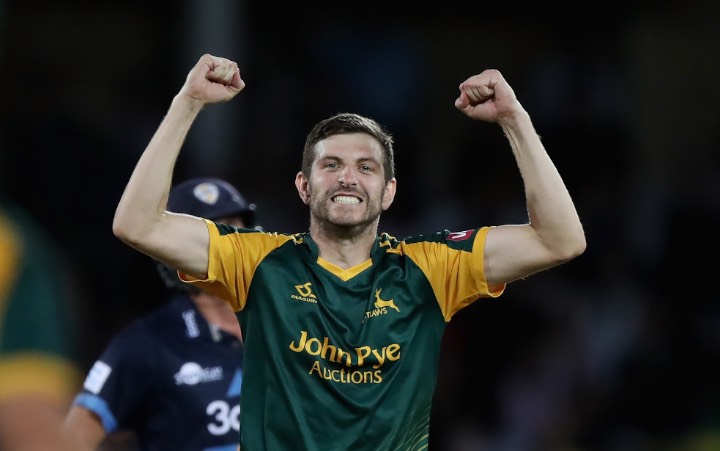 Harry Gurney celebrates the wicket of Matt Critchley during the Outlaws victory over Derbyshire Falcons.
"It's a ground and an opposition with lots of good memories for us after beating them in the final last year so we've got to try and get over to Birmingham, get the two points and reassess the table on the way back going into Friday."
Heading into the crucial fixtures, Notts have been boosted by Alex Hales' return from injury ahead of schedule.
The destructive batsman played his first T20 for the Outlaws this season in the defeat to the Rapids on Saturday (4 August) and Gurney knows just how valuable Hales can be.
"His presence in the team is huge for us, not just in terms of runs," he said.
"Obviously, him and Riki between them last year scored a huge amount of runs so that's great having those potential runs back, but also just having his experience and character around the group and it'll give the rest of the batting unit confidence knowing that they've got Alex Hales there as well.
"It means that we bat, potentially based on selection, one place deeper than we have done as well.
"So, it's huge for us actually, and I think had he been available for the whole tournament who knows where we would be in the group, but the main thing is now with our destiny still in our hands we've got him back and that's really important."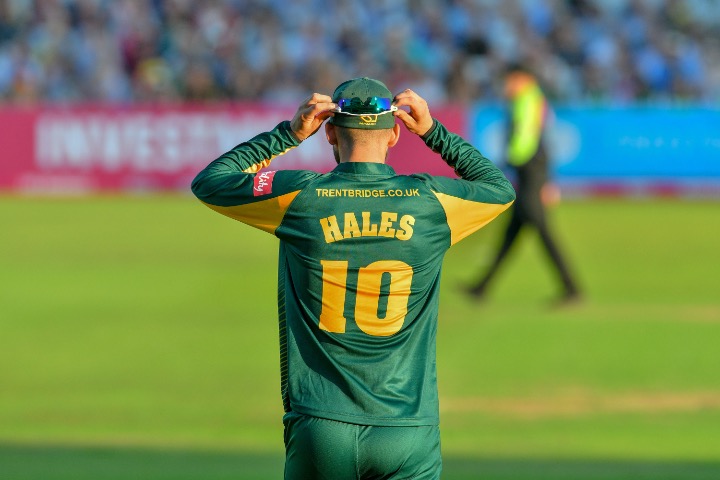 Alex Hales on his return to action against the Rapids.
The Outlaws will be looking to bounce back from a humbling defeat at the hands of Worcestershire when they travel to Edgbaston and the experienced left-armer knows the team must improve if they are to bring the two points back to Nottingham.
"From the last game here against Worcestershire we've got to improve all aspects, batting, bowling and fielding," said Gurney.
"What we try not to do is sit in the dressing room and point fingers.
"What we've talked about and what Ready's (Former captain, Chris Read) talked about coming back into the group is everyone taking individual responsibility for themselves, making sure that they're prepared to perform as best as they possibly can.
"If everyone does that then you can trust the bloke above you or below you in the batting order, or the bloke at the other end bowling, that they're doing their best and that normally leads to a good team performance."
Whilst the Outlaws look to improve during games, Gurney believes that the preparation leading up to the Bears game has been as good as ever.
"We all try and prepare for every game the same really," he said.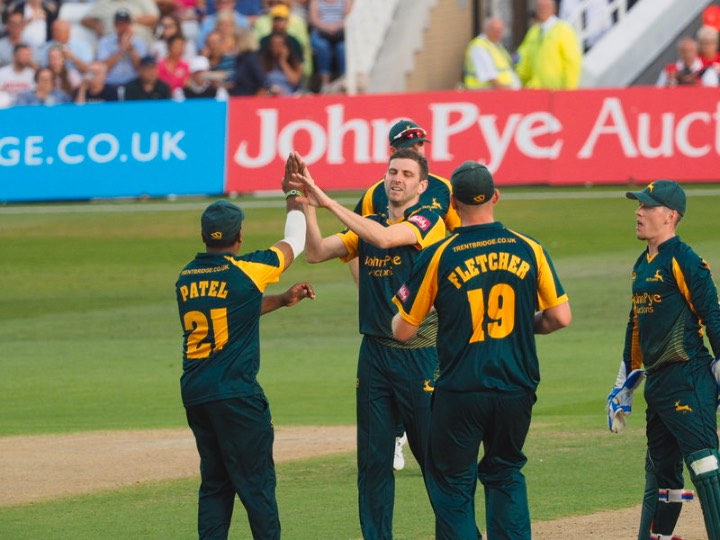 "If you go into a game like this or a knockout game and you're practicing harder than otherwise, then you're probably not practicing hard enough in the other normal group matches.
"I look around the group and everyone's training as hard as they have done throughout the whole competition.
"The fact that we're sixth isn't down to lack of good preparation or hard work so we feel that if we continue this good work ethic then it should stand us in good stead."
In this season's first meeting between the sides at Trent Bridge, the Bears ran out eight-wicket winners after an unbeaten 82* from former England international Ian Bell saw the visitors chase down a target of 156.
Now in the return fixture, the Green and Golds will be looking to exert an element of revenge on the Bears despite the context of the game differing.
"I think for whatever reason for the past two or three years we seem to have started the group stage a little bit slow," said Gurney.
"Now we're into the group stages and we've got ten games under our belts, it'll be a completely different contest.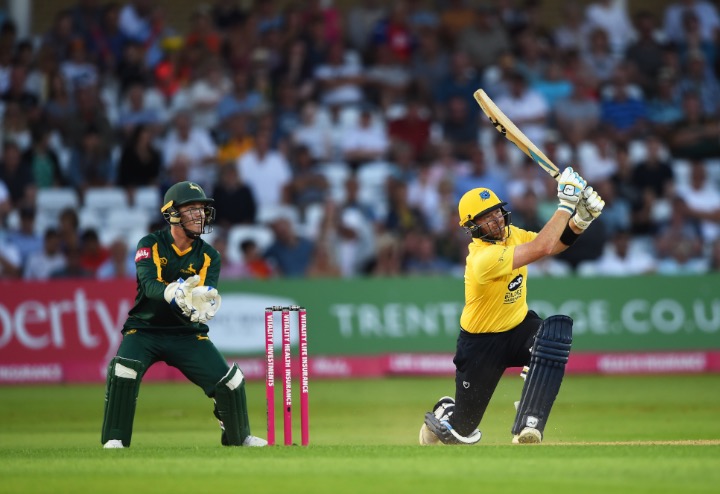 Ian Bell on his way to an unbeaten 82* in this year's fixture at Trent Bridge.
"It's something we talk about and something we are working on throwing that first punch when it comes to the start of competitions again next year.
"At the moment we're focusing on turning up and playing as good a cricket as we possibly can and if we do that we're quite a hard team to beat."
The trip to Birmingham will be the first time the Outlaws return to the ground where they picked up their first T20 trophy last season, beating the Bears in the final with Gurney taking career best figures of 4-17.
Even though that victory was just under a year ago, the seamer believes that the win can still give the Outlaws an edge on Friday.
"It's a home game for them so they'll be familiar with their own conditions but having said that, the last time we played them there was the final and we won," he said.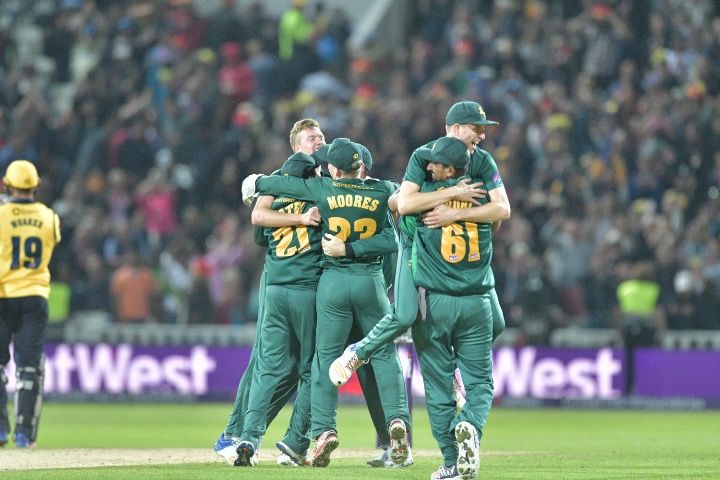 The Outlaws celebrate during last seaon's T20 final victory over Birmingham Bears.
"When we turn up we'll be in familiar surroundings with familiar opposition and we were in the away dressing room for that final as well.
"It wasn't all that long ago and it was a night we'll all remember forever so it should certainly help over a normal away game - and we'll be in good spirits when we walk onto the pitch no doubt."
Notts Outlaws will be without Jake Ball for the next two T20 matches, as he undergoes further investigation to an abdominal strain received during the match against Derbyshire Falcons. The Club have named the following 14-man squad for the next two games.
Notts Outlaws squad to face Birmingham Bears and Yorkshire Vikings (from): Jake Libby, Steven Mullaney, Riki Wessels, Alex Hales, Harry Gurney, Matt Milnes, Luke Fletcher, Samit Patel, Tom Moores (wkt), Paul Coughlin, Will Fraine, Dan Christian (c), Ish Sodhi and Billy Root.
*************
Notts Outlaws play their final Vitality Blast home group stage match of the season against Yorkshire Vikings on Friday from 6.30pm. Book in advance to save £4 off tickets by clicking here...