Notts Outlaws received a welcome, yet unexpected boost when Alex Hales made his return from a side strain in the defeat to Worcestershire Rapids last week.
The destructive batsman featured for the first time in the Outlaws T20 campaign against the Rapids and will also feature in both of the Green and Gold's fixtures against Birmingham Bears tonight (August 9) and Yorkshire Vikings tomorrow (August 10).
However, Hales' return was as much of a surprise to him as it was to the Notts fans.
"It wasn't expected," he said.
"I came in just to do some fitness and a gym session with Pipey (Club Physio, James Pipe) and have a bat with Pete (Moores).
"I batted first to ease into it, expand and see how it went, and I kept building up and it felt absolutely fine, almost 100%.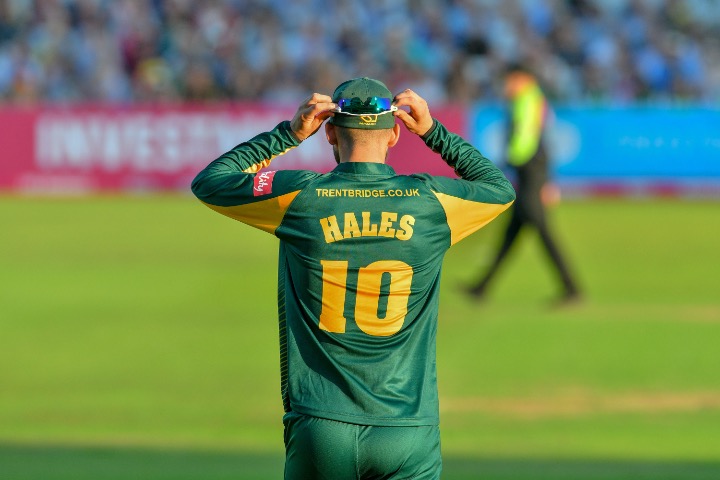 "So, I thought there's no point in waiting, let's get back out there. Unfortunately, I didn't get as many runs as I wanted to with the bat, but it was great to be back out there in a Notts shirt."
The right-hander has been working closely with Physio James Pipe to get back to full fitness following the injury he picked up on England duty.
Now, Hales feels he is in good nick to say he hadn't featured since England's T20 against India on July 8.
"I've had a pretty busy schedule over the last month with Pipey, doing as much rehab as I can and hitting as many balls as I can from as early as possible," he said.
"It was an awful time to get injured just coming to the end of the England white ball summer and heading into the T20 campaign.
"I was desperate to be available - but there's no good time to get injured, it happens, its part and parcel of the game.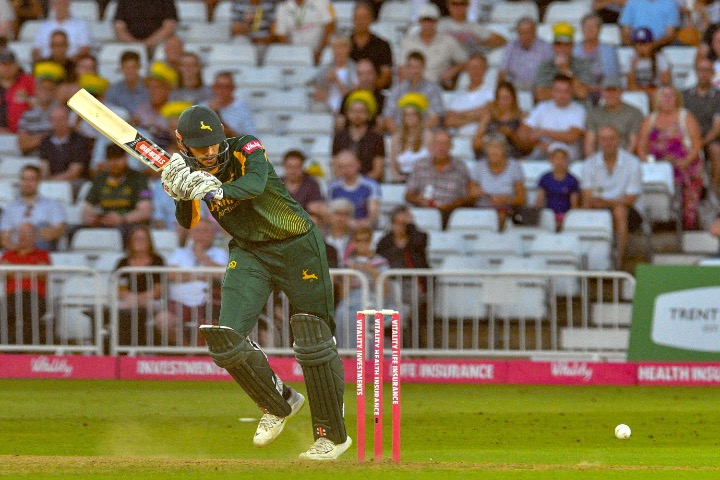 "I feel in good touch but obviously it's a different kettle of fish when you're out in the middle, so hopefully now in these next few games I can get some time in the middle and hopefully myself and the team can find some form at the key point of the tournament.
"It was very frustrating after not being in a Notts shirt much this year but that's the way it goes and these next few games I'm as hungry as I've ever been."
The Outlaws will be looking to gain some momentum by securing victories in their back to back games tonight and tomorrow and Hales knows the importance of finding a good run of form at a crucial time of the competition.
"It's a busy four days but I think that could be a good thing. If we win the first game, we can take that momentum into the Yorkshire game and T20 can be a bit of a momentum game," he said.
"We've been in these situations before with knockout cricket and we've pretty much got knockout cricket from now on. We've got to treat every game as if it's a final.
"But it also involves keeping a calm environment and everyone enjoying their cricket. I think that one of the most important things in T20 cricket is keeping a level head and everyone enjoying themselves.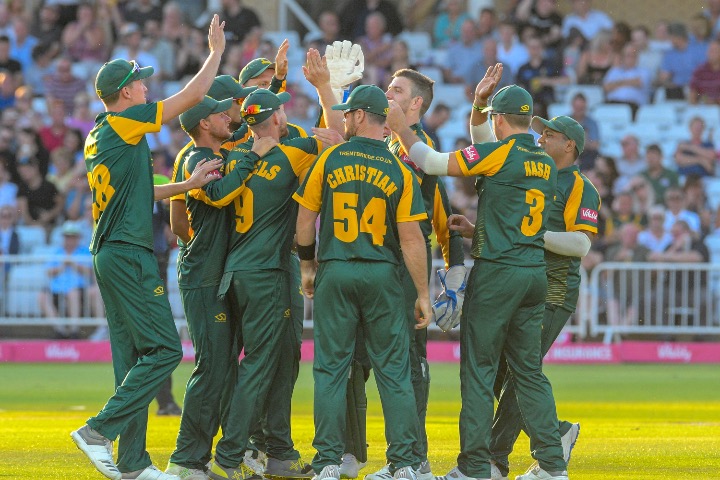 "We've got to not pressure ourselves - there are enough external sources to give us that pressure but we've got to make sure we enjoy it.
"I think it's quite an exciting time, we're still in with a shout in the tournament having not played our best cricket so if we find some form at the back end of the tournament where it really counts, there's no reason why we can't retain the trophy."
However, if Notts are to make the knockout stages of the tournament, they need to vastly improve on their last outing.
Worcestershire Rapids were dominant during their 72-run win at Trent Bridge on Saturday and Hales knows a better performance is much needed.
"I think in all three areas we've been slightly below what we were last year, and we know that, the fans know that, and we certainly know that we haven't quite clicked as well as we did last year," he said.
"If we can find that little bit of improvement from each player, that 5% that we all need to improve, at the back end of the tournament where it all counts then it's an exciting place to be as a team."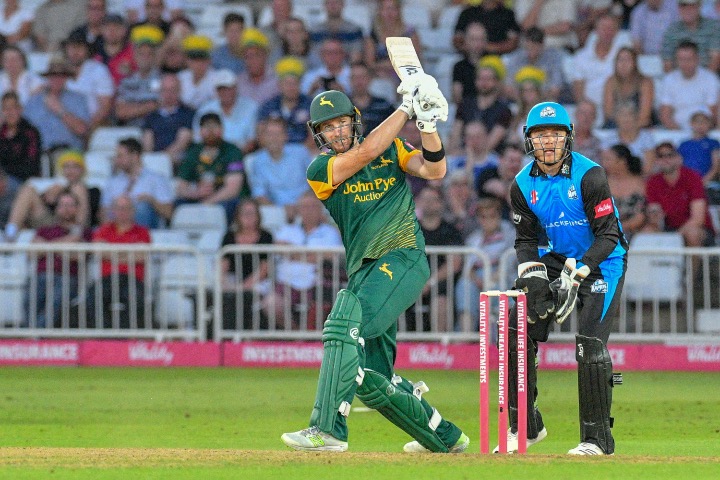 Riki Wessels in action against Worcestershire.
The visit of Yorkshire provides a stern test for the Outlaws, with the Vikings currently sitting third in the North group.
Yet, the White Rose will be without star spinner Adil Rashid after his recall to the England Test side and Hales believes that whilst his fellow England international will be a big miss, Yorkshire will still pose a threat.
"It's great for us them not having Adil Rashid with him being called back up to the Test squad," he said.
"But I think the way they come out and bat they've got really good strikers of the cricket ball, they come out and their top order is really aggressive from ball one.
"If we get a few early wickets in the powerplay then we can try and shut them down in the middle."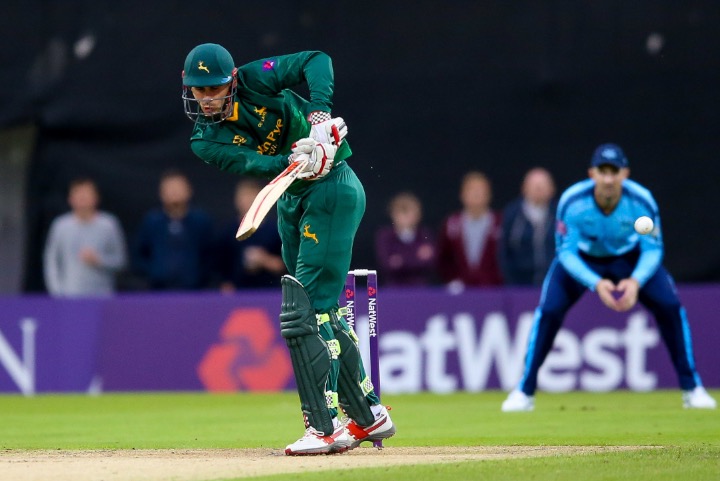 Alex Hales on his way to his maiden Notts century against Yorkshire last year.
The Outlaws and Hales in particular can find some confidence in recalling the last time the Vikings visited Nottingham.
Hales claimed his first T20 century in an Outlaws shirt, whilst the side put on a record run chase, reaching 225-5.
With this year's fixture taking place on a Friday night, the Notts opener believes last year's result and the game being under the lights may work in the home side's favour.
"We know at Trent Bridge you can chase anything down if the top order get themselves in - and that was one of those days. To do it against such a strong Yorkshire outfit too, made it a very special day," he said.
"In my ten years at the club, the games you always look forward to are the Friday nights at Trent Bridge.
"The ground is buzzing, West Bridgford is buzzing and the city is really a great sporting city, so to get the opportunity to play for Notts and have that experience is brilliant."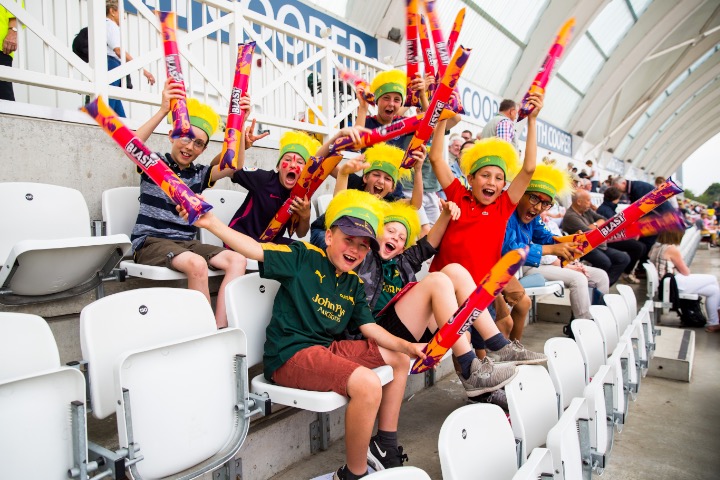 A group of young Outlaws enjoy a T20 at Trent Bridge.
This year Trent Bridge has seen consistently high crowds for the T20 competition and despite the results on the pitch, Hales knows just how important that support is for the side.
"The support gets us through even when times are tough," he said.
"I think we need to remember that probably in the last ten years we've been the best team in the North group at home, and our home form has been phenomenal.
"For some reason this year it hasn't quite happened, but I think it's really important for us that the fans stick behind us, and we're certainly giving our all in practice and in the games.
"This is where it all counts now in the last four games of the tournament, potentially the last seven games, so hopefully they can get behind us and we do them proud."
Notts Outlaws squad to face Birmingham Bears and Yorkshire Vikings (from): Jake Libby, Steven Mullaney, Riki Wessels, Alex Hales, Harry Gurney, Matt Milnes, Luke Fletcher, Samit Patel, Tom Moores (wkt), Paul Coughlin, Will Fraine, Dan Christian (c), Ish Sodhi and Billy Root.
*************
Notts Outlaws play their final Vitality Blast home group stage match of the season against Yorkshire Vikings on Friday from 6.30pm. Book in advance to save £4 off tickets by clicking here...