Thank you for choosing to visit us at Trent Bridge for Notts Outlaws' Royal London One-Day Cup match with Derbyshire Falcons, where the defending champions will be bidding for the victory that would carry them through to the knockout stages.
Should the Outlaws win, they will qualify for the play-offs regardless of results elsewhere, while defeat will mean elimination in an evenly-matched group.
If the hosts do prevail, where they finish in the North Group will depend on the outcome of other matches.
Barring a washout in the game between the top two sides, Warwickshire v Worcestershire, at Edgbaston, one of those teams will head the group to secure a home semi-final.
If Notts win but Yorkshire lose their final match at home to Northants, the Outlaws will finish second and face the third placed team in the South Group at home next Thursday, 14 June.
If they are victorious, but the Vikings also win against the Steelbacks, then Notts will finish third and play away at the second placed team in the South Group on the same date.
Notts go into the match with the Falcons on the back of successive victories against Worcestershire and Durham and with opening bowler Jake Ball on a high following his call-up for the England squad to face Australia in the Royal London One-Day Series, which starts next Wednesday.
You can be happy in the knowledge that you will be visiting a venue frequently voted the best spectator experience in the country by cricket supporters, and one that holds a TripAdvisor Certificate of Excellence.
Ticketing Information
You can enter the ground at any of our gates (situated on Bridgford Road, Radcliffe Road, Hound Road and Fox Road) by simply presenting our friendly Stewards your valid match ticket, print at home receipt or Membership card.
Seating is unreserved, meaning you are welcome to sit anywhere in the ground, with the exception of the exclusive seating in front of the Pavilion, which is for our Members only.
Tickets In Advance
Tickets for this match are priced £17 for adults, £9 for juniors (Under-16s), £12 for senior citizens (Over-65s) and Under-21s, and £40 for a family ticket (two adults and two Under-16s).
There are three different ways to purchase tickets in advance:
- Click here to buy your tickets online...
- Call the Ticket Hotline on 0115 8990300
- Visit the Ticket Office in person
Tickets purchased at this stage, either online or over the phone, will not be posted out but will be available for collection from the main Ticket Office windows. Alternatively, you can use the online print-at-home option and ticket codes will scan on smart phones.
Tickets On The Day
Feel free to purchase tickets from the Ticket Office on arrival at the ground. Window counters are situated on Bridgford Road, adjacent to the Hound Road turning and the Ticket Kiosk next to the Trent Bridge Inn (to the right of the pub as you look at it) will also be open.
If you're unsure, please ask your nearest steward who will be delighted to assist you.
Ticket Office & Hotline Opening Hours
- Monday to Friday: 9.30am-4.30pm
- Saturday: 9.30am-1pm.
- The ticket office on the day will be open from 9am.
Hours of Play
Gates open at 12noon, with the coin toss and team announcement at 1.30pm before start of play is scheduled for 2pm. The first session of 50 overs will take place between 2pm and 5.30pm, before a 45-minute interval. The second session will then take place between 6.15pm and 9.45pm, or until the match reaches its conclusion.
Where To Find Us
Trent Bridge Cricket Ground is situated in West Bridgford, in very close proximity to both Nottingham Forest and Notts County Football Clubs. Our postcode is NG2 6AG.
As you approach, you can't miss the circular floodlights.
We are a couple of miles from Nottingham City Centre, a mile or so from the train station, and our city is blessed with one of the best public transport networks in the UK.
Car Parking And Travel Information
Car Parking for spectators is available at Notts Sports Ground, Lady Bay (postcode NG2 5AA) and Bridge Field (postcode NG2 6AP), priced at £3 for ticket holders (£2 for Nottinghamshire County Cricket Club Members. Both of these car parks are around a five-minute walk from the ground.
Once those car parks are full, the Nottingham Forest car park (off Lady Bay Bridge and Scarrington Road) will be used as an overflow.
Bicycle Parking
Cyclists are able to park their bikes at the ground, in bike racks situated on the Smith Cooper Stand and Radcliffe Road Stand concourses, until an hour after close of play.
Travelling By Bus
Regular bus travel is available to the ground, with bus stops situated on Bridgford Road and Radcliffe Road.
To plan your bus journey visit www.nctx.co.uk/cricket
Travelling By Tram
The nearest tram stops, are at Nottingham Station and Queens Walk, which are a 20-minute walk from the ground. Anyone travelling from outside the city can take advantage of NET's free park and ride facilities.
As an added incentive to take the tram, NET will be running its £2 return event ticket offer for all match ticket holders and Members of Nottinghamshire County Cricket Club. To take advantage of the deal, fans need to select the Event Ticket option from the ticket vending machine before boarding the tram, and make sure they have their match ticket or Membership card to hand for inspection.
Additionally, as above, you can also purchase a group ticket for £5, which is up to two adults and three children (under the age of 19).
Find out more about tram travel at: www.thetram.net
Travelling By Train
The ground is approximately a 20-minute walk from Nottingham Train Station towards West Bridgford and over the bridge, with regular buses also taking the route.
Download Our Map
If you've never been to Trent Bridge, or aren't that familiar with the layout of the ground, you can download a printable map here.
Trent Bridge Shop
For souvenirs, replica shirts, bats, balls and training wear, our Club Shop is situated on the Trent Bridge Inn Courtyard.
Scorecards
Scorecards are available at the Ticket Office, Radcliffe Road Reception and Trent Bridge Shop at the nominal price of 50p.
Toilet Facilities
Toilet facilities are located, and well signposted, in various locations around the ground.
Baby Changing Facilities
Changing facilities are available in the Members' Pavilion disabled toilets, as well as in the squash complex ladies' toilets (access via the Ticket Office near the back entrance to the Pavilion), the William Clarke Stand ladies' toilets, the Hound Road ladies' toilets and the first-floor toilets on the East Wing of the Radcliffe Road Centre. Please feel free to ask any steward for directions.
The squash complex changing rooms can be made available upon request from a steward as further baby changing facilities accessible to men, or as a quiet feeding area.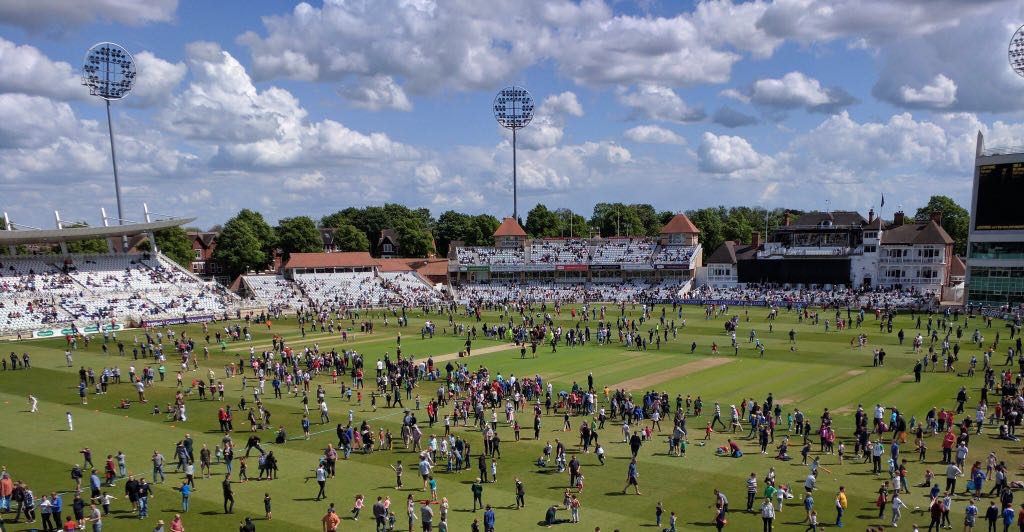 Grace the Hallowed Turf
During the 45-minute innings interval, weather permitting, you'll be able to make your way onto our hallowed turf, with a bat and ball, and crack on with an impromptu game. Please observe any instructions or requests from stewards and note that only softballs are permitted. Remember our cricket square and wickets are sacred, so please do not venture onto these.
Food & Drink
The Cricketers' Suite Restaurant, situated on the first floor of the Radcliffe Road Stand, will be serving delicious homemade hot and cold food from 12noon, including children's meals, takeaway meals and vegetarian, halal and gluten-free options. Prices are £7.25 for a main hot meal and £3.25 for desserts. Afternoon tea will be available from 4pm at £3.25 per person.
Sylvester & Green, purveyors of British pork, which can be found in the Trent Bridge Inn Courtyard, have children's sandwich boxes available at £4 and fish & chips (children's meals available at £4). Vegetarian options include baguettes, salad boxes and chips.
Gallops Farm Burgers are also in the Trent Bridge Inn Courtyard.
The all-important ice cream vans, meanwhile, will be located on the Smith Cooper Stand concourse.
Catering for Nottinghamshire and visiting Members is also available in the Pavilion.
If you still wish to bring your own food and drink, please ensure that any food or soft drinks are in plastic or cardboard containers; avoiding alcohol, cans, glassware or metal cutlery.
Bars
Alcoholic beverages and soft drinks will be available from the following bars: The Scoreboard Bar (between the Radcliffe Road and Fox Road Stands), Hound Road, Parr Bar (serving real ale, behind the William Clarke Stand), The Cricketers' Suite Restaurant (first floor of Radcliffe Road) and in the Pavilion (Members only).
Recycling your beer cups
Beer will be served in branded, reusable cups, with spectators paying a £1 deposit. Each drink will be served in a fresh cup, with no deposit required in exchange for the existing vessel.
Supporters have two options in terms of what to do with their final cup of the day:
1. Take it home as a souvenir.
2. Return it to the bar and regain your £1 deposit.
Kindly note that beer cup returns will be accepted by over-18s only.
Information for Disabled People
Wheelchair
Wheelchair viewing positions are available in-front of the William Clarke and Smith Cooper Stands, as well as the Hound Road Upper, Radcliffe Road Lower and the top of the Smith Cooper Stand.
Please feel free to ask your nearest steward, volunteer or Member of staff if you have any questions, who will be delighted to assist you.
Commentary
RNIB commentary available for the benefit of the blind and partially sighted. Headsets available from Radcliffe Road reception.
Harold Larwood's boots
A heritage event will be held in the Museum Room (off the Long Room) during the interval, where you can see some of the hidden treasures of the Trent Bridge collection.
They will include a pair of Harold Larwood's boots - and you can also test your knowledge of Notts' history.
Peace Room
If you want to get away from the hustle and bustle to pray, a peace room has been set up in Squash Court Two. Please see a steward or volunteer if you need directions.
Junior Wrist Bands
Spectators visiting with children can take advantage of our free wrist band system. Simply collect your band from one of our gate Stewards or volunteers, or alternatively ask a member of staff on the Radcliffe Road Reception or Ticket Office.
On the reverse of your wrist band, where details are well hidden from view, simply complete the following information:
Parent/guardian's name
Contact phone number whilst in the ground
Your stand and seat location
Date
These details will then help a steward reunite you with your child should you become separated or should he or she get lost around the ground.
Smoking Policy
Designated smoking areas are assigned in various concourse areas, but smoking (including e-cigarettes) is only permitted in these areas, so please refrain from smoking in your seat.
Re-entry to the ground
If you need to leave the ground at any point, you will need to scan in and out using your match ticket or ticket code via your smartphone.
Weather Forecast
View the latest weather forecast here…
The weather can take turns during the day, so please bring clothing to cover all eventualities.
Following The Action Online
Can't make it to the ground? We offer the perfect matchday companion...
Click here to sign up for our ball-by-ball stream
*************
You can watch every ball of Notts' scheduled home matches in 2018 - including all seven Vitality Blast (T20) group games - by joining our family as a Member. Adult prices start from £38 and Under-16s are £28, and you can become a Member by clicking here.