With the 2018 season fast approaching, the new development at the Radcliffe Road End of Trent Bridge is in its final stages of construction. In the first of a two-part feature, trentbridge.co.uk talks to those responsible for seeing the exciting project through to completion.
*************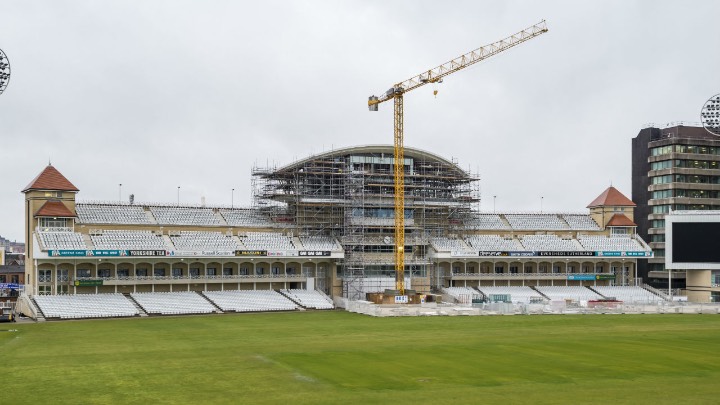 Building a structure on the scale of the striking Radcliffe Road Stand development (above) would be challenging enough at ground level, but when you consider that a sizeable chunk of the project has been assembled from almost 20 metres in the air, then it gives you a true sense of the complexities at play.
The work has been scheduled in over winter years to span successive pre-seasons, allowing workmen access to the hallowed Trent Bridge outfield when the cricketers have been enjoying a well-earned holiday or are hard at it in the gym and nets, rather than striving to win important matches.
Phase one was completed prior to the start of Notts' momentous promotion and double white ball trophy-winning 2017 campaign, having begun in earnest in September 2016. It saw the central turret structure taken down and new broadcasting boxes installed for use by Sky Television in their coverage of Test against South Africa and One-Day International against the West Indies.
That paved the way for phase two of the development this winter, which has raised the central height of the stand to around 115 feet (35 metres) by taking it from five to seven floors (eight if you count the ground floor). It will incorporate a dining facility, hospitality space and more broadcasting suites, all of which have a stunning, pitch-facing birds-eye view (see top picture).
Tasked with delivering the £7.4 million project by Nottinghamshire County Cricket Club have been East Midlands-based Bowmer and Kirkland Building Services, who have been on-site almost every day during the last two winters whenever light permits.
Heading up that dedicated on-site team has been Site Manager Peter Goddon, who has needed to make the most of all his experience in construction to keep such a mammoth undertaking on schedule.
"If you built the same structure on the ground, it would be a lot simpler, but it's the fact that you are a long way up on top of an existing building that makes it a lot more difficult" Peter Goddon
"Everybody loves it up here and the views if offers, especially as there are quite a few workers who are interested in the cricket," he smiles from the seventh floor, looking out across the ground towards the Pavilion, which provides a stunning backdrop. "It's the shape of the structure and needs the sequencing of the building work in the right order that makes it a very interesting project and a challenging one as well.
"If you built the same structure on the ground, it would be a lot simpler, but it's the fact that you are a long way up on top of an existing building that makes it a lot more difficult. Like anything almost 20 metres up in the air, you have to be more aware of the safety aspects, plus it's harder to get the materials up there and in the right place.
"It's also such a long way up and down by foot for the people working on the site. A lot of people have the steppers set on their phones to see how many miles they are doing in a day, which is usually a fair few!"
Like the previous redevelopment of the Radcliffe Road Stand, the Hound Road Stand, the Fox Road Stand and the Smith Cooper Stand, the eye-catching design has drawn up by architects Maber, based in Nottingham's Lace Market, who have been working with the Club since 1993.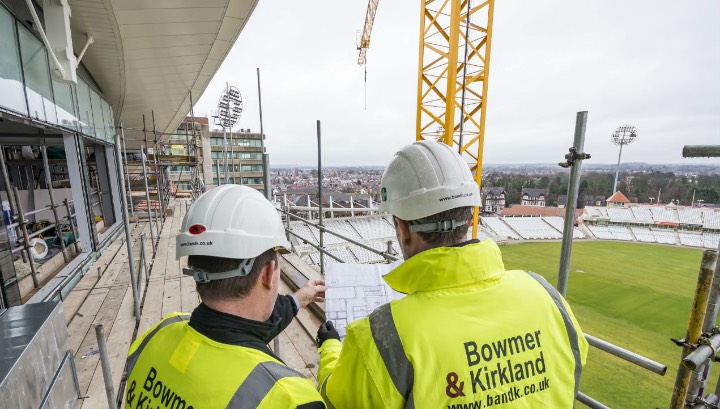 Photo: Ben Clarkson
The steelwork that gives the roof its distinctive shape, some 210 tonnes of it across both phases of the project, has been supplied by Grantham company Shipley Structures Limited. The intricacy of that work, really does boggle the mind.
An average of 35 operatives per day have been working on the site for eight to 10 hours per day, depending on their trade, to make sure Nottinghamshire can kick off their home season with a Specsavers County Championship game against Hampshire on 4 May.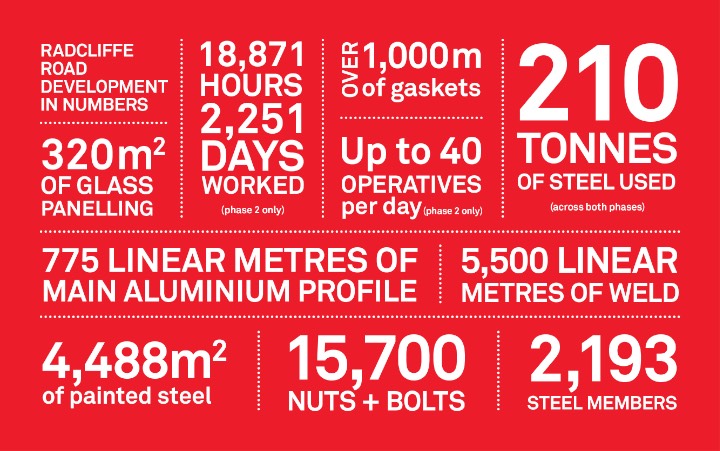 Added motivation comes from an artist's impression of the finished structure, which has pride of place in the Goddon's temporary on-site office in the Trent Bridge Inn courtyard, giving workers who pass through to take instruction a feel for what the finished structure will look like and what they are working towards.
Goddon added: "The crux of it from our point of view is making sure people are in the right place at the right time, issuing programmes of work to everyone and then having face-to-face meetings when needed.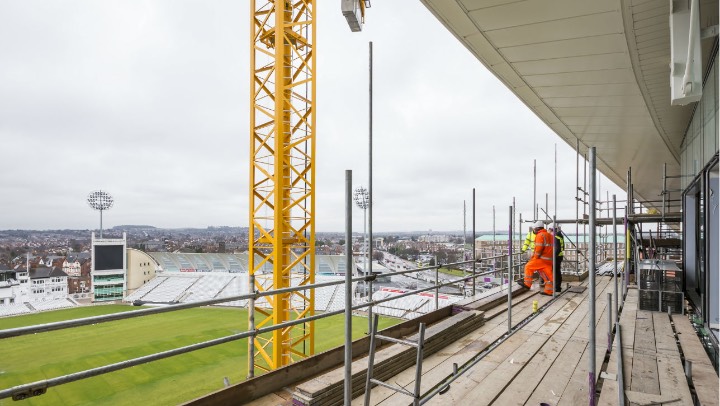 Photo: Ben Clarkson
"Sometimes it's about putting people from different trades together so that they can meet each other and co-ordinate what they are going to be doing."
Obstacles to progress come in a number of guises, with the most obvious being the elements, whether that be snow, wind or rain.
A chunk of time has been lost on the second phase alone because of bad weather, some of which will be pulled in when the clocks go forward at the end of March, allowing for longer hours of light to work in.
"Weather-wise it has been very difficult for us over the past few months, but we've tried to mitigate any delays," said Goddon. "On a daily basis you are checking and then evaluating the weather and planning work accordingly, as well as looking at the rest of the week and, where you can, the week after.
"The overhang makes it very challenging. The crane usually hangs from above and you drop things in, but we instead have to use a second, mobile crane to lift things into that section from underneath." Peter Goddon
"The tower crane – operated by remote control, rather than a person high up in a cab (pictured below) – cannot be used if it's too windy, the crane operator is located up on site with his slinger signaller in the compound below.
"Similarly, the glass lifting equipment for the tower crane is a sucker system which can't be used in the rain as the glass could slip and would be dangerous. The largest pieces of glass weigh over 750kg each. You might have it planned in for the entire day, but then it starts raining in the afternoon and you have to abandon it, or cancel certain trades in advance."
Other problem solving is needed simply because of the complexities of the design of the project, which will give the Radcliffe Road End of Trent Bridge a real 'wow' factor when completed.
The curved roof, for instance, which overhangs by around five metres at it widest point makes it difficult to deliver materials to areas immediately beneath it, while the unusual shape, together with building above an existing stand, creates scaffolding issues that are not obvious to the uninitiated.
Goddon said: "The overhang makes it very challenging. The tower crane usually places materials from above and you drop things into place, but we instead have to use a second mobile crane to lift various materials, including the glass, into place from below the roof overhang.
"The scaffolding constantly goes up and down as and when needed for certain areas – it can't just go up and stay up, because it would get in the way at times. What people often don't realise is that every section of scaffold has a design which is drawn up and approved, and then we have to put it up as per the drawing.
"If you get onto site and the design doesn't work, or something has changed, then you have to get it amended and re-checked before you can continue putting it up. It's literally got to be within an arm's length of where you are working, so you can reach for what you are doing safely."
Read part two of this feature here.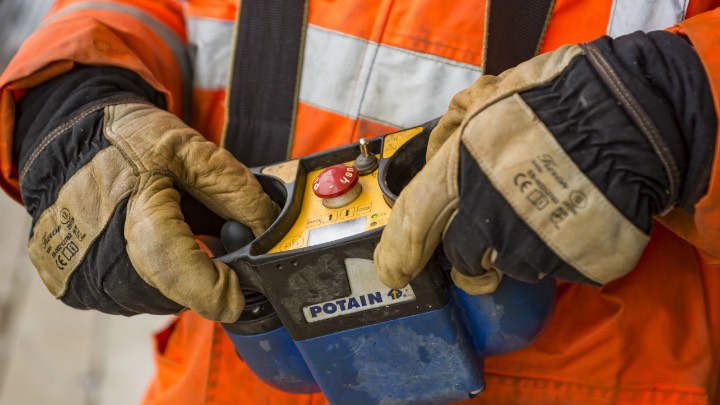 *************
You can watch every ball of Notts' scheduled home matches in 2018 - in all three formats of the game including Vitality Blast - by joining our family as a Member. Adult prices start from £38 and you can become a Member by clicking here.