On 12 November, just six weeks on from the conclusion of the 2018 season and fully five months before the start of the new one, Nottinghamshire's cricketers will return to pre-season training.
While the majority of county professionals might lack the raging muscular build of a boxer or athletes involved in a collision sport such as rugby, cricket is no less physically challenging - according to the Club's Strength and Conditioning Coach Liam Price.
"It's a different kind of fitness to collision sports, but no less demanding and certainly no less impressive.
"The most testing part is how intense the scheduling of fixtures is for the players and making sure they're robust enough - not just to play, but to perform.
"Cricket as a whole is such an interesting sport to be involved in. Rugby and football are more blatantly physical. But, even in a skills based sport like cricket, you wouldn't be fulfilling your potential without that physical prowess.
"There are also so many differing physical requirements. The demands placed on Tom Moores, for example, as a wicketkeeper are extremely high.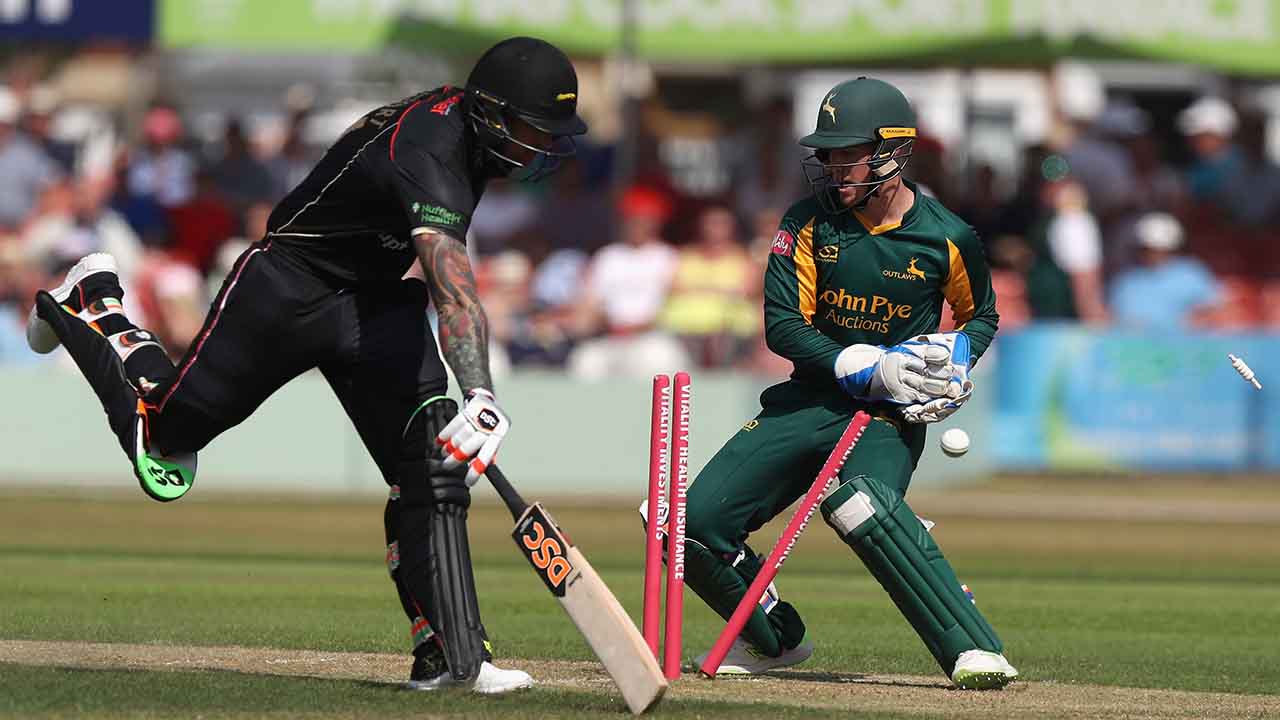 "The constant moving, squatting, jumping and sprinting for 90 overs a day. Imagine doing a workout of 540 squats and throwing a load of sprints, jumps, hops and dives in too.
"Then there's the constant anticipation of a rock solid ball coming your way at 90 mph.
"And, by the way, you're doing the same again tomorrow. And the next day too. That's a monumental workload.
"Also, what you need to be a red ball cricketer is completely different to what you need for T20 cricket.
"For example, a T20 batsman doesn't need to excel in the Yo-Yo Test as much as a red ball player because there's no requirement to bat long hours.
"A white ball specialist needs to be powerful, strong, quick and able to turn really well.
"A red ball player, on the other hand, might bat for six or seven hours over a couple of days, so the game demands something completely differently from him. He needs to be more aerobically fit.
"Those playing all formats – as with the vast majority of our players - need all those bases covered."
To an untrained spectator, strength and conditioning staff might look like a largely irrelevant part of the team's extended entourage – their public profile at its height during the early morning layout of the cones.
What supporters don't see is the work put in behind the scenes; the hours of analysis, the crafting of detailed fitness plans tailored to each individual, the supervising of the sessions and evaluating the results.
However, the currency of the fitness geeks is that every flash of brilliance – be it the Luke Fletcher diving catch, Dan Christian clearing the Smith Cooper Stand or Harry Gurney demolishing the stumps with a Yorker – has its roots in the physical capacity of the player to deliver that skill.
"I work on the premise that fitness alone can't win you a trophy, but not being fit enough can certainly lose you one," says Price.
"Strength is a foundation. If you're strong, you can deliver your movements more powerfully. If your body can't produce enough force, you can't do all the fancy stuff.
"A great catch, for example, does have a massive element of skill and requires great hand-eye coordination.
"But it is strength and power that allows you to jump higher, dive further or whatever the movement in each instance may be."
Be it the height of summer or in the midst of the bleak midwinter, professional athletes are fiercely competitive souls.
It's something Price intends to tap into during the course of a lengthy and demanding pre-season.
"Before Christmas we will work on general components such as fitness, movement and control," he said. "That will provide, if you like, the foundation of what you need to play cricket.
"Afterwards, we want them to get stronger; more powerful so they can clear the ropes, quicker at changing direction and able to cover more ground in less time.
"A big thing this winter, which we're going to be completely transparent about with the lads, is their scores.
"There will be leader boards and an expectation that everyone needs to get five percent better.
"That five percent is individually tailored – you might need to get stronger, you might need to get fitter - but that five percent is your contribution for the benefit of the team, so it's hugely important."
*********
Nottinghamshire memberships for the 2019 season are on sale now. Watch every Notts scheduled home game and enjoy a whole host of prestigious perks by clicking here...