As the decade draws to a close, trentbridge.co.uk are looking to compile Nottinghamshire's best red and white-ball XIs of the past ten years - as voted for by supporters.
Voting has now closed - see the final red-ball team of the decade here.
Read more on the shortlisted batsmen here, and the wicketkeepers, all-rounders and spinners here.
Andre Adams
Statistics for the decade: 62 matches, 256 wickets at 23.44 (16 five-wicket hauls, three ten-wicket hauls)
Adams took 344 First-Class wickets for Notts in total, and spent almost a decade as one of the most potent bowlers in county cricket, but it was the events of an autumnal afternoon at Old Trafford in 2010 that secured the New Zealander's legend.
With rain falling, and Nottinghamshire's odds of landing the title lengthening, Adams struck twice in four balls to remove Mark Chilton and Shivnarine Chanderpaul, delivering the County Championship pennant to Trent Bridge.
Adams remained evergreen for the rest of his Notts career, taking a career-best 7/32 against Lancashire in 2012.
Stuart Broad
35 matches, 124 wickets at 24.91 (five five-wicket hauls, one ten-wicket haul)
The Nottinghamshire-born seamer has been at the fulcrum of England's Test side for the whole of the last decade, and has displayed his international class whenever the calendar has allowed him to turn out for his county.
Broad's 124 wickets for Notts in the past ten years include a blistering 8-52 against Warwickshire in 2010.
It was a spell which would famously be eclipsed by another eight-wicket haul, representing England on his home ground, as Australia were routed at Trent Bridge in 2015.
Jake Ball
57 matches, 184 wickets at 27.17 (six five-wicket hauls)
The Welbeck Wizard has been one of Nottinghamshire's biggest home-grown success stories of the past decade – and, at 28, could still have many summers ahead of him in the game.
Ball's form in 2016 was enough to earn him his first England Test caps – and he finished that summer in fine fashion, with a first-over hat-trick at Trent Bridge.
The right-armer's career-best, meanwhile, came in the opening fixture of 2018, with match figures of 9-57 at Old Trafford.
Ryan Sidebottom
9 matches, 30 wickets at 21.00 (one five-wicket haul)
Sidebottom may have departed Nottinghamshire early in the decade, but he made a considerable impact on the 2010 title-winning campaign.
The Yorkshireman took one of the three wickets to fall on the final day of the season to secure the County Championship trophy, while the value of his 7* in Nottinghamshire's first innings should not be underestimated in allowing his side to chalk up valuable batting points.
Luke Fletcher
101 matches, 301 wickets at 27.75 (six five-wicket hauls)
He's been a mainstay of the Nottinghamshire attack for a decade – and, if anything, Luke Fletcher is getting better and better.
The reigning Nottinghamshire Player of the Season was his side's leading red-ball wicket-taker in 2019, and also scooped the club's County Championship Player of the Season award in 2018 – just reward for two more campaigns of consistent excellence with the ball.
Harry Gurney
85 matches, 275 wickets at 28.81 (seven five-wicket hauls)
Gurney was a potent performer during his seven-year First-Class career with Nottinghamshire, taking in excess of 40 wickets on five occasions.
The left-armer's first-class career best came at Old Trafford, taking 6-25 in a nailbiting Nottinghamshire win over Lancashire in 2018.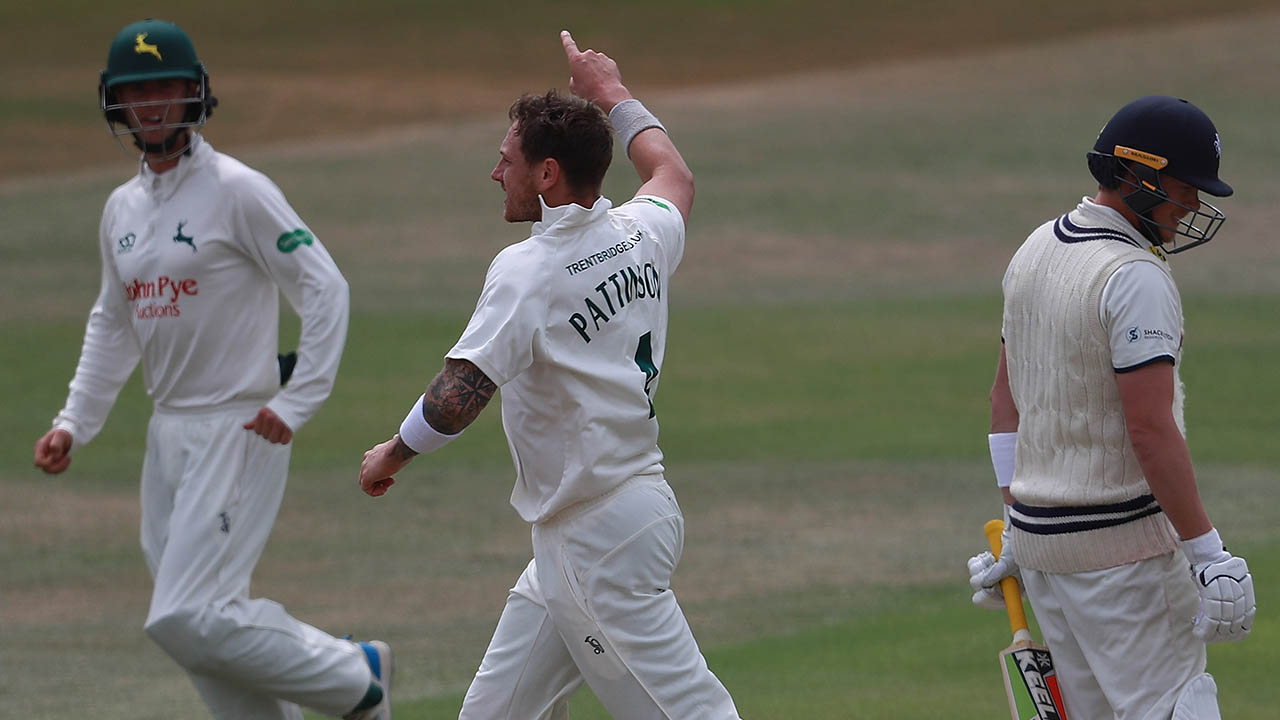 James Pattinson
8 matches, 40 wickets at 15.52 (three five-wicket hauls)
Pattinson was the class of the division in his first campaign with Nottinghamshire, taking 32 wickets at 12.06 to catapult his side to the top of the second tier.
The Australian's pace and hostility was too much for opposition batsmen in 2017 – and his international class was on show once more in 2019.
Twenty wickets at 23.95 were enough to force Pattinson into the national setup, and for the Dandenong Destroyer to return to the Test arena during the drawn Ashes series.
Darren Pattinson
20 matches, 53 wickets at 32.24 (two five-wicket hauls)
Elder brother of James, Darren Pattinson's nous with the swinging ball earned him a Test call-up in 2008 – and the seamer remained an important squad member in the 2010 Championship-winning season.
The right-armer took 33 wickets in that triumphant campaign, with best figures of 5-95.
Charlie Shreck
16 matches, 52 wickets at 29.65 (one five-wicket haul)
Shreck's finest hours in a Nottinghamshire shirt came in the 2000s, but his final campaign for the county featured plenty of high points.
The Cornishman returned from off-season back surgery, and a short loan spell with Kent, to take six wickets en-route to victory over Hampshire.
He would go on to finish the campaign with 34 scalps.
Brett Hutton
33 matches, 106 wickets at 29.55 (four five-wicket hauls, two ten-wicket hauls)
'Hitman' Hutton was an important squad member for the Green and Gold in his stint with Nottinghamshire, taking 37 wickets in both the 2015 and 2017 seasons.
Hutton snared 31 in 2016, including miserly figures of 4-6 in the curtain-raiser against Cambridge MCCU.
Andy Carter
19 matches, 57 wickets at 29.18 (one five-wicket haul)
Injury problems were never far from the surface in Andy Carter's Nottinghamshire career, but the rangy fast bowler was a capable, aggressive performer when fit.
The 2014 campaign was perhaps Carter's most impressive, as the right-armer overcame a stress fracture in his back that had marred his 2013 season to take 21 wickets at 21.80, including his sole five-fer for the county.
*******
Nottinghamshire Membership for the 2020 season is on sale, with those who join for next season bestowed access to all scheduled Notts home matches, international tickets in Members' areas and a range of exclusive benefits.