Cricket's rich history is awash with stories of players who have made an early mark on the game and gone on to have the most stunning of careers.
Nottinghamshire supporters only have to look back as far as 2015 for an unbelievable introduction from one of their own.
Matt Carter, just a month after his 19th birthday, racked up at Taunton and proceeded to take seven Somerset wickets for 56 - with 10 wickets in the match - to herald his arrival into the first-class game.
On the same ground this week, Notts threw another young spinner into the cauldron of county cricket – heralding an extraordinary few days in the life of Liam Patterson-White.
The 20-year-old, born in Sunderland but raised in Nottingham and a member of the county's age groups from junior level, was handed a place in the side to face Division One leaders Somerset on their own patch.
Excited to be told the news a day early, Liam - or LPW, for obvious reasons - broke the news to family members. Dad Dan headed to the south west, able to make the first day only.
What followed was an incredible tale of poor misfortune, remarkable resilience and outstanding talent.
"It's been a bit of a roller-coaster of a week," said the youngster, with as much understated calmness as he could muster.
"I came here and had a bit of a sore throat. It wasn't much, so I thought I'd battle through," he revealed, with Notts sentenced to an opening day in the field after Somerset opted to bat first.
"I went on the field and it was completely fine for the first five to 10 overs but after 15 overs I thought 'this isn't great'.
"I couldn't breathe through my mouth and I had to get someone to tell the umpire I couldn't even talk and had to go off. It was becoming quite desperate."
Dad had seen his son on the field as a Notts player for just over an hour, fielding the ball around three times.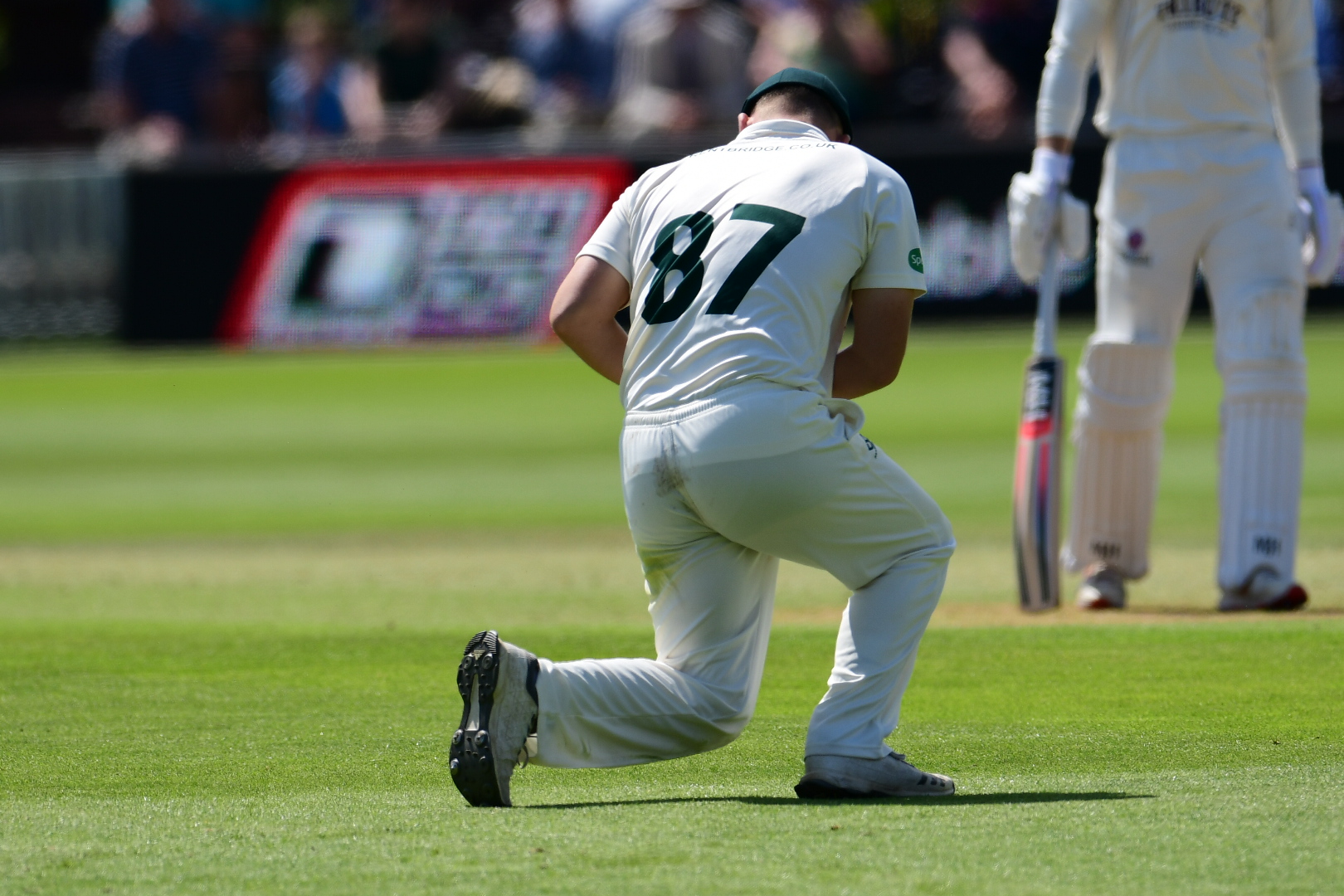 "As soon as I got off the pitch James Pipe (Notts physio) took me straight to hospital," he said.
"By about 4pm I was back at the hotel in bed, having been told to rest up."
Patterson-White had a high temperature, could not swallow and was diagnosed with tonsillitis.
"I've had it a couple of times before but never as bad as that," he reflected. "I think it's time to get my tonsils out.
"By the second morning I was feeling a bit better and was checked over. I was given the option of coming to the ground with the rest of the lads to see how I felt, or continuing to stay in bed and rest.
"I chose to come in, battle it and get over it. Luckily, it went away pretty quickly."
Even if his health was improving, his debut performance wasn't showing much sign of getting any better as Jack Leach dismissed him for a four-ball duck in his maiden innings.
Notts were well behind in the match, but fortune was to smile on Patterson-White at last on day three.
The left-arm spinner had his day in the sun.
"It turned for me, quite literally, on the third day," he said.
"Once I got the first wicket out of the way I felt a weight had been lifted off my shoulders. It meant I could ease into my spell and I thought 'this is where I could dominate'.
"It's a spinner's paradise, what more could I ask for? It was there on a plate. As soon as I saw the opportunity, I took it with both hands.
"The first wicket (Tom Banton) was the pick of them. I'll probably never get that feeling again, it was unbelievable.
"It was just a great experience to have everyone rushing in from the boundary to celebrate with me. It was one to remember, certainly."
Patterson-White, with guile, flight and turn, belied his tender years to take five for 73 as Somerset were shot out for only 169.
Remarkably, the other five wickets were taken by Nottinghamshire's overseas star, India's Ravi Ashwin.
"Me and Ravi have become quite close over the course of this game, talking about how we're going to work out the batters and how we're going to go about things" revealed Patterson-White.
"He was always at mid-on or mid-off when I was bowling and was always in my ear, offering advice, 'Try this or try that'.
"He's one of the best spinners in the world, so it was just one of the best experiences I could have."
Having churned out hundreds for fun this summer for Notts' seconds and academy sides, the youngster was disappointed to miss out again in the second innings, but still took something from his time in the middle.
"Everyone has been on about how different the level is between the first team and the second team and they're not wrong," he said.
"The way that I felt immediately under pressure with everyone around the bat, it was buzzing.
"When I go in during a second team game, you don't quite feel like that and I can relax and play myself in.
"Here, it's always a situation where the eyes are on you. It's designed to make you feel uncomfortable but it's great experience.
"I'm obviously very disappointed with the result of the match but I was so pleased to make my debut, take some wickets and have an impact on the game."
Clutching the match ball after his five-wicket haul, Patterson-White left Taunton knowing that he had just experienced one of the more unusual first-class debuts.
*******
A Notts Outlaws squad brimming with international talent will commence their T20 Vitality Blast campaign against Worcestershire Rapids at Trent Bridge on Thursday 18 July, with adult tickets priced at £10. Secure your seats…