Nottinghamshire return to Specsavers County Championship action this week with a home match against Kent.
The action begins at Trent Bridge on Tuesday 10 September 2019, with a 10.30am start.
The Division One table shows that Notts remain in the one relegation spot, 32 points behind Warwickshire, who they meet next week. Kent are fifth, 69 points clear of Notts.
Head To Head - Overall
There have been 183 previous meetings between Nottinghamshire and Kent in first-class cricket.
Notts have an overall advantage, having won 65 of the matches and been beaten on 53 occasions.
There have also been 64 draws and one match was washed away without a ball bowled.
Only 156 of these matches have been in the County Championship, with Notts ahead by 48 wins to 47.
Head-to-head - at home
Notts have played Kent as hosts on 92 occasions, but not since 2010. The first meeting was in 1841.
Apart from the 1969 match at Elm Avenue, Newark – which was drawn – all of the fixtures have been staged at Trent Bridge.
They have won 32 of the matches, most recently in 1993, 1995, 2006 and 2010.
Kent have been victorious on 25 occasions, with the south eastern county last winning in the matches played in 1999, 2003, 2005 and 2008.
The last four of the 34 draws were played in 1978, 1985, 1991 and 2017.
The scheduled 1901 match at Trent Bridge didn't see a ball bowled.
Last Time
County Championship fixtures between Nottinghamshire and Kent have been fairly infrequent during the past decade, largely due to the two counties often being in separate divisions.
Notts have only travelled to the Garden of England twice in that period, with both fixtures being played at Tunbridge Wells.
Nine years ago the batsmen dominated and a high-scoring draw was the inevitable outcome.
The same venue was witness to Kent's success in June of this year.
In the last ten years Kent has visited Trent Bridge twice, with Notts recording a convincing home win in their championship-winning season of 2010.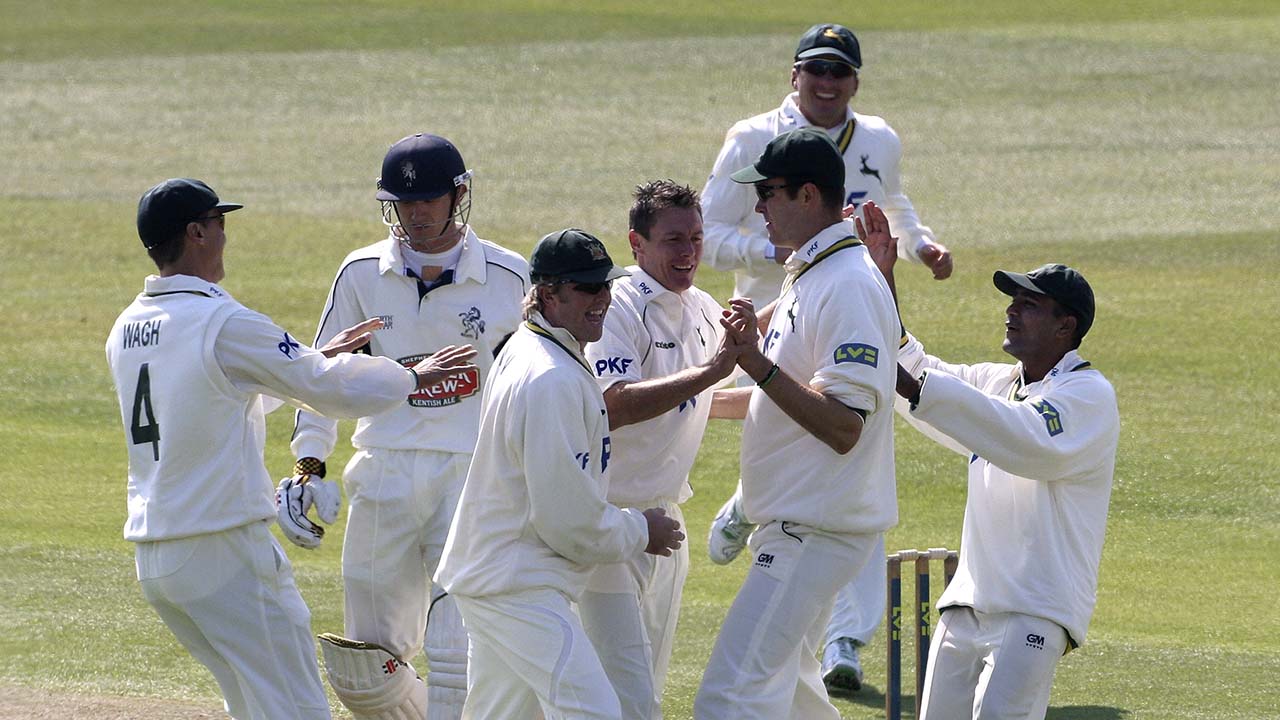 They have been back once since. Two years ago, the ECB designated a round of championship matches to be played as day-night affairs, with a pink ball.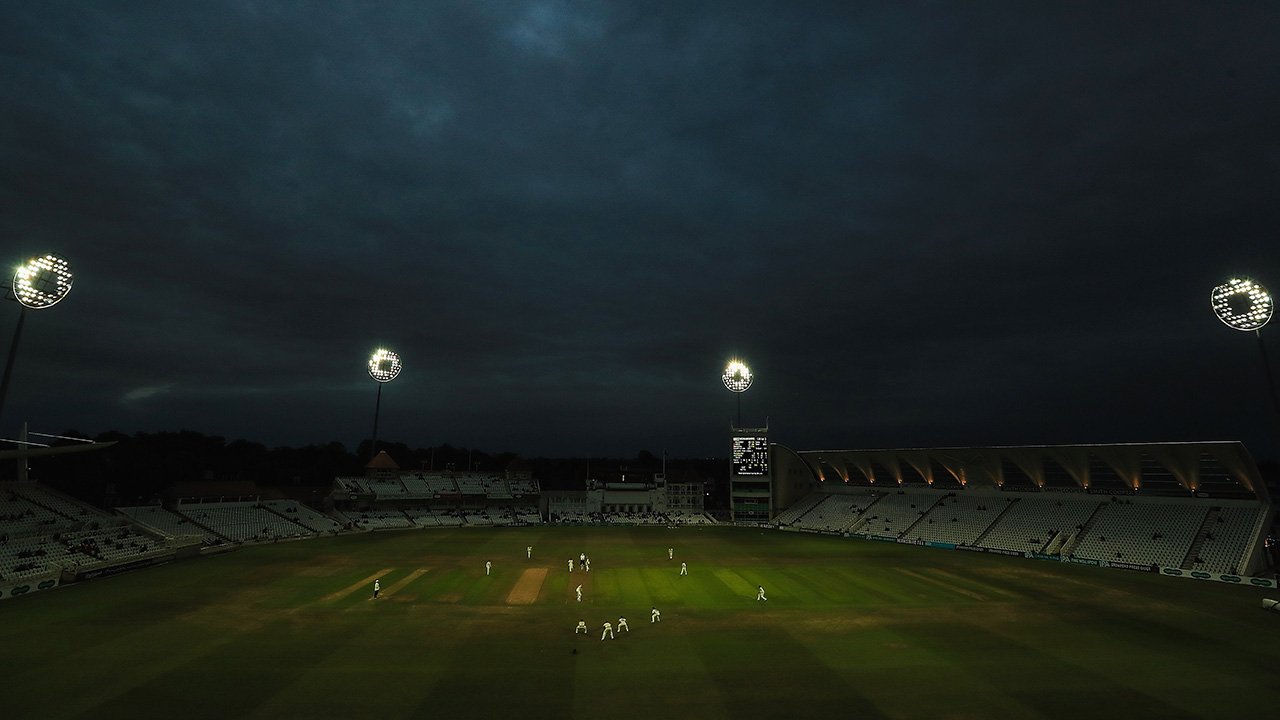 Kent won the toss and batted first when play started at 2pm. Within 15 minutes they had been reduced to 6-3, with James Pattinson removing Sean Dickson, Joe Denly and Sam Northeast, all for ducks.
Pattinson's early damage (he finished with 3-30) was replicated at the back end of the innings as Steven Mullaney claimed 3-2 to dismiss the visitors for 180.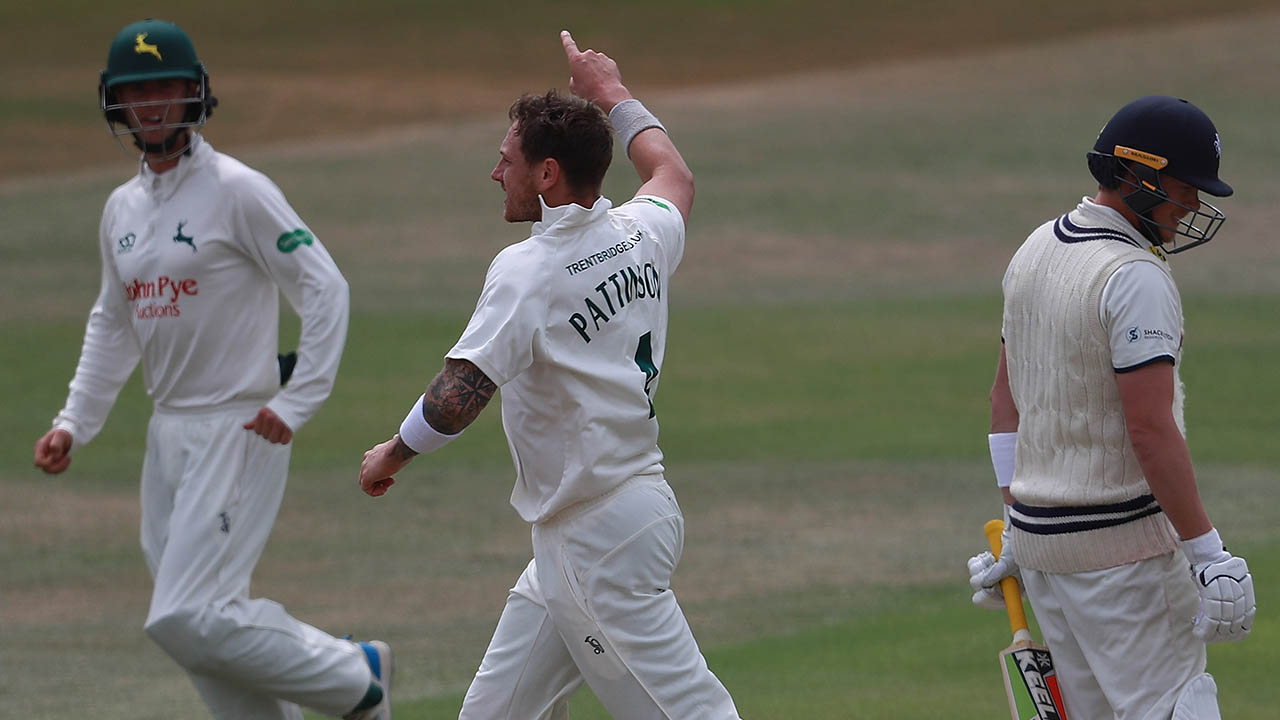 Mullaney also delivered with the bat, making 168 as Notts reached 371.
Kent were bowled out for a second time, leaving Notts with a victory target of 75, but rain frustratingly wiped out the final session of play and the match ended as a draw.
Memory Match
Nottinghamshire opened their title winning campaign of 2010 at home to Kent and got off to a flying start with victory by an innings and 32 runs.
Debutants Hashim Amla and Neil Edwards did the early damage for Notts, who made 456 after being asked to bat first. Amla scored 127 and Edwards made 85.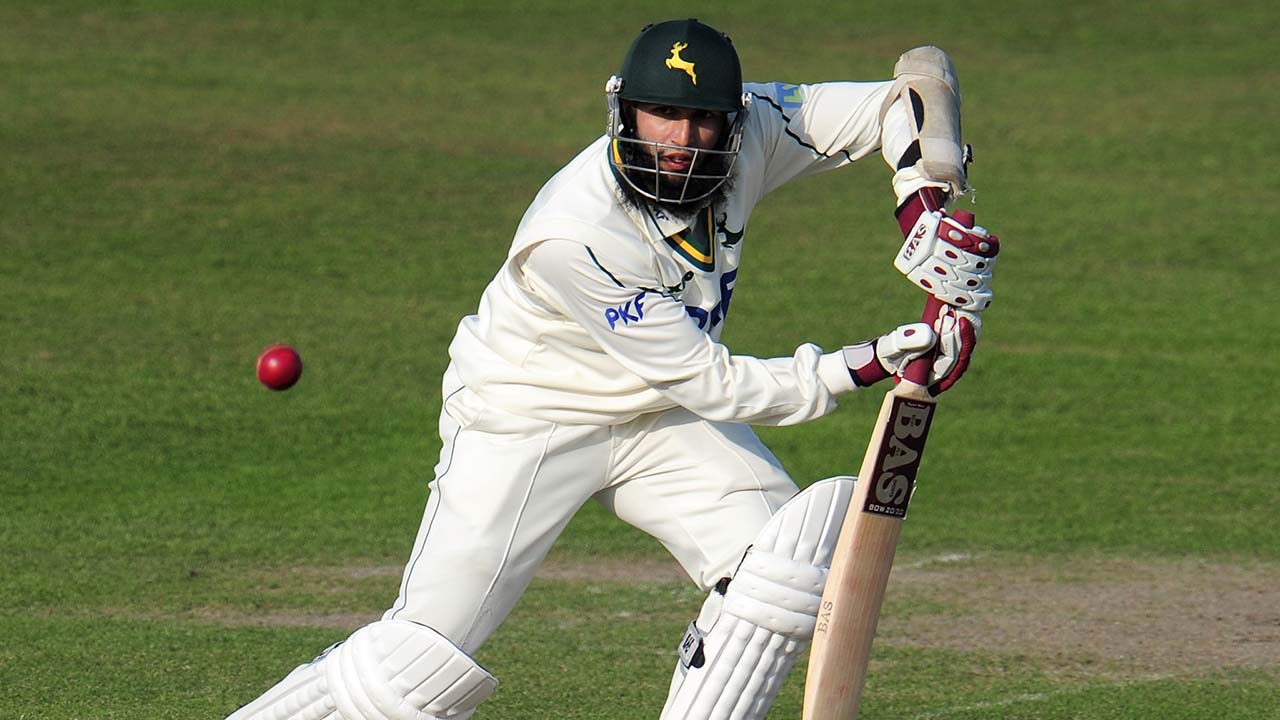 The second day saw Kent dismissed for 200 and reduced to 51-2 when asked to follow-on.
Andre Adams took four wickets in the first innings and Ryan Sidebottom grabbed three, but it was two of the current squad who helped dismantle Kent over the third day.
Luke Fletcher and Samit Patel each grabbed three wickets as the visitors were bowled out for a second time for 224.
History
MONDAY 24th MAY 1993:
Nottinghamshire re-wrote their record books by winning a match in which they'd been made to follow-on, for the first time since 1863.
Trailing by 152 runs, they made 330 in their second innings and then dismissed their opponents for 104, with Mike Field-Buss taking 6-42 and Andy Afford grabbing 4-35.
WEDNESDAY 21st JULY 1999:
On the opening day of a PPP Healthcare County Championship match against Kent at Trent Bridge, Nottinghamshire's Wayne Noon broke a county record. The wicketkeeper became the first Notts gloveman to take seven catches in an innings.
Stats
(for all first class matches between Nottinghamshire and Kent)
Highest Team Total:
Notts: 602 (Trent Bridge, 1904)
Kent: 600-6 dec (Canterbury, 2006)
Highest Individual Score:
Notts: 272 J Iremonger (Trent Bridge, 1904)
Kent: 269* AE Fagg (Trent Bridge, 1953)
Best Bowling:
Notts: 9-19 J Grundy (Trent Bridge, 1864)
Kent: 10-65 GC Collins (Dover, 1922)
Hat-tricks:
Notts: W Flowers (Maidstone, 1888), MNS Taylor (Dover, 1965), RJ Hadlee (Canterbury, 1987)
Kent: DVP Wright (Trent Bridge, 1937), C Lewis (Trent Bridge, 1939)
Played For Them Both
Mark Ealham was born near Ashford, Kent, on 27 August 1969.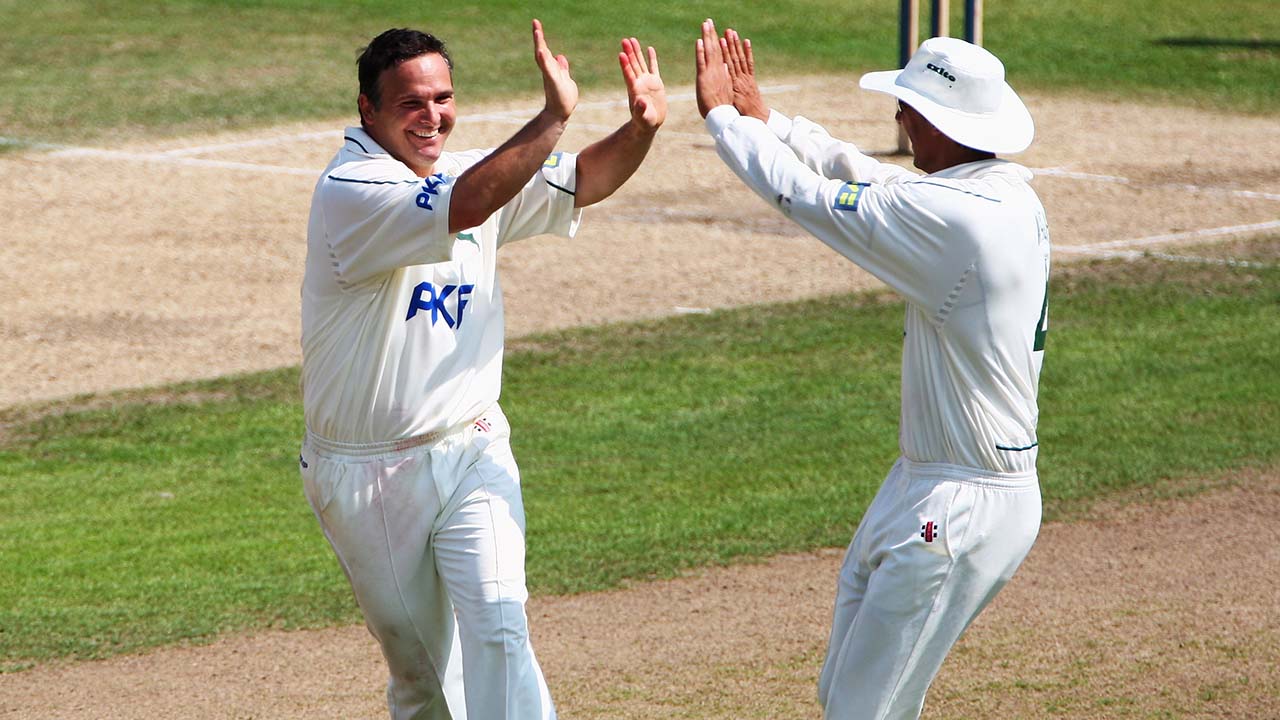 He followed his father, Alan Ealham, in playing for the county of his birth, making 173 first-class and 260 List A appearances for them, as well as representing England in eight Tests and 64 one-day internationals.
Switching counties, Ealham joined Nottinghamshire in 2004 and helped them win the County Championship a year later.
By the time of his retirement at the end of the 2009 campaign, the all-rounder had appeared in 89 first-class, 75 one-day and 47 Twenty20 matches for the Trent Bridge side.
Others to represent both Nottinghamshire and Kent include Ian Butler, Charlie Shreck, Mark Davies, Greg Blewett, Dave Halfyard, Will Gidman, Vernon Philander, Ben Phillips and Matt Milnes.
Milestones:
Nottinghamshire players nearing first-class milestones this week are:
Batting:
Ravi Ashwin (3,988) is nearing 4,000 first-class runs.
Luke Fletcher (1,987) needs 13 more runs to reach 2,000.
Jake Ball (946) is within striking distance of 1,000 fc runs.
Ben Slater (882) is closing in on 1,000 fc runs for Notts.
Ben Duckett (888) needs 112 more to reach 1,000 fc runs this season.
Bowling:
Jake Ball (190) needs ten more wickets to reach 200 in his career.
Luke Wood (96) requires four more wickets for 100 in fc cricket.