Nottinghamshire County Cricket Club is joining the #raisethebat campaign, which highlights key workers from the world of cricket who have helped to support their local community during the COVID-19 crisis.
Key workers who have been nominated by their cricket clubs are being featured on over 300 billboards across England and Wales, while the whole cricket family has been asked to shine a light on the many thousands of key workers who deserve recognition by using #raisethebat on social media.
The campaign features the likes of World Cup winners Heather Knight and Moeen Ali raising their bats, whilst players across the country are paying tribute with personalised messages of their own.
Nottinghamshire and the ECB are asking people to use social media, and the hashtag #raisethebat, to share stories of other key workers within the cricket family who deserve recognition.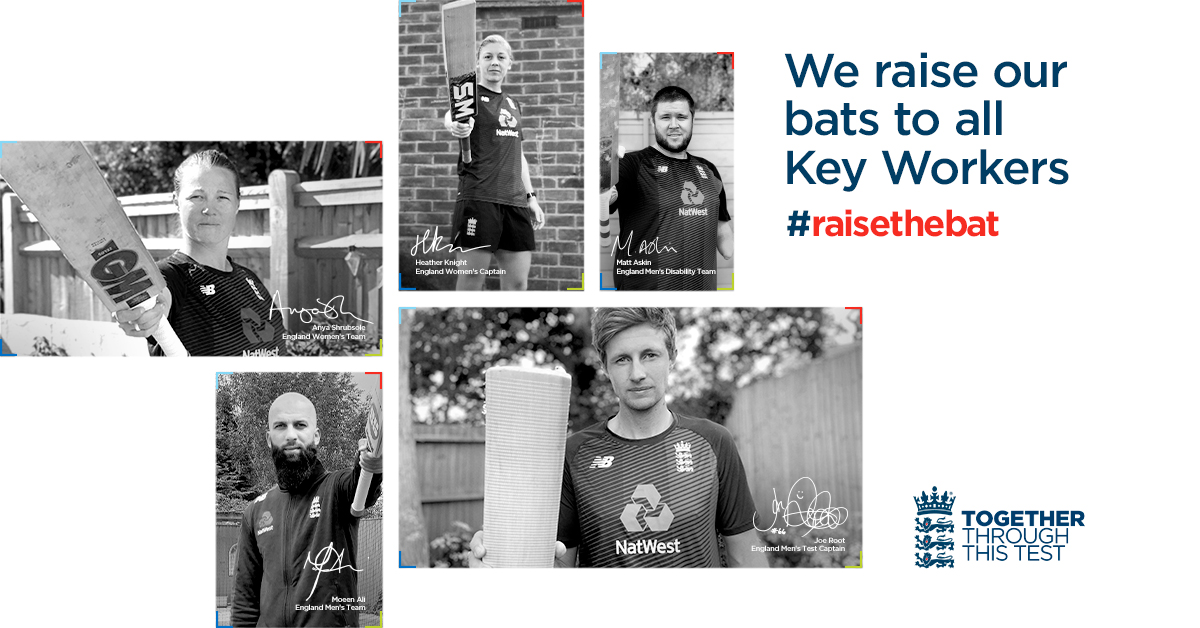 #raisethebat is part of the game-wide Together Through This Test initiative which was launched to support and celebrate the cricket family during COVID-19.
"It has truly been humbling to read the nominations which have shone a light on the tireless work of nurses, teachers, care workers and supermarket staff who have responded to this crisis without hesitation," said Clare Connor, the ECB's Managing Director of Women's Cricket, who is leading the campaign.
"We know there are many more unsung heroes out there, so we're encouraging people to highlight the contribution of anyone from their cricket club or community who they feel deserves recognition."
The #raisethebat campaign is set to run until 8 July.
Visit ecb.co.uk/covid-19 to find out more about resources available and how you can get involved in cricket-led community initiatives in your region, or see Nottinghamshire's community coronavirus response here.
Thank you to all the keyworkers in the cricket family for everything they've been doing during lockdown #RaiseTheBat pic.twitter.com/Wuv6gSd3Mv

— Ben Duckett (@BenDuckett1) June 4, 2020
#RaiseTheBat pic.twitter.com/zTciuMVPyU

— Joe Clarke (@joeclarke10) June 4, 2020
As always, a big thank you to all the key workers. The work you do is remarkable. #RaiseTheBat pic.twitter.com/gEUe4S1vZg

— Ben Slater (@BennySlats) June 4, 2020
Thank you to all you key workers. Amazing commitment every day. #raisethebat pic.twitter.com/0YDY8mNq0Y

— Samit Patel (@Samitpatel21) June 4, 2020