Prior to the coronavirus outbreak, Alex Hales was in the form of his life – and the 31-year-old Notts Outlaw is setting his sights on plenty more time at the top.
The 1,522 runs blazed by the expansive opener since the start of May 2019 puts him over 400 ahead of the world's chasing pack.
And the 141-time England international, whose last appearance for the Three Lions came in March last year, is holding out hope of a return to the world stage.
"If you speak to any coach I've played under in the last 12 months, I feel I've matured as a player," Hales told the Daily Mail.
"I try to offer as much leadership as possible. I certainly feel I have matured, as a player and away from the game, and hopefully I'll get the chance to show that in the (England) group environment again.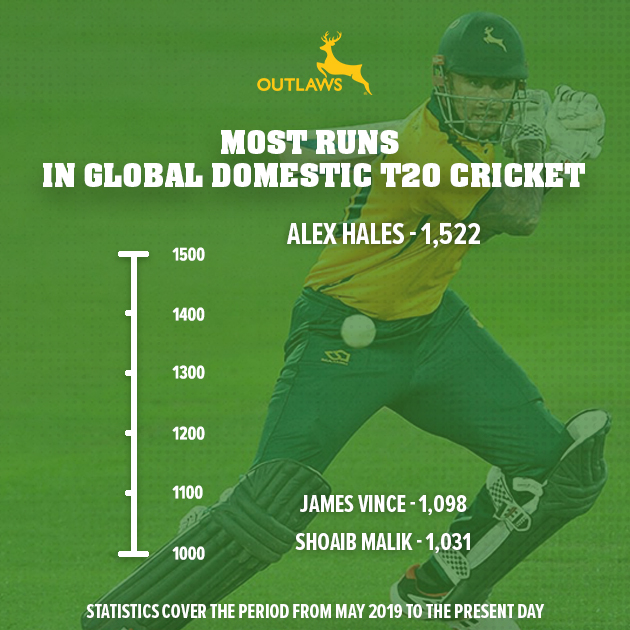 "Obviously, I'd love to get my place back. Playing international cricket is the highlight of any player's career and I still think I've got a lot to offer, particularly in T20.
"This is the best I've played. It's definitely the peak of my career. In terms of T20, this is the most comfortable I've felt.
"My England career has been pretty good so far in T20 and that's not even playing to the best of my ability. I'd love to get that chance again and I feel I'm in a good head space."
Hales should, at present, be putting finishing touches to his preparations for the Outlaws' latest tilt at the T20 Vitality Blast.
However, having had a skirmish with what he believes to have been the disease, he's entirely philosophical about the season being delayed by the coronavirus crisis.
"In a weird way, it's been good to spend a lot of time with my dog and my friend in a new house," he says.
"It's a tough time, but I've spent so much time away, just to have a chunk at home is something I've not been used to.
"I'd only had a week or two off since mid-July last year, so I was ready for some down time — but now I am itching to get back out there."
"When you are playing in these T20 tournaments, there are so many around the world, you need to enjoy your time off.
"It is precious and short-lived. I'd only had a week or two off since mid-July last year, so I was ready for some down time — but now I am itching to get back out there.
"Coming back to England in the form I was in and with a bit of a break, I would have been mentally fresh, physically fitter and ready to give the summer a red-hot crack.
"I'd have loved to play in the Hundred (postponed until 2021) and the Blast (delayed until recovery). Unfortunately, that's not to be, but this is bigger than the game of cricket. People's health is first."
Hales' progression to peak form follows on from the decision in 2018 to focus solely on the limited-overs forms of the game.
The Buckinghamshire-born batsman has a permanent home of 13 years at Trent Bridge, with the two-year contract he signed last autumn set to take his Nottinghamshire stint to the conclusion of the 2021 season.
The remainder of his time, however, has been spent globetrotting on the T20 circuit – something the 31-year-old says has given his career a new lease of life.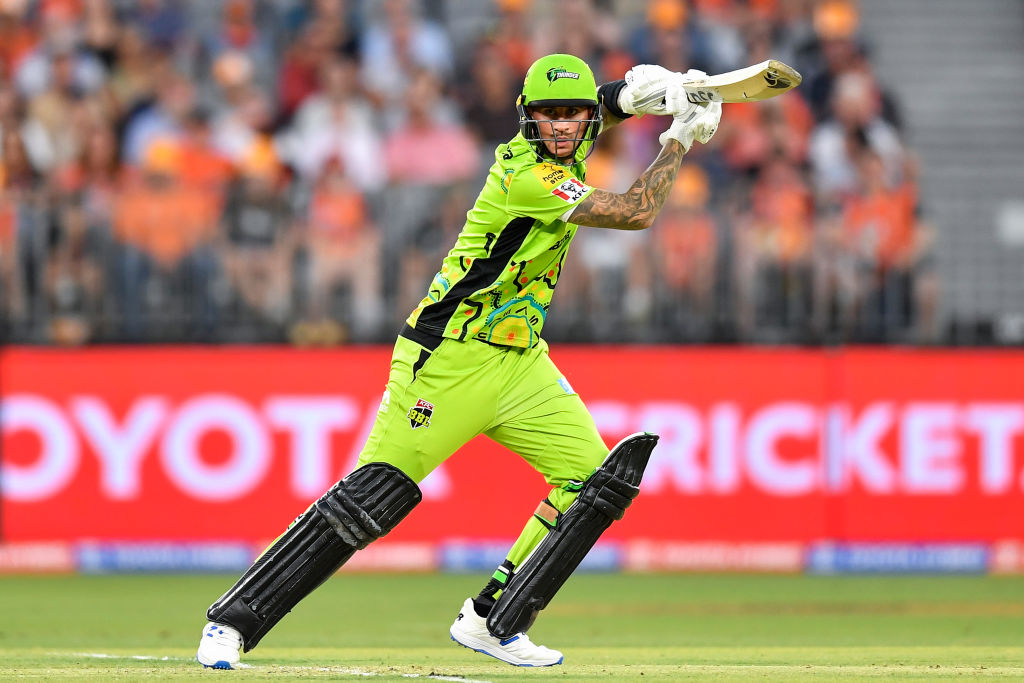 "I enjoy the freedom that comes with it," he explains. "'It has moments where it can be lonely because you are floating around different teams for a short period of time.
"But it is a good opportunity to grow as a player and a person, spending time with different coaches, environments, around world-class players each month.
"Only playing T20 will probably help my longevity. I used to have back issues, but since I've stepped away from the longer format, that is no longer a problem.
"I'd like to play into my late 30s if I can keep my level of performance and desire."