Already popular with his Green and Gold teammates, steeled by a recent recovery from serious injury and inspired by his new surroundings – Dane Paterson is settling nicely into life in Nottinghamshire.
The 14-time South Africa international, who spoke of committing fully to the English game upon the announcement of his arrival at Trent Bridge, was in fact due to join up with Steven Mullaney's men last summer.
A serious pectoral injury, however, put paid to his chances in 2020. Months of rehab and weeks in isolation later, Paterson is looking forward to the challenge county cricket has to offer.
And, with his body benefitting from every bowl, when it comes to making his long-awaited Nottinghamshire debut, the 32-year-old is philosophical about biding his time for a little longer as he sits out the season's opening fixture against Durham.
"There's a good mix of experience and youth in the pace department, and our reserves are strong."

Dane Paterson
With fast bowling stocks having been bolstered by the winter recruitment of Brett Hutton and Toby Pettman as well as himself, Paterson believes Nottinghamshire's enviable depth can be used to their advantage during the course of a three-format campaign.
"I was getting to know the bowling group, with Luke Fletcher telling me who's who, and was already impressed with what I was seeing from the likes of Brett Hutton, Lyndon James, Zak Chappell and Luke himself," revealed Paterson.
"For Stuart Broad and Jake Ball to then join us, I thought 'crikey, this is a strong bowling group'.
"There's a good mix of experience and youth in there and our reserves are strong in the pace department – so much so that, if we wanted to go that way, we could play a couple of games and then rotate so we all stay fresh."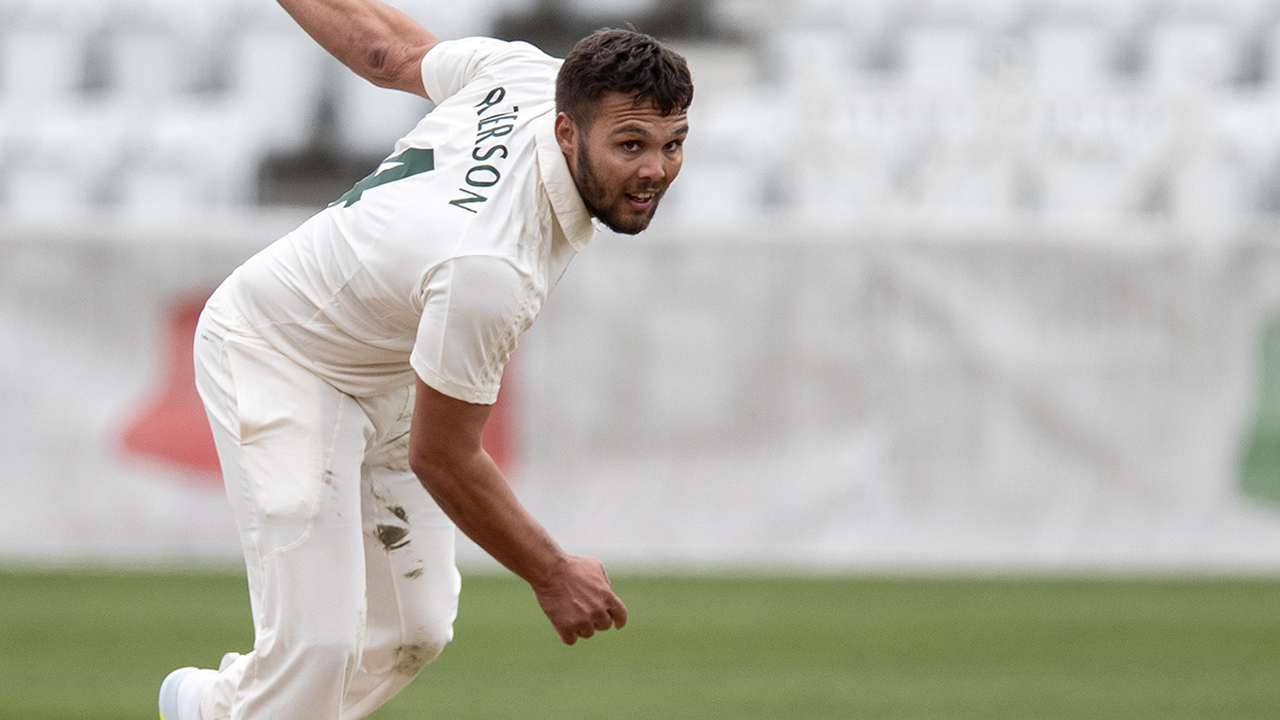 After the shock, pain and struggle that comes as standard when an elite sporting professional is consigned to injury rehabilitation, Paterson is relishing being back in a team environment.
"I was in the middle of a spell when I picked up the injury," he said. "I thought it was just a little strain and I just kept on bowling.
"But in fielding practice I couldn't throw the ball, then when I woke up at 3am the next morning and saw a load of bruising, I knew something was wrong.
"I thought it was maybe a grade two or three tear, but the physio told me that I was going to be written off for a little while, which was obviously a real shock.
"I have been in contact with the medical and coaching team here at Trent Bridge over the winter and the advice they have given during rehab has been valuable. It's good to be back and bowling at full tilt.
"Trent Bridge is a beautiful ground with brilliant facilities, a great bunch of lads and a terrific coaching staff," Paterson continued.
"I've heard about how good the conditions can be for bowlers and – as someone who loves to bowl – the fact that there's such a high volume of games is really appealing to me as well.
"I've always wanted to experience county cricket and I'm looking forward to the gig of bowling a lot of overs for Notts.
"The more I bowl, the more I'm finding my rhythm – and working with Kevin Shine has helped me a lot in that regard."
Be they batsmen or bowlers, from recruited professionals to those who are homegrown, Paterson believes Nottinghamshire's squad is united in its thirst for success.
"I've always wanted to experience county cricket and I'm looking forward to the gig of bowling a lot of overs for Notts."

Dane Paterson
"Looking at the work the lads have been doing and the conversations we've been having amongst ourselves, we've got what it takes to get some good results for sure," he said.
"I remember doing a Wattbike session as part of my solo training shortly after I arrived, looking in from a distance at the work the lads were doing in the tent.
"The intensity of it was really striking and it's carried on from there. There's a spark within the group and that comes from our determination to win games."
Paterson admits he's awaiting Covid-19 related updates from central government with interest, not only pending the opportunity to fly over his wife and baby son from South Africa, but also as he yearns for the feeling of performing before a crowd once again.
"That's something I'm really looking forward to," he said. "It will be a new experience for me in some ways because four-day cricket in South Africa is played in front of pretty much no-one.
"I've played in red-ball tour games over here and it was great to perform with crowds in attendance, and people over here are passionate about their domestic cricket, so it will be great to experience that as well."
Nottinghamshire's LV= Insurance County Championship fixture against Durham will be available to watch and follow live via your perfect matchday companion, Trent Bridge Live.
********
Tickets to witness Notts Outlaws' defence of their Vitality Blast title in 2021 are now on general sale.