FORGET ME NOTTS AND NOTTS IN MIND TAKE TO THE CITY FOR 2022
Trust News
Trent Bridge Community Trust's wellbeing programmes - Notts in Mind and Forget Me Notts - have returned for 2022 with regular sessions in Rushcliffe and in the City.
Notts in Mind, which was established last year, began delivering sessions in West Bridgford before extending to Melbourne Park. The programme now has over 25 registered attendees across the two locations.
The sessions provide anyone experiencing mental wellbeing difficulties with the opportunity to offload through a 90-minute discussion-based workshop and physical activity.
"We recognised a real need for mental wellbeing support in the midst of the pandemic last year and we utilised sport and physical activity as a crucial rehabilitative tool within the Notts in Mind sessions," said Ian Richardson, programme lead for wellbeing projects.
"It is equally important that individuals are given the chance to speak openly to one another during these sessions in a supportive, judgement-free environment to ensure any anxieties can be handled effectively.
"We have already seen the role the programme can play in relieving stress and enabling individuals to face the challenges posed by everyday life."
Aaron Taylor attends Notts In Mind and has seen his self-esteem blossom in the wake of the project.
"Notts In Mind is a great project, and it has helped me get back out into the community," he said.
"The sessions are run by an ex-professional footballer which has given me a great opportunity, and Ian has got me volunteering with with the project, which has given me a real boost in confidence as I look to get back into work
"It's great seeing all the lads, different abilities and backgrounds, and how football can build the connection between us.
"Everyone turns up in the morning a bit tired, but by the end of the session that has completely turned around - we have a great time and get ourselves moving. It's really good."
Forget Me Notts, meanwhile, has continued its regular sessions at Edwalton Golf Club, Rushcliffe Arena and Trent Bridge, providing an opportunity for individuals living with dementia and their carers to share experiences with one another and get access to expert advice.
The programme has also extended into the city, with three sessions at Melbourne Park every month.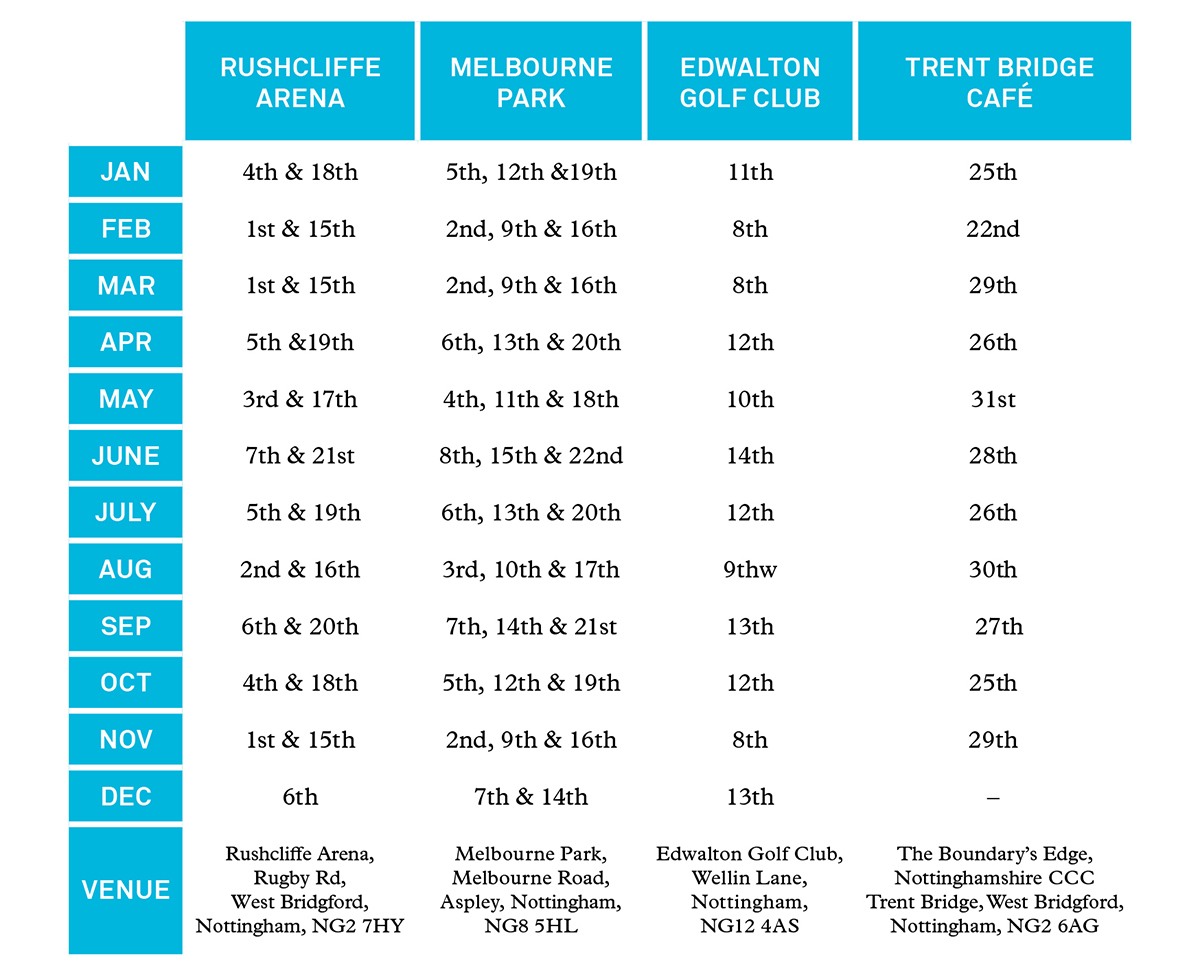 "We saw the value of Forget Me Notts during the Covid pandemic last year, with the return of sessions providing a much needed community for individuals with a breadth of needs," Richardson continued.
"At the Christmas Lunch in December, we saw the enjoyment that the Forget Me Notts project provides away from the day to day challenges of dementia.
"We are fully committed to ensuring this support network is once again in place in 2022, both in Rushcliffe, and at the Melbourne Park sessions in Nottingham city.
"I'd warmly welcome any attendees to either Notts in Mind or Forget Me Notts as we settle into the new year, the network, advice and support provided at the sessions can be invaluable."
The delivery of both programmes in Rushcliffe has been supported by £64,477 grant from Nottingham County Council's Social Recovery Fund.
******
Anyone wishing to attend either programme can do so by contacting ian.richardson@trentbridge.co.uk, or calling 0115 982 3000
SIGN UP FOR ALL THE LATEST
It's jolly convenient to receive latest news, ticket information and behind the scenes exploits direct to your inbox and we'll never pass on your information to others.