As Alex Hales turns 30, we look back on what the Nottinghamshire and England batsman has achieved in his 20s…
Domestic domination
When Hales turned 20, he already had First-Class and 50-over debuts behind him – but a bow in the format that was to primarily make his name had not yet been bestowed.
That came in 2009, and the following year long-levered right-hander began to make waves.
A match-winning 66 against Worcestershire in game one was followed by an imperious 69 off 25 balls against Derbyshire second time out.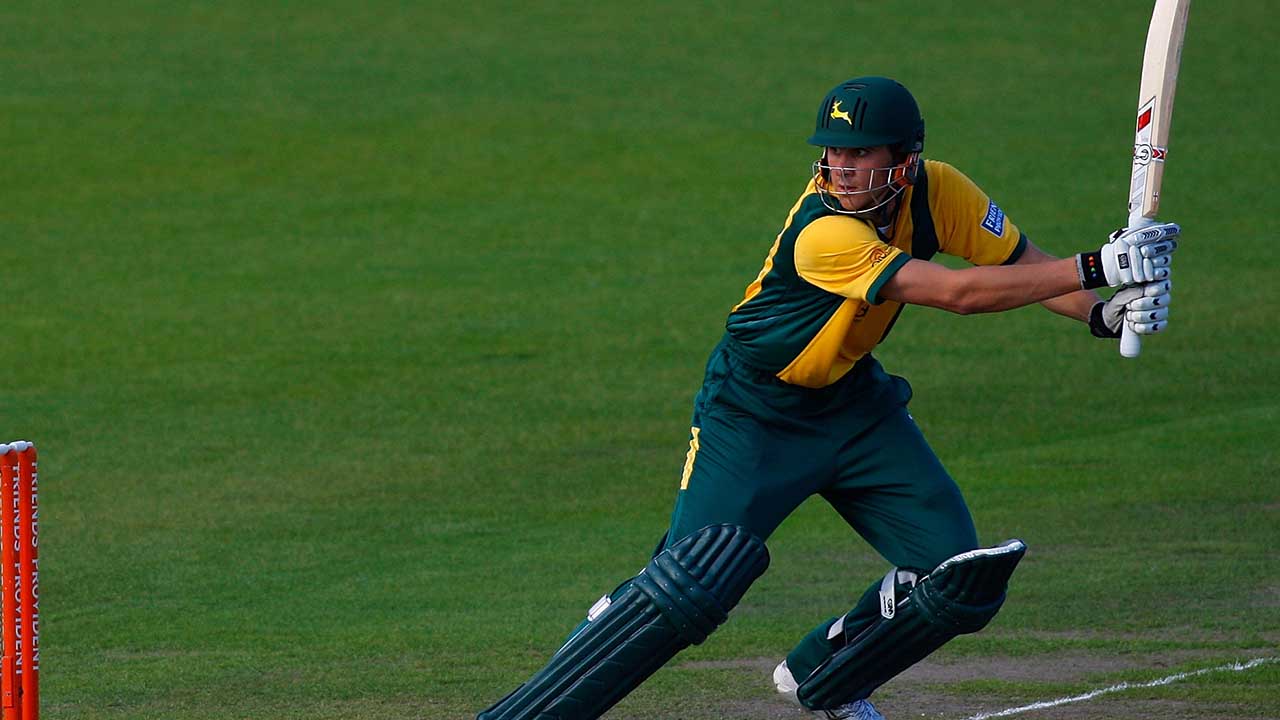 The rest, as they say, was history.
Hales now has over 5,000 T20 runs to his name. He's passed 50 on 34 occasions and averages 29.06 with a frightening strike-rate of 142.49.
In 2015 against Birmingham Bears, it was a case of anything Sir Garfield Sobers can do in the 1960's, Hales can do under floodlights at Trent Bridge – as the top-order powerhouse blazed six consecutive sixes.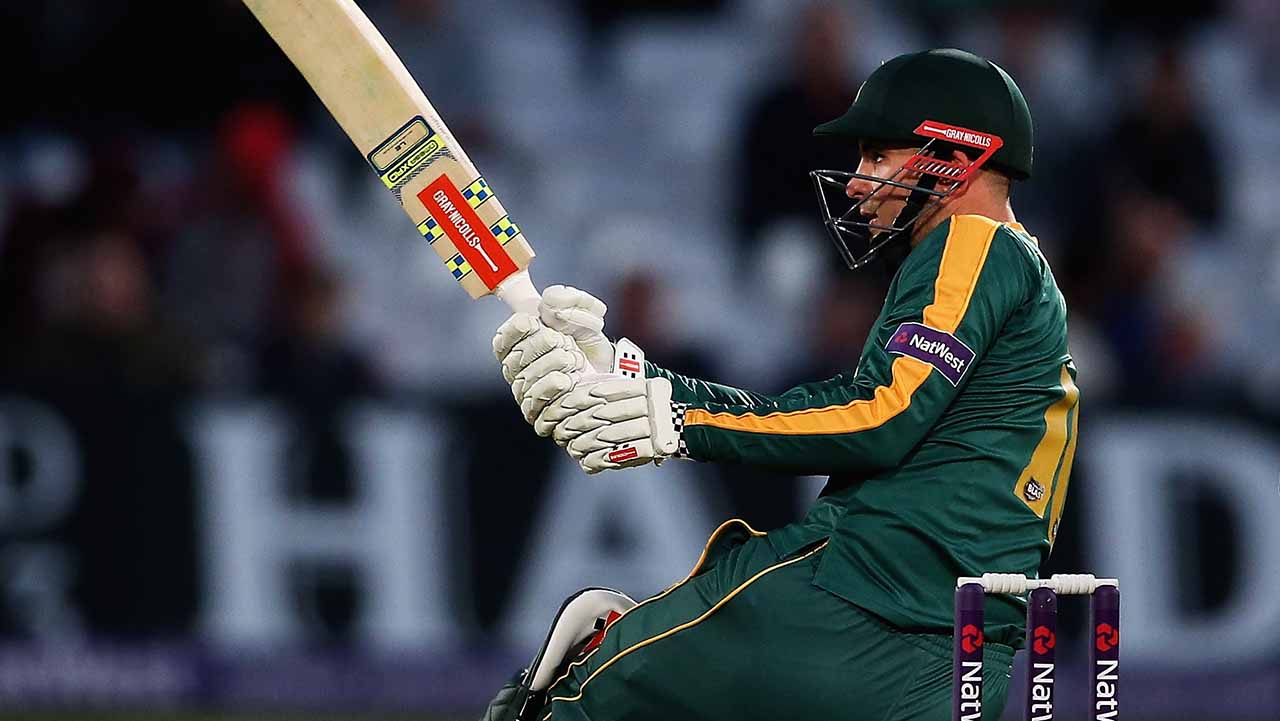 In one-day cricket, his record is beyond imperious – featuring 17 centuries.
And, although no longer available for red-ball cricket, his record in the First-Class game stands up with the best of the Nottinghamshire batsmen of his generation.
Having the talent, ambition and bare faced audacity to plunder 222 runs on a solitary April day – against a Yorkshire bowling attack featuring Tim Bresnan and Jack Brooks among others – was arguably his finest hour.
Hales was bestowed the honour of his Nottinghamshire County Cap in 2011.
Four pieces of silver
Many a county cricketer has toiled for an entire career and won the square root of nothing. Alex Hales has lifted four titles with Nottinghamshire in his twenties alone.
The Uxbridge-born batsman's brushes with domestic glory began in 2010, averaging 36 at the top of the order as Mick Newell's men triumphed in dramatic circumstances on the final morning at Old Trafford.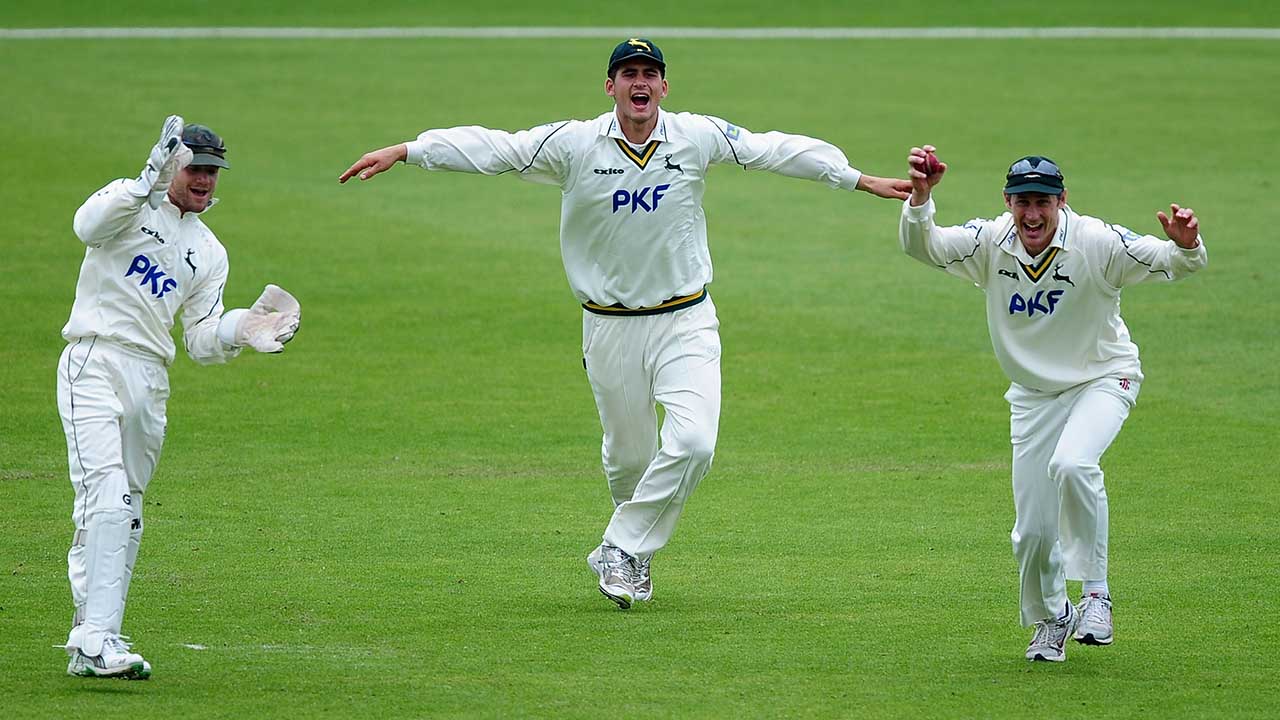 In 2013, Hales scored four fifties and a half-century as the Outlaws triumphed in the Yorkshire Bank 40 at Lord's.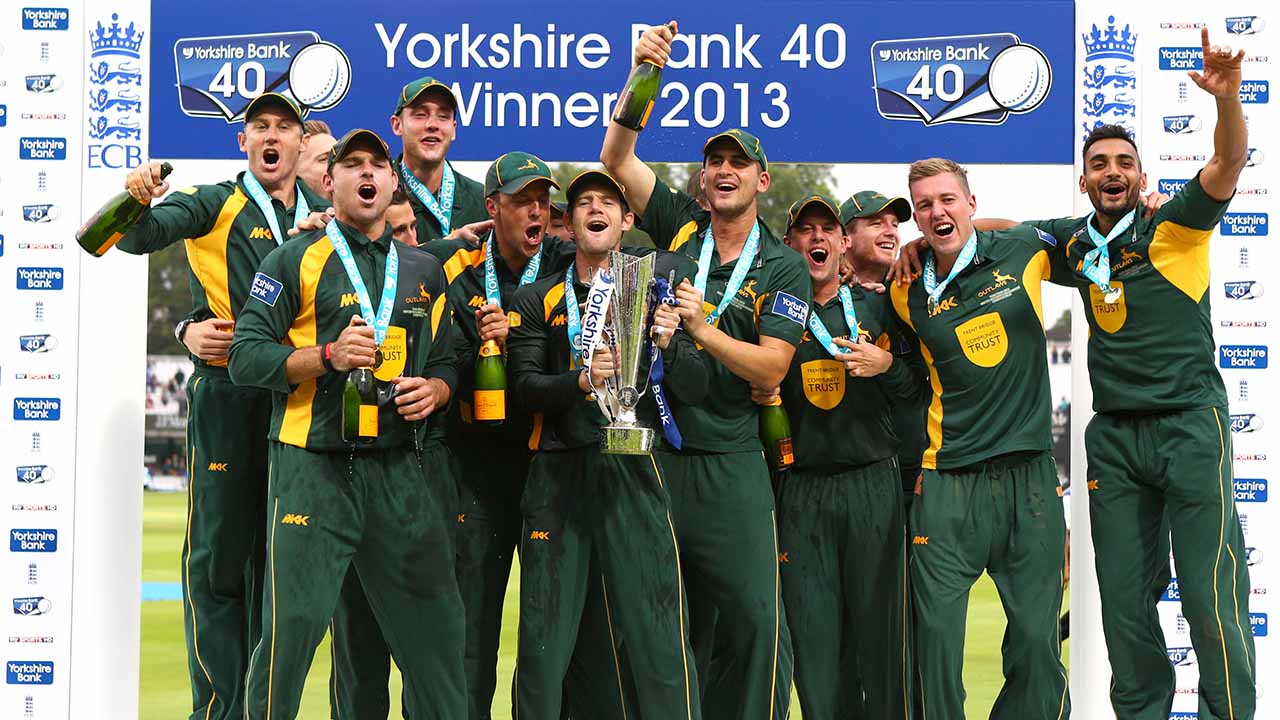 Back at the home of cricket four years later, Hales played arguably his best innings in an Outlaws jersey to secure a Royal London One-Day Cup Final triumph against Lord's.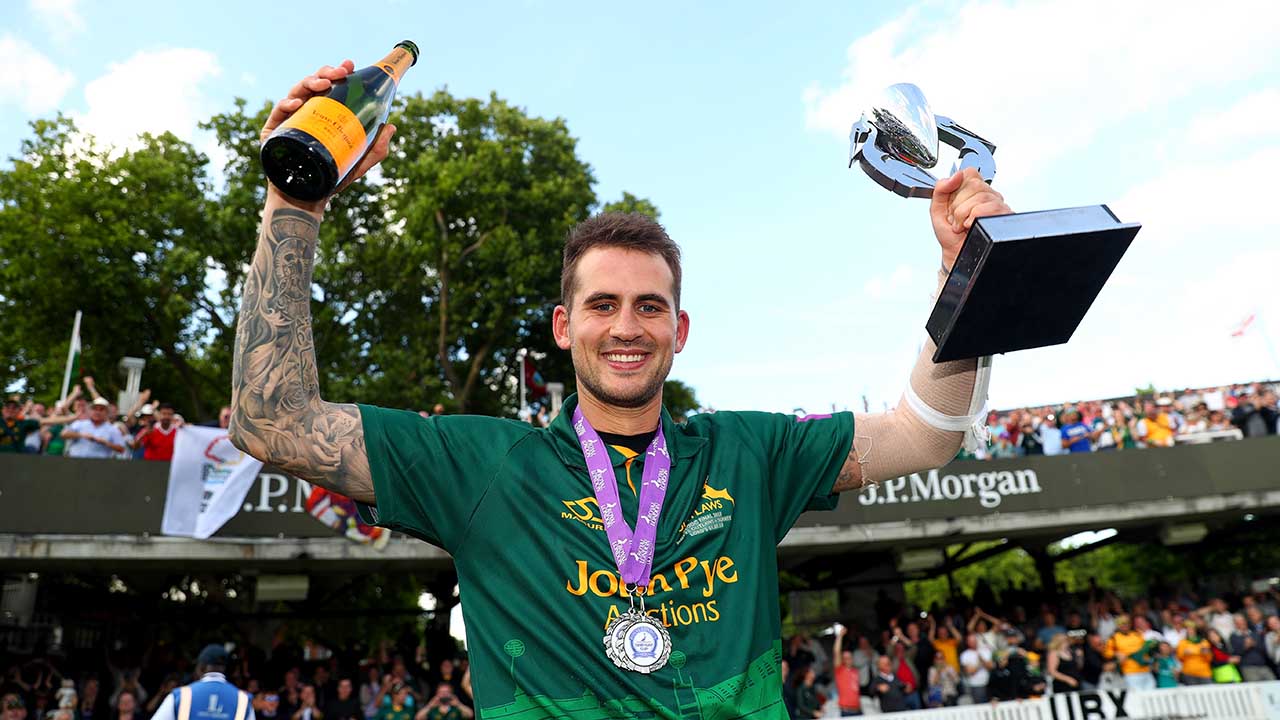 His unbeaten 187 off 167 balls ensured that – with a little help from Chris Read – Notts chased down their 298-run target with 2.1 overs to spare.
NatWest T20 Blast glory arrived later that year and – while Hales endured a quiet Finals Day by his own lofty standards, his breathtaking 101 0ff 47 balls had seen the Outlaws power to a crucial victory at Trent Bridge in the group stages.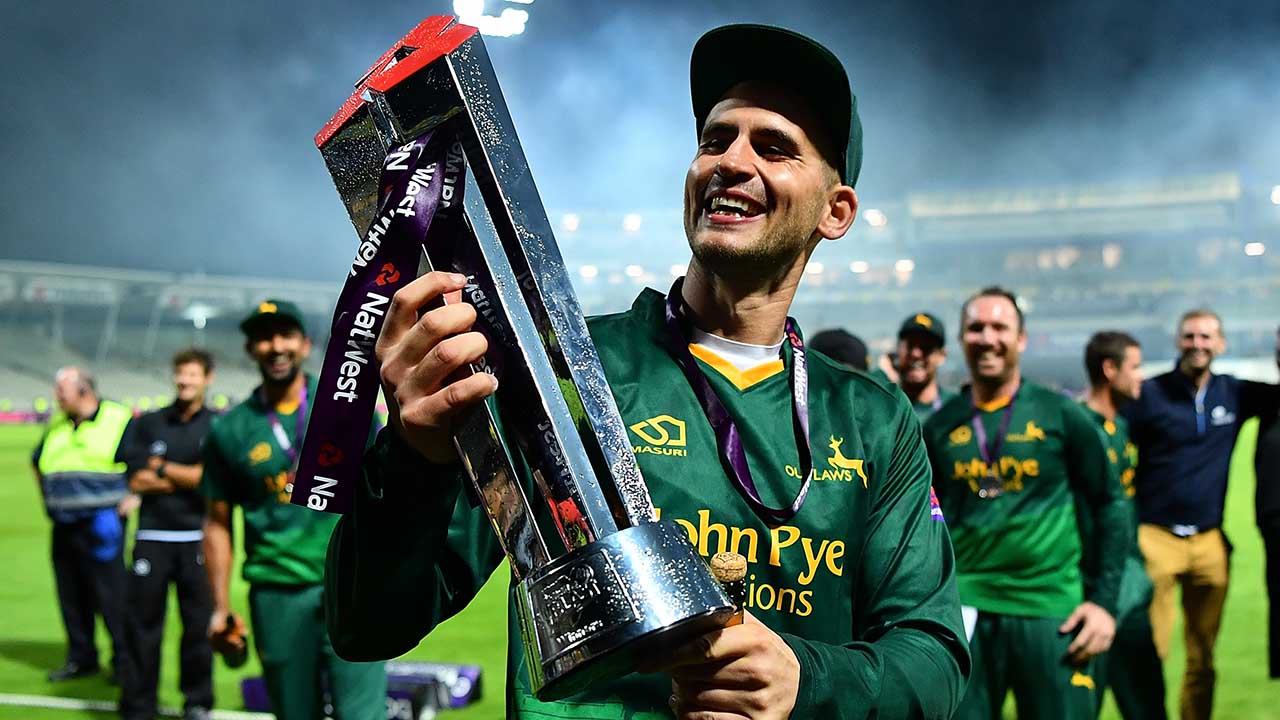 He passed 50 on three other occasions during the tournament, including a 30-ball knock of 95 against Durham Jets that was so brutal it was almost unfair.
Taking on the world
Ranging from a mercurial introduction to the international stage in T20 cricket and consistent mastering of the 50-over format, through to an all-too-brief flirt with the red-ball outfit – Hales' 20's saw him become a three-format England international.
He was 22-years-old when first drafted into his county's line-up for the shortest format and – in 2012 – the glorious heartbreak of his 99 against the West Indies at Trent Bridge in 2012 indicated that this prodigy was on the world stage to stay.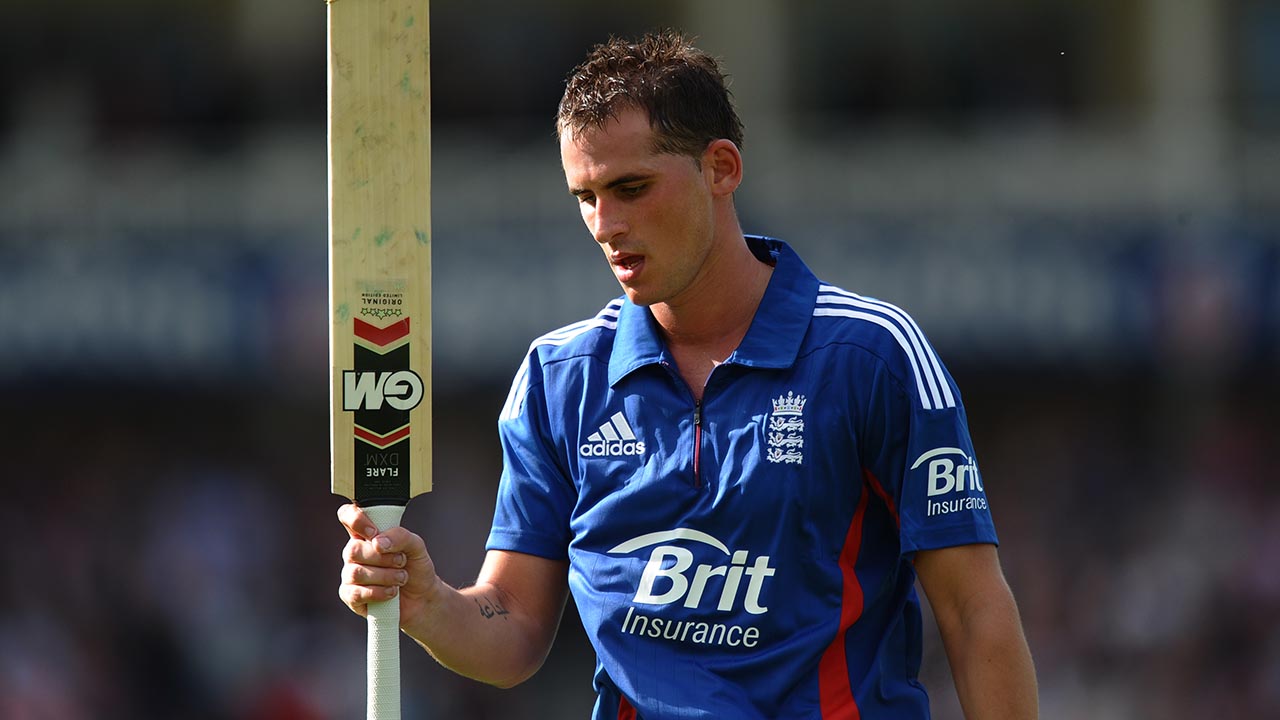 A string of explosive performances at home and abroad had already elevated the Nottinghamshire man to the top of the world rankings by the time of his remarkable 116 not out, with England chasing down 190 to win an ICC World T20 clash against Sri Lanka in Chittagong.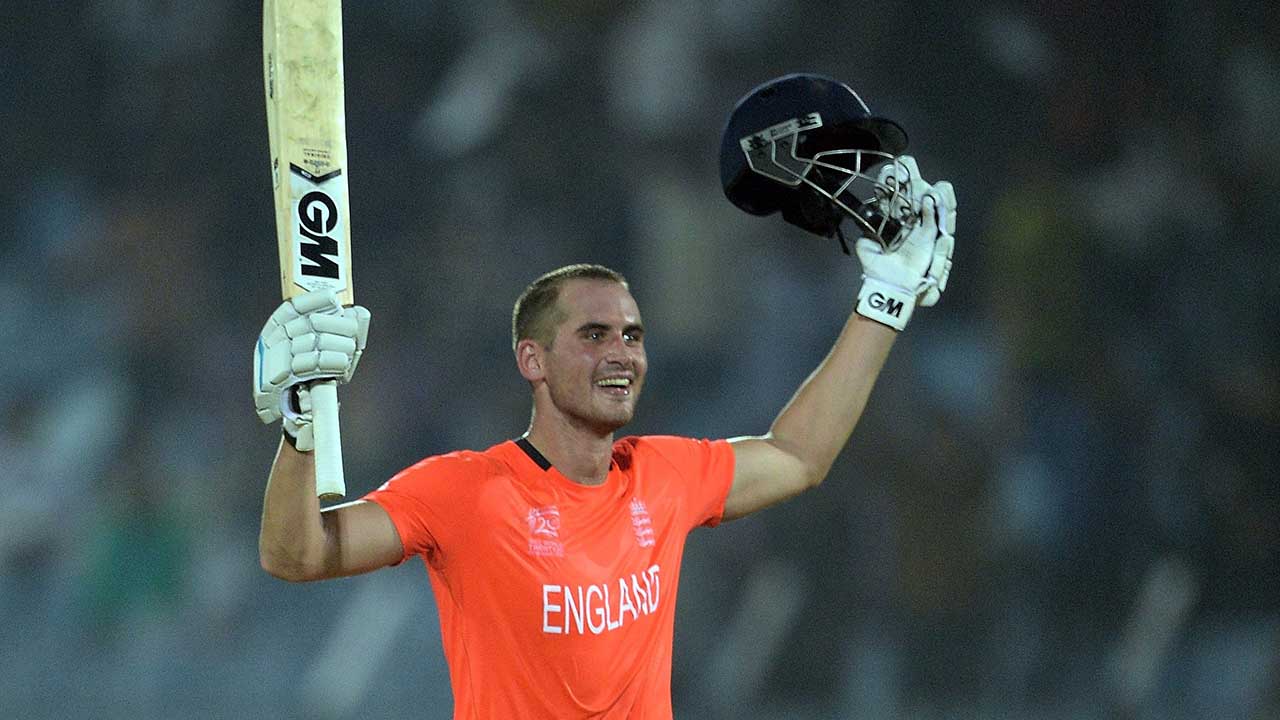 He was a pace-setter at the top of the order as England won through to the final of the same competition in India in 2016.
As for One-Day International cricket, Hales was largely a passenger during the World Cup in 2015 before being handed a regular position at the top of the order in the series against New Zealand that followed and going on to amass 67 caps to date.
In 2016, he scored a world-record 171 against Pakistan at Trent Bridge – one of six centuries in the format, averaging 37.32.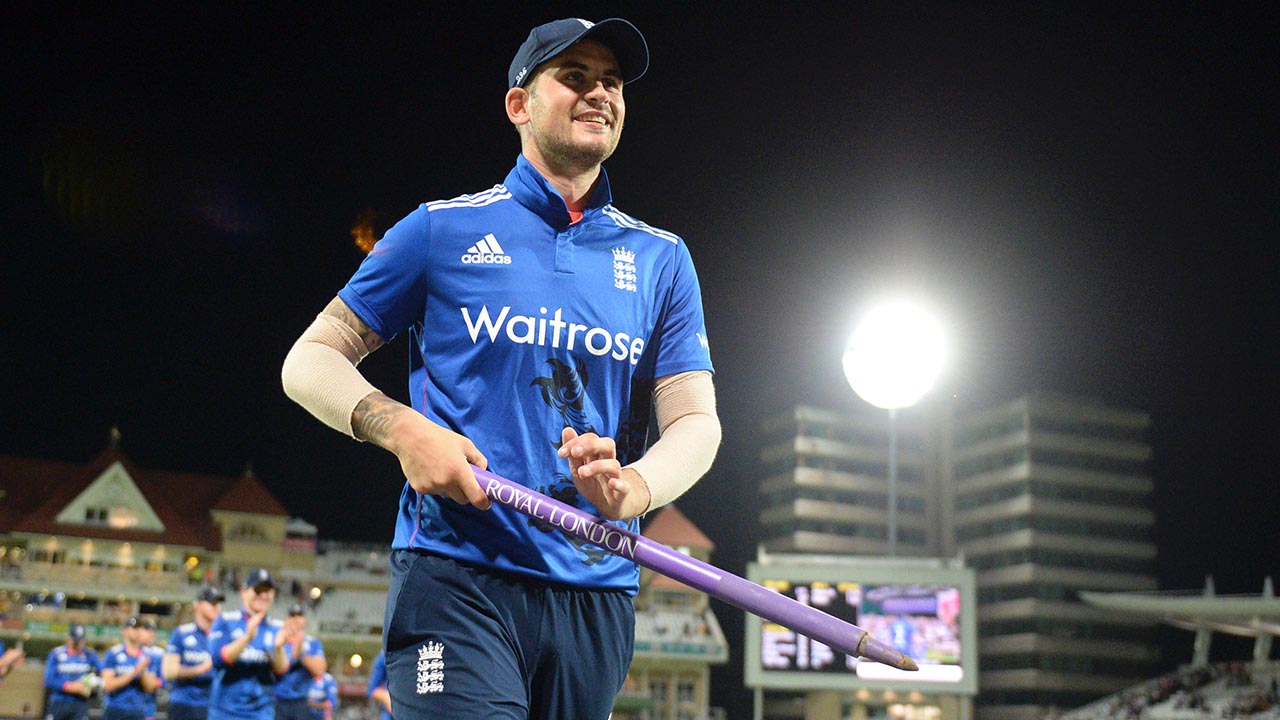 Finally, although the experiment of batting Hales at the top of the Test Match order was abandoned following the 2016 series against Pakistan, the Outlaw had by then struck five half-centuries.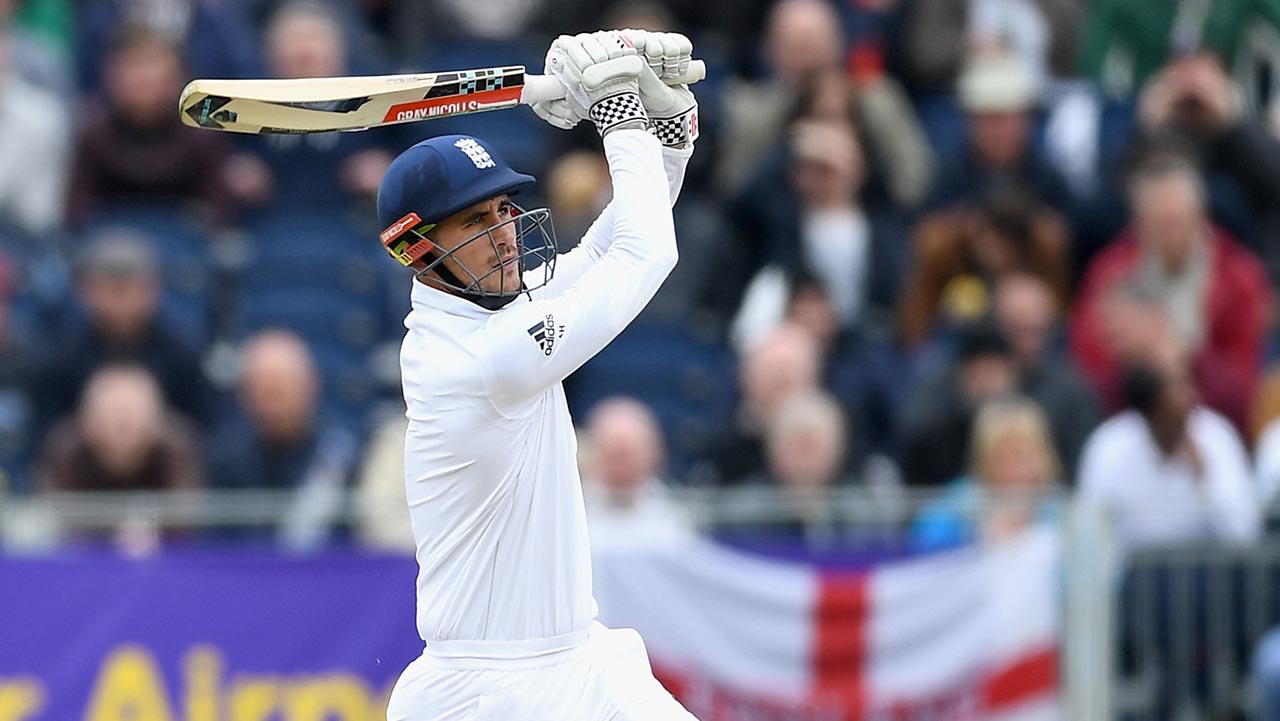 His Test average of 27.28 is far from the bottom of the many who attempted to succeed Andrew Strauss – and those 11 caps can never be taken away.
Breaking records as standard
Of the many that have tumbled during the decade in which Hales has been wantonly reinventing the art of batsmanship, three stand out.
The 171 he posted against Pakistan at Trent Bridge in 2016 beat Robin Smith's 23-year-old ODI record as the highest individual score for England.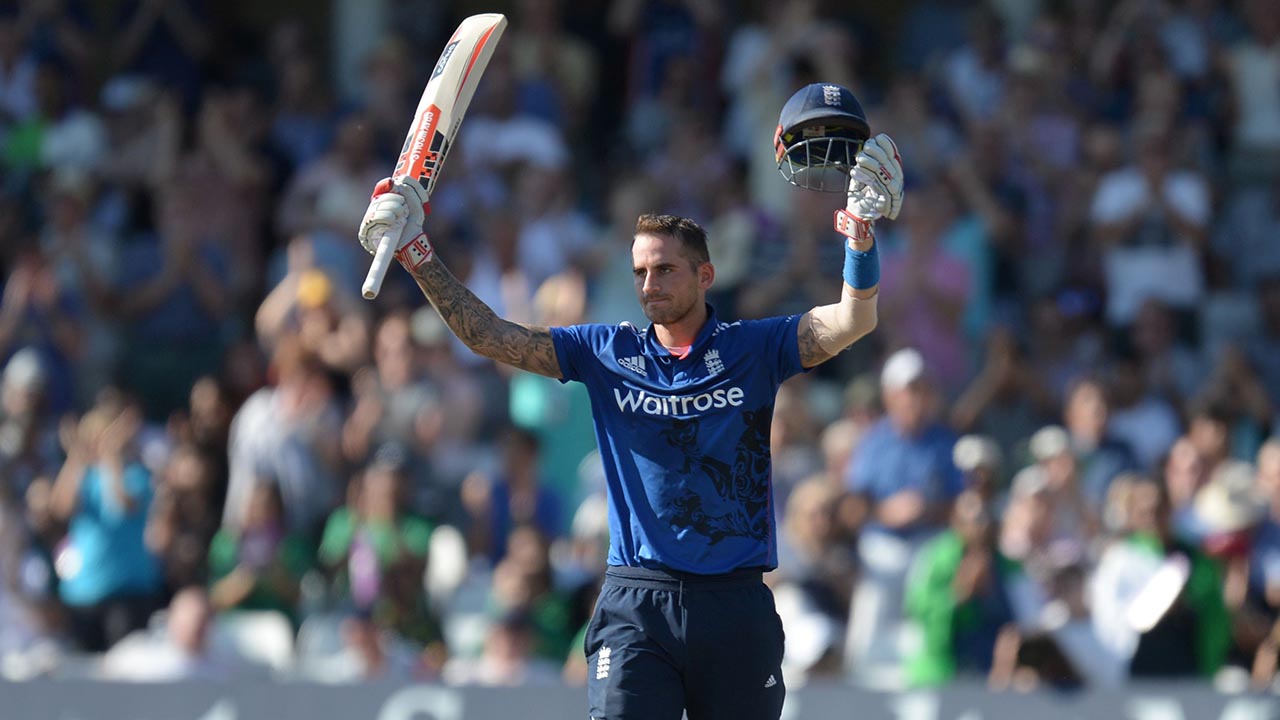 England's total of 444-3 was, at that time, their highest ODI total. The partnership of 248 Hales shared with Joe Root was the highest ODI partnership at Trent Bridge.
With a full house in attendance and Hales, on home turf, at his explosive best – it was a day of carnage, of the very best kind.
Albeit at domestic level, Hales' Royal London One-Day Cup Final performance back in green and gold was – in many ways – an even more complete performance.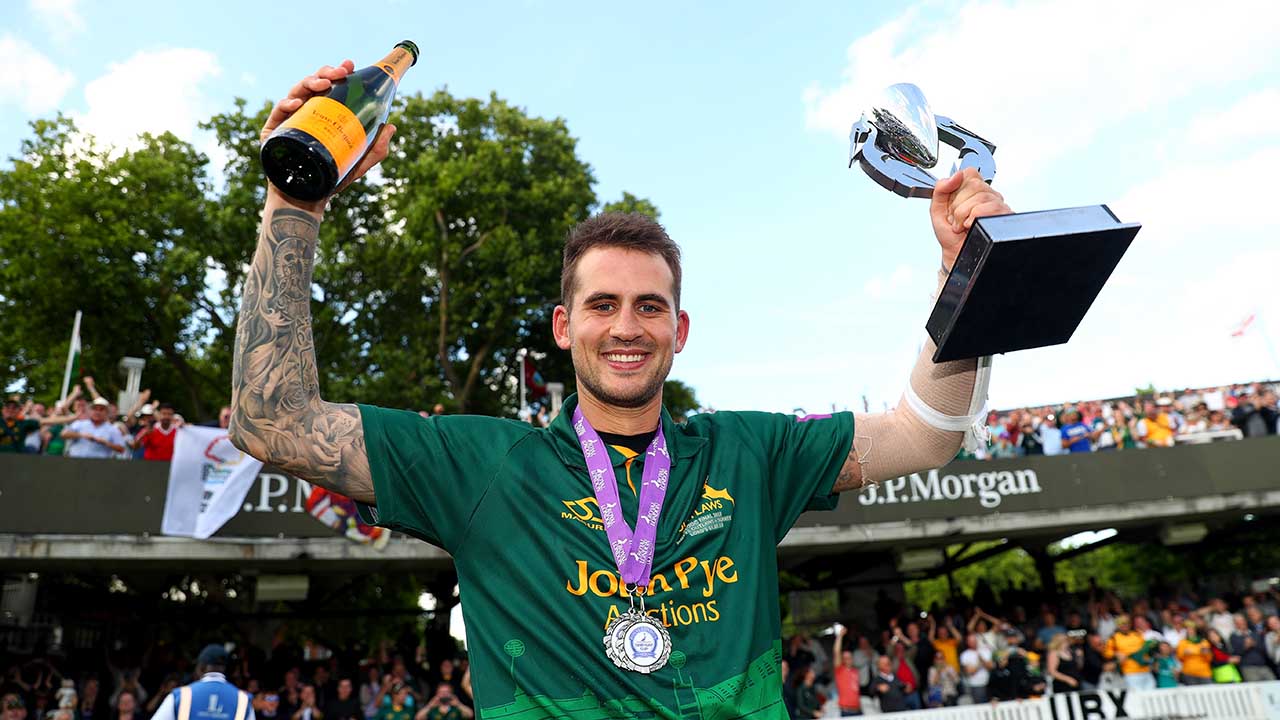 Under the pressure of chasing a challenging target – and with wickets falling at the other end – the England opener was imperious in compiling his 187 off 167 balls.
Characterised by cuts, pulls and cover-drives – rather than swipes, swishes and strikes – it was a performance that oozed calmness, quality and control.
It was the highest individual one-day score at Lord's and it ensured that the Outlaws left the capital as champions.
Come 2018, it was time for more ODI records to tumble at Trent Bridge. Hales' 147 was the primary contribution to a world-record team total of 481-6 from the hosts. The 242-run margin of victory was also an all-time record.
"I've never seen anything like that," was Australia Coach Justin Langer's post-match reaction, and he's seen it all.
*******
Be there for every ball next year, including seven T20 Vitality Blast games, by joining our family as a Member. You'll also save up to £20 off England v Pakistan Royal London ODI tickets, have access to the exclusive Members' Pavilion and be invited to exclusive events such as the Christmas singalong. Learn more...
Alternatively, priced at just £100 for adults, £70 for seniors and £227 for a family of four, you can pledge your support by purchasing an Outlaws Season Ticket.
The season ticket will cover all scheduled home cricket in the T20 Vitality Blast and Royal London One-Day Cup, plus a priority purchase window for any knockout stage cricket at Trent Bridge.