Stuart Broad feels he's continuing to improve as a bowler after becoming the sixth player to take 500 wickets in Tests.
The Notts paceman removed Kraigg Brathwaite LBW to reach the milestone, going on to claim ten wickets in the match and the man of the series accolade.
Broad's last 100 wickets have come at a better average than at any point in his career, and he sees no reason why he can't continue to improve.
"I'm 34 now, but I feel like I'm bowling as well as I ever have done," he said.
"I've changed my run-up and done some technical work in the last 18 months, and I think I'm getting the rewards for that.
"I'm judging myself on how often I'm able to challenge the stumps and make the batsman play, and I've got to a really exciting level.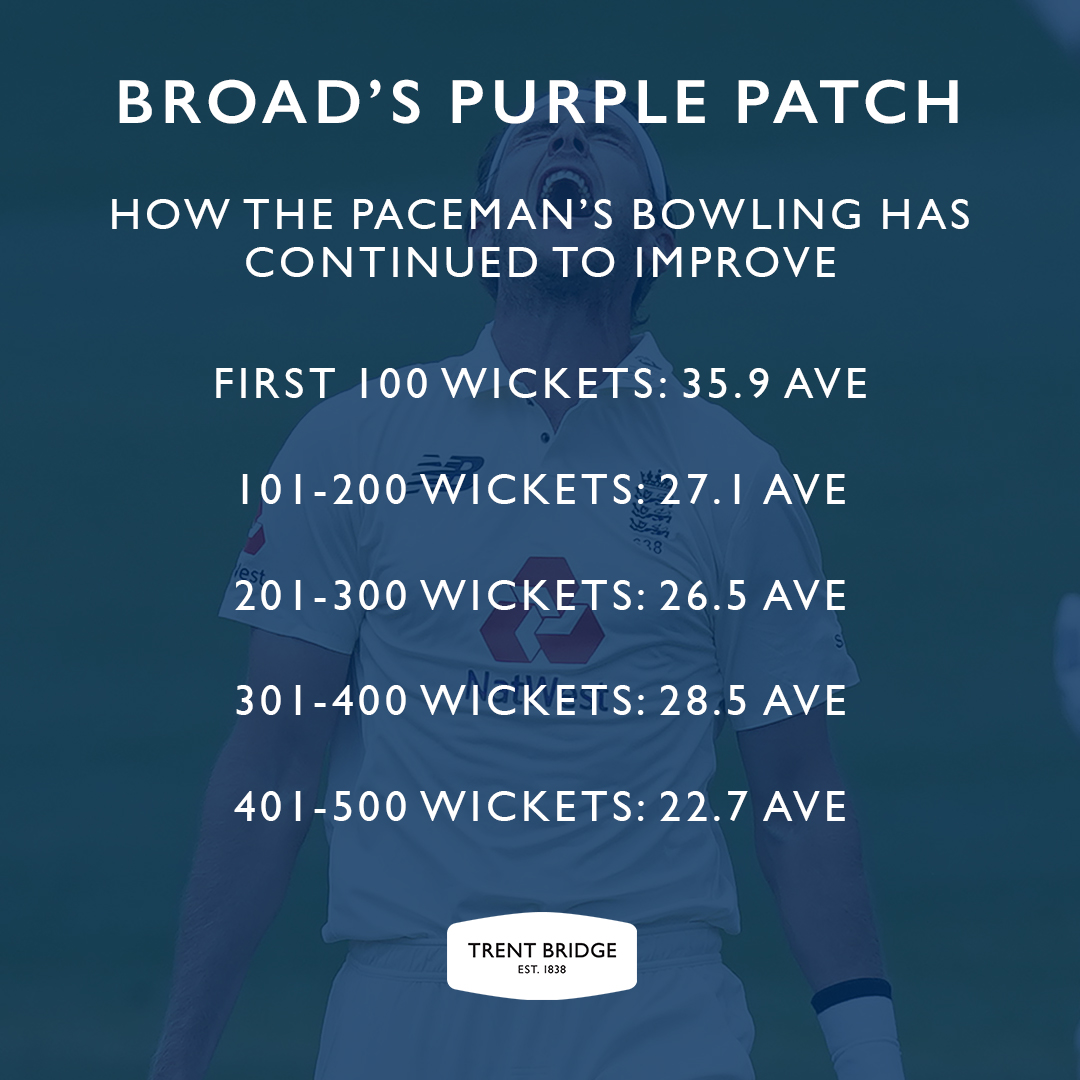 "I'm not someone who sets targets – I never said I wanted to get 500 or 600 wickets – but at the moment I feel fresh, I feel fit, and I'm bowling how I want to be bowling. So why not try and follow in Jimmy (Anderson)'s footsteps? If I keep bowling the way I am for the next few years, I wouldn't rule anything out."
Broad gave an emotional response to his omission from the first Test side of the summer, proclaiming himself to be "frustrated, angry, and gutted."
His performance in the subsequent two Tests – taking 16 wickets at 10.93 – helped turn the series around, but Broad insists missing out on selection didn't act as a greater incentive to perform.
"I didn't really need any more motivation," he said.
"I knew I was bowling well. My stats and numbers going into the series were pretty strong, so I knew that once I got that opportunity again I'd be ready to strike.
"I'm delighted I've been able to pick up wickets and influence games in the way I have."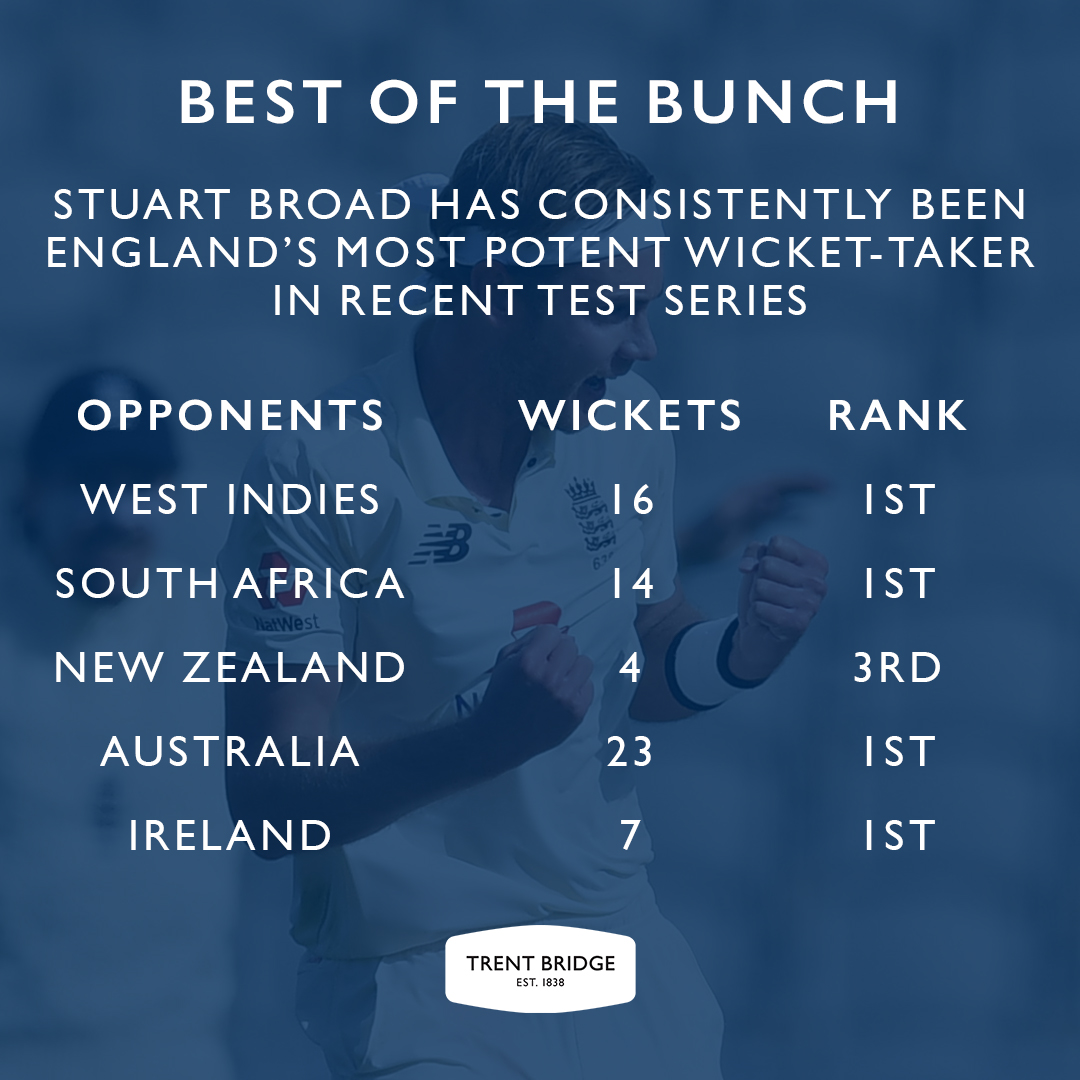 Broad's figures of 6-31 were his best in Tests since 2016 – and the manner in which they came reminded the paceman of a famous morning at Trent Bridge.
"It felt like that for an hour and a half at Trent Bridge in 2015!" he said, when asked if he recalled a previous occasion when he believed he could take a wicket with every ball.
"I felt like my alignment towards the stumps was really good throughout this game.
"I had a bit of confidence and match practice from the second Test, and the tempo of my run-up and alignment felt like every time I released the ball I could bring off stump into play.
"That's always been my go-to. I want to make batsmen play, I'm not someone who likes to get left too often.
"I've never shied away from intimidating moments, and when the game needs changing, I want to be the one that gets thrown the ball or to be out there with the bat."
"When you come to a pitch that's had a bit of wear, and the ball's keeping low and hitting the stumps, that's my dream pitch."
Allied to Broad's ten-wicket performance was a sparkling cameo with the bat in England's first innings, with his 62 from 45 balls turning the tide of the contest.
It reflected a determination that is a family trait.
"It probably comes from my mum, that conviction that we can win from any situation," he said.
"The most recent time I felt like that was Cape Town at Tea (on day one of the second Test).
"We'd been slogging away, but I knew deep down that if we kept firing South Africa could crack.
"That mindset helped us win that Test match.
"I've never shied away from intimidating moments, and when the game needs changing, I want to be the one that gets thrown the ball or to be out there with the bat."
*******
International cricket returns to Trent Bridge in 2021, England welcoming India for an all-star Test tussle and a mercurial Pakistan side for a blockbuster IT20. Register your interest here...